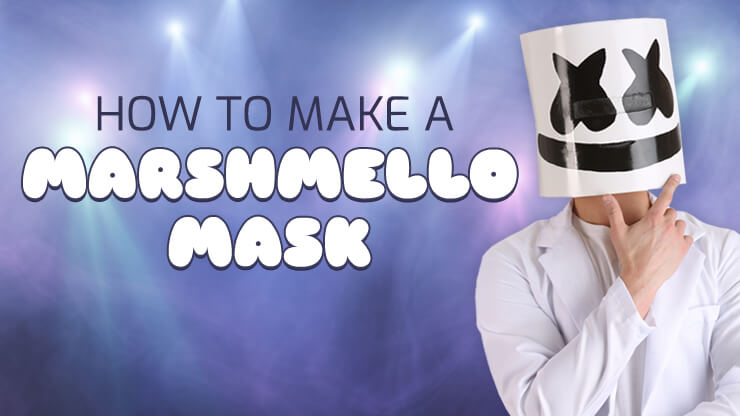 Marshmello is a newer player in the realm of electronic music, but his iconic look recently created a big splash when he collaborated with Fortnite to host an in-game concert in early February. A unique Marshmello skin was also produced in collaboration with the event. However, if you're looking to make your own DIY Marshmello helmet, we're going to show you how to turn a LEGO costume into Marshmello's signature mask. His appearance has appealed to many people, and Marshmello even has a YouTube channel where he shares his music and cooking skills. If you're interested in making a Marshmello costume for Halloween or a Marshmello cosplay, keep reading to see how we made Marshmello's signature white bucket helmet.
You're Going to Want These Things To Begin Your Marshmello DIY
Completely White Costume Apparel
Box Cutter, Scissors or Xacto Knife
Plasti Dip Spray (Preferably White)
White Matte Spray Paint
Gloss Clear Finishing Spray
Pencil
Black Sharpie
Black Acrylic Paint
White Poster Board or Cardstock Paper
Scotch Tape
Wood Putty
Paper Towels
Hot Glue Gun
Hot Glue Sticks
Large Piece of Cardboard, Newspaper or Plastic Drop Cloth for your Work Station
Before you begin this DIY, at a minimum, you're going to want to have 3-4 days before your costumed event. You need this extra time to give your project enough time to dry. If you try to rush this and you don't allow the spray paint to dry in between coats, you risk having a very sticky, tacky mask that will leave color on your hands whenever you touch it. You don't want that to happen!
Step 1: Put the Mask Together and Cover it in Poster Board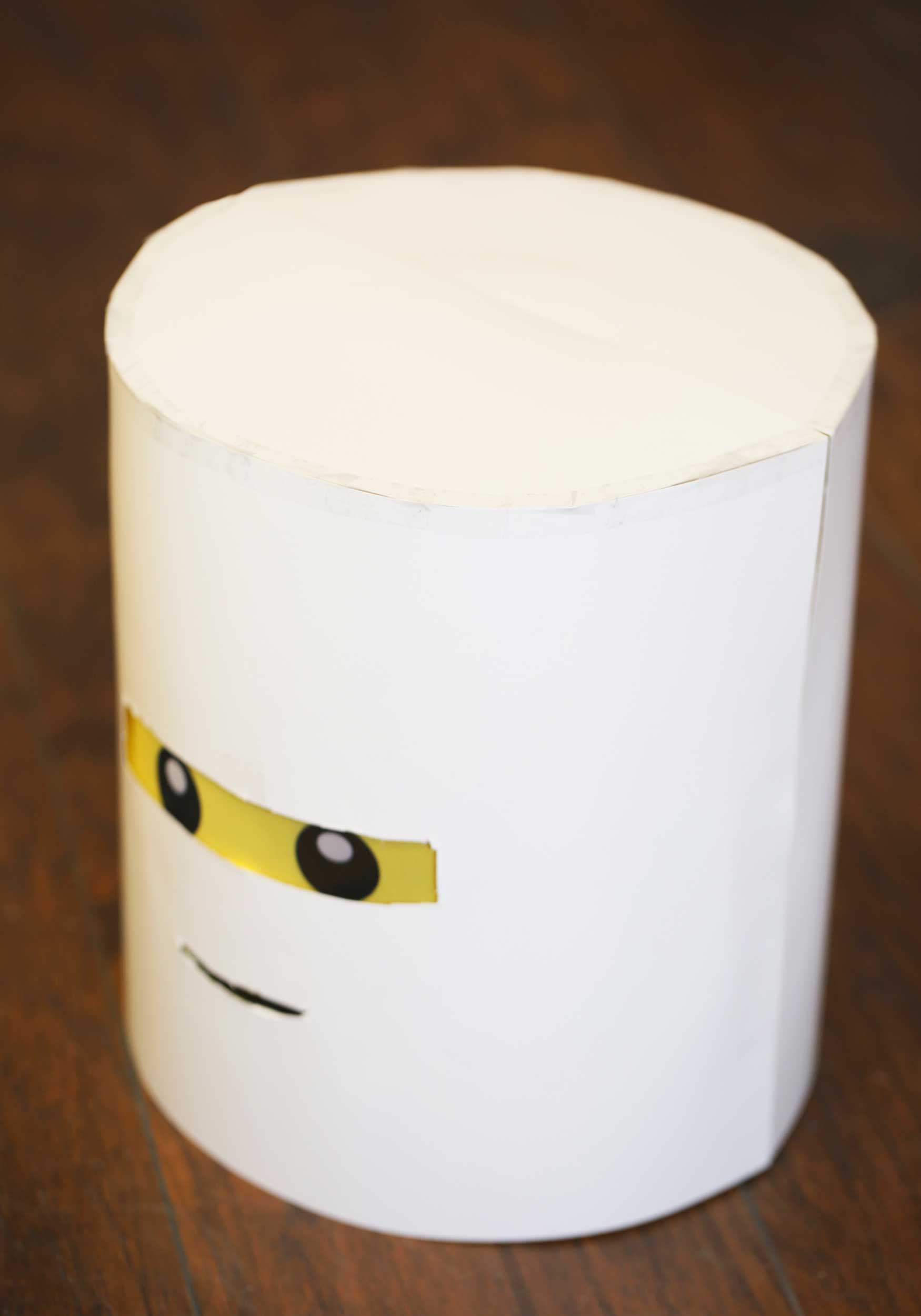 To begin, you will want to use the Velcro tabs on your mask to put it together. This way, when you cover it with the poster board, you can make the seams line up with both halves of the mask. Take special care to keep the side seams as well as the seam on the top of the head intact so that you can easily take the mask on and off. We used hot glue to attach the poster board to the LEGO head mask. After gluing some of the poster board to the side of the front half of the mask, we used a pair of scissors to cut eye and mouth holes that lined up with the Lego mask holes into the poster board.
Step 2: Tape the Top and Side Edges Together and Spray with Plasti Dip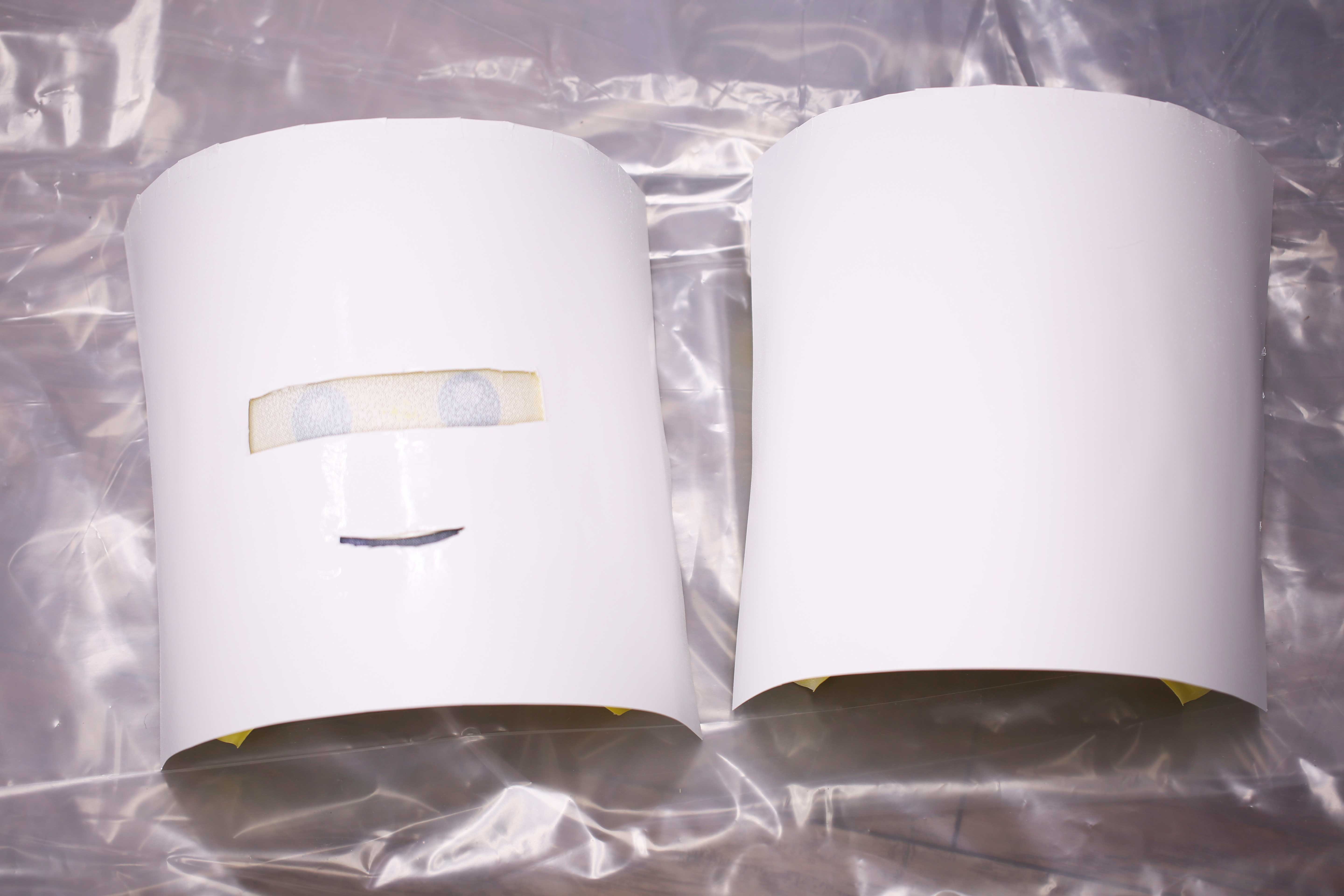 After trimming the poster board so that the edges met, we used scotch tape to attach the top of the head to the conical sides of the mask. Use small pieces of tape all the way around so that you don't have ripples in your tape. After the edge has been adequately coated in tape, spray your mask with a white primer. We used white Plasti Dip because it adheres well to all surfaces, including plastic. The mask was taken apart into its two halves and sprayed so that we could spray into the edges of the yellow LEGO mask. You don't want to have any of that yellow peeking out! Give the mask time to dry before moving on to the next step.
Step 3: Use Wood Filler to Hide the Tape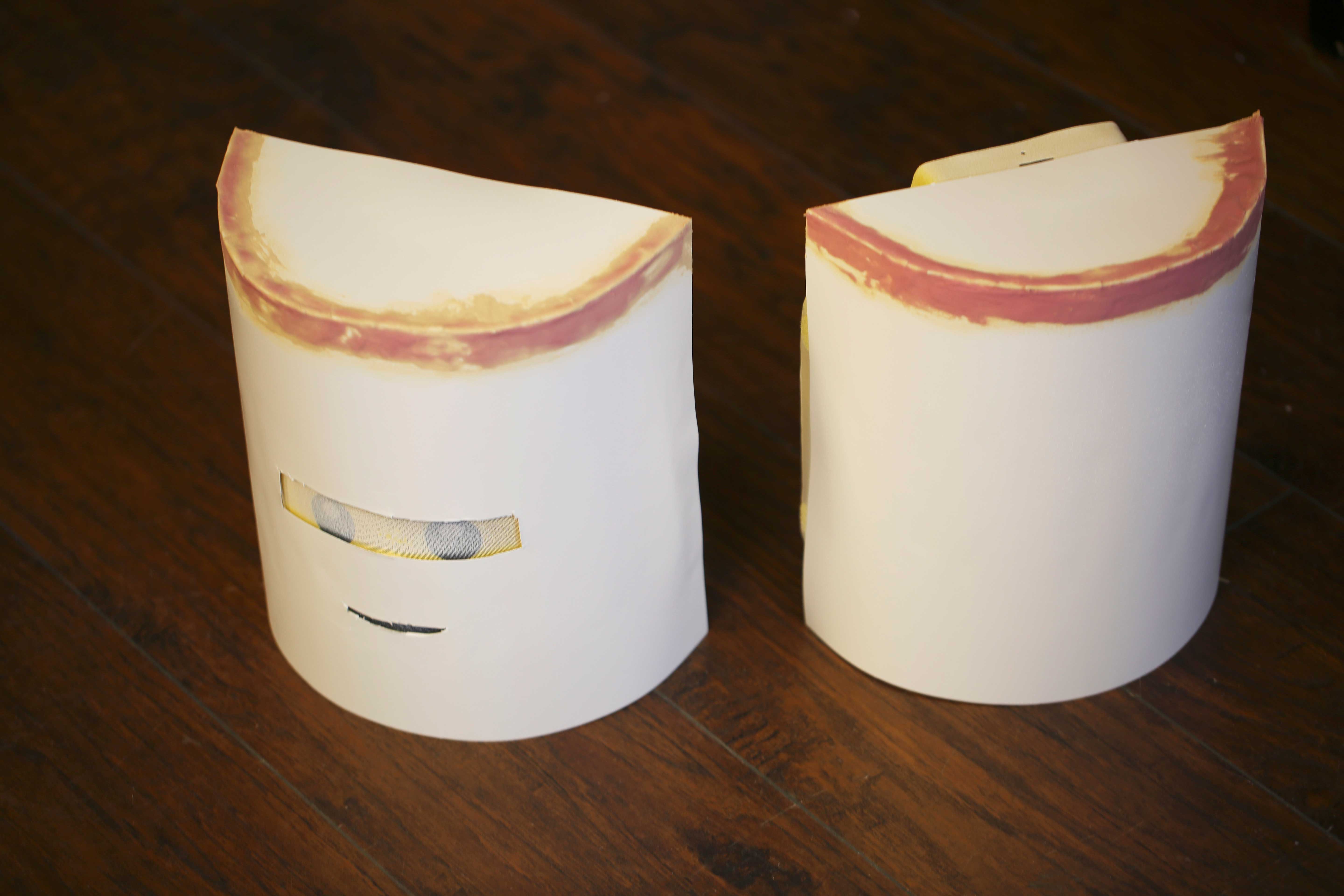 Spread wood filler over the taped sides around the top of the mask. Try to keep it smooth and thin at the edges, but it doesn't need to be perfect because you'll have to sand it after it's dry. Make sure to read the directions on the container about how long the wood filler needs to dry. Ours was pink, and it dried to a tan color, but we still allowed it to cure overnight. After your wood filler dries, sand it so that it's smooth. Make sure to wipe off all of the sanded wood filler dust, so it's not there when you paint the mask.
Step 4: Spray Your Mask With an Additional Coat or Two of White Spray Paint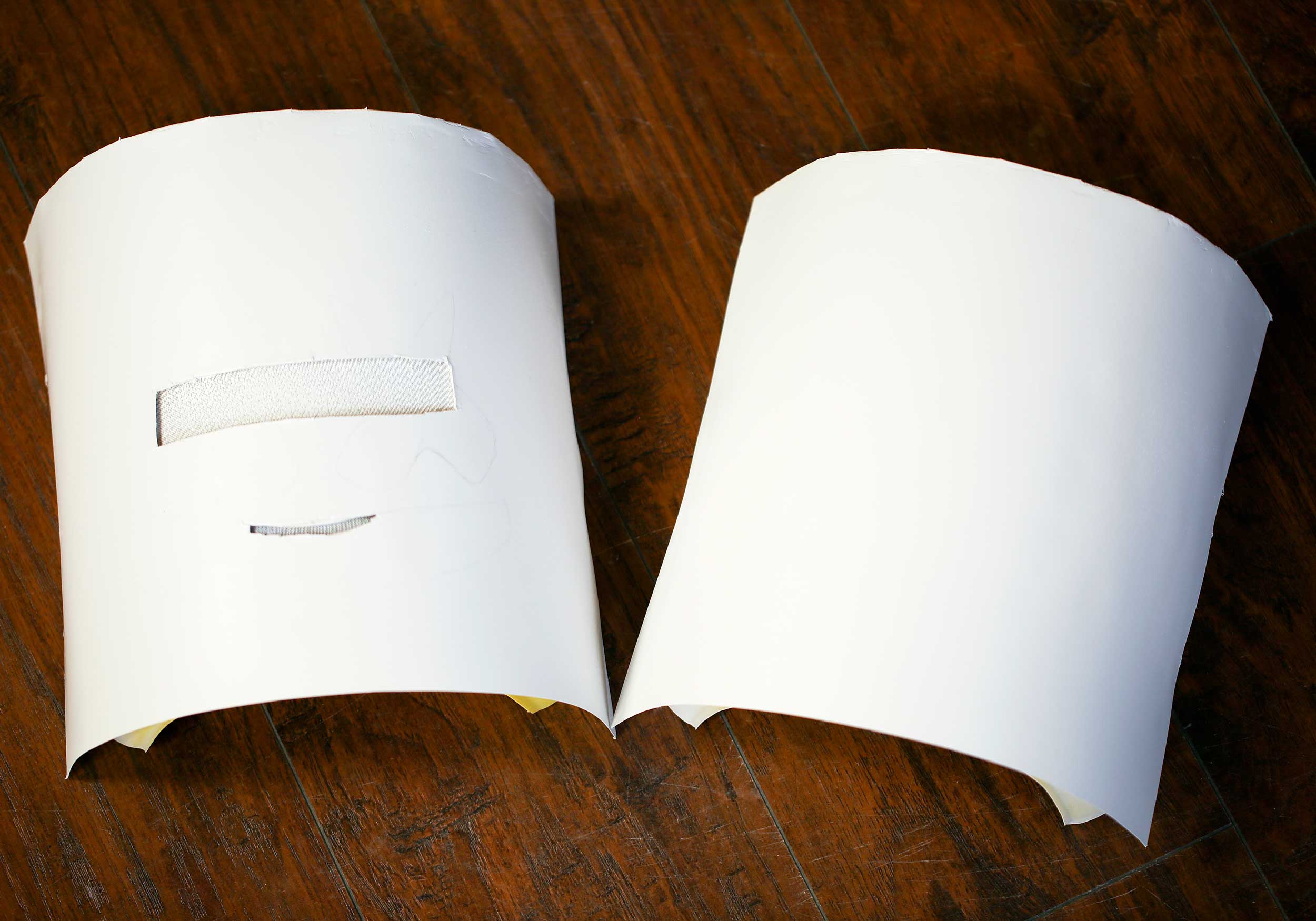 Spray your Marshmello mask with another coat or two of white spray paint. (It's okay to do more if you feel like you need it, especially over the eye and mouth mesh!) Make sure to allow enough time in between coats for your mask to dry correctly so that your paint doesn't get tacky. Also, be careful to keep your coats relatively light over the eye and mouth hole fabric so that you don't overwhelm the mesh fabric with paint. You want to be able to still see out of them once the painting is done!
Step 5: Use Black Paint to Create the Eyes and Mouth, and Spray with a Glossy Finishing Spray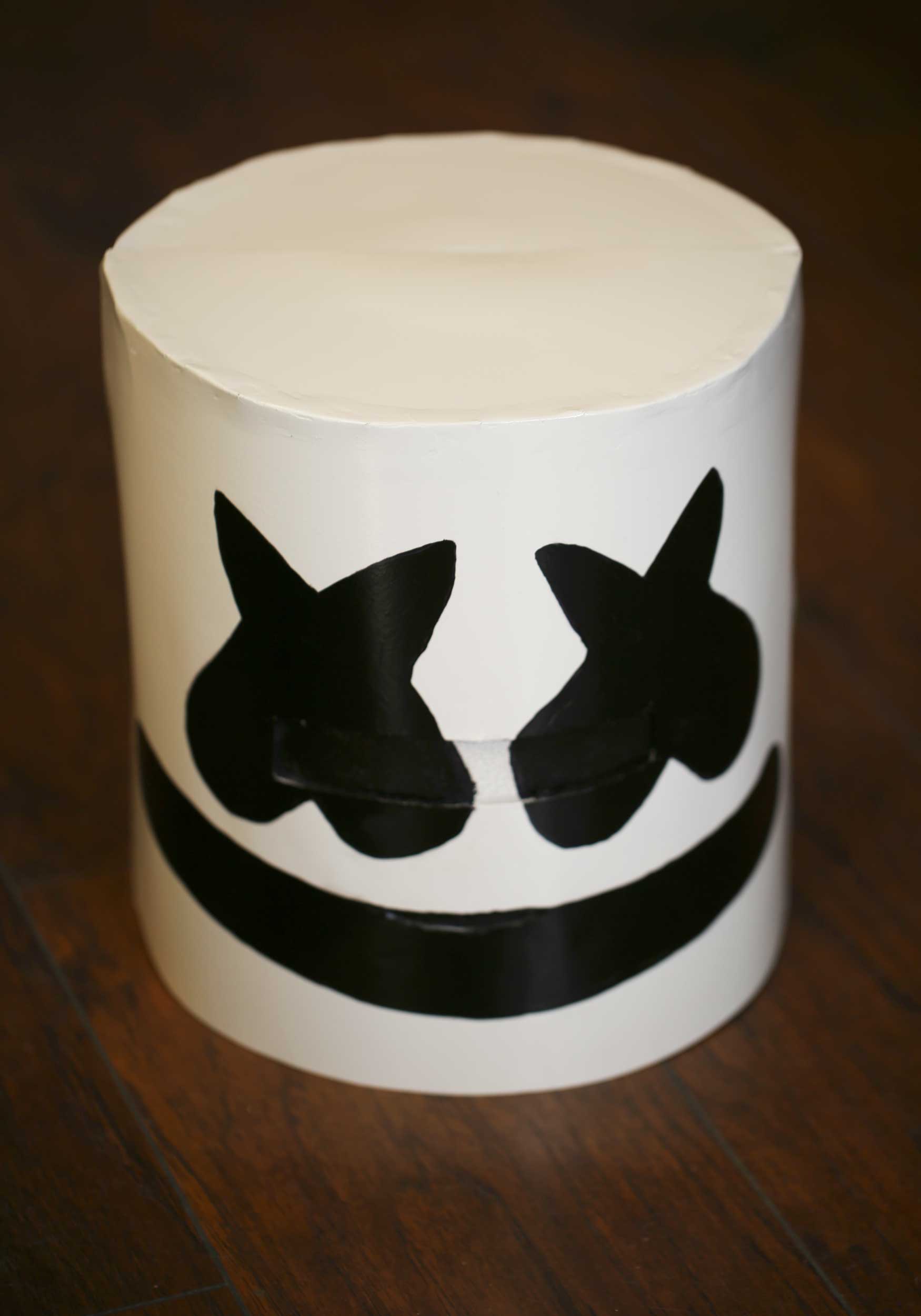 Now that your white mask is dry, use a pencil to draw the outlines for the eyes and mouth on your mask. You should be able to erase a little if you're not satisfied the first time, but if you feel like you really messed up with the pencil lines, simply spray over them with the white spray paint and start over again. Once you're satisfied with your pencil lines, take a Sharpie marker and draw over your pencil lines. (The thicker the better!) Afterward, paint inside your marker lines with black acrylic paint. You will want to use a couple of coats to make sure that your black paint doesn't have any white showing through it. (Thankfully, acrylic paint dries fast!) Lastly, you're going to want to finish everything off with several coats of a high gloss finishing spray. Not only will it protect your paint job, but it will give your finished Marshmello mask that glossy sheen that it needs.
Completed Marshmello Costume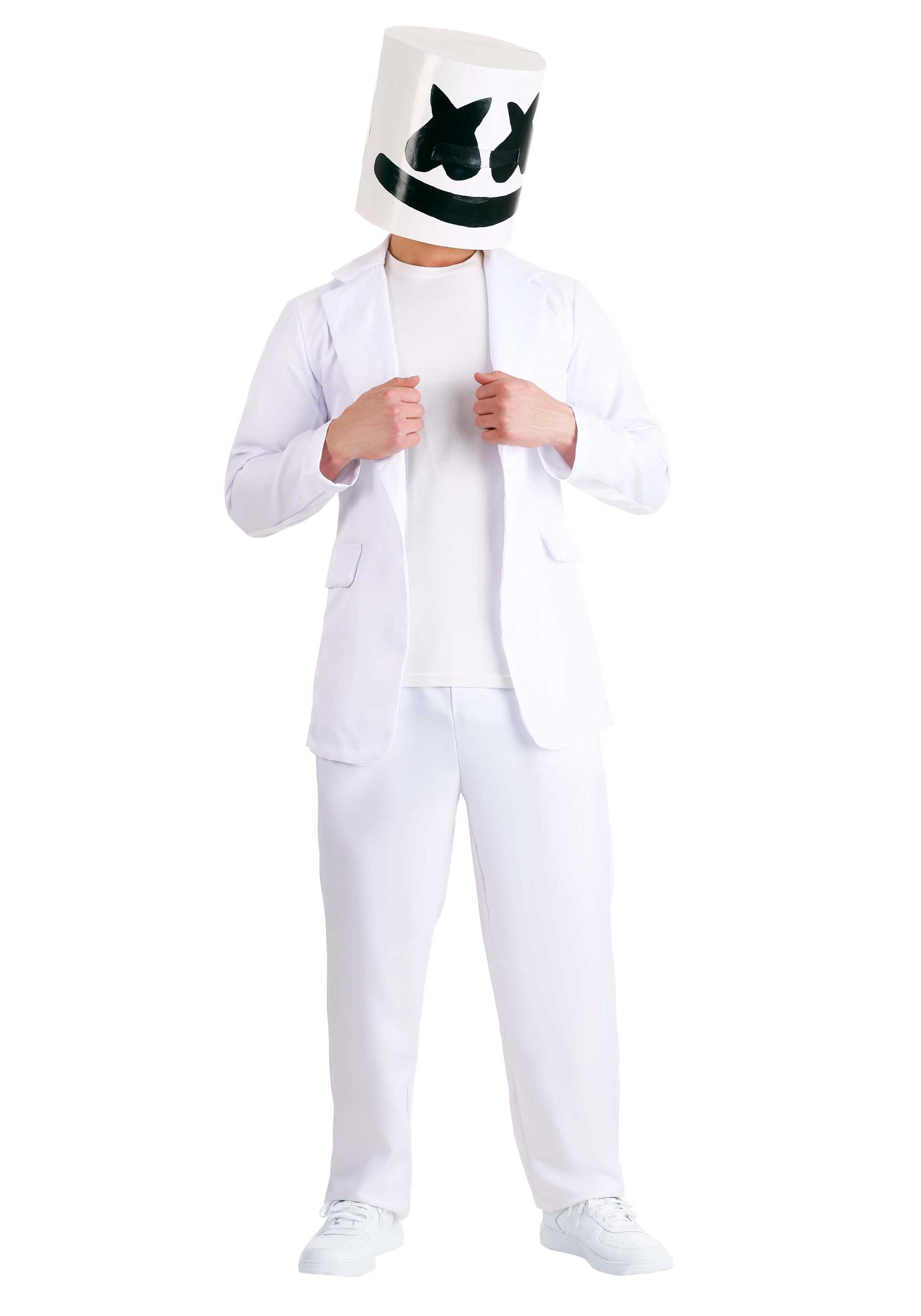 A white suit with white sneaks and a t-shirt really pull this costume together.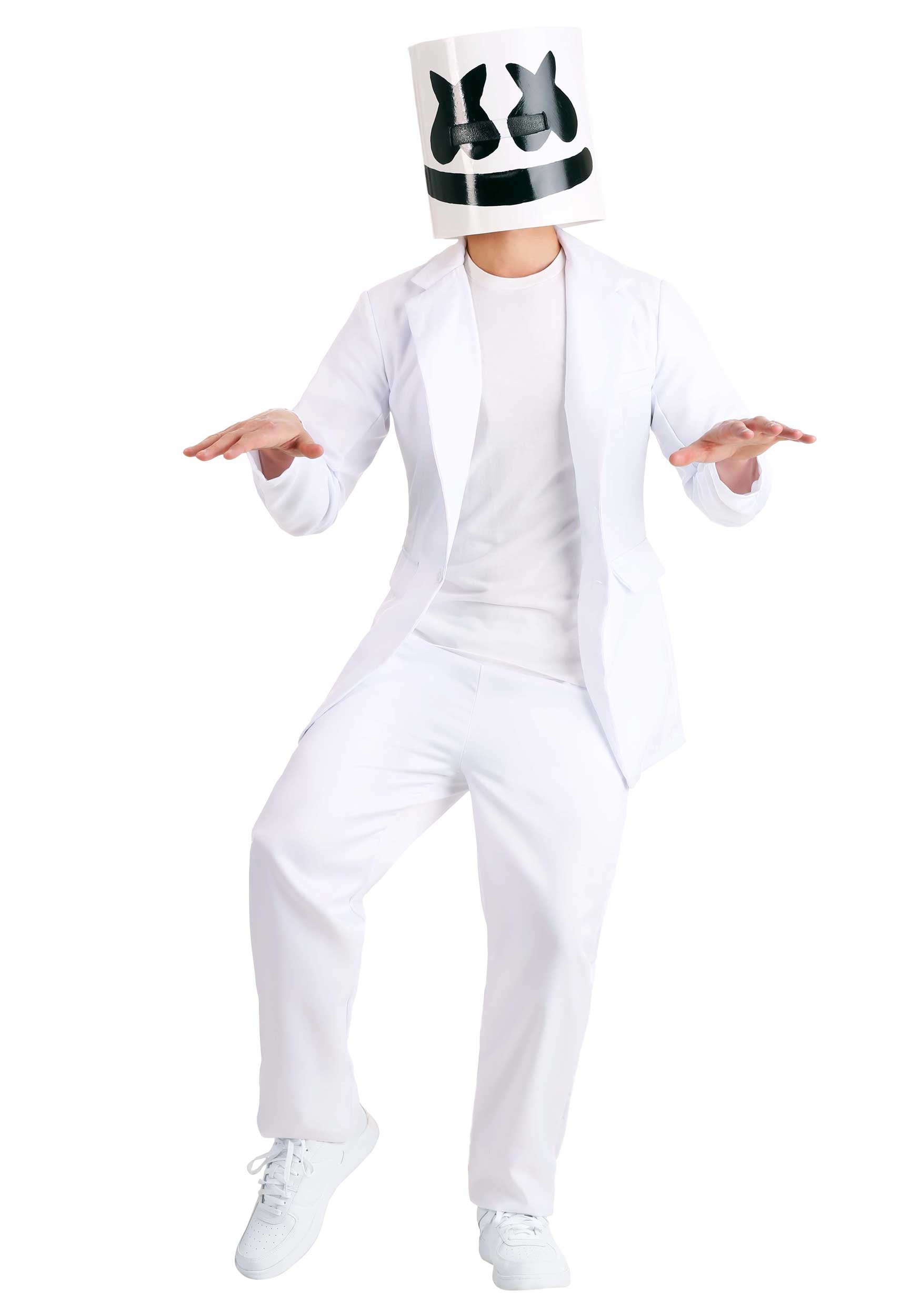 Don't forget to dance and have some fun!
White Costumes to Wear With Your Marshmello Mask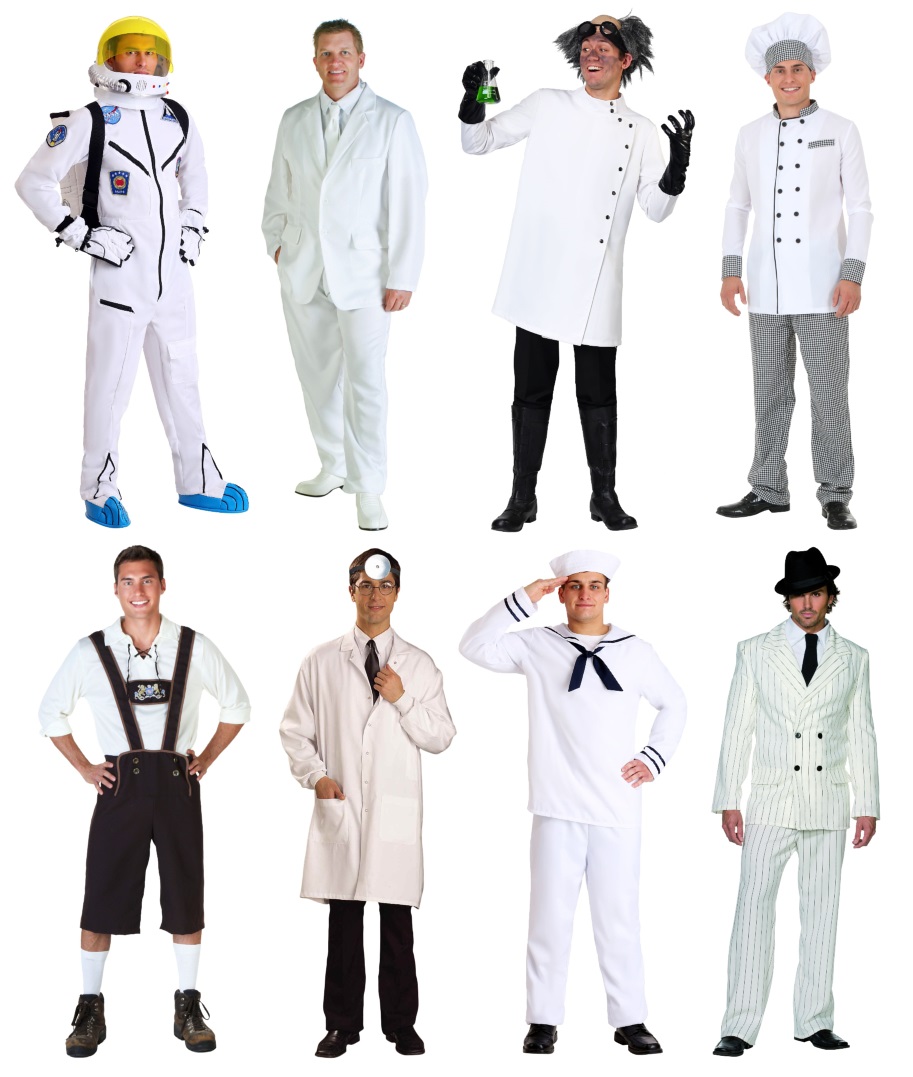 DJ Marshmello typically wears white outfits with his mask, although he has been known to wear colored shirts and even some costumes! Some of Marshmello's costumes include a chef outfit and a couple of ugly Christmas sweaters that he dons for several of his YouTube cooking videos. The white suit costume is closest to some of Marshmello's main outfits, but it wouldn't be that far-fetched for him to sport a few other white Halloween costumes. Feel free to customize your Marshmello costume to your liking!
We hope you enjoyed our Marshmello mask and costume tutorial. Had you heard of Marshmello before his Fortnite concert? Are you looking forward to creating your own Marshmello cosplay? Feel free to share your thoughts with us! (We'd also love to see your pictures if you did make a costume!) You may also want to check out some of our other celebrity costumes if you're interested in wearing costumes of other music legends.