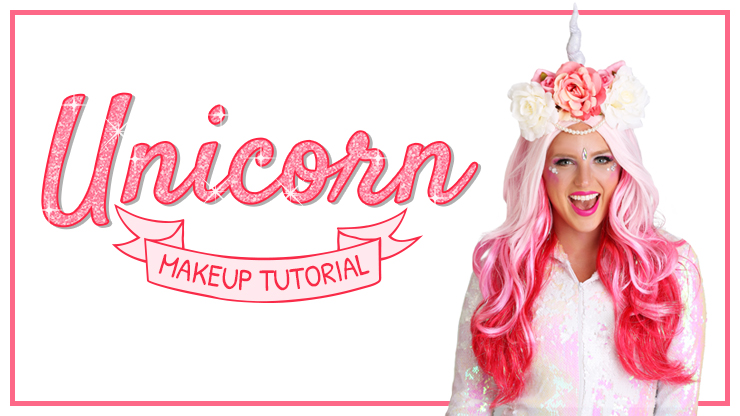 Can't get enough of the unicorn trend? This Halloween get majestic with pastels and glitter. Unicorn looks are again dominating this Halloween season, and we are here for it. Need last minute help? Watch our Unicorn Makeup DIY to get inspired for your own look. Our easy tutorial has subtle, magical hints of pinky hues and gems to bring out your inner unicorn. Follow our DIY for a cute, easy look or use it as an inspiration for your own creative ideas that will be bringing major unicorn vibes this Halloween.
Unicorn Makeup Tutorial Video
A little glitter never hurt anyone.
Unicorn Makeup Tutorial Video Transcript
I am starting out this unicorn look after I completed the basic foundation. Using a brush applicator and a shimmering, white highlighting color, apply evenly on the lids, corners of eyes and brow bones. Next, pull down shimmering color to the sides of the nose, outer edge of the eyes, and the cheekbones. Feel free to do highlighting underneath the eyes, and wherever you think for your own personal touches.
Next, using a light pink color, add contour to the top of the lids and under the brow bone, enhancing as you go. Using the same color, you may also apply on the top of the cheekbones, and slightly below. I also decided to use some of the white shimmer on the chin, just lightly.
She already had nice, long lashes, so I continued with a liquid eyeliner pen and created a cat eye look. Using a pink lip liner, line up the lips to make it a clean look. Fill in with light pink, shiny color.
This look can be completed by adding the wig and the hood, or, for a more mystical looking unicorn, watch as I enhance this look using some brighter colors. Using a sponge or brush, apply the white shimmering color to the neck. Using the pink color, enhance the collarbone area. I used some white and a hot pink cream face paint to really make the colors more intense. Next, using the jewels from the unicorn kit, I put them on areas that I wanted to enhance. To complete this look, I brightened up the lip color.
In this tutorial, I used a variety of brushes, a sponge applicator, liquid eyeliner pen, pink lip liner, mascara, shimmering white powder, white and hot pink face paint, a couple different pink lipsticks, a pink blush, and the unicorn makeup kit.
Showstopping Unicorn Costumes
A unicorn costume is just what you need to bring your magical side out. Who better than us, the Halloween costume kings and queens, to help you find the perfect fit to match your glittery soul. We have a variety of costumes for all needs. Stay enchanted with our options of sexy, warm, cute, and fun unicorn costumes. But if these costumes aren't your cup of tea, take a look at our entire selection of unicorn costumes. Or if you decide to take your look to a darker side this spooky season, check out the rest of our makeup for your own inspired look.
Unicorn Accessories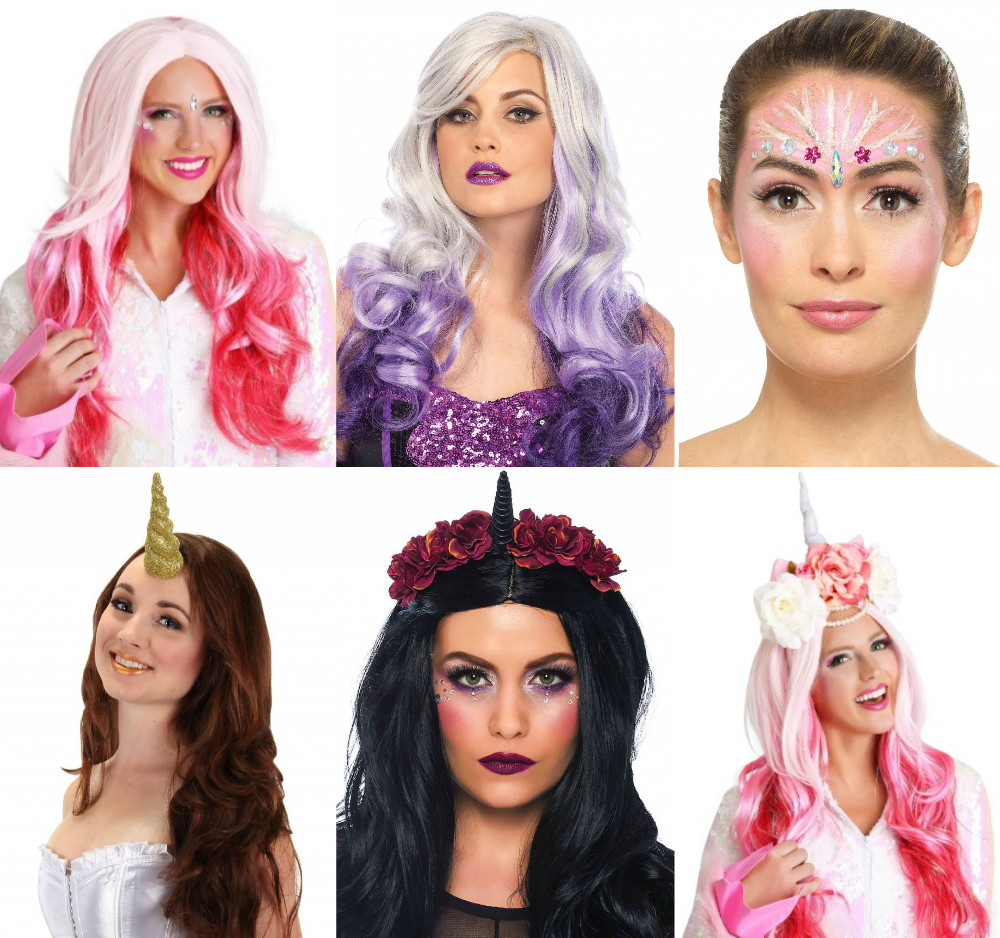 Do you already have an outfit that blasts rainbows and fireworks? We have great accessories that take each costume from good to "BAM! GET IT GURL!" These face jewelry gems are totally optional but accentuate the eyes and cheekbones to take this DIY to the next level. Create the most extra look with luscious locks like our pink ombre wig. Of course, any unicorn look is not complete without a horn. Feel fabulous with our unicorn flower crown that compliments anyone.
The Finished Look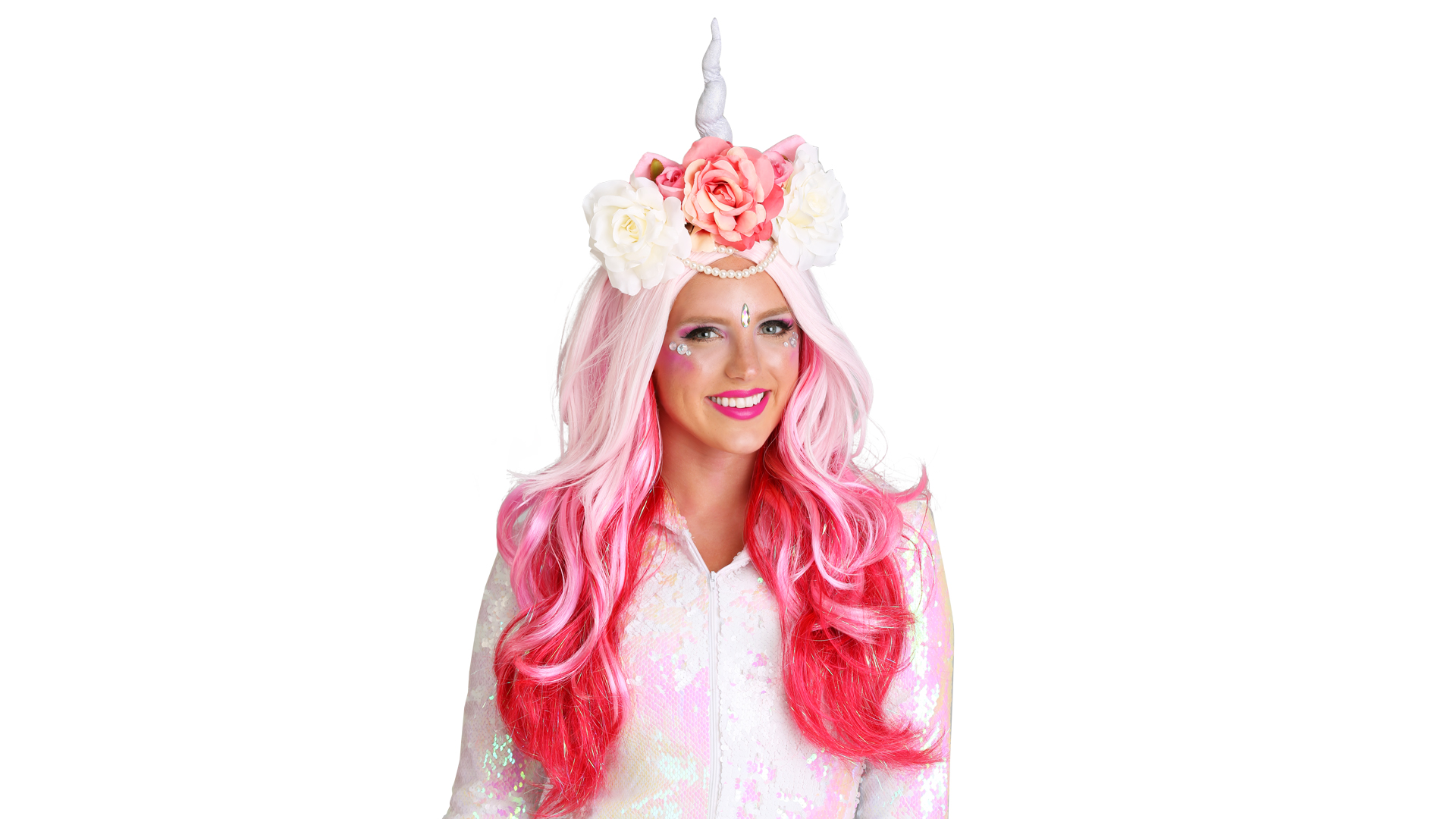 Legendary.
Our easy unicorn makeup tutorial will have you turning heads at the party. No one will ever know you rushed to splatter last minute magical unicorn dust to your face this Halloween. Did you try out this tutorial? Let us know how it turned out in the comments! And be sure to tag us on Instagram @funcostumes.