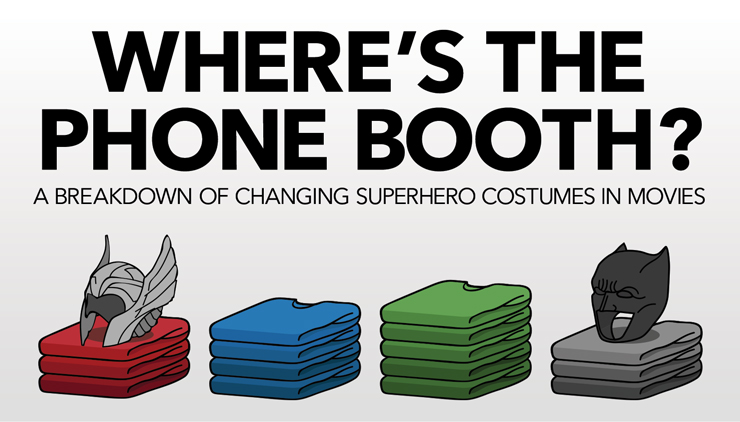 Marvel's Ant-Man and the Wasp is an upcoming superhero movie that is going to be coming out in theaters soon this summer, and we're very excited to see another female superhero hitting the big screen! If you happen to be one of those people who loves superhero movies but knows little about the comic books, one of the things you need to know about the Wasp is that she changes costumes all the time! (It took some research, but she probably has something in the neighborhood of over four hundred different costumed looks! Wow!) We hope she has a large walk-in closet.
The Wasp is just breaking into the movies now, so in true compare-contrast fashion, we made an infographic to examine some of the most well-known superheroes in the movies and see how many different costumed looks they had through the years. (We won't be including animated superhero movies, made for television movies, international superhero movies or movie serials.) It doesn't take a Hank Pym to know that Iron Man is winning this particular competition, but where do your other favorite superheroes stand? We decided to look at a handful of live-action heroes from both Marvel and DC, and particularly the ones that are either in the Avengers or the Justice League. Take a look at the infographic to see who has the deepest closet!
Click Image for Larger View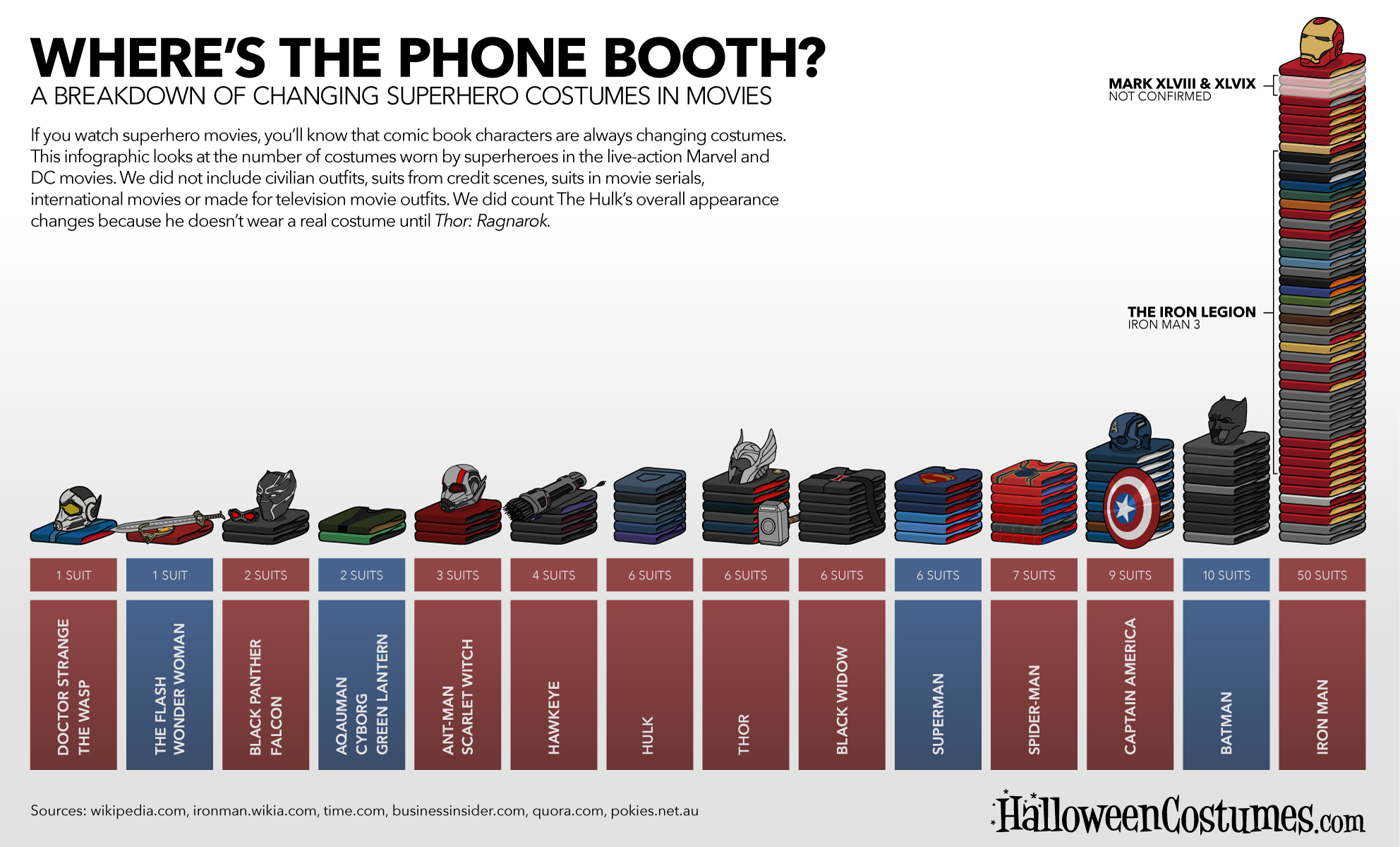 Embed This Image on Your Site:
Where's The Phone Booth Transcript
Where's The Phone Booth? A Breakdown of Changing Superhero Costumes in Movies
If you watch superhero movies, you'll know that comic book characters are always changing costumes. This infographic looks at the number of costumes worn by superheroes in the live-action Marvel movies and DC movies. We did not include civilian outfits, suits from credit scenes, suits in movie series, international movies or made for television movie outfits. We did count The Hulk's overall appearance changes because he doesn't wear a real costume until Thor: Ragnarok.
1 Suit (Marvel)
Doctor Strange
The Wasp
1 Suit (DC)
The Flash
Wonder Woman
2 Suits (Marvel)
Black Panther
Falcon
2 Suits (DC)
Aquaman
Cyborg
Green Lantern
3 Suits (Marvel)
Ant-Man
Scarlet Witch
4 Suits (Marvel)
Hawkeye
6 Suits (Marvel)
Thor
Hulk
Black Widow
6 Suits (DC)
Superman
7 Suits (Marvel)
Spider-Man
9 Suits (Marvel)
Captain America
10 Suits (DC)
Batman
50 Suits (Marvel)
Iron Man
Sources:
Wikipedia.com, Ironman.wikia.com, Time.com, BusinessInsider.com, Quora.com, Pokies.net.au
As movies continue to be made, our favorite heroes will undoubtedly don new superhero outfits. What superhero costumes are your favorites? (Seriously, they're like Pringles. It's hard to choose just one!) Are you planning on making a superhero cosplay or dressing as one of them for Halloween? We have a wide variety of superhero costumes to choose from if you're thinking about it. Just don't try changing in a phone booth, if you can manage to even find one!
Infographic Designed by Cody Petersen