Do you ever wish you could go back to the 80s? If you said yes, then you're in the right place. There's no better way to relive the best times of your life than donning a totally radical 80s costume! At HalloweenCostumes.com, we believe that your costume is the best way to turn back time! Whether you're at an 80s themed party, hitting the town on Halloween, or trick or treating with the family, these 80s themed costumes are a sure-fire eye-catcher anywhere you go!
1. Stranger Things Costumes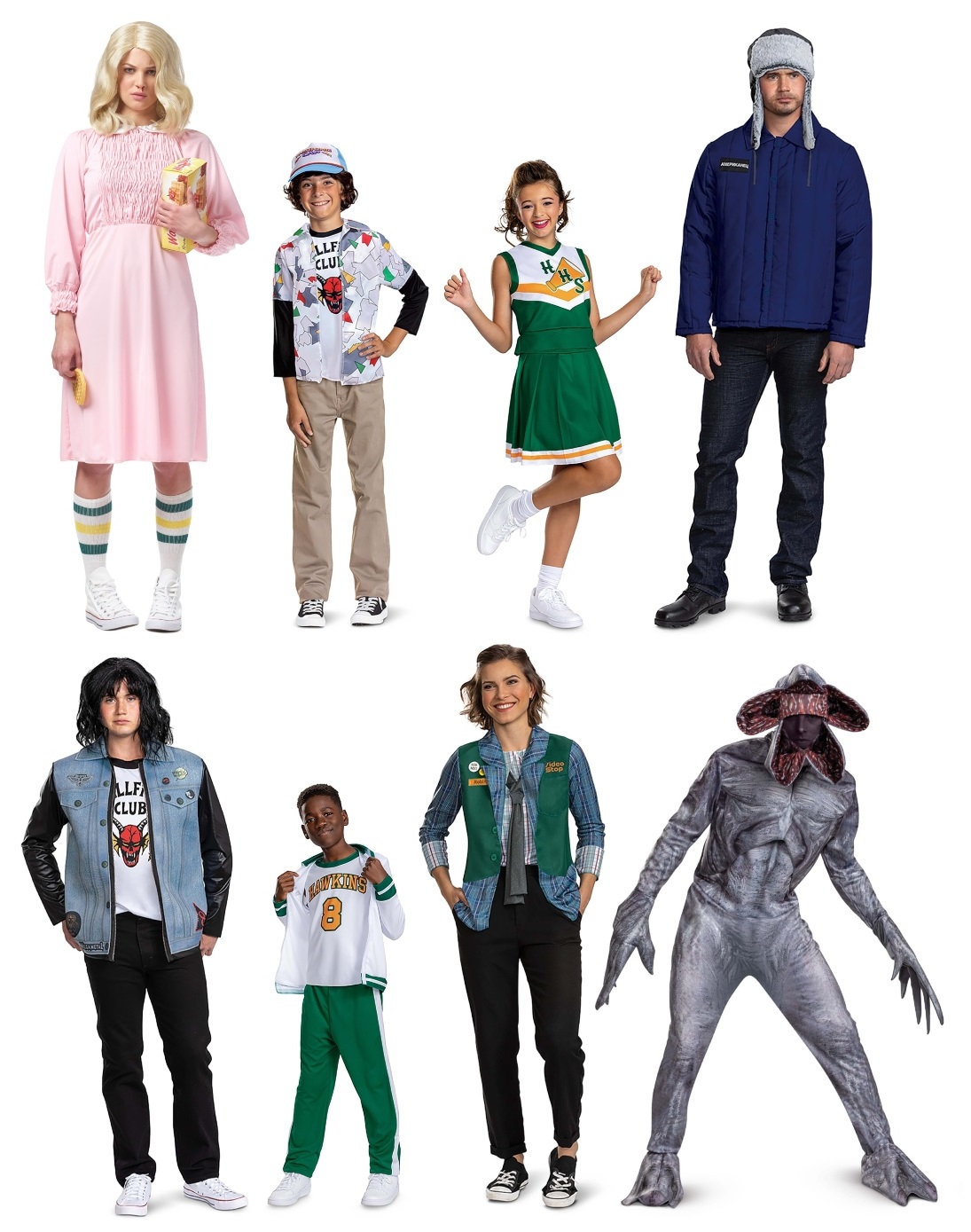 While the popular Netflix series Stranger Things was not made in the 80s, it is set in the 80s. Eleven is certainly a popular 80s costume for girls, but there are other great 80s costumes for men as well. Choose from costumes like Jim Hopper's date nightshirt, Steve's Scoops Ahoy uniform or even a scary Demogorgon costume. You can't deny that Stranger Things is full of great characters, which gives it the opportunity that perfect college Halloween costume or 80s group costume!
2. The Princess Bride Costumes
It's inconceivable that The Princess Bride costumes wouldn't be included in a round-up of 80s costume ideas. (And that we would pass up that word!) The Princess Bride truly is a classic 80s movie—we all remember the heartbreak fearing Westley's death and the empathy we felt for Buttercup for her loss. However, Westley had other plans and eventually found his way back to her heart. Even if your love story doesn't involve loss and Miracle Max, you can still capture the passion of Princess Buttercup and Westley in our Westley and Princess Buttercup costume. Don't let the fun end there either—you can add to your Princess Bride group costume with Halloween costumes for Inigo Montoya and Fezzik!
3. Beetlejuice Costumes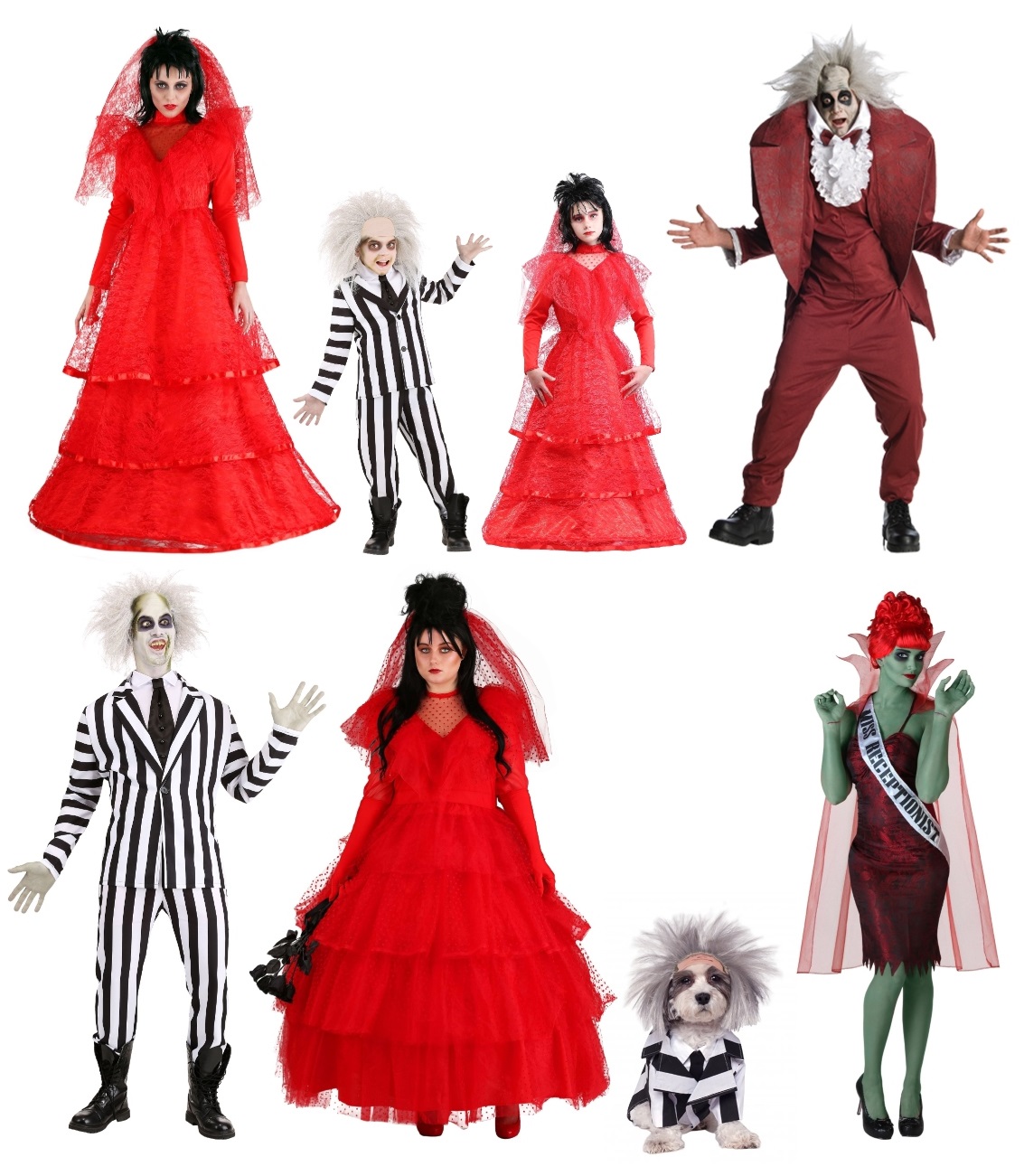 This classic 80s comedy horror movie is the perfect choice for an 80s costume duo. Dress like Beetlejuice and Lydia as a couples costume, or use kids' costumes and make it a mommy and me or a daddy and me costume instead! There are also a few Beetlejuice masks with unusual faces for other characters. You're sure to bump into other 80s movie fans when you wear these iconic Beetlejuice costumes!
4. KISS Costumes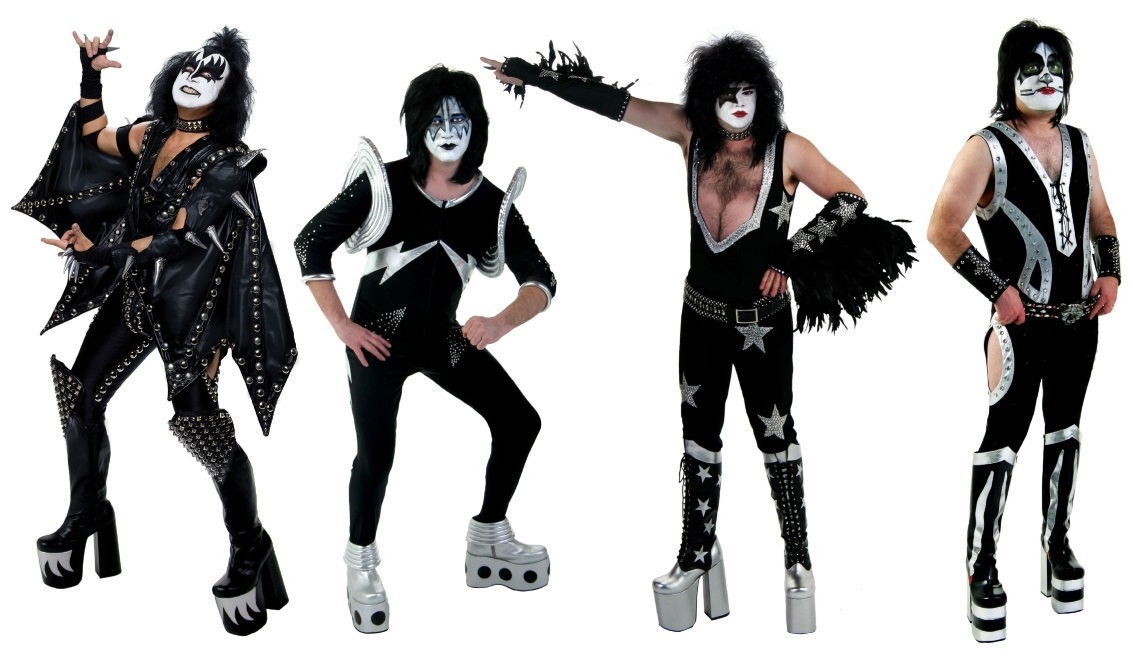 They might have had their heyday in the mid to late 1970s, but KISS was operating in the 80s. (And they still perform today!) Dress like pre-unmasked-era KISS with these exclusive KISS Halloween costumes and makeup. KISS is one of the best men's group costume ideas for four people, and you're sure to be the hit of the party.
5. The Breakfast Club Costumes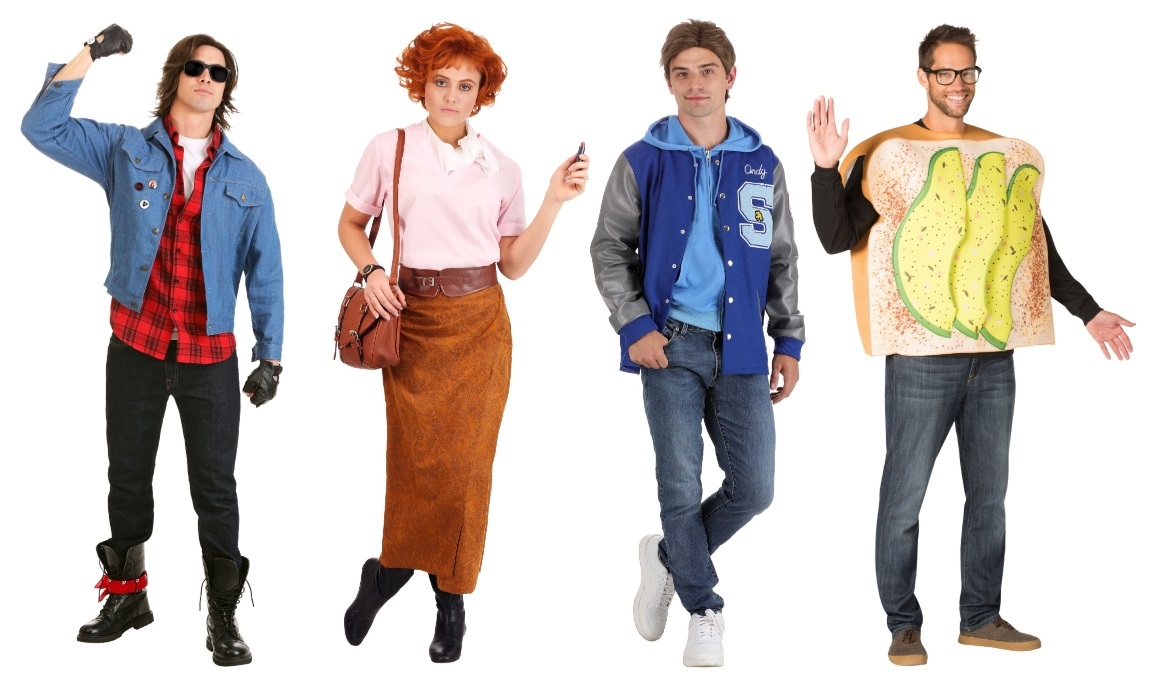 Smack dab in the middle of the 80s was The Breakfast Club movie. It created many iconic moments (and memes), but it also makes for a really good pun costume. Sure you can wear actual The Breakfast Club costumes to look like your favorite characters, but you're sure to get some laughs (or groans) if you wear a bunch of breakfast food costumes. We're not going to say that one way is better than the other, but you do you.
6. Labyrinth Costumes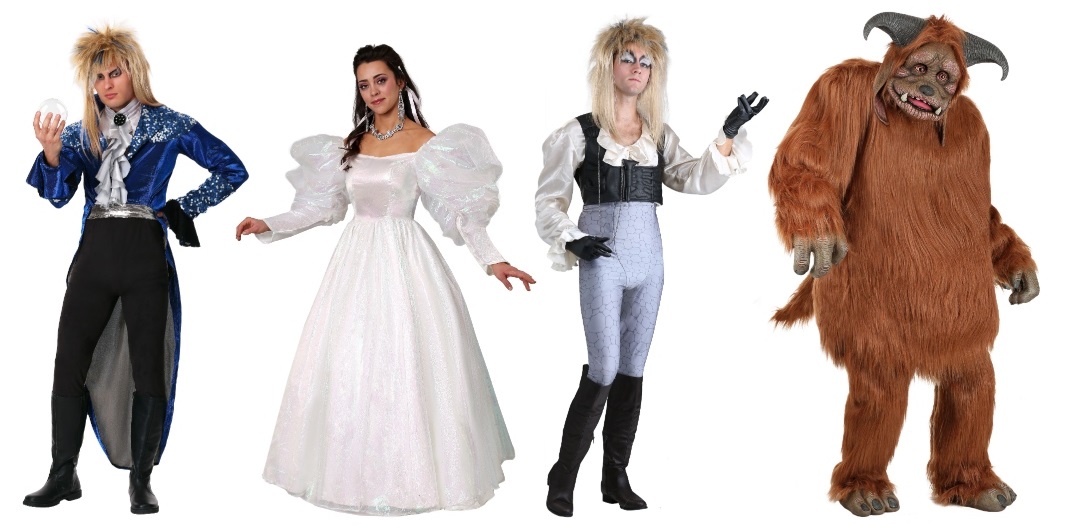 The hair! The poofy sleeves! Does it get any more 80s than Jim Henson's Labyrinth? You even get the added bonus of a movie with David Bowie! Now that we've checked all those boxes, you'll know why you can't pass up the opportunity to wear official Labyrinth costumes to your next Halloween party or Comic-Con. If you have your heart set on a classic 80s costume, this is it. (Not to mention the fact that this is one of the best 80s couples costumes.)
7. Ghostbusters Costumes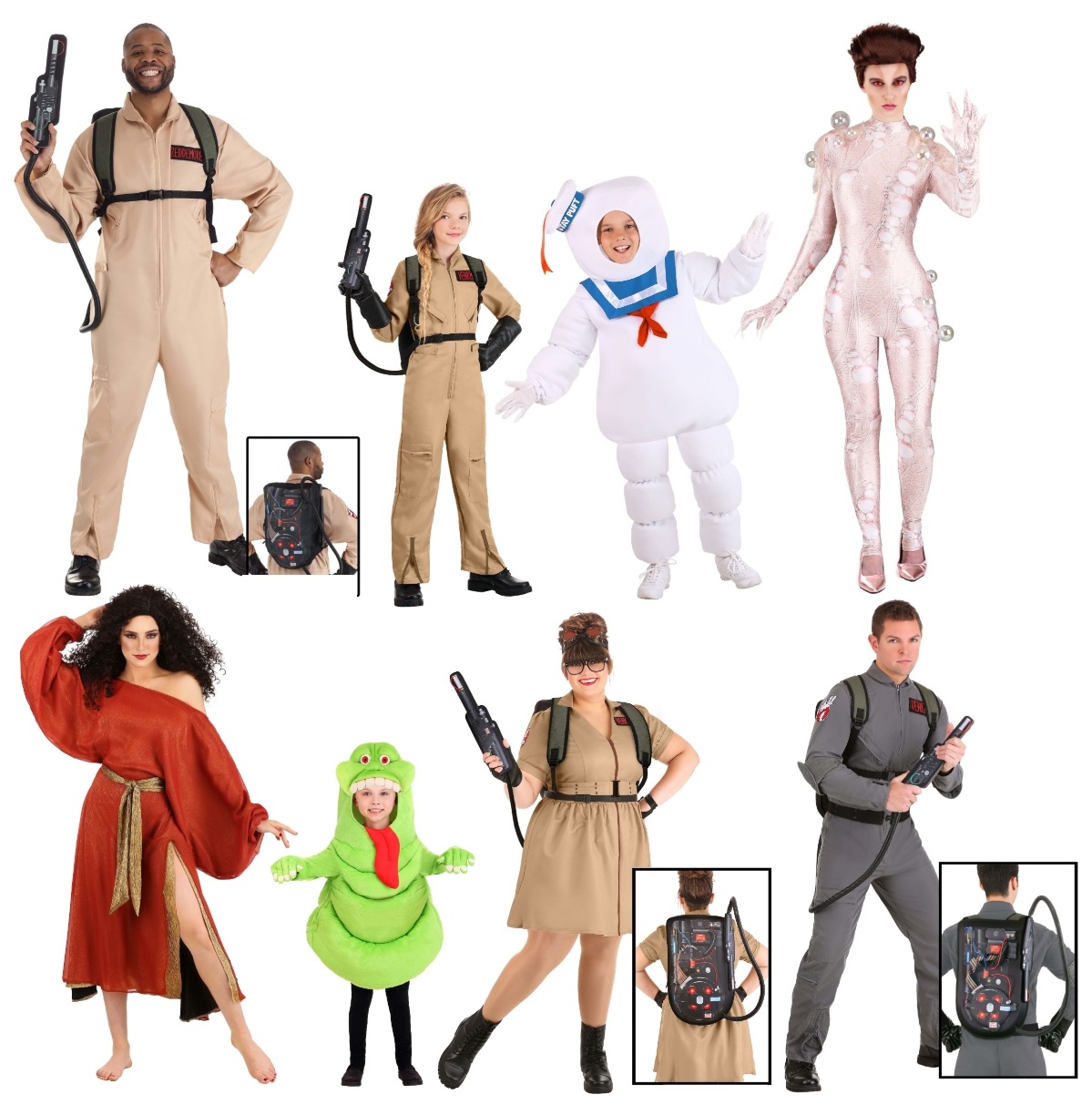 Who you gonna call when you need an 80s costume idea for a group? Ghostbusters! You can easily outfit a family in Ghostbusters costumes, from ghost-fighting jumpsuits and dresses to Slimer and Stay Puft costumes. Easily the most flexible group costume idea for groups of any size, you're more than welcome to still fly solo if you want to cosplay as Venkman or any of the other characters.
8. Back to the Future Costumes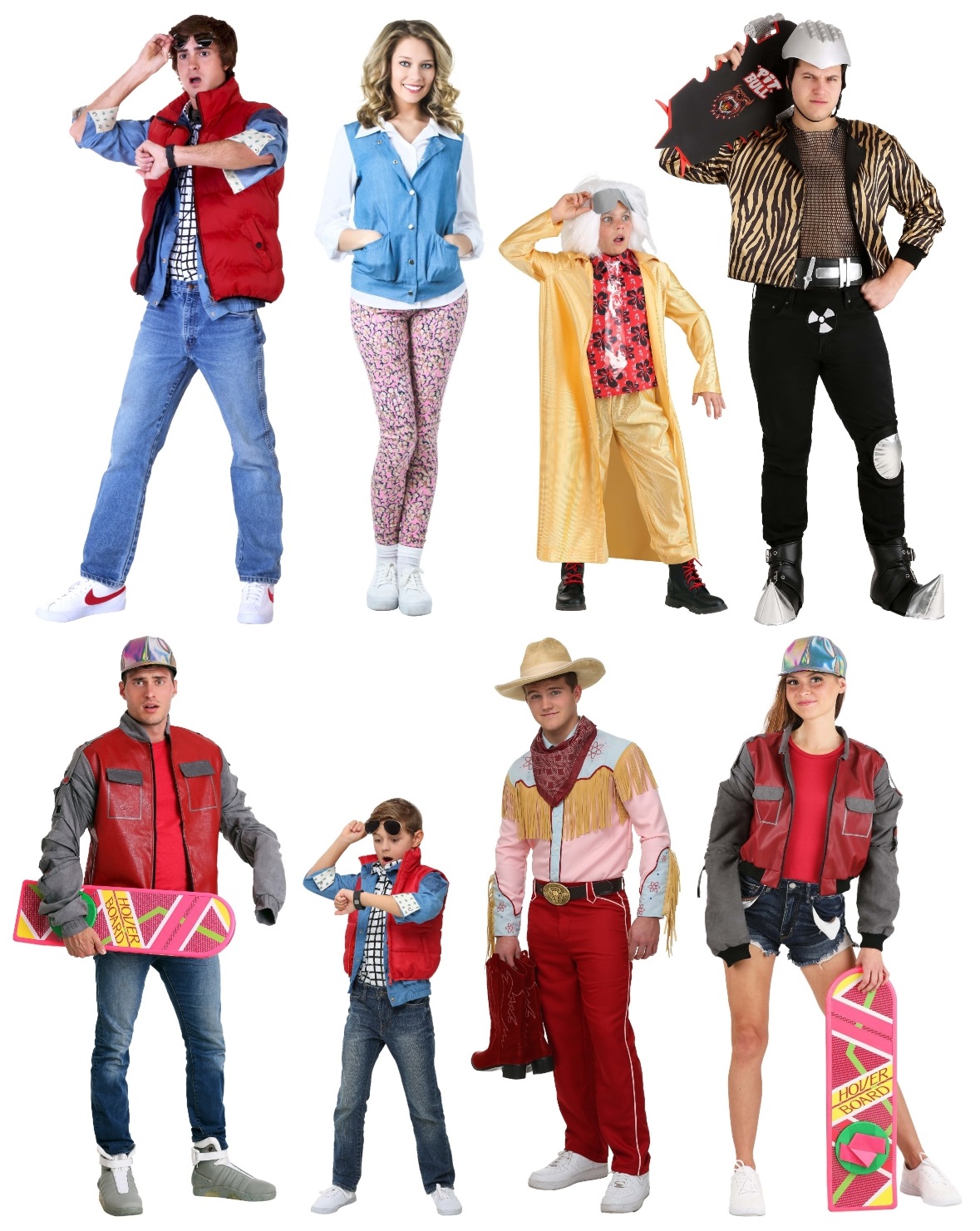 Probably the most iconic time travel movie of all time, Back to the Future is full of great 80s costume ideas. Marty McFly has quite a few outfits throughout the film series, but you can old find costumes for characters like Jennifer Parker along with Doc Brown. There's even a Back to the Future dog costume! This easy 80s costume idea practically presents itself—but you're free to complicate matters by trying to track down a DMC DeLorean.
9. Top Gun Costumes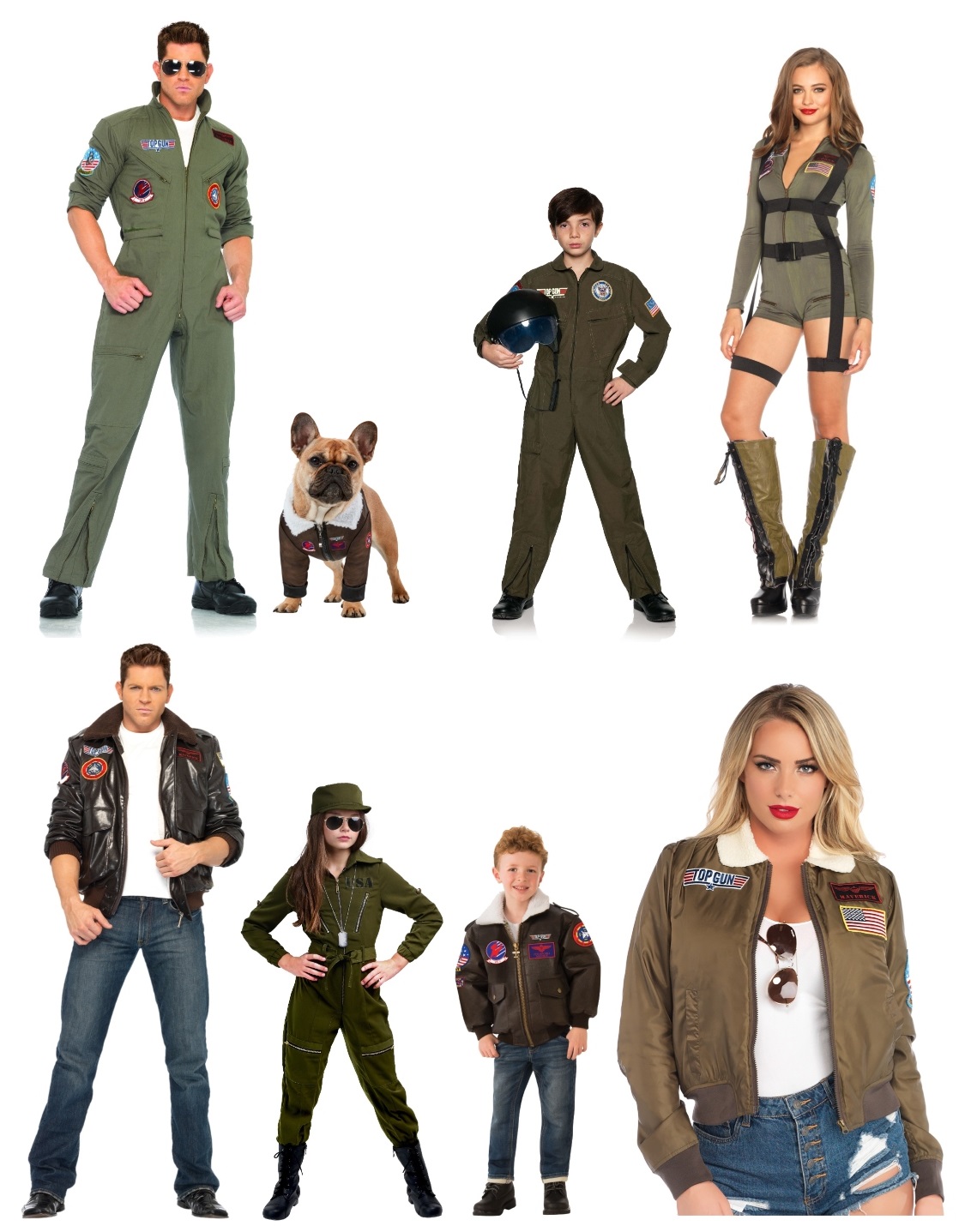 Put an 80s twist on military costumes and check out these Top Gun costumes! A variety of bomber jackets and flight suit outfits will make you feel like Goose, Maverick and the rest of the gang. (Maverick and Goose, name a better duo!) If you're looking for a warmer 80s costume to wear in colder states (like our home state of Minnesota), the bomber jackets are especially great for kids and adults.
10. Indiana Jones Costumes
Apologies if this makes you feel old, but the first Indiana Jones movie came out in 1981. (Makes you want to hop into a DeLorean to get some of that time back!) In any case, we're not about to complain that they're still making Indiana Jones movies if it means that our kids have the chance to like something that we like, too. Whether you want to buy an Indiana Jones costume or make one from scratch, there are plenty of Indiana Jones costume accessories to make sure you get the complete package.
11. Saved by the Bell Costumes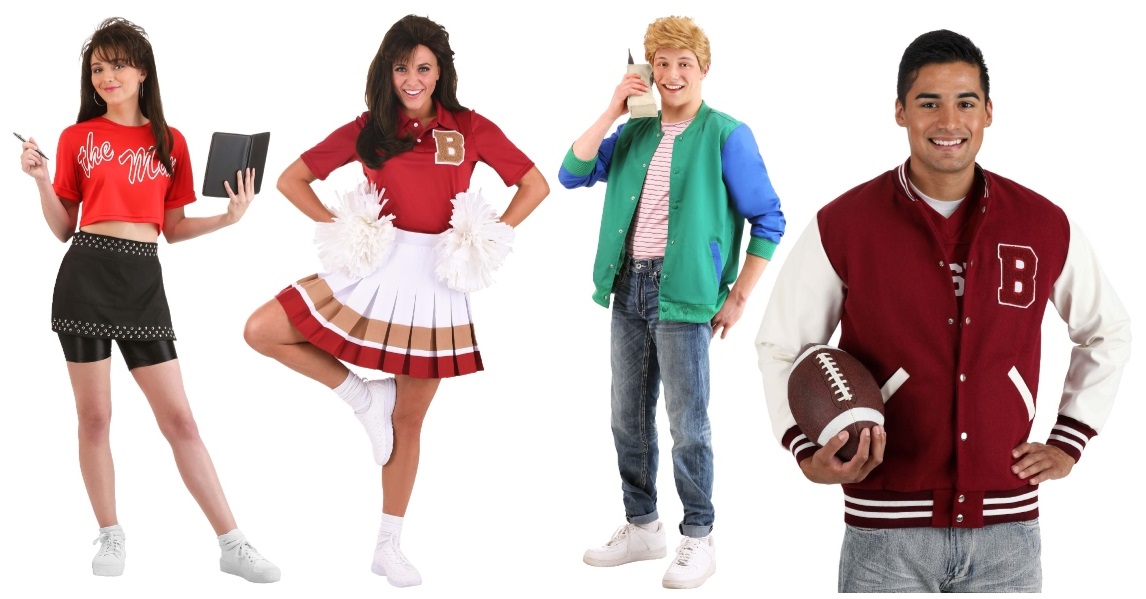 Saved by the Bell might barely be in the 80s, but it still counts! It only ran for four seasons, from 1989 until 1993, but what an impression it made! If you have always wanted to try an early mobile phone—a.k.a. "the brick"—this 80s costume idea is perfect for you! You can even lean into the humor and get a giant, inflatable mobile phone so Zach Morris can chat with his friends in style. (Too bad you can't use his "time out" superpowers.)
12. Care Bears Costumes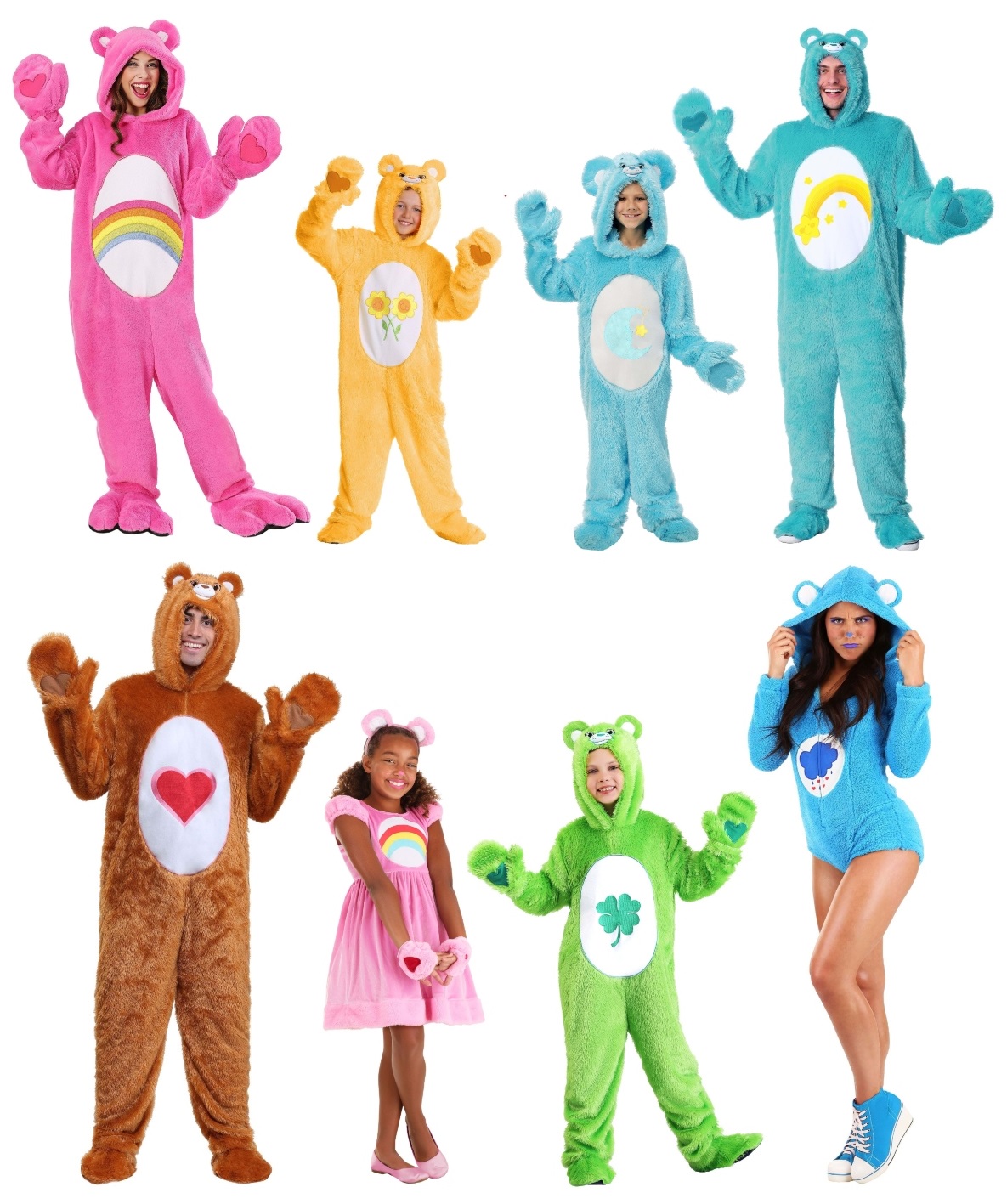 What's warm, fuzzy and unbearably cute? With all those clues (or maybe the pictures), you probably guessed that we were talking about Care Bears costumes! You can find a huge variety of Care Bears outfits here, so you and your squad can be comfy and cozy all night. Don't forget to practice your Care Bear stare!
13. The Karate Kid Costumes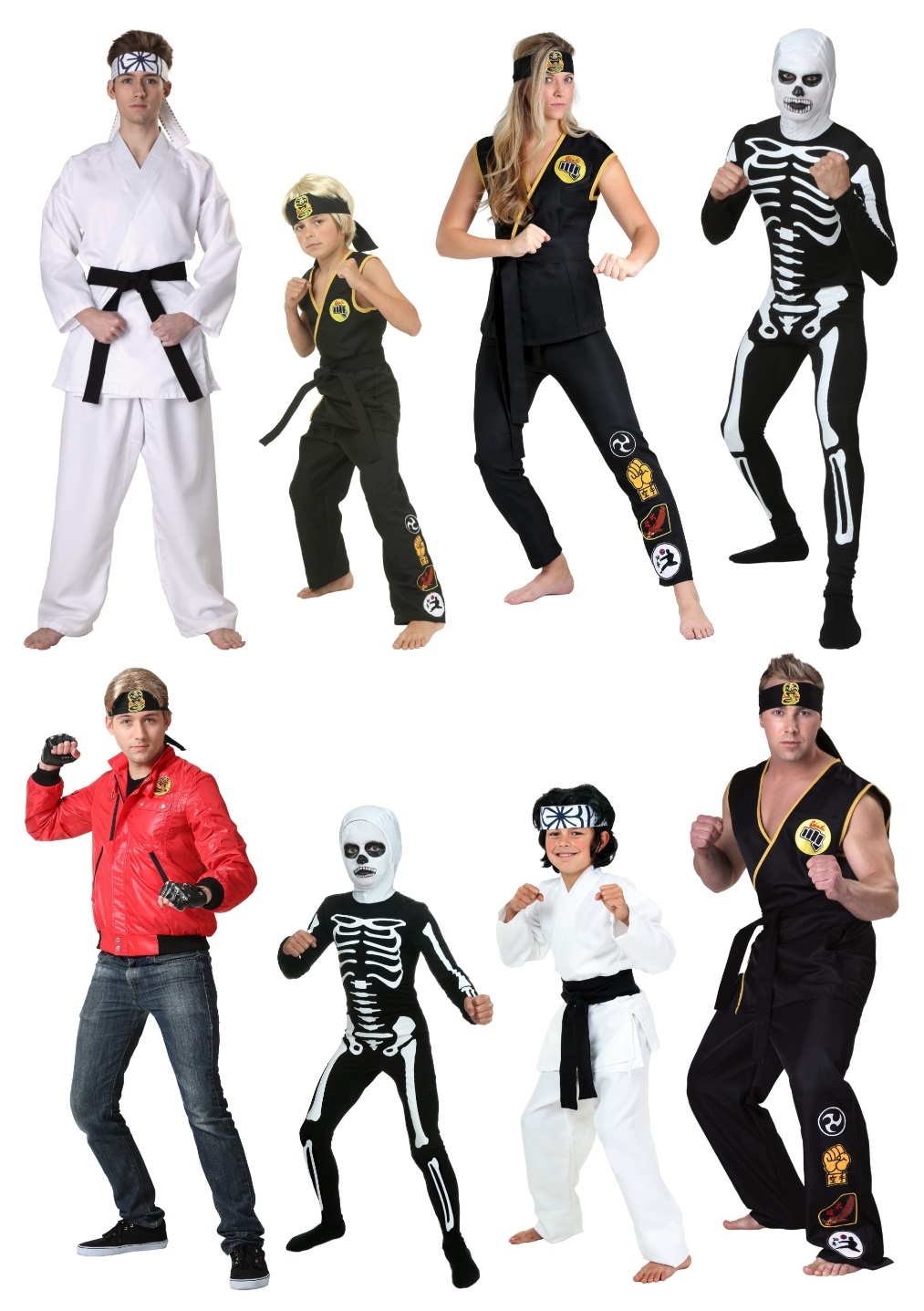 Get ready for some 80s martial arts action! There are tons of great 80s costume ideas for guys in The Karate Kid, so these Halloween costumes are true #dadgoals. (How cute would it be to have a daddy and me Mr. Miyagi and Daniel San pair?) If you're a fan of the Cobra Kai television series or you still prefer bad-boy Johnny Lawrence, you can look slick in his karate outfit or his red jacket.
14. E.T. Costumes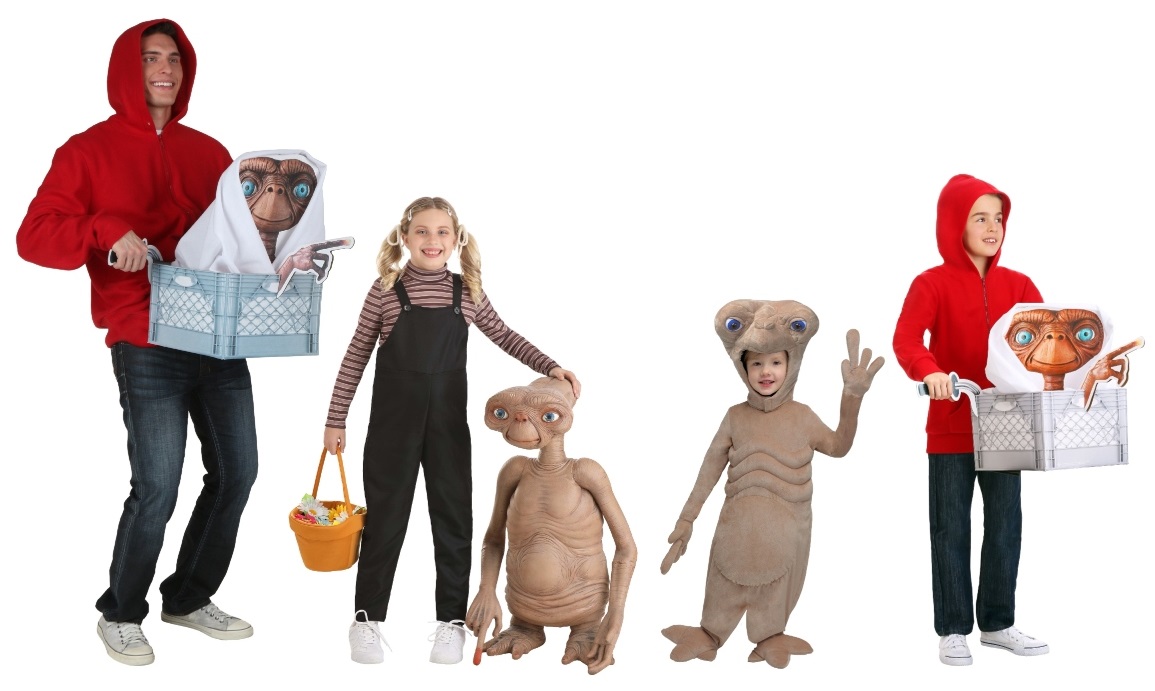 If you're looking for excuses to snack on Reese's Pieces at the Halloween party, an E.T. costume is exactly what the doctor ordered! (Probably not your dentist, though!) E.T. also doubles as a great costume for alien enthusiasts, so there's that too. You might not be able to make bicycles and other objects levitate, but you'll still be the delight of other 80s movie enthusiasts.
15. Rainbow Brite Costumes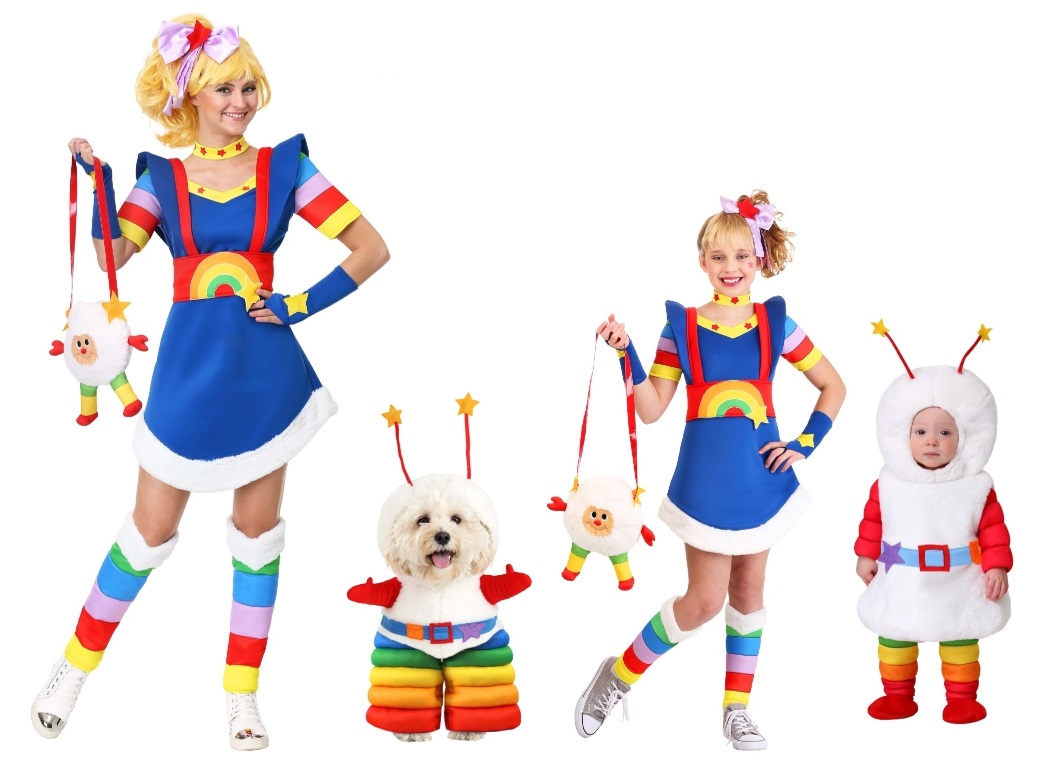 Arguably one of the most colorful characters to spring out of the 80s, Rainbow Brite is the perfect costume for cartoon enthusiasts. The era of Saturday morning cartoons was in full swing, where kids could watch classics like the Care Bears, He-Man and of course Rainbow Brite! Now you can access cartoons on streaming services 24/7, but you can still relive those glory days in our exclusive Rainbow Brite costumes!
16. 80s Workout Costumes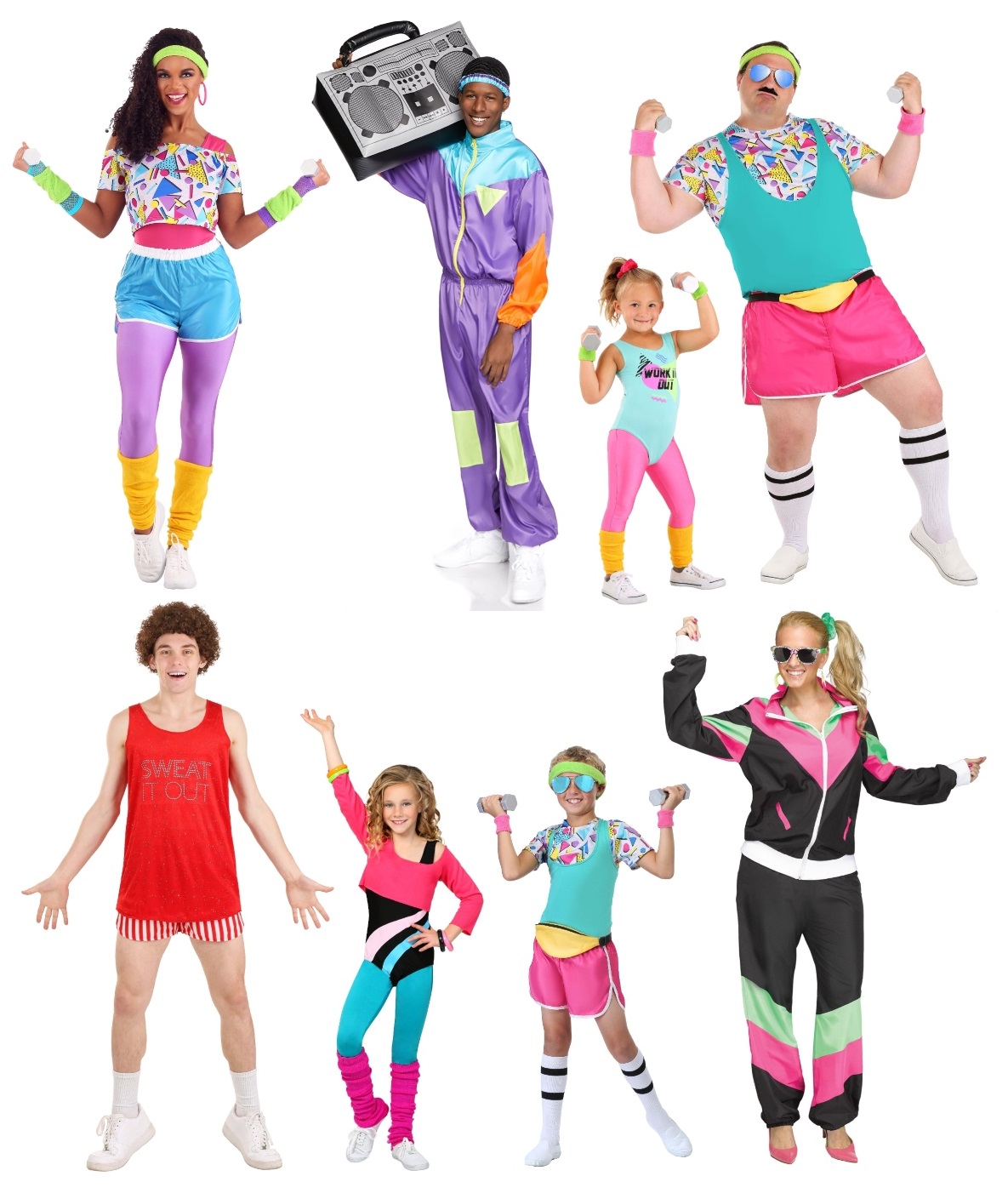 Let's get physical! The 80s was the height of home workout videotapes and neon spandex outfits—an iconic look that is still parodied today. (Booty shorts, leg warmers and sweatbands, oh my!) Be at the height of 80s fashion with these bright and colorful workout outfits. There are bound to be tons of these at any 80s costume party, and who could blame you for wanting to wear one? They're pretty comfy, after all!
17. The Smurfs Costumes
You might not realize it, but the Smurfs actually have a history before their cartoon series in the 1980s. (They actually started out as part of a Belgian comic series in 1958!) We don't entirely know how these loveable blue creatures came to be part of a successful American TV series, but they had a great run—from 1981 to 1989. There are tons of Smurfs characters to choose from such as Pap Smurf and Smurfette, but with some added costume accessories you can become characters like Brainy Smurf or Chef Smurf.
18. Other 80s Movie Costumes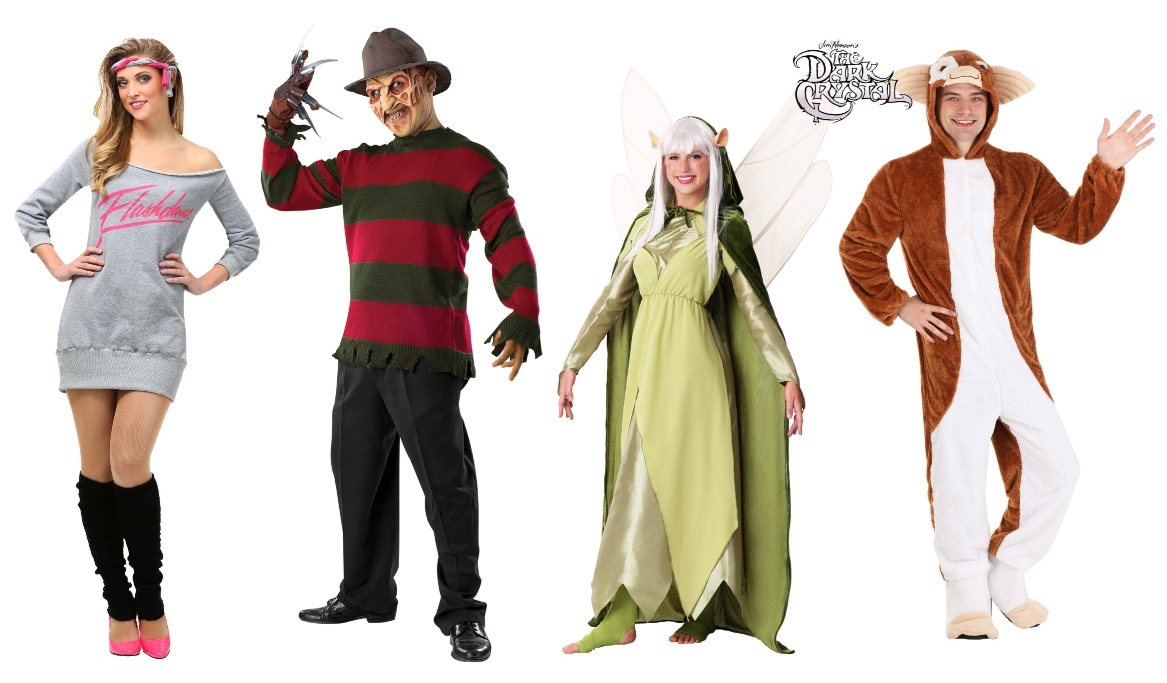 We'd like to argue that there's nothing better than getting cozy with a blanket and some snacks to watch our favorite 80s movies. Whether there was solid gold in the water or a weird bug that had the side effect of making some of the most entertaining movies ever, we're not sure. However, we are certain that you can never have too many 80s movie costumes! HalloweenCostumes.com prides itself on having a vast selection of nostalgia costumes. You can find 80s favorites like Flashdance, Gremlins, The Dark Crystal and more!
19. Other 80s TV Costumes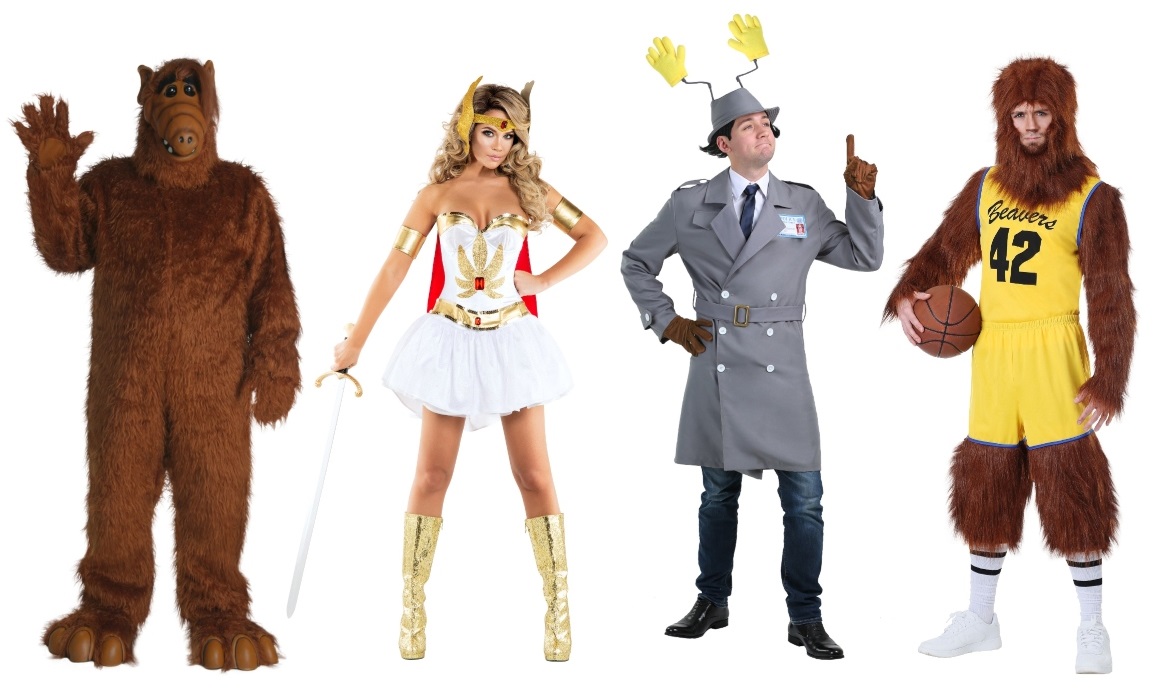 As much as we rant and rave about how good movies were in the 1980s, the television shows were also superb! So many 80s cartoons and live-action shows are remembered fondly today, from She-Ra to the Golden Girls. You can re-live your favorite moments on television with these 80s TV show costumes. (Don't be surprised if someone starts belting your opening theme song!)
20. 80s Singer Costumes for Women
Was there anything that they were bad at in the 80s? Movies, TV, and music—we still can't get enough of them today! When you think of the women behind the music of the 80s, Madonna is probably one of the first to come to find will all of her iconic outfits. You also have singers like Selena Quintanilla-Pérez, Cyndi Lauper, Pat Benatar, Tina Turner and more! Get ready to rock your party in style with these 80s musician costumes, ladies!
21. 80s Singer Costumes for Men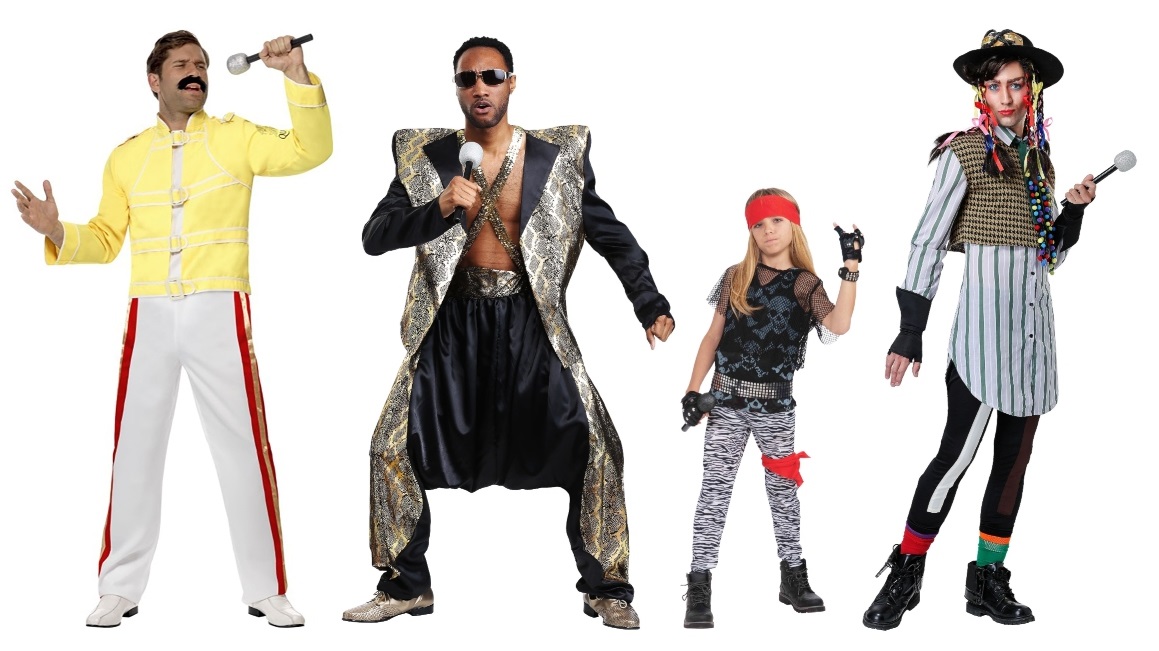 You can't touch these 80s costume ideas for men. There are so many iconic male singers from the 80s that we can hardly begin to list them all! You have the likes of Michael Jackson, Freddie Mercury, David Bowie, Angus Young and others. If you wear these celebrity costumes, you'll have the perfect excuse to bring some of your favorite tunes to the costume party.
We hope you enjoyed exploring some radical 80s costume options with us! Are you planning on dressing up in an 80s costume? If the 80s just isn't your decade, we have plenty of other decade themed costumes like the 20s, 50s, 70s, and 90s costumes! Feel free to let us know if we missed any 80s clothing or costumes in the comments that you'd like to see!