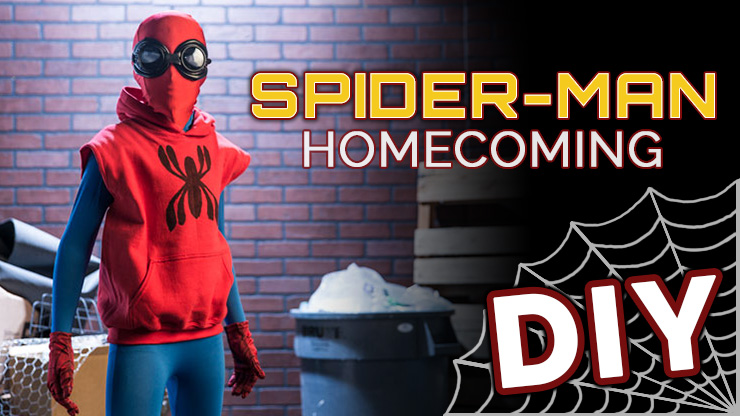 Spider-Man first appeared in 1962 and has grown into one of the most popular superheroes. It's no surprise that every year kids want to dress up as Spider-Man. With the recent release of Spider-Man: Homecoming, this year will not be any different. During the movie, Peter learns "If you're nothing without that suit than you shouldn't have it". Having it taken away by Tony Stark, Peter then dons his old homemade Spider-Man suit. Who didn't love that suit? That's why we decided to make a Spider-Man homemade suit ourselves.
Spider-Man DIY Homecoming Costume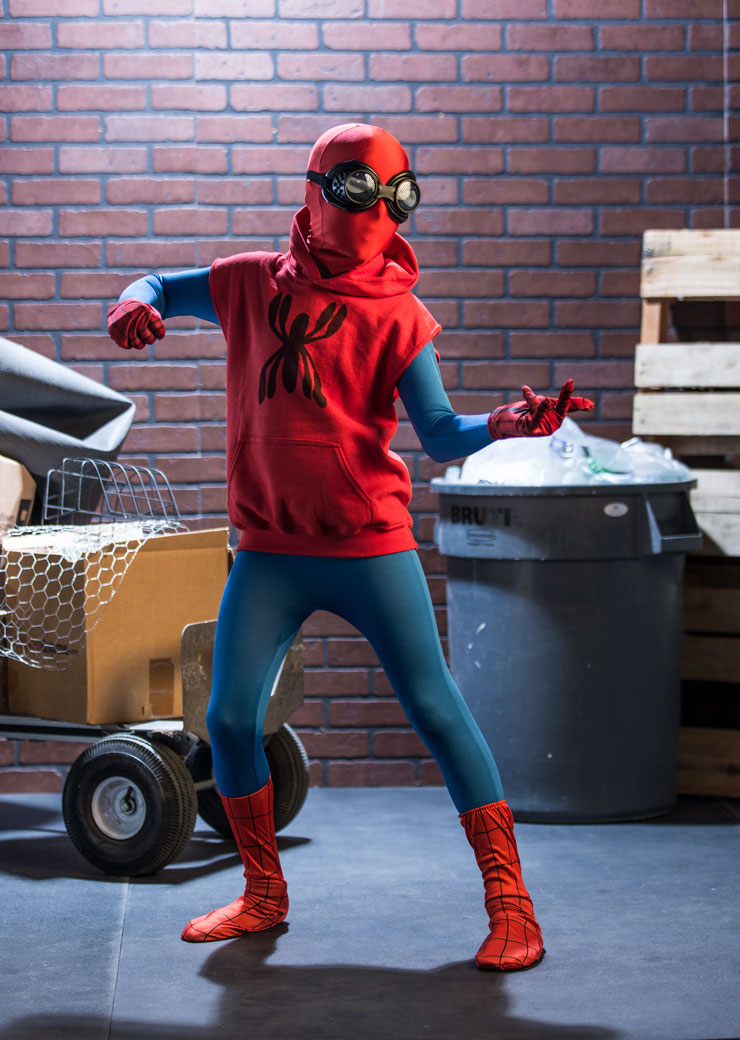 Here's our version of the Homecoming handmade Spider-Man suit. Pick up a red hoodie at a thrift store. Look for something cheap because you will cut it up! Draw the giant spider in the middle. Next cut the sleeves make sure to cut close to the seam so it doesn't fray or roll. While Spider-Man's eyes are cut into the mask, we decided to take the easy way and just use black goggles to make Spiderman goggles. Whatever you do make sure you can see through it. Add a blue bodysuit, gloves, and boots, and voilà! You have your very own Spiderman Homecoming cosplay!
Products used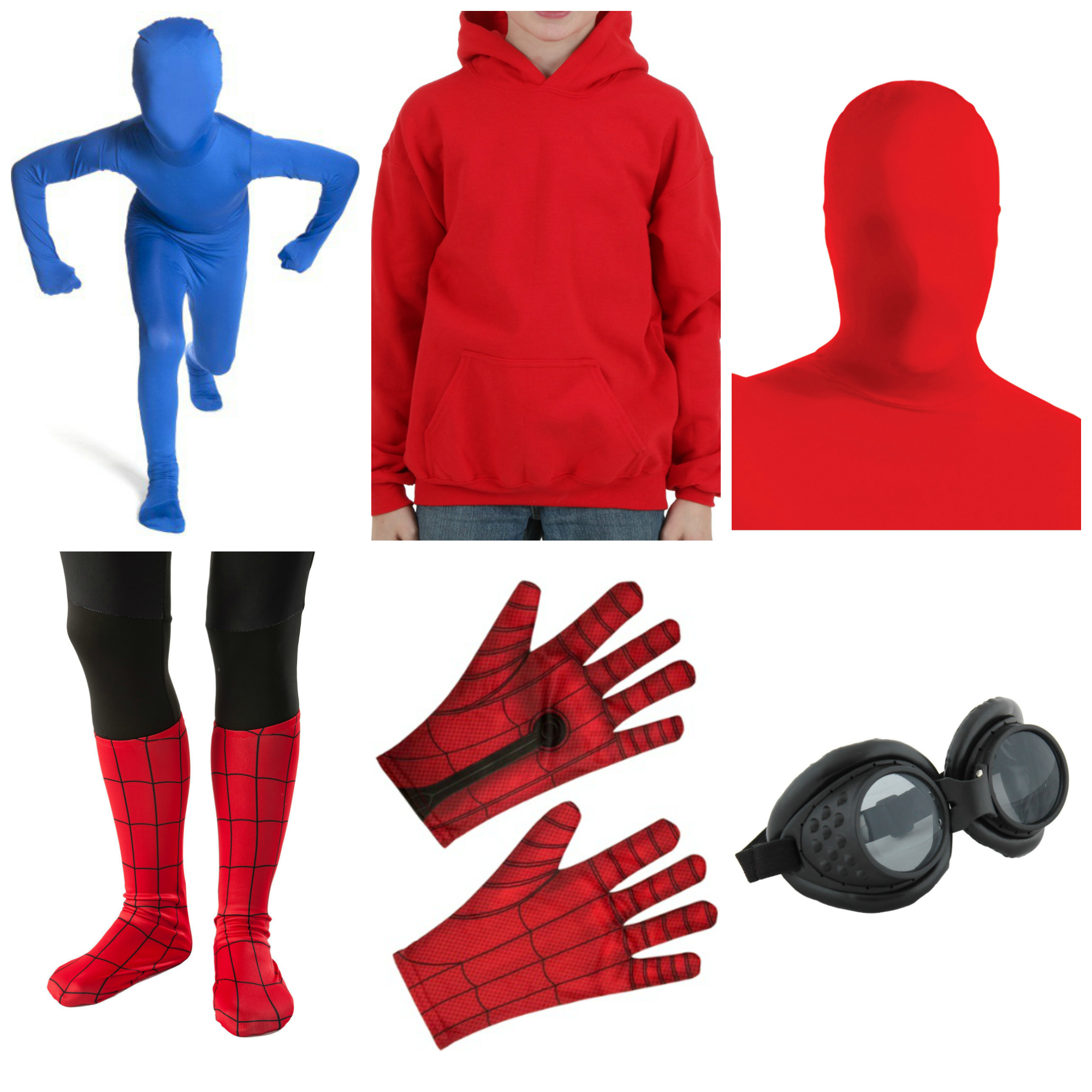 Blue Morphsuit Red Hoodie Red Skin Mask
Spider-Man Boot Covers Spider-Man Homecoming Gloves Radioactive Aviator Black Goggles
These are the products we used to make our Spider-man DIY. The blue morphsuit is a fast and easy way to get the blue needed to create this look. Outfitted with the gloves, Spiderman hoodie, and boots, and you're almost there! You can go with a standalone red mask or the spare mask from that red Morphsuit you've got laying around. (Superhero fans like us have one in every color, right?) However, we recommend the mask because it is longer to help cover your neck, got to keep that identity a secret. Top it off with goggles and your easy DIY costumes for kids is all set!
The Final Look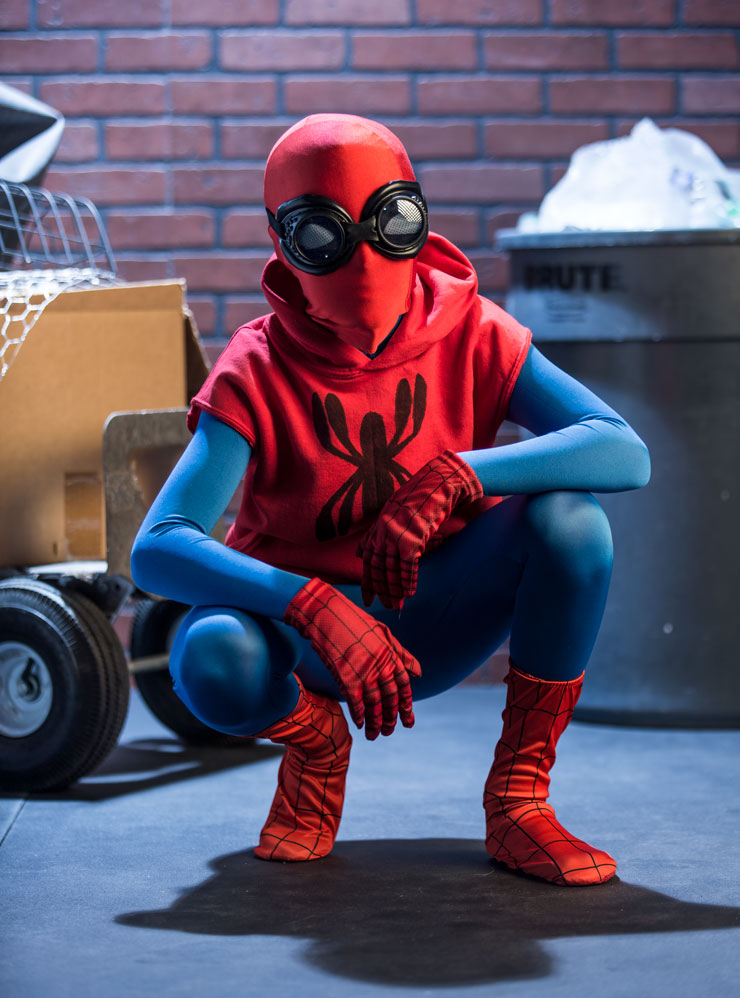 "Hey guys!"
Once you have your suit on there's nothing left to do but strike that Spider-Man superhero pose! Not one that involves climbing a wall, we don't have superhero powers or anything. Stick to one that shows you slinging that spider web at Vulture, Doctor Octopus, Green Goblin, or whichever one you are fighting. We don't want to brag or anything, but our DIY costume looks pretty close to the Peter Parker version from the movie! Get ready to hit the streets (or the party) in your very own Spider-Man Homecoming homemade suit.
"With great power there must also come great responsibility". What would you do if you had Spider-Man power? While you may feel like a superhero ready to take action in your homemade suit, we strongly discourage that. With so many superhero DIYs, will this be one you try? Check out all the DIYs on our blog and let us know about your own DIY projects in the comments!