Here comes the bride, all dressed in white. Where is the groom? He's... crawling out of his tomb. Not quite how you remember that saying going? Us either, but we want to be at any wedding that uses it. Are you and your significant other into anything and everything spooky? Do you both enjoy those queasy feelings that others get from horror movies? Do you want the wedding that no one else would ever dare to dream of having? Well, we have 6 ideas on how you can have the spookiest wedding ever.
1. Dress in Spooky Wedding Apparel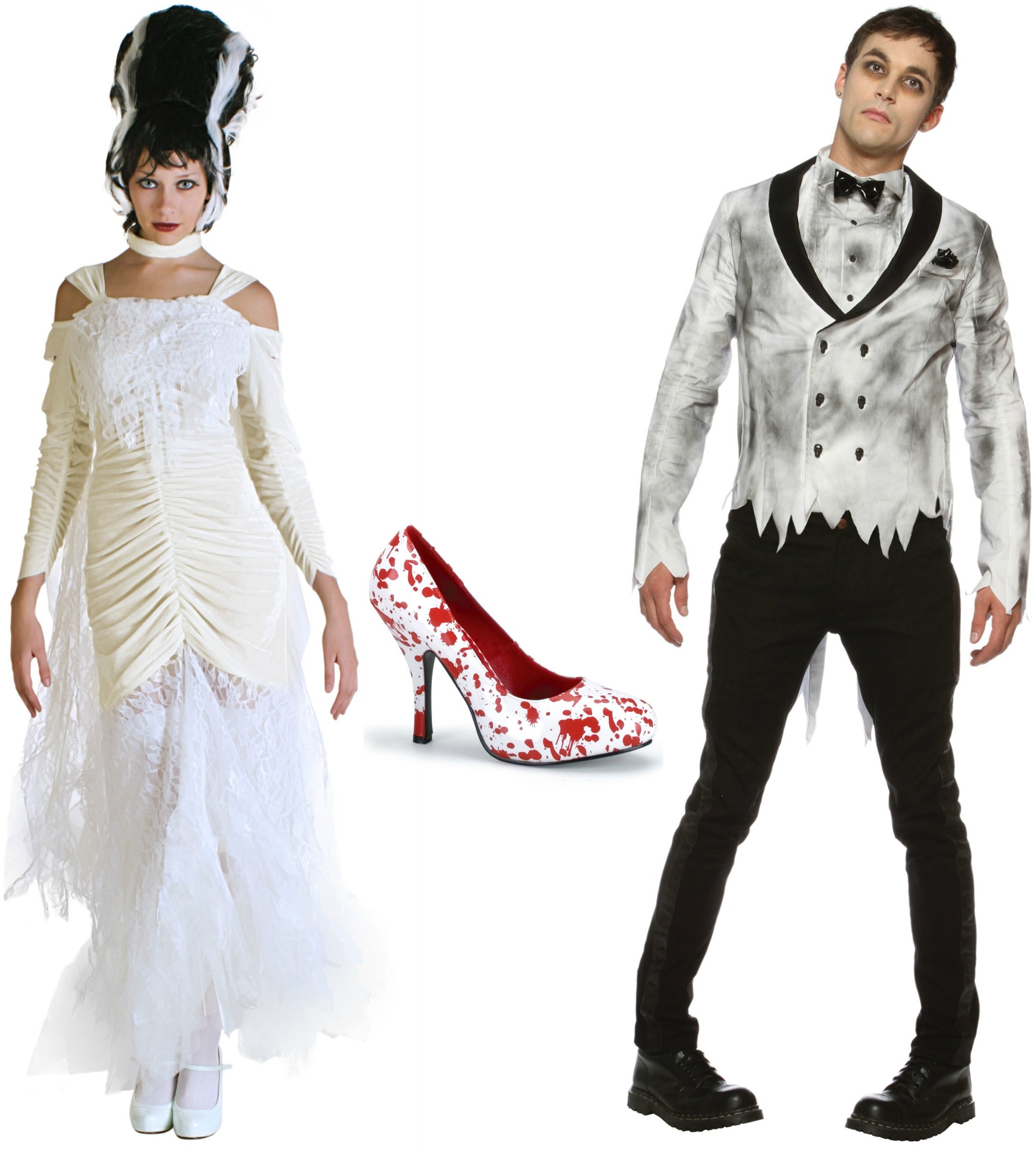 Bride of Frankenstein Costume Zombie Groom Costume
For the Bride: Take a stroll down the aisle in one of the most iconic wedding dresses in horror history: The Bride of Frankenstein dress. Take the look one step further by adding some bloody white heels.
For the Groom: We've all heard the jokes that a wedding is the groom's funeral, but what if he's already dead? ...or should we say undead? Stumble your way into your future as a ghoulish zombie groom.
2. Have a Bouquet of Dead Flowers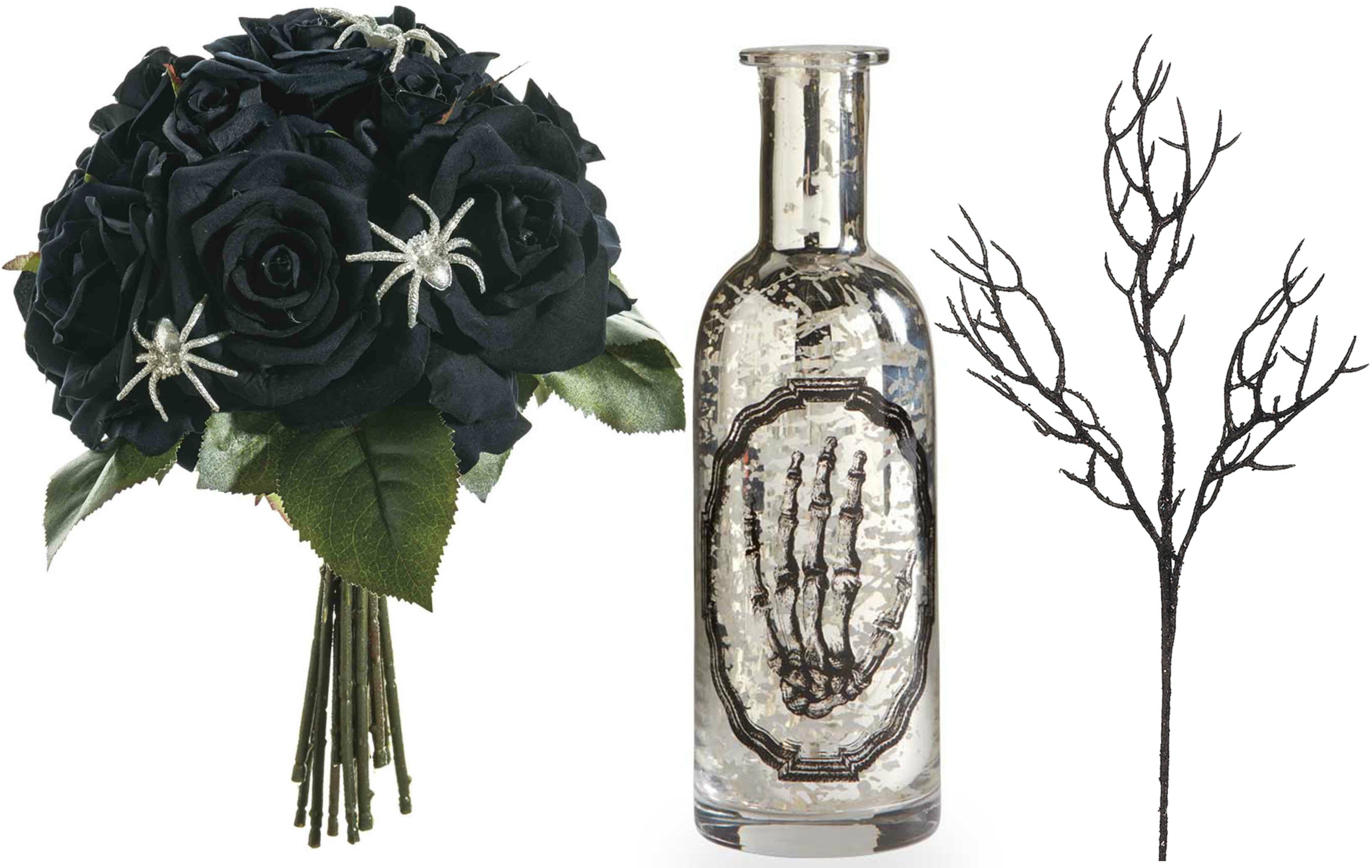 Velvet Rose Bouquet Glass Skeleton Handprint Bottle Black Glittered Twig Spray
No wedding is complete without flowers. They really are the perfect accessory for the bride and her party. Heads will turn when this gorgeous velvet rose bouquet glides by. It also works perfectly as a centerpiece for your dinner tables. Let's face it, no one likes an empty table. Place these velvet bouquets in a skeleton themed mercury glass bottle and throw in some black glitter sprayed twigs to really up the elegant eeriness.
3. Get Creative with Your Wedding Cake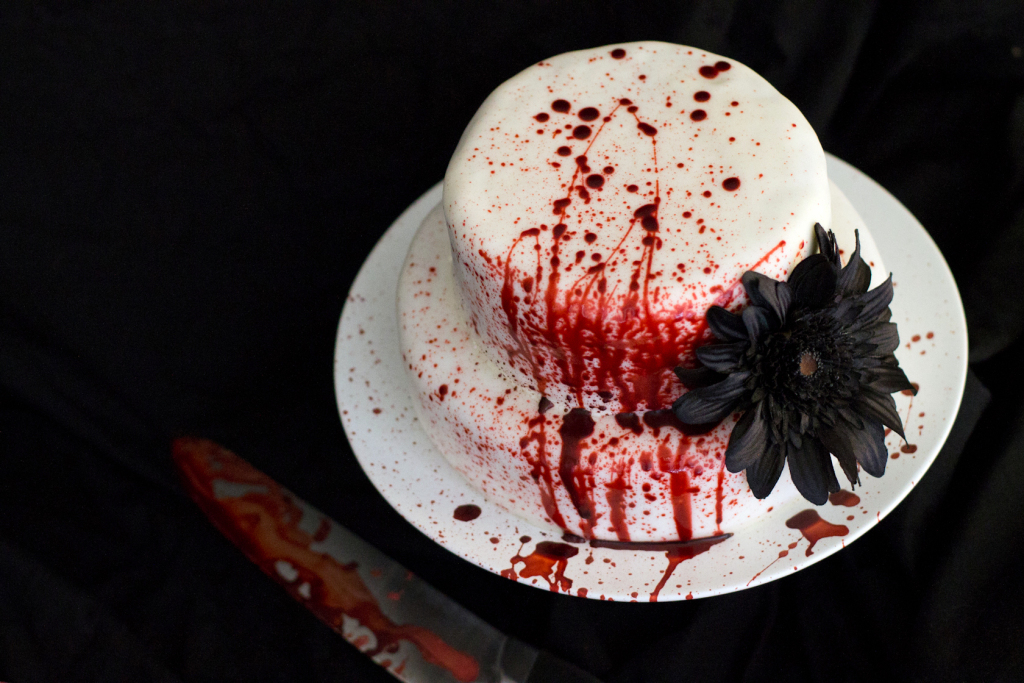 Other than the bride and groom, the next most photographed thing at any wedding is the cake. Therefore, it's not only important that it tastes great (which is really, really important), but it needs to look great, as well. What is more breathtakingly gruesome than a cake that is dripping with blood? There are so many options out there; but we are just going to show you with one of our favorites. (Hint: Pinterest has more cake inspiration pictures than you can imagine.)
4. Add Some Deadly Decorations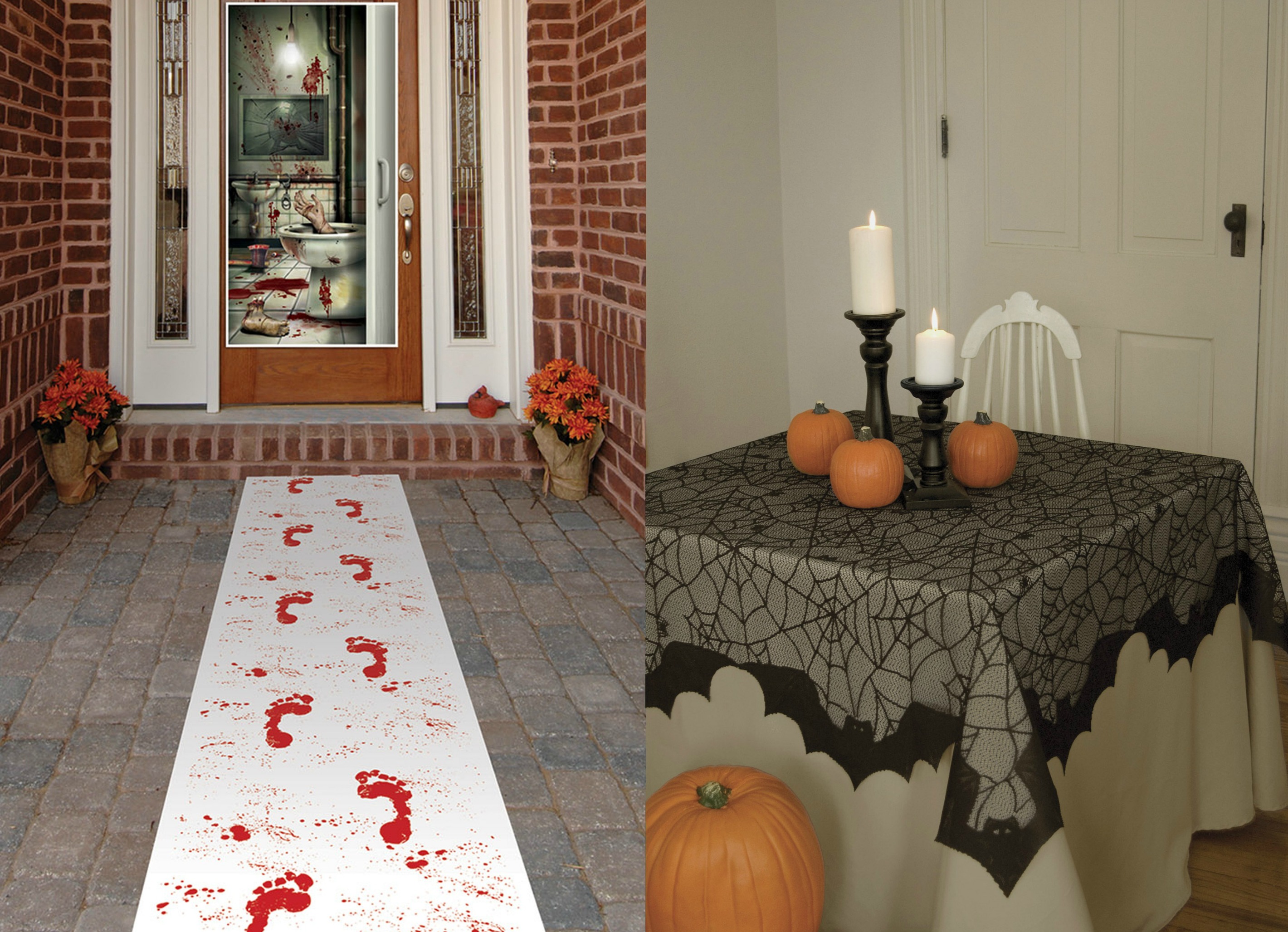 Bloody Footprints Runner Spider Web and Bat Table Topper
Let's be honest, decorations can be one of the most fun parts of planning any event. Whether it's for the ceremony itself or for the dinner afterwards, we've got you covered. Start off by walking down the aisle not on a red carpet, but on a white one. Did we forget to mention that the last person to walk down it lost a large amount of blood? Your creepy wedding needs to have the mood set for your guests, and this floor runner will do the trick. Once inside, you have plenty places to decorate - like the tables! Have your tables looking their best with our elegant spider web and bat table topper.
5. Set the mood with creepy Invitations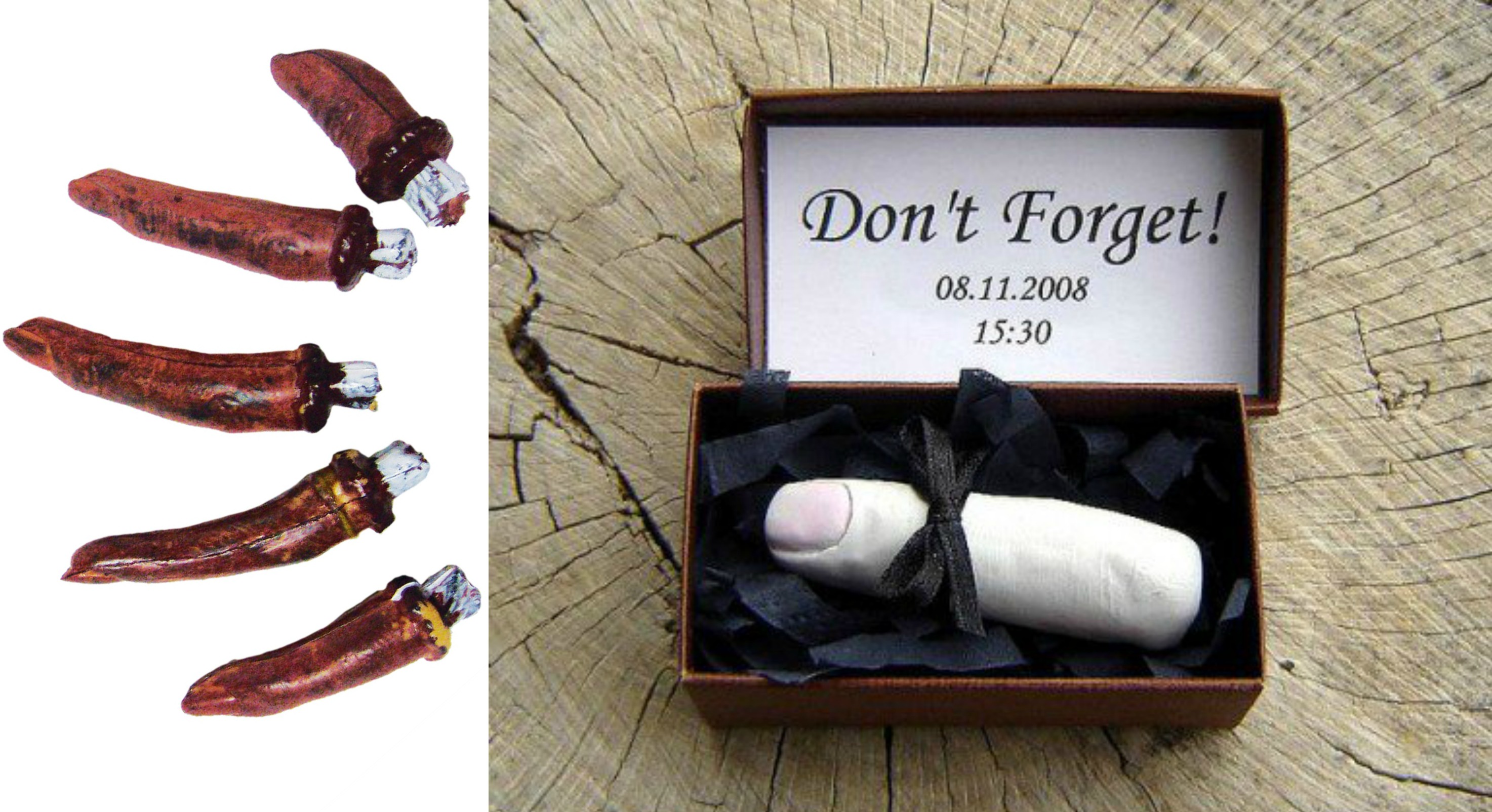 Bag of Fingers [Source: Right]
Your wedding won't be much of a party if you don't invite anyone to it. Check out these cringeworthy save the date reminders. All you need is some paper and string. Oh, and those bags of fingers you have lying around. Wait, you don't have any? It's just us? Well this is... awkward! Anyways, don't worry because we have plenty to spare. Thanks to these creepy reminders, this is one date that your guests will never forget.
6. Play Halloween Music at the Reception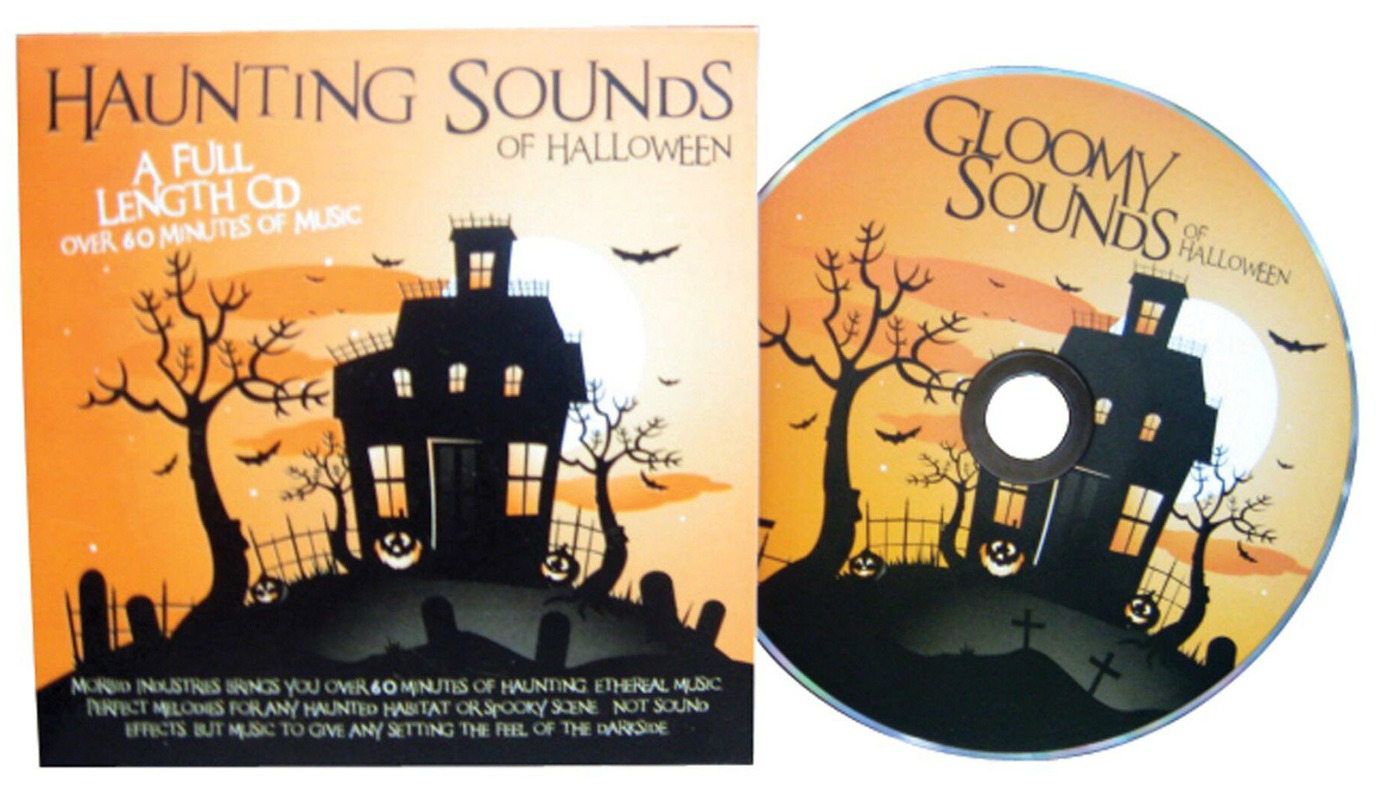 Now that it's official that you've planned the spookiest, and maybe even downright scariest wedding that everyone has always dreamed about (or had nightmares of), there's just one thing left: the soundtrack of your spooktacular day. Everyone knows that you need to have music to dance to through the night, but what about something to fill the lulls in-between the more exciting events? Once again, we've got you covered. The contents of our haunting sounds CD are sure to leave everyone with an uneasy feeling in the pit of their stomach as they wait for the next part of the celebration.
Are you ready to have the spooky wedding of your dreams? With our help, your special day is sure to remain in the memories, and nightmares, of all your guests for a very long time. Do you think we covered the essentials that you would need to have your own spooktacular wedding? Be sure to check out our scary costumes for more inspiration, as well as our huge Halloween decor section. Is there something that we missed? Let us know in the comments.