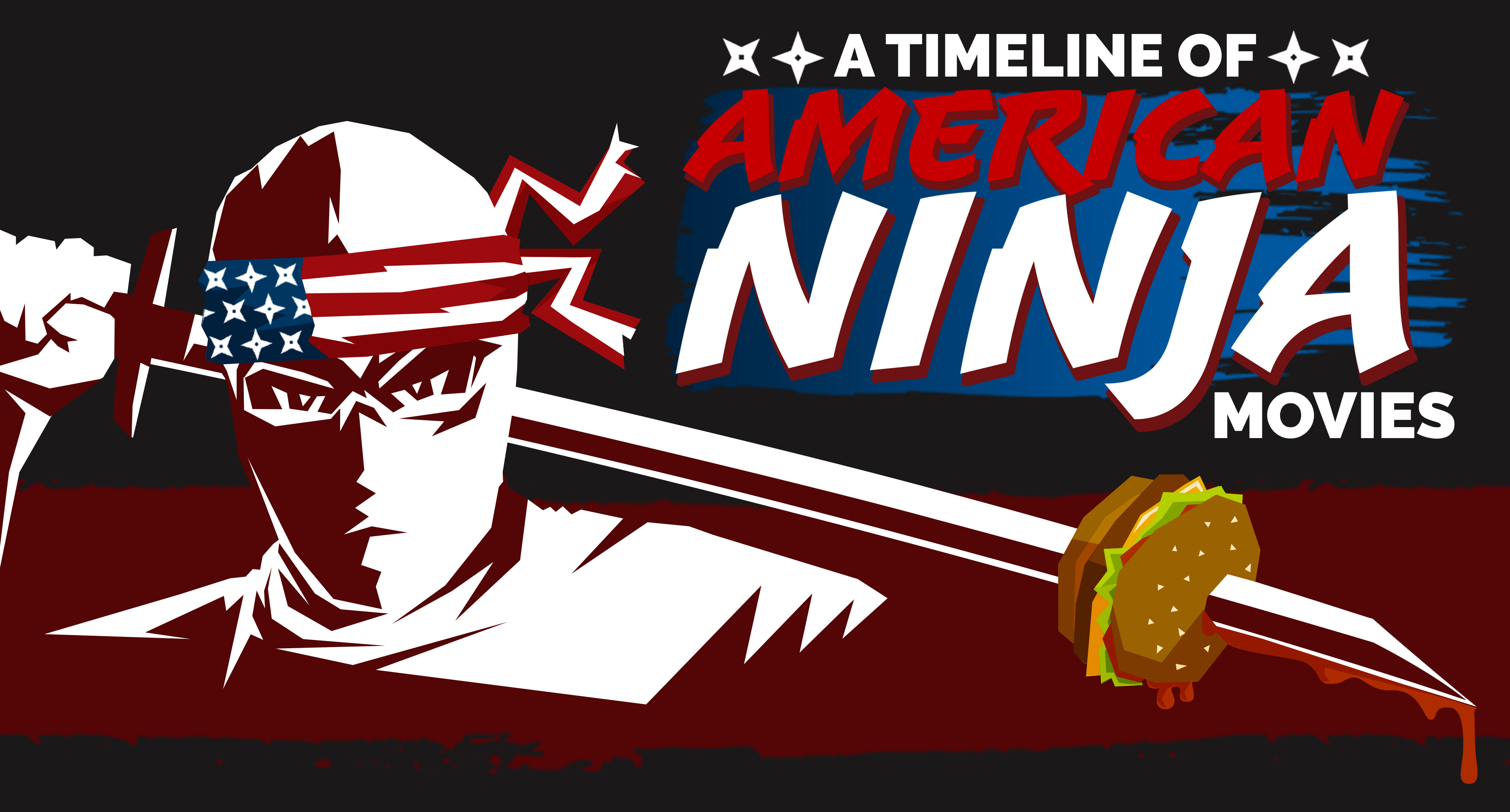 Ninjas are everywhere, you just can't see them. They're hidden, silently observing you and waiting for the perfect time to strike. In fact, studies have shown that there are more than a dozen ninjas, on average, in the room with you right now. Since there's no escape, you might as well put on a ninja movie to pass the time. And we've got the perfect guide for you: a timeline of American Ninja movies from The Octagon through The Lego Ninjago Movie! Note that we went with a rather broad, pop culture definition of ninjas, and stuck to films that featured Americans as main ninja characters or were American-produced with significant plot points involving ninjas. With that qualification out of the way, let's break out our guide to American Ninja movies!
Click Image to Enlarge

Embed This Image on Your Site:
A Timeline of American Ninja Movies Transcript
American ninja movies came out of nowhere in the 1980s and they're still kicking! From The Octagon through The Lego Ninjago Movie, here is a timeline of these action movie classics. If you think we missed any, rest assured that we didn't, they're just hiding right behind you!
Inclusion Criteria: American movies where the plot significantly involves ninjas, or where a main character is (or was) American and a ninja. We're using a broad popular culture definition of "ninja" rather than a strict Feudal Japanese shinobi or practitioner of ninjutsu/ninpo.
The Octagon (1980)
Enter the Ninja (1981)
While 1980's The Octagon was arguably the first American ninja movie, it was Enter the Ninja the following year that brought the genre into the mainstream. Multiple ninja movies were released almost every year for the next two decades, and ninja costumes and weapons were a hit at Halloween
Revenge of the Ninja (1983)
Ninja III: The Domination (1984)
Nine Deaths of the Ninja (1985)
Pray for Death (1985)
American Ninja (1985)
Michael Dudikoff, an uncredited extra in Enter the Ninja, got his own leading role in American Ninja. This film spawned four sequels, two of them starring Dudikoff, and two more ninja movies by some of the same filmmakers. The films helped fuel ninja movie mania through the 1980s and into the 1990s.
American Ninja 2: The Confrontation (1987)
American Ninja 3: Blood Hunt (1989)
American Ninja 4: The Annihilation (1991) U.S. Release
American Ninja 5 (1993)
Sakura Killers (1987)
Miami Connection (1987)
White Phantom (1987)
Silent Assassins (1988)
Force of the Ninja (1989)
Ninja Academy (1989)
Teenage Mutant Ninja Turtles (1990)
After a successful comic book series (starting in 1984) and television cartoon (1987), the first live-action Teenage Mutant Ninja Turtles movie was a truly bodacious summer blockbuster. The franchise would see two direct sequels, a 2007 reboot, and another reboot and sequel in 2014 and 2016, respectively.
Teenage Mutant Ninja Turtles II: The Secret of the Ooze (1991)
Teenage Mutant Ninja Turtles III: Turtles in Time (1993)
TMNT (2007)
Teenage Mutant Ninja Turtles (2014)
Teenage Mutant Ninja Turtles: Out of the Shadows (2016)
Showdown in Little Tokyo (1991)
Lethal Ninja (1992)
3 Ninjas (1992)
Once Teenage Mutant Ninja Turtles showed that ninja movies weren't just for adults, lower-budget and kid-friendly movies like 3 Ninjas were the next level in the genre. Because it didn't need expensive costumes or sets, 3 Ninjas was a relative success and spawned three sequels.
3 Ninjas Kick Back (1994)
3 Ninjas Knuckle Up (1995)
3 Ninjas: High Noon at Mega Mountain (1998)
Ninja Vengeance (1993) U.S. Release
Surf Ninjas (1993)
The Hunted (1995)
Mighty Morphin Power Rangers: The Movie (1995)
Mortal Kombat (1995)
Beverly Hills Ninja (1997)
Mortal Kombat: Annihilation (1997)
Cheerleader Ninjas (2002)
The Black Ninja (2003)
Daredevil (2003)
The Last Samurai (2003)
Elektra (2005)
Ninjas Vs. Zombies (2008)
Dragonball Evolution (2009)
Ninja (2009)
G.I. Joe: The Rise of Cobra (2009)
Ninja Assassin (2009)
The King of Fighters (2010)
Ninjas Vs. Vampires (2010)
Dancing Ninja (2010) (Began Filming as Beverly Hills Ninja 2)
Ninjas Vs. Monsters (2012)
G.I. Joe: Retaliation (2013)
The Wolverine (2013)
Ninja II: Shadow of a Tear (2013)
Ninja Apocalypse (2014)
The Lego Ninjago Movie (2017)
The Lego Movie and The Lego Batman Movie were both commercially and critically successful, so it made sense to dig into Lego's Ninjago line of toys for the next installation. This brings us to The Lego Ninjago Movie, proof that ninja movies never really go away, they just hide in the shadows and wait!
Honorable Mentions:
We excluded some movies from the timeline because they were relatively unknown, direct-to-video, or shorts. These included 3 Little Ninjas and The Lost Treasure (1990), Pocket Ninjas (1994), and Mortal Kombat: Rebirth (2010).
Sources:
AllMovie, Box Office Mojo, Wikipedia, IMDb
What did you think? Did we miss any? What is your favorite ninja movie? They're probably just hiding! And you won't even see them coming, so you'd better let us know in the comments right now. If this list of American Ninja movies has inspired you to jump in on the ninja action, we've got all the ninja costumes and accessories you could possibly need!
Design Credit: Brady Johnson