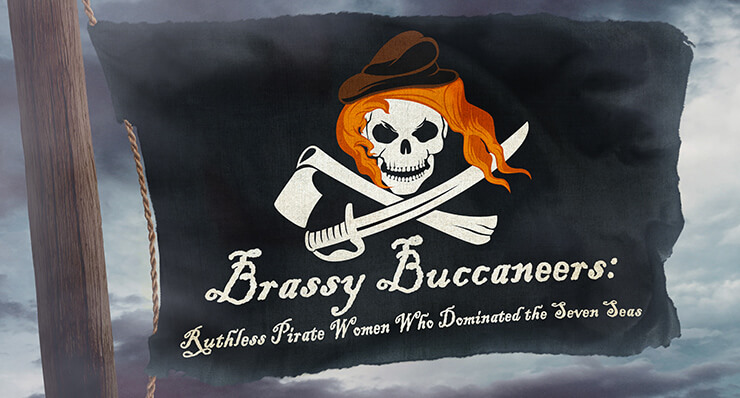 Throughout history, many famous pirates have sailed throughout the world. A lot of notable pirates such as Sir Francis Drake and Blackbeard, among others, were male, but there were plenty of women pirates who were just as ruthless. Even like their male counterparts, there are some pirate women who have only existed throughout the hundreds of stories in pirate lore. The reason why there are so many interesting stories about pirates is because there's very little historic documentation of them, especially with female pirates. In most of history, women were not supposed to be pirates. One of many superstitions of the seas was that it was bad luck to have a woman aboard your ship. To keep their identity concealed, some would dress and live as men during their time on the water.
Despite the perceived negativity around women on the ships, it didn't stop them from taking command and committing acts of piracy at times. We've tracked down more than 30 pirate women, both real or potentially fictional, and included them in the following resources. These pirates come from various points in history dating all the way back more than a couple hundred years BC all the way to late 20th century. Below, we've featured ten of the most prominent women in piracy with information such as territories, years active, and more. Some of them, such as Anne Bonny, have shown up in video games, TV shows, and other forms of pop culture. Check out this infographic for your complete guide to these fierce females.
Click Image for Larger View

Embed This Image On Your Site:
More Women Pirates in History
Aside from the ten pirates listed above, there are many other important women who have left their mark in pirate history. Some were real, but some are said to be made up. Check out the ledger below for information on several other notable women pirates.
Click On the Image for Larger View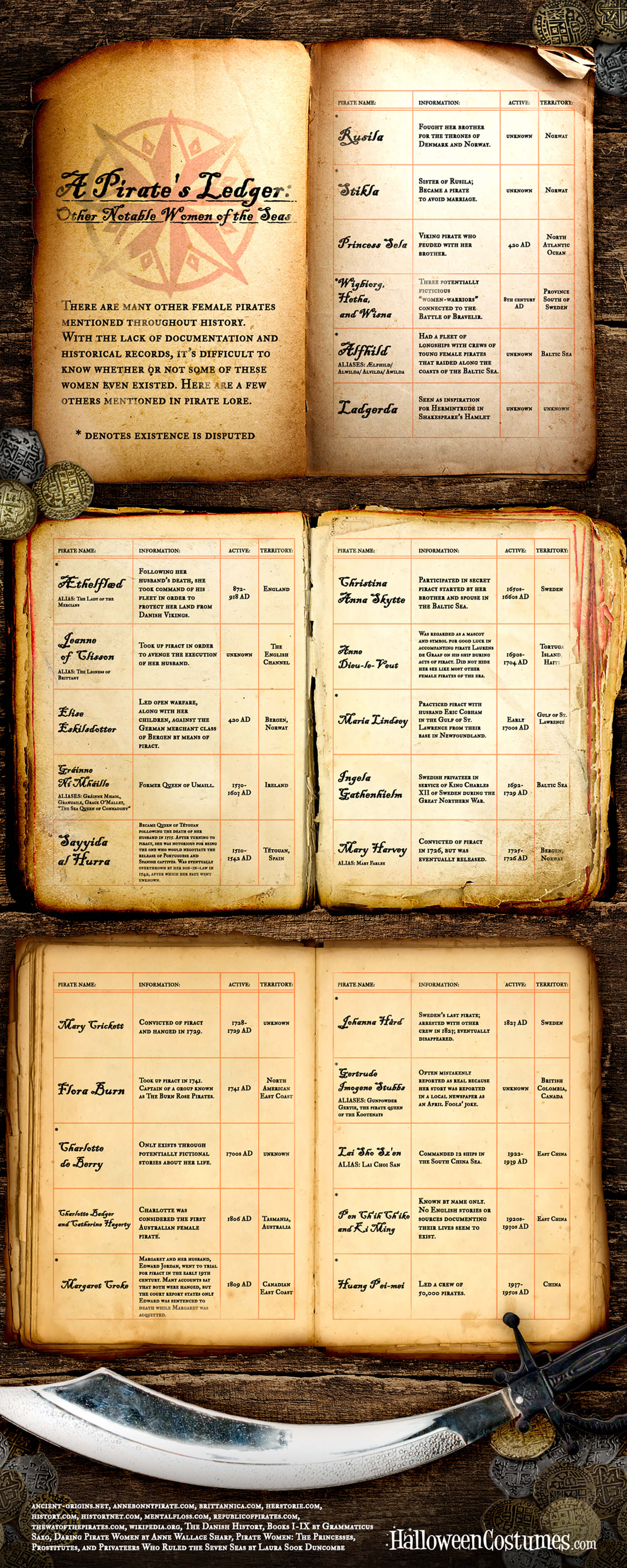 Embed This Image On Your Site:
Click this link for a complete image featuring all the pirates featured here
Who is your favorite woman pirate? We really like Sadie the Goat. The idea of wearing your severed ear as part of a necklace has a special level of toughness to it. We hope this map and infographics have armed you with useful knowledge or helped increase your interest in pirates. We'd recommend some of the resources listed below if you'd like to study up on pirate history. If you'd like more pirate entertainment, why not check out a show like Black Sails or maybe watch some pirate movies. There's even a new Pirates of the Caribbean movie here in time for summer movie season. If not anything else, be sure to dress up in Pirate costumes for International Talk Like a Pirate Day this year! Yarr!
Design Credit: Brady Johnson
Sources: ancient-origins.net, annebonnypirate.com, brittannica.com, herstorie.com, history.com, historynet.com, mentalfloss.com, republicofpirates.com, thewayofthepirates.com, wikipedia.org, The Danish History, Books I-IX by Grammaticus Saxo, Daring Pirate Women by Anne Wallace Sharp, Pirate Women: The Princesses, Prostitutes, and Privateers Who Ruled the Seven Seas by Laura Sook Duncombe