The Big Lebowski Halloween Costumes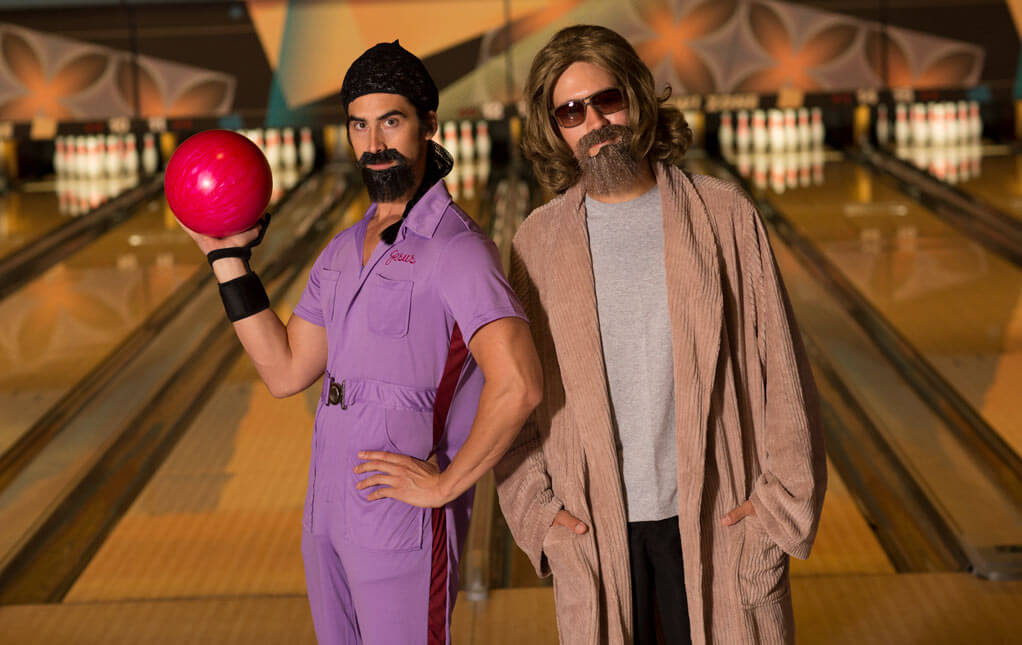 There's no shame in being a nonconformist! According to the Dude, sipping White Russians at your local bowling alley is a perfectly acceptable way to spend the majority of your adult life. And you know what? We're nodding our heads in agreement! We're on board with Lebowski's easy-going lifestyle. All types of people, everyone from the self-proclaimed slackers to the Type A personalities abide by the Big Lebowski's super-chill outlook on life even years after the film's initial release. Plus, finding a character who understands the importance of a well-placed rug isn't exactly easy!
Wearing bathrobes in public is (unfortunately) still considered taboo, but our line of The Big Lebowski costumes isn't. You'll look exactly like any one of the movie's unconventional characters once you're draped in the Big Lebowski costume of your choosing! These costumes are acceptable to wear to Halloween parties, pub crawls, and parades. Our first choice, of course, is to wear it to the bowling alley! Check out these pictures from the lanes for a few extra tips and tricks in making your Dude costume or men's Jesus costume experience the best possible. It's what we like to call Love Your look!
His Dudeness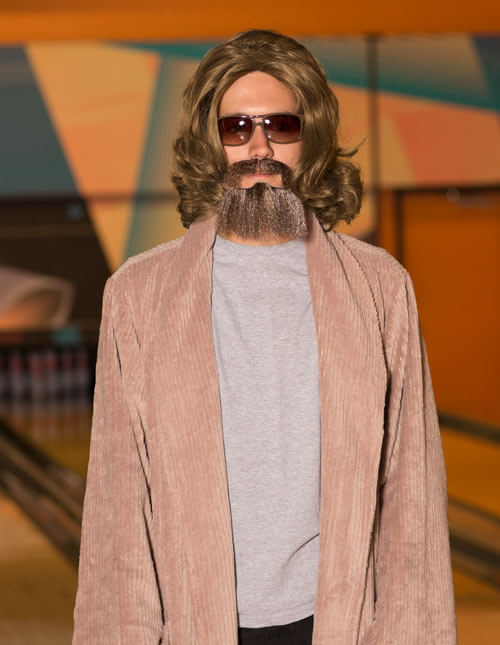 You might find The Dude at the bowling alley on any given day of the week, but when you show up to the lanes in our Big Lebowski bath robe and accessory kit, well, you're gonna be ready to roll. Pair your favorite flip flops and softest pants with this the Dude outfit and you're destined for the league finals.
The Jesus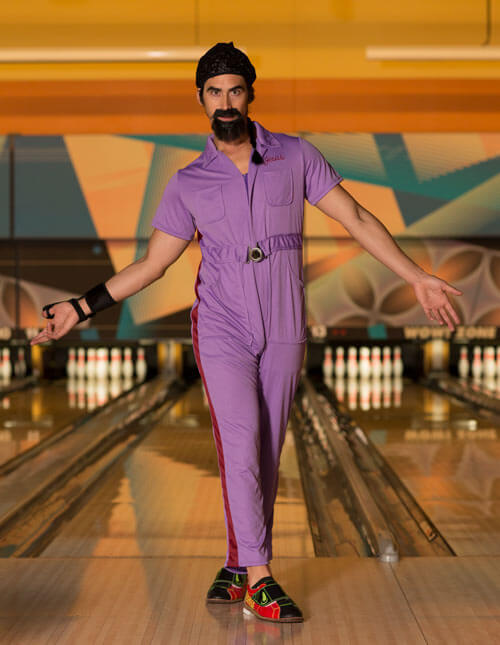 Jesus Quintana does a little dance on a perfect roll, and you can pull off similar moves in our exclusive Jesus costume. The bowling glove is even included to get the look just right when you point. Remember that intensity is pretty much the name of the game for The Jesus, and if you can roll a perfect strike, you'll do just fine.
Game On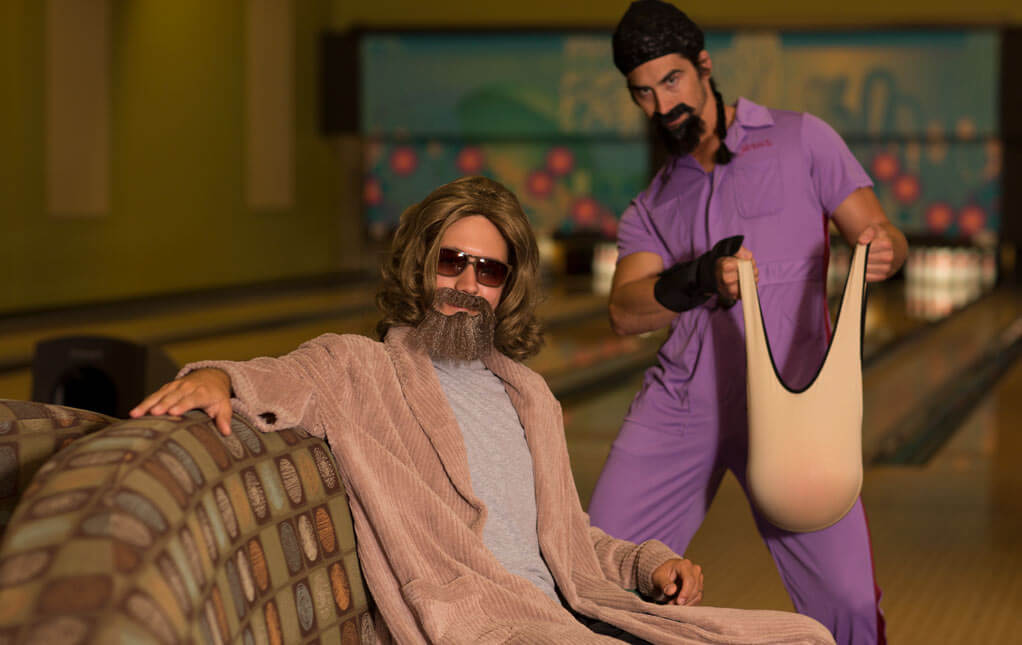 Attempt to irritate the Dude by polishing your ball right in front of him if you like, but His Dudeness is not likely to respond. And if you're the Dude, you can just stare aloofly, because you know you're the most chill person in the joint. Fact of the matter is, you might want to look into to sauntering up to the bar to order a white Russian!
The Big Lebowski Costumes for Adults
His Dudeness impresses us with his low-maintenance lifestyle but other off-the-wall characters are responsible for supplying us with laughs, memories, and addicting quotes to recite at parties. The Big Lebowski costumes for adults are officially licensed and officially awesome. Choose to hone your skills as an avant-garde artist while sporting a Maude Lebowski costume or experience for yourself what it's like to sport the Dude's signature Pendleton sweater by buttoning up a Big Lebowski cardigan. Any two of these costumes can be paired together to create a unique couple's costume. After bowling a perfect date, you and your date can blast CCR over the bowling alley speakers and dance the night away. Sounds like a great way to end your night, doesn't it? (One more question: is it okay to bowl in sunglasses?)
Our line of Dude costumes are high-quality and incapable of disappointing fans of the popular 1998 comedy. Ideal for those who usually put minimal effort into most everything they do, these disguises will easily transform you into your favorite Big Lebowski character. The best part of all? They're made by us! Our expert design team crafted first-rate fabrics into the most iconic outfits from the Coen brothers movie. You can embody the unforgettable Walter Sobchak or eccentric Maude Lebowski, whichever you prefer. Pick out a costume for yourself and your friends, form a Big Lebowski group costume, and let the shenanigans ensue, but don't be surprised if anyone becomes a victim of mistaken identity. It's basically inevitable when your costume is this authentic!
Big Lebowski Costume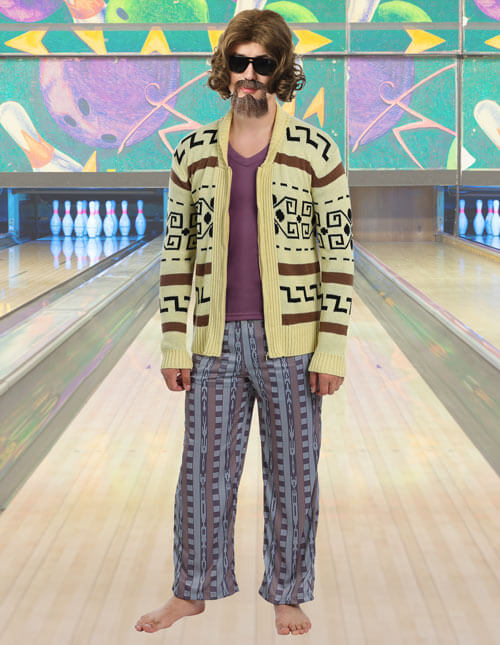 This Big Lebowski costume will make you appear like the calmest person in any room (calmer than you are!), despite any inner turmoil you may be experiencing. Comprised of a cozy sweater with a full zipper, elastic waistband pants with a geometric shape design, and a classic violet-hued t-shirt, this costume is ideal for fans of comfort. From relaxing on the couch to partying with your nihilistic friends, this sweater and pant combo is versatile enough to be worn to both occasions. The Big Lebowski cardigan transitions from loungewear to casualwear so you can avoid making a pesky outfit change. Wear it to the sports bar and people will think, wow that dude is insanely chill and also has great taste in cardigans! Or wear it while you sip coffee on the front porch. Run a brush through your thick tresses and slip on a pair of the Dude sunglasses and it becomes the perfect costume. Not only will you appear like the most laid-back guy on the planet, but a Big Lebowski sweater is perfect to wear to literally any event. If the Dude was capable of getting jealous, he would be so jealous of you right now. Also, if you're a fan of sweaters in general, don't forget to check out all of our exclusive holiday sweaters.
Walter Sobchak Costume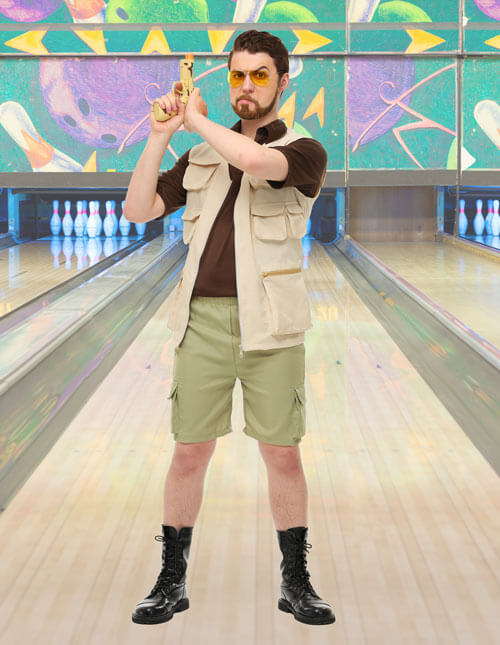 John Goodman's character, Walter Sobchak, may have the funniest one-liners in the movie. We can't write them because they're riddled with profanity, but we also can't stop you from looking them up yourself. (Spoiler alert: you're going to laugh your butt off.) Seething with explosive anger, you can always count on Walt to remind everyone about the time he served in 'Nam and how there's absolutely no rolling on Shabbos. Now you have the ability to don a Walter Sobchak costume and transform into Goodman's portrayal of the temperamental vet who never shies away from a parking lot brawl. The poplin vest features a 3-button placket and plenty of cargo pockets to make you look like the Dude's unhinged best friend. A brown t-shirt, elastic waistband shorts, and a pair of yellow-colored sunglasses complete the movie-inspired get-up. Make your ensemble especially noteworthy by taking a Pomeranian puppy with you wherever you go. Can't find a Pomeranian to take care of for an evening? No problem, we have another prop you can use. A toy pistol will give your costume the lethal edge it needs. Trust us, you'll never feel out of your element when you're wearing our Walter Sobchak costume!
Maude Lebowski Costume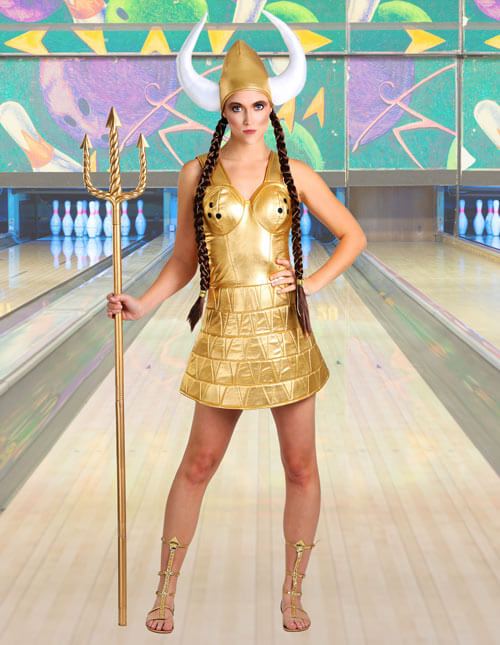 Maude is a no-nonsense feminist who knows how to get what she wants. If you're intrigued by an avant-garde artist's life and the color gold best compliments your complexion, then our Maude Lebowski costume sounds like it was made especially for you. Feel like you're starring in your own dreamy dance number once you're clad in the metallic tank-top style, knee-length dress. The sculpted bowling balls on the bust paired with the matching Viking helmet will transform you into the determined artist. No one will speculate who you're dressed as! They'll know for a fact that you're embodying Juliane Moore's infamous The Big Lebowski character. Add a pair of Egyptian sandals and hold a trident prop to complete the exact look pictured here. Also, creating a couples costume with this glistening gold ensemble is easier than mixing a White Russian. Your date can dance circles around you dressed as a bowling pin, recreating the strange, but memorable, movie's dream sequence. However, you can always construct a more traditional couple's costume by dressing your date in any Big Lebowski cardigan. Pose for pictures with your hand meticulously placed on your hip, indicating that you're the one who wears the pants in the relationship.
Big Lebowski Bowling Outfit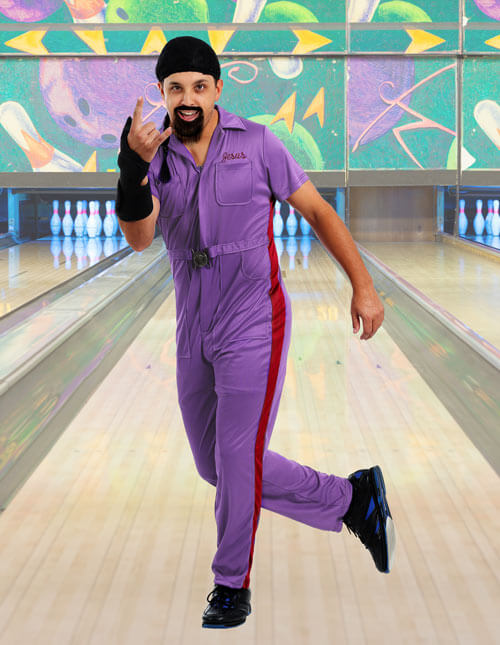 He may only be featured on screen for a couple minutes but that doesn't stop Jesus Quintana from stealing the spotlight. John Turturro's character is remembered for his thick Cuban-American accent, his odd ball-shining technique, and the completely purple jumpsuit he wears to practice his sassy bowling stance. You'll be a dead ringer for the fictional Jesus Quintana once you're zipped up in this Big Lebowski bowling outfit. The athletic costume has a red stripe down the side and four pockets strategically placed on the jumpsuit, making an effortless and comfortable one-piece costume. A single black glove and the fabric bowling ball rag are appropriate (and extremely convenient) included accessories. Here's a little secret: the glove works great once it's time to send your ball flying down the freshly greased lane. Practice Quintana's aggressive ball-shining technique to really excite the masses (and raise a few eyebrows.) An accessory that is not included is the Jesus wig. It's also exclusively made by us and covered in mesh netting with a long narrow braid hanging down in back. Add a <facial hair accessory to finish the character's quirky look. Now, just master those peculiar dance moves and everyone will want to meet the guy lucky enough to be Jesus Quintana's doppelganger.
The Dude Costumes
When envisioning the Dude, do you imagine him wearing his signature sweater paired with his trusty lounge pants? That's understandable, considering the printed cardigan and patterned stretchy pants are the Dude's most cherished articles of clothing. Or are they? Perhaps Jeffrey Lebowski would prefer to saunter around town wearing his most luxurious bathrobe and nothing else? Darn those obnoxious social norms! If you've been hunting for an uncommon Big Lebowski costume that really appeals to your simplistic nature, you'll love this next group of disguises. These costumes will outfit you in the Dude's other off-the-wall ensembles that are even more laid-back than the aforementioned Big Lebowski costume. Choose the one which best suits your sense of style, then track down those pesky kidnappers or continue to lay directly in front of the TV with a beverage in hand. The choice is all yours, man.
The Dude Costume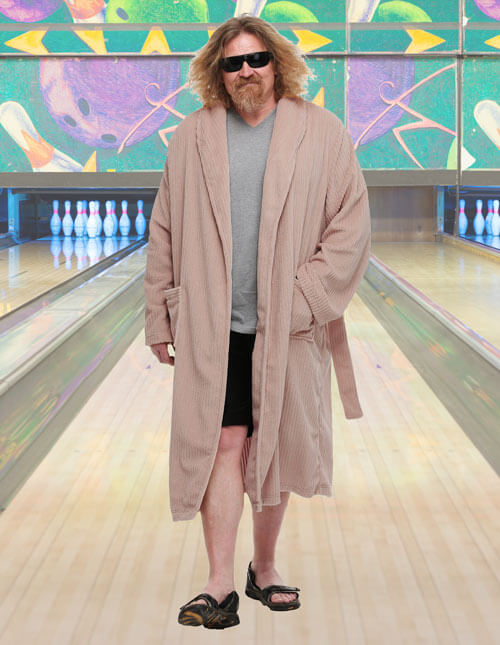 Jeff Lebowski's on board with mixing comfort with coolness, which definitely explains his obsession with cozy robes. They aren't ideal for grocery shopping, but they're certainly perfect for creating an epic the Dude costume. First off, if a treasured robe isn't hanging in your closet right now, we express our deepest sympathy because everyone should own at least one bathrobe. Secondly, we'd like to say this dilemma is completely fixable. We're going to make everything all better by supplying you with this Big Lebowski robe! This top rated the Dude costume comes with a soft, chenille-like bathrobe and matching wrap-around-the-waist belt to cinch the whole look together. Featuring just the right shade of beige, the plush robe blankets your body in pure comfort so you'll feel relaxed even when doing the most strenuous activities (like tracking down your kidnappers.) No matter what you do when you arrive at the party, we're sure everyone will be talking about the guy wearing the Big Lebowski robe!
Medina Sod Bowling Shirt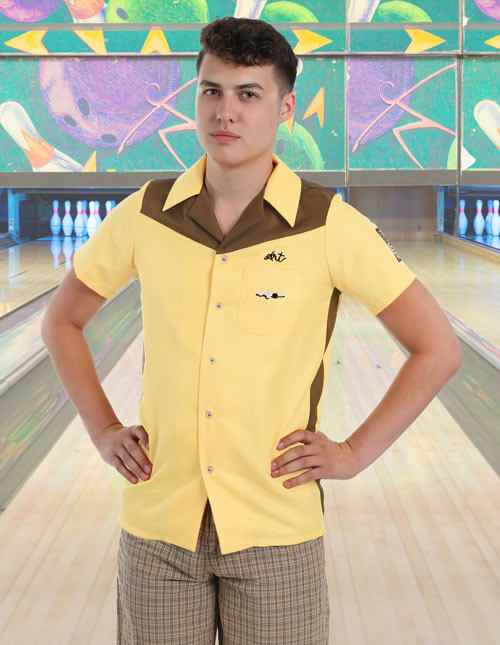 We don't recommend wearing this Medina Sod Bowling shirt to scatter Donny's ashes over the beach but that choice is ultimately yours to make. Our opinion is you'd have more fun wearing it to your friend's Halloween party and taking home the prize for 1st place in the costume contest, but that's just our opinion, man. You're virtually free to do whatever you want when you're wearing this officially licensed button-up. Like the bowling shirt worn by Lebowski during the end of the film, this tee features the name "Art" embroidered on the chest and the words "Medina Sod" printed on the back. You'll look and feel like a real "league champion" whenever you're sporting this licensed costume shirt.
The Dude Wig and Beard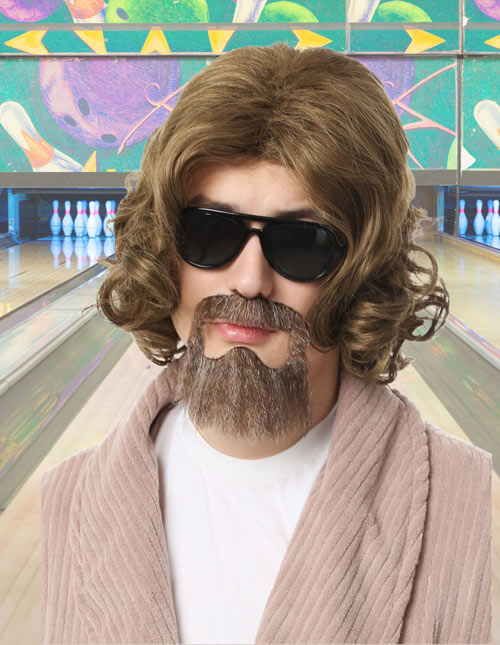 If the first two costumes require more effort that you'd like to put forth when dressing up for Halloween, then the Dude wig and beard sound like the perfect accessories for creating your very own the Dude costume. Stretch the shaggy wig over your head and stick the self-adhesive goatee to your face and everyone will start calling you El Duderino or His Dudeness (especially if they're not into the whole "brevity thing"). If you happen to come across your favorite pair of sunglasses, put those on to complete the look, however it's not a necessity. Everyone will know you're the Big Lebowski even if you're only sporting a men's wig and goatee. (We told you it was an easy costume!)
The Dude Halloween Costume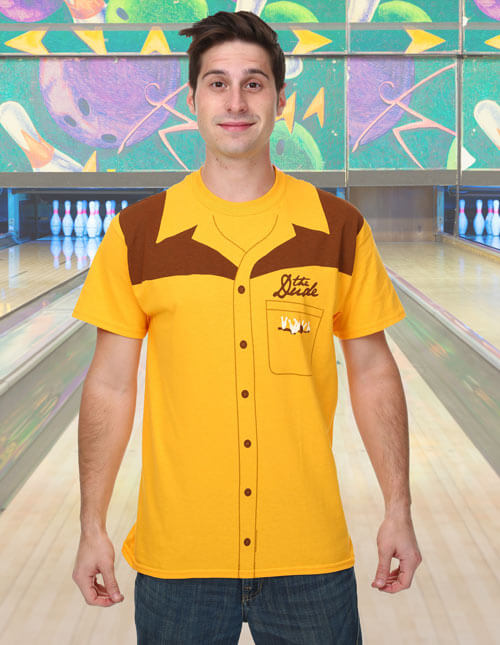 Perhaps you're the kind of guy who doesn't like wasting your precious time buttoning up your collared shirt each and every morning. We respect that, which is why we're giving you the option of looking like a professional bowler by slipping a t-shirt over your head. It's as easy as that! That's right, you don't even have to practice your bowling skills. Just throw on this yellow tee to create your very own the Dude Halloween costume. This shirt features a printed design with the title "the Dude" written clearly above the pocket. Check out all our men's costume t-shirts and stock up on easy Halloween costume options for years to come!