Beetlejuice Costume Ideas
Go ahead. We know you want to say it. Take a deep breath and let it out: "Beetlejuice, Beetlejuice, Beetlejuice!" You feel slightly relieved now, don't you? You probably won't feel entirely relaxed until you see the comical 'bio-exorcist' standing in front of you, and guess what? You can surely make that happen! Find the Beetlejuice costume that makes your head spin, then look in the mirror! If you happen to be a super fan of the 1988 Tim Burton comedy Beetlejuice, then you're in luck because we have costumes for everyone. We have plenty of hair-raising costumes for you to choose from; everything from a Miss Dead Receptionist costume to a Lydia Beetlejuice costume is available right here. Take a look then start memorizing the lyrics to "Day-O" because you'll definitely be asked to showcase your killer dance moves around the kitchen table!
Beetlejuice Costumes
Luckily, you won't have to make any trips to the Netherworld in order to get your hands on an iconic Beetlejuice suit! If you've always been interested in getting your hands on a copy of The Handbook for the Recently Deceased, then you'll most likely have an electrifying time wearing an officially licensed costume. Plus, the whole family can get in on the insanity too because we sell women's Beetlejuice costumes and kid's Beetlejuice costumes for the little ones. You'll love watching your young outspoken ghoul recite the most chuckle-worthy lines from the movie. Even Fido can get in on the spectacle because there's a tiny black-and-white pin striped suit for him too. So light the candles for the séance and start practicing your best scaring techniques because you're about to give the freelance 'bio-exorcist' ghost a run for his money!
Beetlejuice Halloween Costume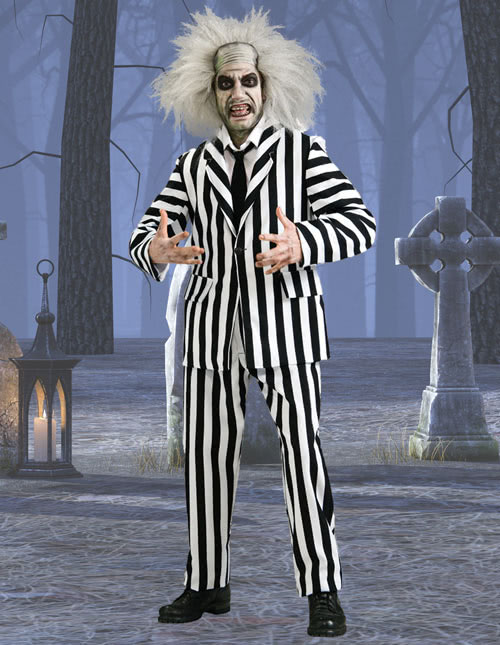 If you want to look like the coolest dead guy ever, then you have to check out this Beetlejuice Halloween costume! You'll get the complete costume: jacket, shirt, pants, tie, wig, and makeup kit. You'll have the appearance of the wisecracking apparition, complete with decaying flesh and a wild hairdo. Supply the slightly obnoxious (okay, really obnoxious) sense of humor and you're ready for one fun evening. It will be the best of both worlds: you'll get to look exactly like a ghost but… you won't actually be dead. Hooray! Forget about being confined to creepy graveyards or a spooky house because you can roam freely. Get dressed in this costume then "turn on the juice and see what shakes loose!"
Sexy Beetlejuice Costume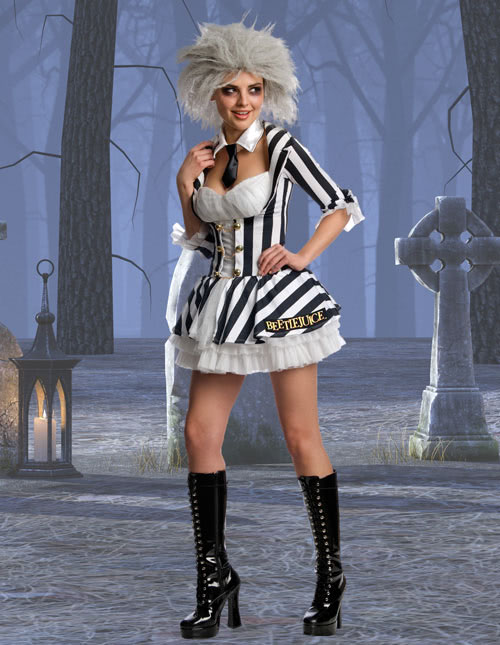 There are plenty of words that come to mind when describing the one and only Beetlejuice, but none of them have to do with being sexy. That is, however, until we took a peek at this sexy Beetlejuice costume! Now, you'll truly be "the ghost with the most," when you're decked out in black-and-white vertical stripes. Not only will you receive a mini-dress, wig, and a choker, but you'll also acquire the confidence to chit chat with anyone in the room. Accessorize this frighteningly sexy costume with a white petticoat, some Goth boots, and a pair of fishnets tights if you're looking to add some extra coverage. Of course, Beetlejuice's is all about running the Deetz family out of their home, but you'll be doing quite the opposite while you're in this female Beetlejuice costume. Get ready for people to flock to you instead of racing away in the opposite direction!
Shrunken Head Beetlejuice Costume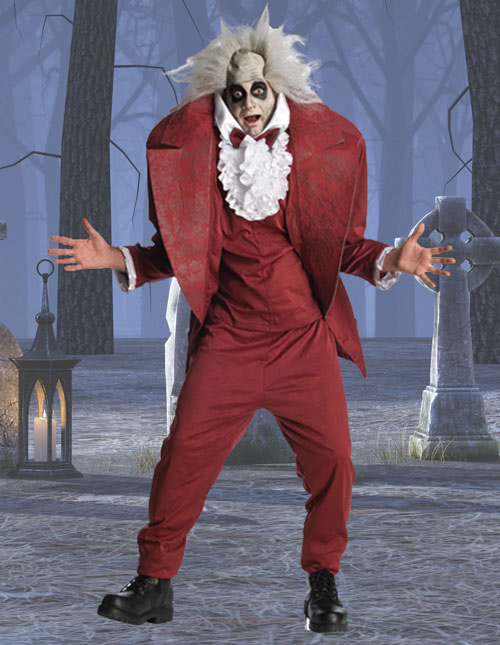 You just never know who you're sitting next to when you're hanging out in a waiting room. Beetlejuice found out the hard way that he was sitting next to a witch doctor! This shrunken head Beetlejuice costume will make you look as though a voodoo dude sprinkled magic dust on your head, too. Just slip into this jacket with attached shirt front and inflate the shoulder piece to create the outrageous appearance that you're head has shrunken down to the size of a baseball. The matching burgundy pants have an elastic waist, while the included wig features an interior mesh cap, so your real hair will stay neatly tucked underneath the wig. Not only will it appear like you have a tiny head, but you'll also have Beetlejuice's untamed and unkempt hairstyle. Although you'll attract some pretty bizarre stares with this costume (which is really the whole point, isn't it?), we have a feeling that it will be a good look for you.
Girls Beelejuice Costume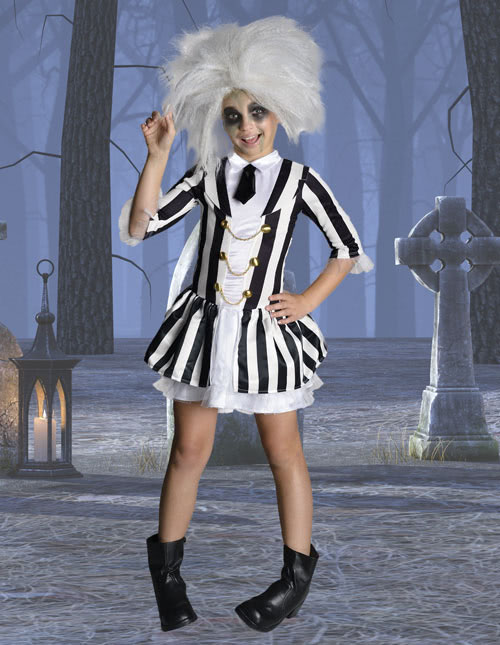 If your daughter can't get enough of the always aggravating, yet always amusing, Tim Burton character then she'll love this girls Beetlejuice costume because she'll look like the iconic bio-exorcist, except cuter. The costume comes with the striped dress and attached necktie. Add a child wig and some Beetlejuice makeup for a look that will make her feel like she's floating on the air, just like Lydia Deetz! This female Beetlejuice costume is sure to inspire a ton of pictures. Pick up a Beetlejuice tombstone (or a couple of them) and create a graveyard scene. Even better, throw a party and give your crew an unconventional dining experience that they'll never forget!
Lydia Deetz Costume Ideas
Shroud yourself in laid-back Gothy coolness just like Lydia Deetz. Winona Ryder did an excellent job of playing the melancholy yet awesome misunderstood teen. Now, you're going to give Miss Ryder a run for her money once you transform yourself into the girl who connects more with ghosts than anyone who actually has a pulse! Become Beetlejuice's beloved (however, completely unwilling) teenage bride by slipping into a rare Lydia Deetz Halloween costume. The red wedding dress will instantly convert you into a somber soon-to-be-bride. Create your own comical yet disastrous wedding ceremony by dressing your date up as the one and only Beetlejuice. We just hope that your special day doesn't end with an icky sandworm barreling your future husband into a glowing hole in the floor! Grab a bouquet and begin your slow walk down the aisle.
Red Wedding Dress Costume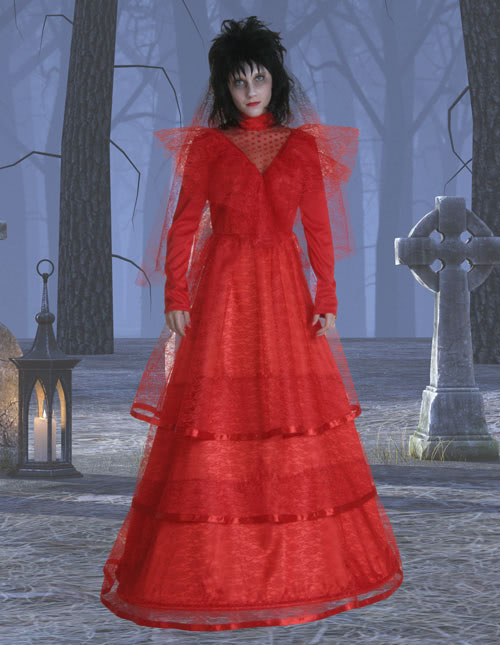 Not a fan of traditional wedding ceremonies? Put a macabre spin on your special day by looking exactly like Lydia Deetz. Just take a peek at these red wedding dress costumes and pick out the one that makes you want to say yes to the dress. Both floor-length gowns feature tiers of beautiful red tulle, as well as a matching lace veil. This particular red Gothic wedding dress is perfect for cosplayers who like vintage fashion. The included plastic hoop slips into the hem of the skirt achieving a classic Victorian style.
Red Gothic Wedding Dress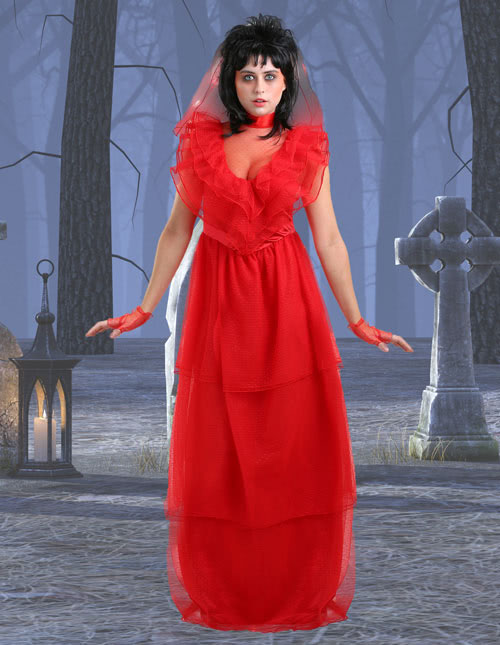 If you are a fan of more contemporary fashion, you'll love saying your vows while wearing a version of the red Gothic wedding dress. Unlike the former costume, this one features ruffles around the bodice and a sleek sleeveless design. The silhouette of this costume is narrower so it's great for those who are looking to complement their svelte figures. This costume comes with a pair of gloves and a coordinating veil, so you'll have the complete movie inspired look. Now, just say that magic word three times in a row and let the eerie nuptials get underway!
Beetlejuice Dog Costume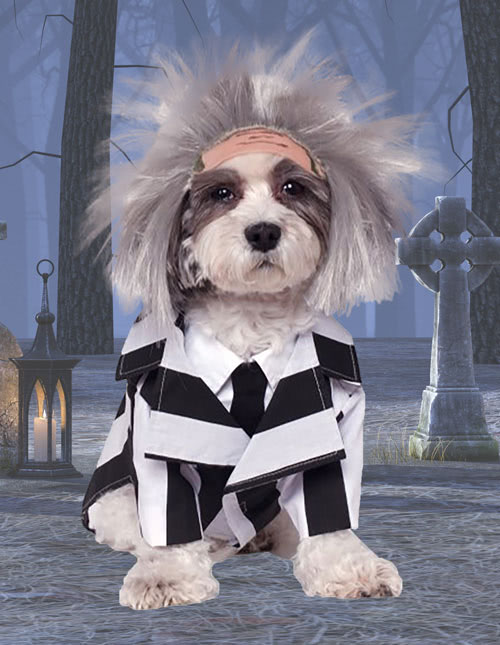 Dress your pooch in this Beetlejuice dog costume and teach him to dash into the room whenever you say "Beetlejuice" three times in a row. It's an awesome trick that will definitely amaze everyone at the dog park or even the costume party. This comical and adorable pet costume comes with a shirt/jacket combo and the wig cap. Teach your pup to hunt down sandworms and you'll really have a trick that's worthy of applause!