Spider-Man Adult Costumes
Spider-Man started as a teenager but eventually matured into a full-blown adult superhero with responsibilities and stuff! Well, Spider-Man has never been a stranger to duty, but now he has, like, soccer practice on top of crime fighting (when does this dude sleep?).
Most adult fans of Spider-Man started as kid fans. If you are brilliant enough to be here checking these Spider-Man Adult Costumes, then we know you follow the Way of the Spider (and Marvel Comics has more than its fair share of spiders). Check out our Spider-Man Adult Costumes and take your pick!
Adult Miles Morales Costumes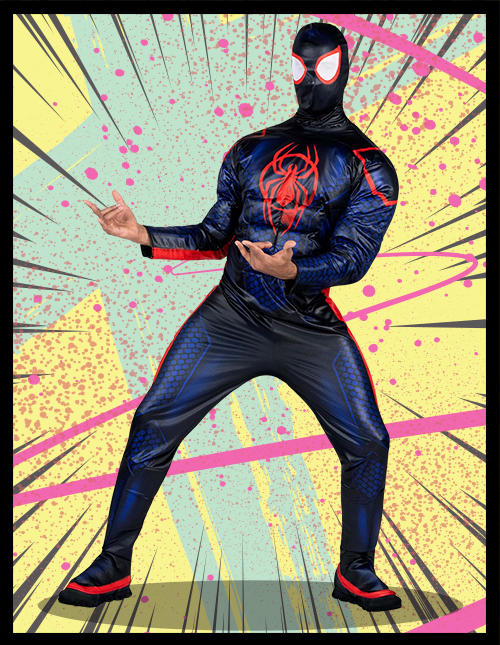 Miles Morales is a character you can't help but love. He has all of Peter Parker's charm and intelligence, but her also can shoot lighting from his fingertips. Lightning! Well, it's more of a bio-electric jolt, but you get what we mean. If you want to dress up as this marvelous iteration of Spidey, check out this Adult Miles Morales Costume.
Spider-Gwen Costumes
In her universe, Spider-Gwen goes by Ghost Spider. It's a reasonably new moniker but one she earned due to her reality-hopping wristwatch. Sorry, we thought she could shoot our ghost webs or something, too—but she is still very cool. If you want to put an interesting female twist on an already fantastic character, pop on this Spider-Gwen Costume.