Rapunzel Costumes
"Rapunzel, Rapunzel, let down your hair!"
The age-old story of a fair maiden trapped in a tower has been retold many times over the years. And almost every version we know includes this famous phrase! Rapunzel's legendarily long hair makes her a rather unique fairy tale character, but that's not the only reason we like her! In most renditions, her hair ends up shorter by the end, but the real theme of her story is the power and magic created by true love.
You can bring the charm of this fairy tale right into your own life! When you dress up like Rapunzel, you'll be able to feel like a princess without going through that whole "locked in a tower" bit. Whether you're looking for some enchanted accessories or a licensed Disney costume, you'll feel the excitement of a princess heading out into a brand-new world!
Rapunzel Costumes for Adults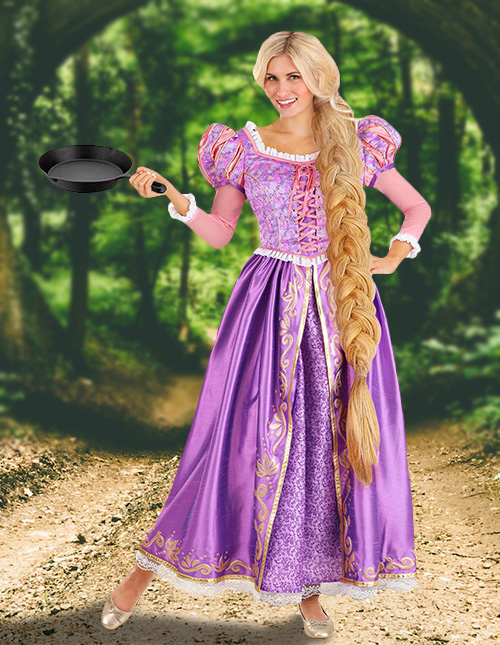 Although the story of Rapunzel has been around for hundreds of years, Disney's film Tangled reignited our love for the character. Not to mention, they gave her a pretty cool outfit! Although we love to wear pretty much any Disney princess clothing, Rapunzel's dress seems to have an extra sense of whimsy that we find especially enchanting.
When you put on an adult Rapunzel costume, you'll be ready for all kinds of adventures! Our only advice—you might want to avoid climbing up any tall, isolated towers while wearing it! After all, who knows how long it will take for your hair to grow out enough for you to escape? Probably not as long as it would take for a prince to find you!
Sexy Rapunzel Costumes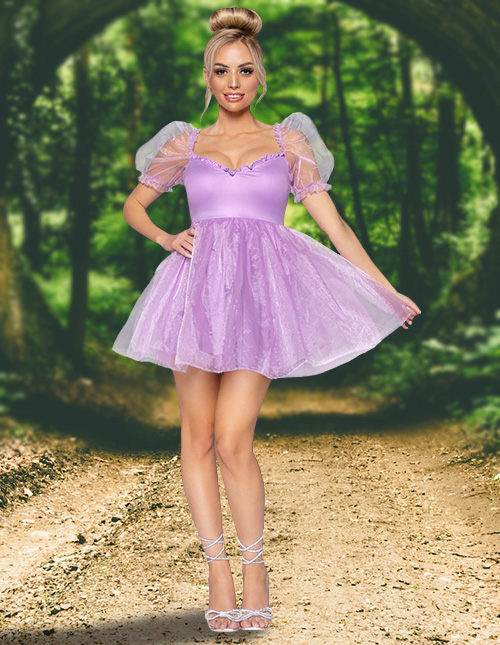 One of the most basic fashion philosophies is to achieve balance in your appearance. And while we love the traditional Rapunzel look, which often includes long sleeves, long skirts, and long hair. If you're a fan of this character but you'd prefer to balance your lengthy wig with some shorter skirts, then it sounds like you'd enjoy wearing a sexy Rapunzel costume!
Depending on your style and the party you're headed to, there are plenty of good reasons to choose a sexy costume over a version that provides more coverage. One of our favorite things about a shorter skirt is the opportunity to show off your shoes or a fun pair of tights! Accessories add a lot of fun to your outfit, so don't forget to check them out!
Rapunzel Costumes for Kids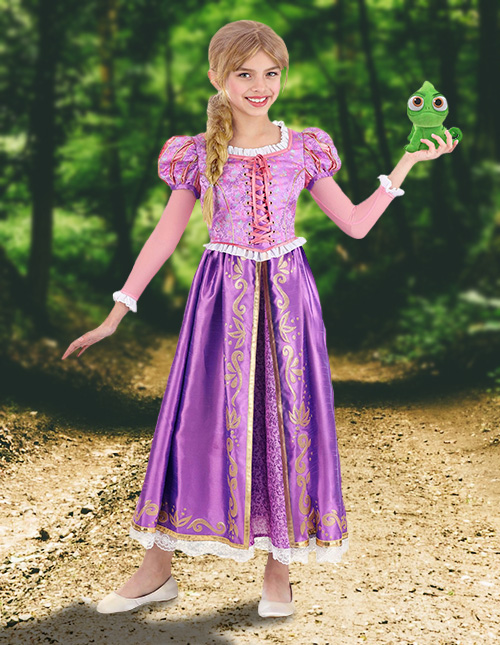 A kids Rapunzel costume is a great choice for any child who just can't get enough of fairy tales! They can be the hero of their own story, and fortunately, being captured by a witch first isn't a requirement. They can skip right to the happy ending and enjoy their beautiful dress!
On the other hand, if you want to join the dress-up fun, a witch costume might be a great choice. But just remember, it's only a costume, so you're not allowed to go crazy and trap anyone in a tower!
Rapunzel Costumes for Toddlers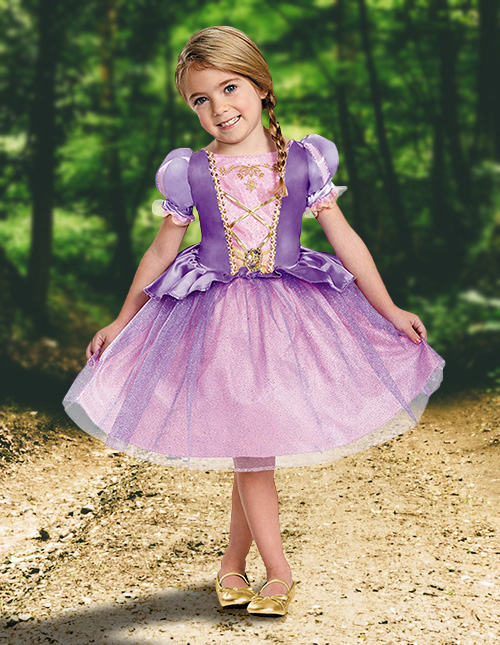 Every little kid has at least one dream that they'd love to come true. And if your kiddo wants to dress up like a princess with a great sense of adventure, then a toddler Rapunzel costume might be just perfect. Even most of us adults wouldn't turn down the opportunity to wear a pretty purple and pink dress, especially if it helps us collect candy!
If you want to join your child in making their dream come true, there are plenty of options that will complement a princess outfit. Shop our selection of king and queen costumes for a whole royal family look, or try your hand at being your little one's wise animal companion!
Rapunzel Accessories
It's hard to overstate the importance of accessories in any dress-up scenario! Adding something as simple as a hat to your costume can provide the finishing touch or create a whole different look. And when we're talking about completing a Rapunzel outfit, finding the right wig is absolutely essential!
However, you still have several options to choose from. The legendary long-haired princess is blonde in the Disney adaptation but ends up with a short brown bob at the end. And of course, a long wig in any color will do the job nicely, as long as someone calls out for you to let down your hair!
Rapunzel Wigs for Adults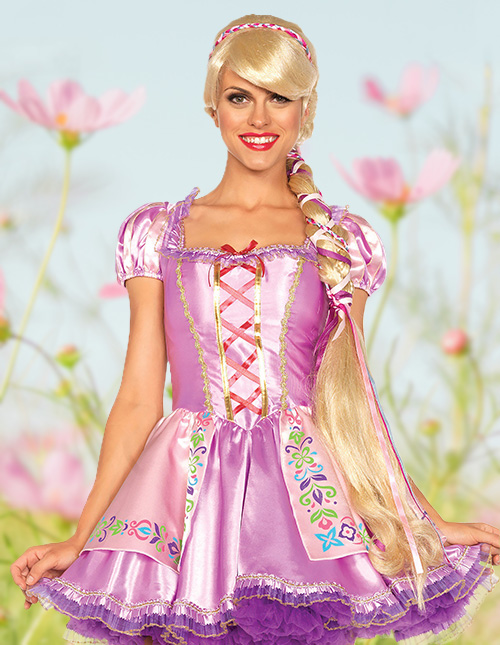 Halloween will be here all too soon. And although you have your Rapunzel costume selected and ready to go, you still need to address the issue of hair. And let's face it, even if you wanted to grow out your own natural locks, you simply don't have enough time! Sounds like you need a Rapunzel wig!
Rapunzel's hair is one of her most recognizable features, so it's a good idea to add one to your costume. Of course, you're not limited to only one accessory! Add a princess crown if you're feeling fancy, or put on your favorite pair of special shoes to dance the night away!
Kid's Rapunzel Wigs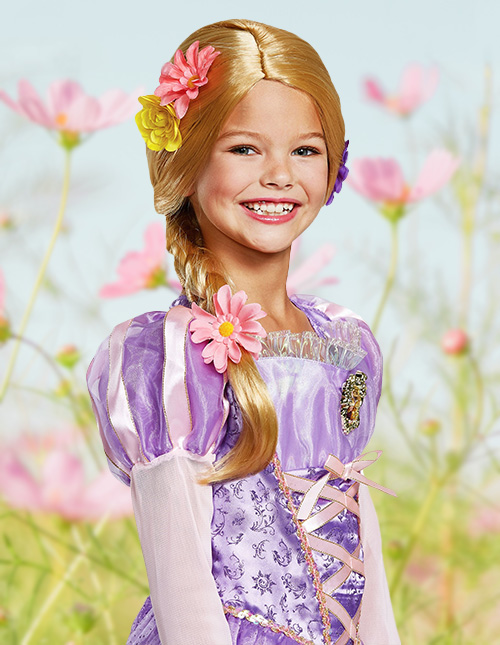 Even if your kiddo has been growing their hair out for their whole life, it's probably not quite Rapunzel-length. After all, her tresses must have grown unnaturally fast to be long enough to serve as a ladder! So if your child wants to dress up like this princess, we think a kid's Rapunzel wig will really come in handy.
Of course, we wouldn't recommend actually climbing any towers using this wig as a rope! We just hope it will make your little one feel that much more like a princess. And although it doesn't glow like the one in the Disney movie, we bet your kiddo's smile will be plenty bright!