Pose Like a Playboy Bunny
Before you step out in a classic bunny costume, take a few moments to learn their most iconic poses. All bunnies who worked in the Playboy Club had to know the bunny stance, the bunny dip and the bunny perch in order to be successful at their jobs. We've taken the time to demonstrate these essential moves and more so that you'll know how to play the part once you get out there!
Bunny Stance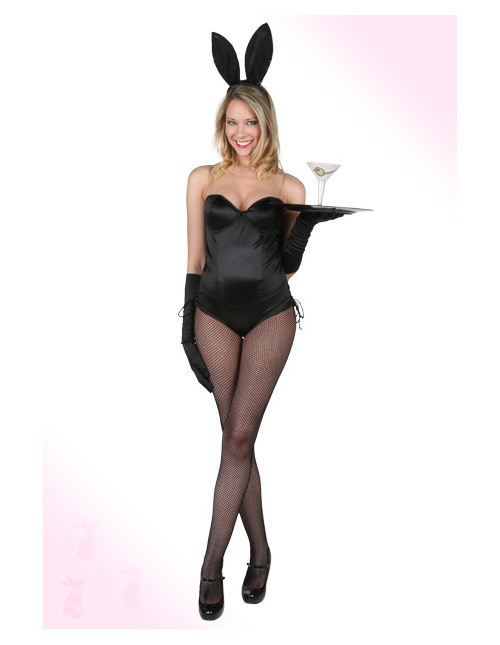 The Bunny Stance was a posture that was required when in front of patrons of the Playboy Club. This meant her legs stayed close together, her back was arched and she was ready to help her customers.
Bunny Dip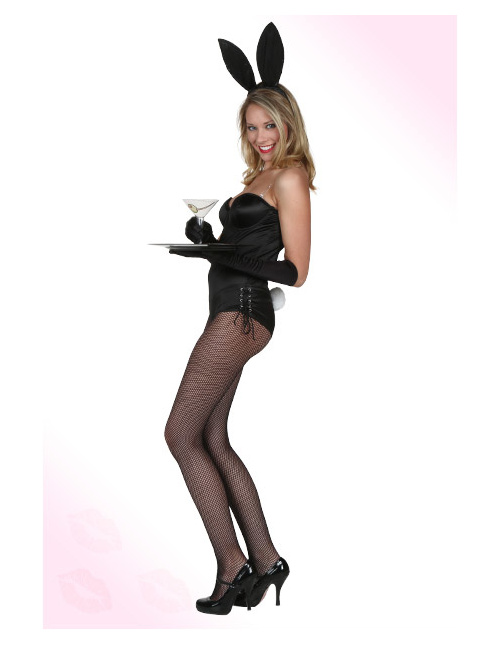 The Bunny Dip is where the bunny gracefully leans backwards while bending at the knees. This pose allows the bunny to serve drinks while keeping her low cut costume in place.
Show Off Your Bunny Tail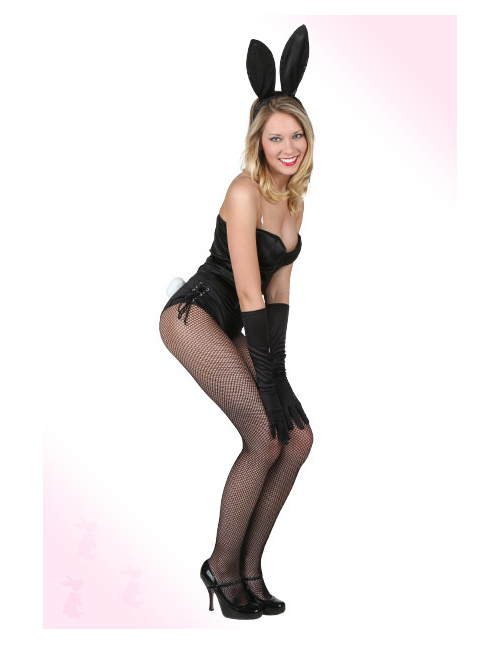 It's not every day that you wear a costume with a fluffy tail attached. It was popular back in the day, and still is popular today, so show off that tail for pictures.
Vintage Pin-Up Bunny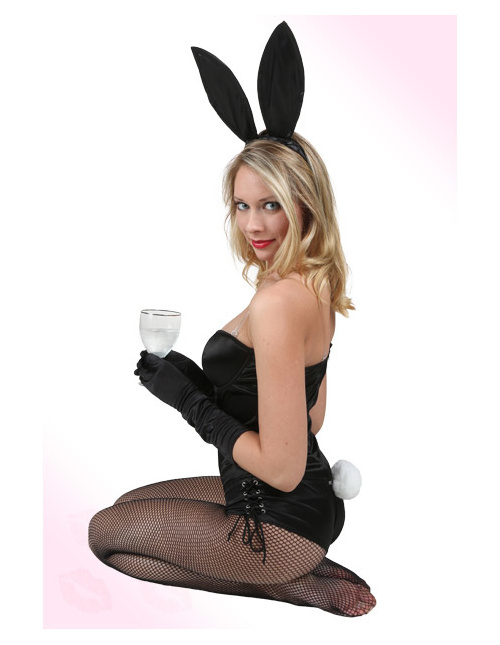 Have fun, be flirty, you're a bunny! This pose was done to mimic a vintage pin up poster featuring a bunny with a seductive over the shoulder smirk. Perhaps it will inspire some more fun ideas for you when you wear your costume.
Playboy Bunny Costume Ideas
Did you know that when it comes to being a bunny, you have lots of options for colors, coverage and styles! Check out this assortment of colors, notice the different details that make them unique and see what cut or coverage appeals to you the most. Love sequins? Or satin? How about a tutu skirt? No matter which costume you pick, you'll still be rocking a look that is instantly recognizable as an iconic bunny.
Pink Sequin Covered Classic Cut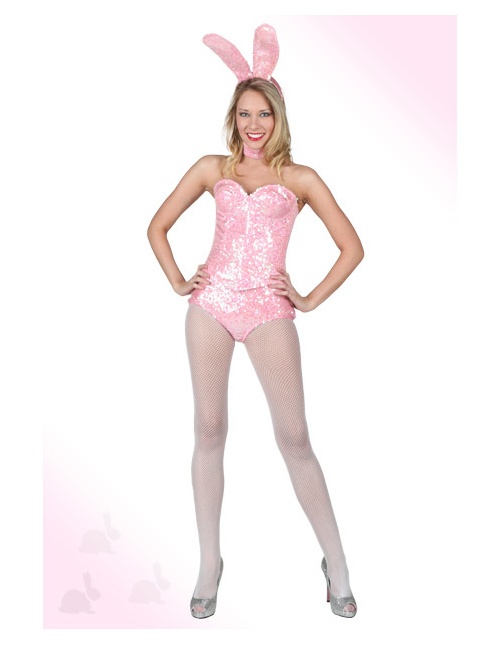 This costume is two pieces, a sequin covered corset top and a sequin covered brief. Included are the matching bunny ears and choker. Paired with white fishnets and sparkly silver heels, you'll look dazzling in this bunny costume.
Blue Classic Cut Costume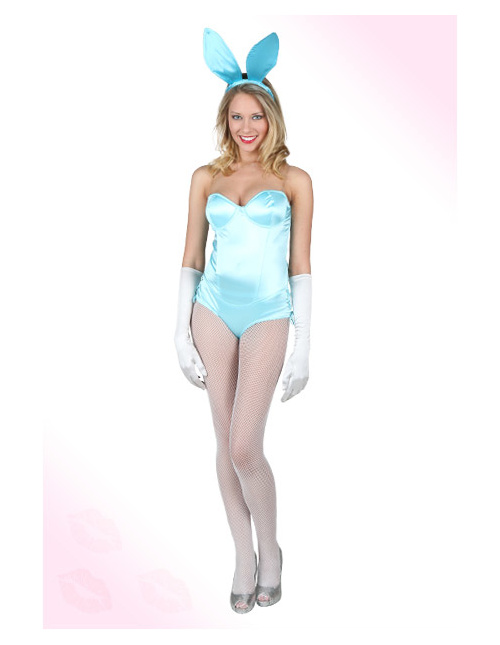 This smooth, sleek satin bunny costume is shown in light blue and includes the matching bunny ears. We added a pair of silver gloves, white fishnets and silver shoes to complete the look. Included clear shoulder straps can be added for extra support, or removed if you prefer.
Purple Sequin Covered Classic Cut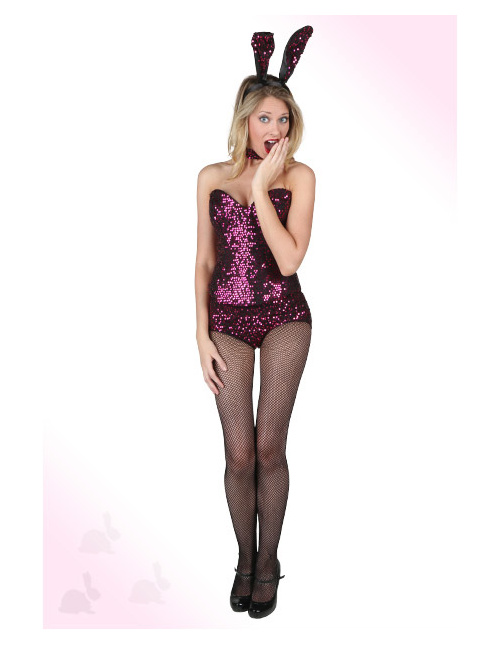 This two-piece purple sequin bunny costume includes the matching sequin ears and choker. For a more dramatic look we added black fishnets and black high heels.
Black Sequin Top & Boy Shorts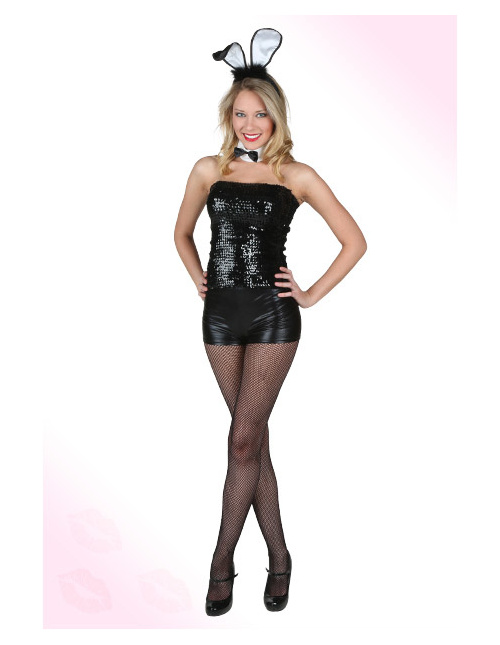 Perhaps you are looking for a costume that is slightly more modest for a night out. This option has a dazzling black sequin tube top paired with a pair of black boy shorts. The included bow tie choker and bunny ears help maintain this timeless look.
Playboy Bunny Dress Costume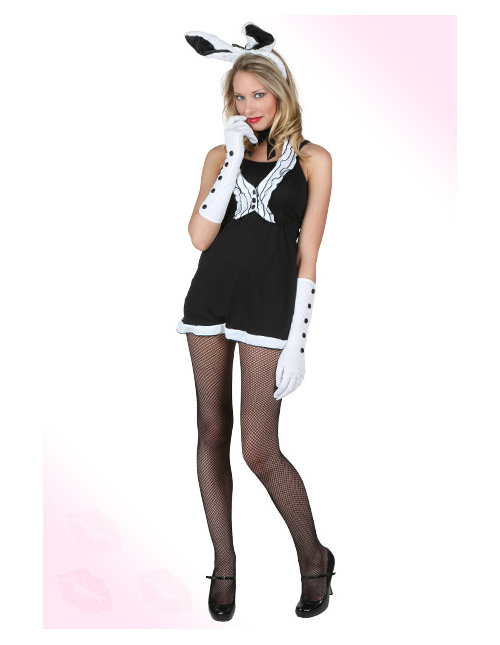 If you would prefer the coverage of a skirt, this mini-dress option is great. It has fun details to create a tuxedo inspired look and includes the matching gloves and bunny ears.
Playboy Bunny Tutu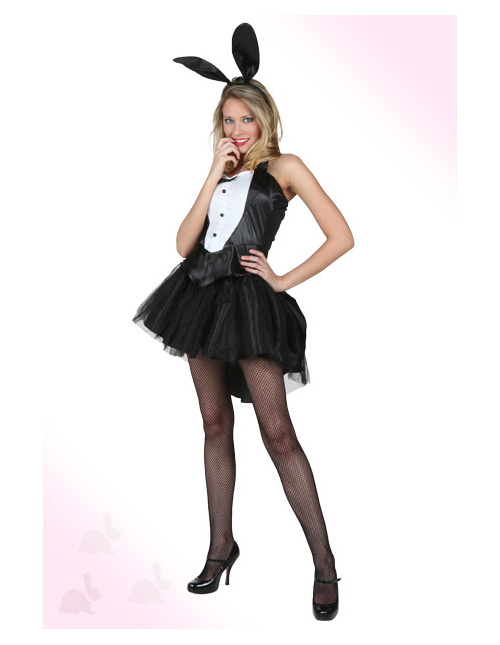 This tutu-skirt tuxedo bunny costume is two pieces. The black and white halter top look like a tuxedo and the black tutu skirt has a comfortable elastic waist. Put on the included bunny ears and you'll be ready to go.
Playboy Bunny Costumes Coverage Options
Being a bunny usually means wearing a revealing costume, but not everyone feels comfortable being so exposed. Here are some ideas for adding a little more coverage without sacrificing the style that everyone recognizes. Whether you want to add a little more coverage, or a lot more, this guide will walk you through some easy steps to make you more confident in your bunny costume!
Replace Fishnets with Black Tights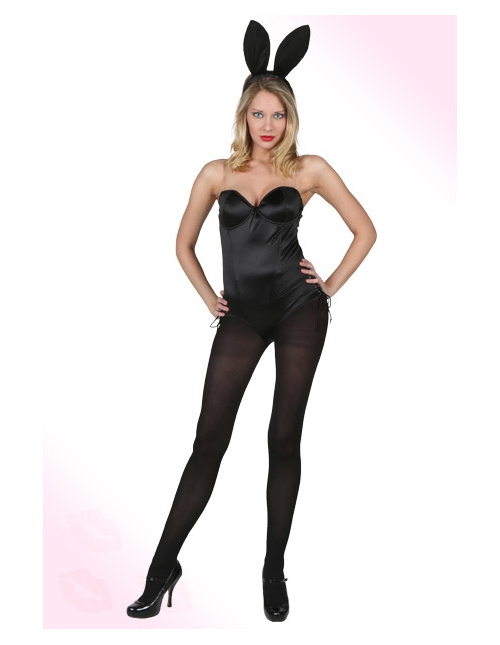 One simple idea is to trade the fishnets for a pair of black tights. The opaque tights hide your skin, leaving much less actually exposed.
Elbow Length Gloves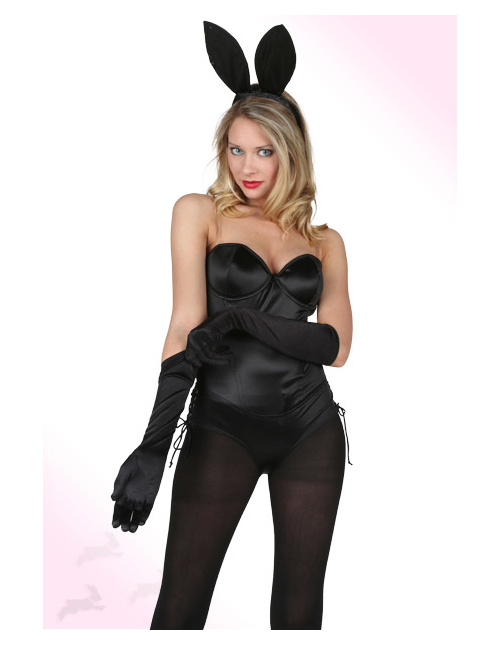 Next, pull on a pair of elbow length black gloves. The look elegant and leave less skin showing which means you'll get a huge boost from this small addition.
Bare Less With a Feather Boa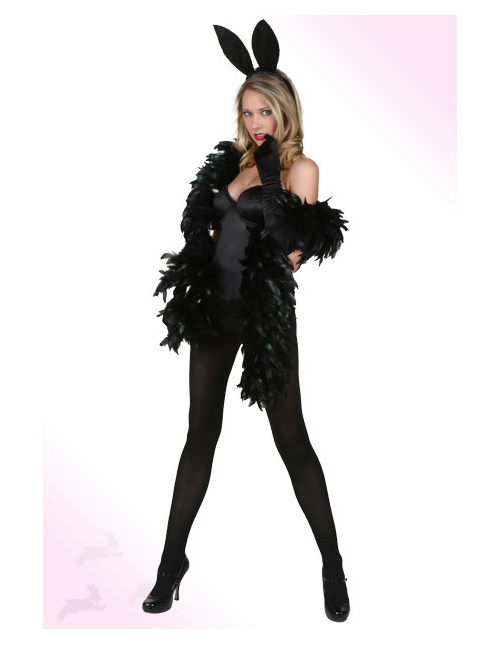 Still feeling nervous? Wrap a feather boa around your shoulders and cover up even more while looking fabulous. This showgirl-style accessory means you'll look glamorous even while revealing less.
Boost Confidence with a Short Skirt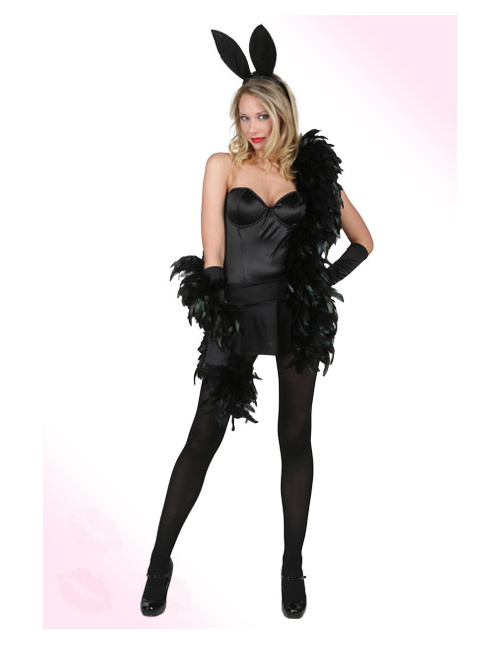 A short skirt can go a long way in boosting your confidence. This black one blends in perfectly with the rest of the costume, so the difference is subtle but the coverage is much more modest.
Playboy Bunny Costume Accessories
Getting the right look is all in the details. Here are a few accessories that will ensure your bunny costume is ready to hop out the door in style. From essentials like the bunny tail and the bow tie, to creative extras like tuxedo thigh high stockings these are all great ideas and must have pieces for completing your bunny costume.
Playboy Bunny Tail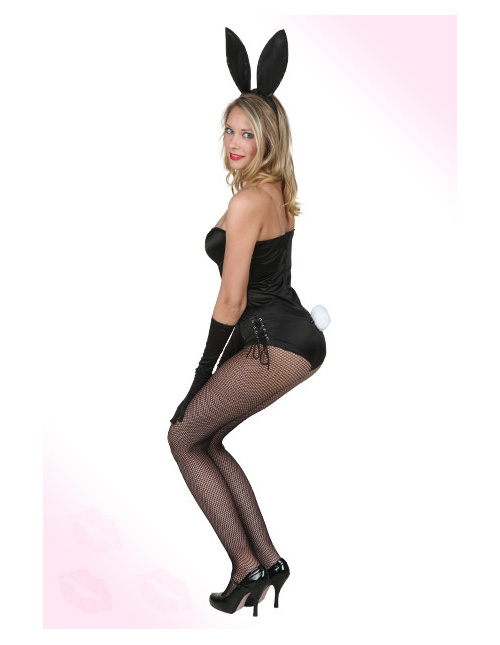 There are not too many times in your life when it will look hot to have a bunny tail pinned to your backside, so when that opportunity comes along don't pass it up.
Black Bow Tie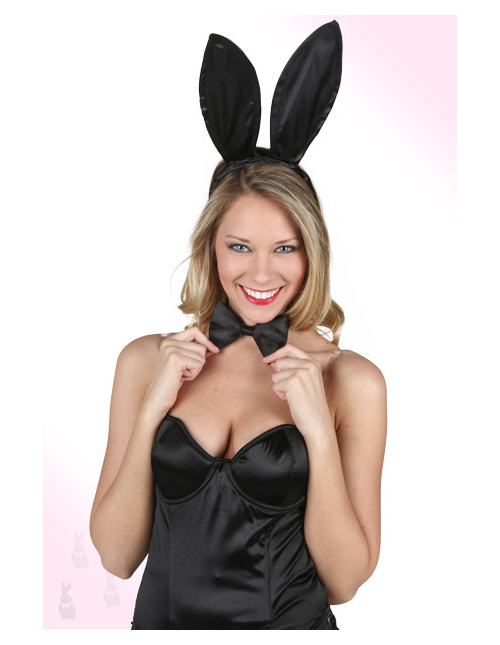 Keep it classy by dressing up your costume with a handsome black bow tie. This one comes pre-tied and instantly adds a timeless look to your bunny costume.
Thigh-High Tuxedo Stockings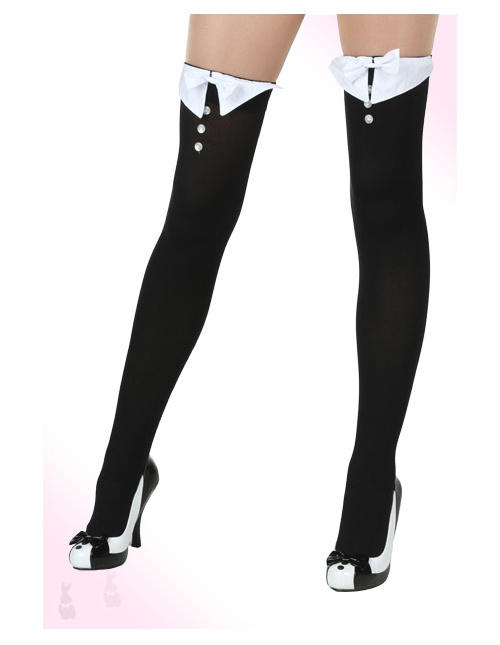 Looking for a way to set your costume apart from the rest? Add a unique detail like this pair of tuxedo stockings. They have collars, bow ties and buttons sewn to the tops for a fun take on a pair of thigh-highs.
Playboy Bunny Heels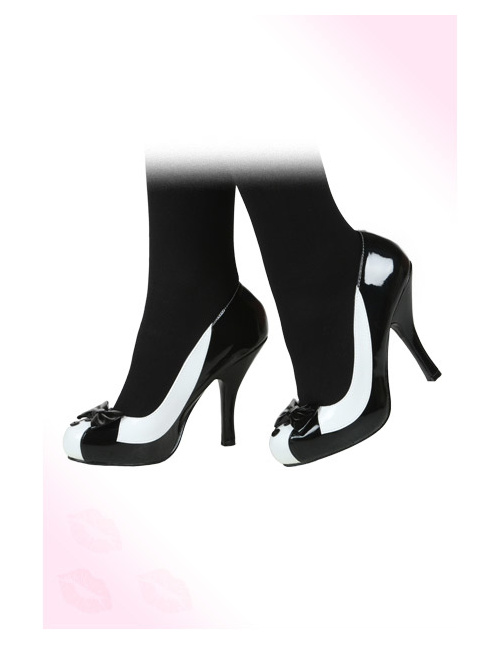 Where else can you wear a tux? How about your shoes! These tuxedo high heels were meant to be worn with a bunny costume. Their all dressed up with bow ties and buttons so that you can put your best foot forward.
Hugh Hefner Costume Ideas
Looking for someone to pair up with in your bunny costume? Hef makes an obvious choice. The good news is, there is more than one way to be the keeper of the mansion keys! Dress up your leading man in our red robe, or have a pal put on this licensed Mansion Mistress costume from Playboy. Either way, the two of you are going to turn heads at your next party!
Ladies Man: Hugh Hefner Costume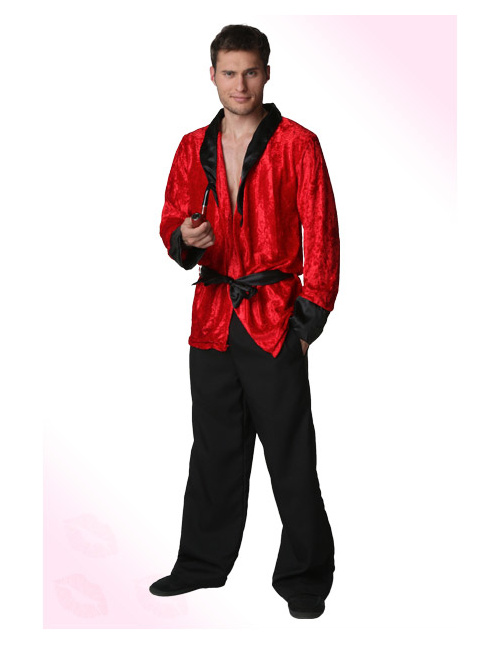 Practice your look of sarcastic flirtation, as shown above, and you'll be ready to play the part of the ultimate ladies' man. Yeah, our guy is a professional but surely there's time for you to perfect this expression before your party, right? Adding a pipe accessory is good too.
Hugh Hefner Costume for Women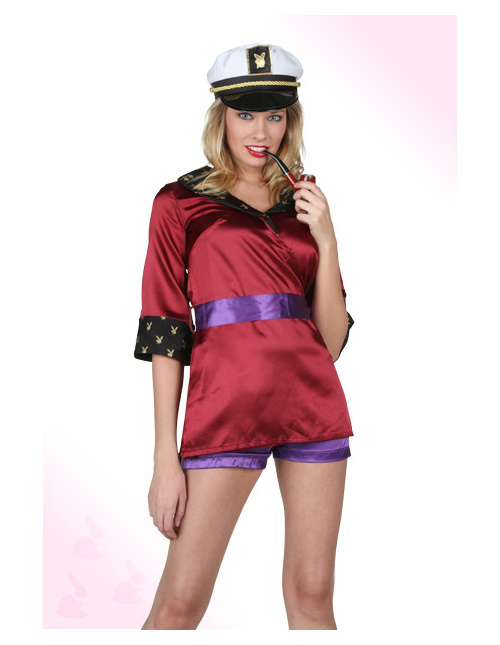 You don't have to be a guy to be the one in charge. In fact, once you put on the captain's hat included with this Mansion Mistress costume we think instinct will take over and you'll be ready to call the shots for the rest of the night.