LEGO Ninjago Costumes
When it comes to LEGO themes, there's one in particular that kids can't get enough of. Ninjago has ruled among teens and pre-teens, and we're sure that's at least in part because the 2011 Ninjago LEGO sets are accompanied by a media franchise. And, with a hugely popular television series and The LEGO Ninjago Movie, Ninjago has cemented itself as one of the most popular fandoms for younglings.
It's no surprise that it didn't take long for LEGO Ninjago costumes to arrive. Kids love them for Halloween and for playtime. After all, a costume that gives you the look of a blockish LEGO Minifigure would be cool enough. So, the fact that LEGO Ninjago costumes are a top Halloween seller year after year comes as no surprise to us as costume experts. Popular toy lines inspire plenty of Halloween costume trends, but when you combine toys and a media franchise, the popularity is sure to be unstoppable. And, since we're your source for all things costume, that means we've got a Ninjago costume that's ready to go for your kiddo!
We've got Ninjago costumes for kids that are officially licensed by LEGO. That means they translate the iconic look of a LEGO Minifigure into costume form. And, of course, the costumes are complete with the outfit details that each of the Ninjago characters is known for. So, if your child has been asking for a Ninjago outfit for Halloween, you can be sure you've found the exact right spot for all of your shopping. Just keep reading for more info on these popular LEGO Ninjago Halloween costumes!
We offer costumes for 2 of the most popular character in the franchise, Kai and Lloyd. The show features a whole team of cool ninjas to emulate, along with Sensei Wu, and a whole host of villains, too. But, inevitably, kids always gravitate towards the lead characters, which means are Kai and Lloyd Ninjago costumes are the most sought after by boys and girls.
Lloyd Ninjago Costume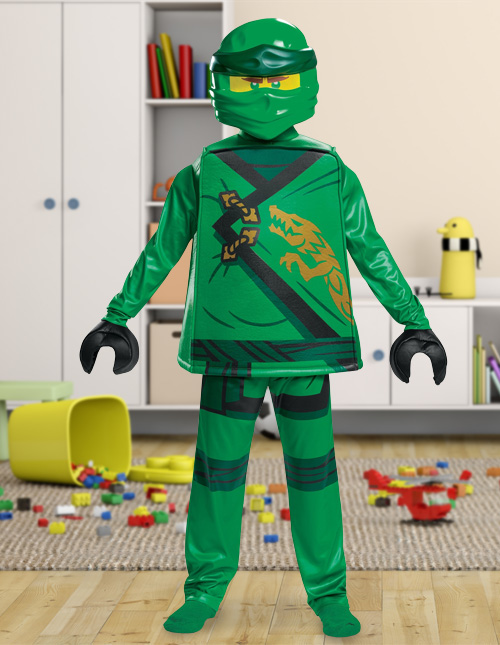 On the show and in the franchise story, Lloyd Garmadon is the son of the villain Lord Garmadon. So, when Lloyd became the prophesied Green Ninja, a legendary hero, he was bound to be a central character in the series. As the Elemental Master of Energy, he can shoot green energy beams, and with his strong powers and leadership abilities, he's become the leader of the Ninjago ninja team. Naturally, he's the character kids most want to portray when they want a LEGO Ninjago Halloween costume!
Kiddos are sure to love the design and details of our deluxe Lloyd Ninjago costume. From Disguise Costumes, it's officially licensed by LEGO and features all of the details that a child would expect. It includes a tunic, pants, mitts, and a mask. The tunic has the squarish, boxed shape of a LEGO figure that's achieved with foam-backed fabric to hold its shape. With the elemental Green Ninja design printed on the front and back, it fits with a hook and loop fastener at the center back.
The pants fit with an elastic waistband and have a printed design that matches the tunic for Lloyd's signature look. The mitts feature the iconic cupped shape of a LEGO figure's hand, and the mask reproduces the look of Lloyd's LEGO head. A molded facemask covers the front of the face and has a mesh-covered eye-opening printed with Lloyd's eyes to complete the look. With so many details, we're sure this costume will make your child feel like a real Ninjago hero!
Kai Ninjago Costume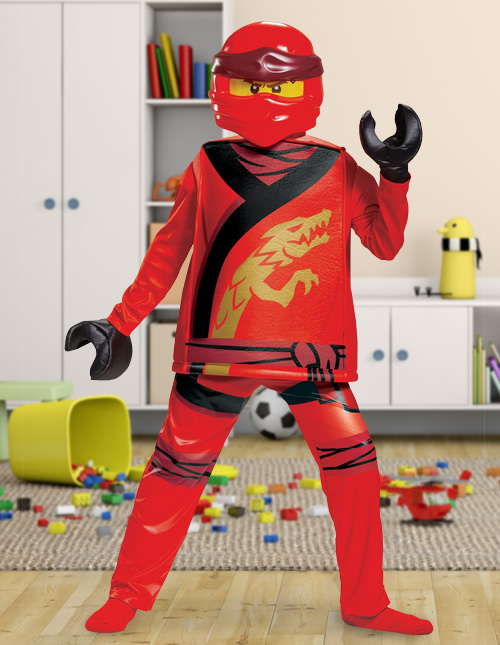 Kai happens to be quite the cool Ninjago ninja, too. Which means he's tied with Lloyd among most kids, or they have him at a close 2nd. The Elemental Master of Fire, he was a blacksmith before he trained as a ninja. Which came in handy when he trained in Spinitzu and learned to control fireballs and flames! He's also pretty handy with katana swords. When combined with his fire abilities, he's a formidable opponent to take on. So, it's pretty easy to see why kids love the character so much!
Any kiddo who watches the show or builds with Ninjago bricks will adore our deluxe Kai Ninjago costume. The legacy design is based on the Kai LEGO figure that kids will be most familiar with. Featuring a foam-backed tunic with the signature Minifigure shape, this costume really stands out because of its graphic print. A gold dragon design features a dragon head on the front of the tunic with a tail on the back, complete with a Ninjago symbol.
The Kai LEGO costume is designed for a comfy fit, too, which means kids can wear Ninjago costumes for Halloween, and then wear them over and over again for playtime. There's no limit to the backyard battles with these outfits! The Kai costume is built for action, with a tunic that closes with a hook and loop fastener and elastic fit pants. The distinctive LEGO gloves even have extra padding, so no one will get hurt if the imaginary action gets super intense!
Ninjago Cosplay Ideas
If your little one is a fan of LEGO Ninjago sets, then they've spent hours building some of the most imaginative scenes, weapons, and vehicles from the franchise. With so much creative brick building, it shouldn't be a surprise when kids want to play out live-action scenes when they get together with their friends. So, if you want to help your kiddo with action-packed Ninjago cosplay, we think that's a great idea!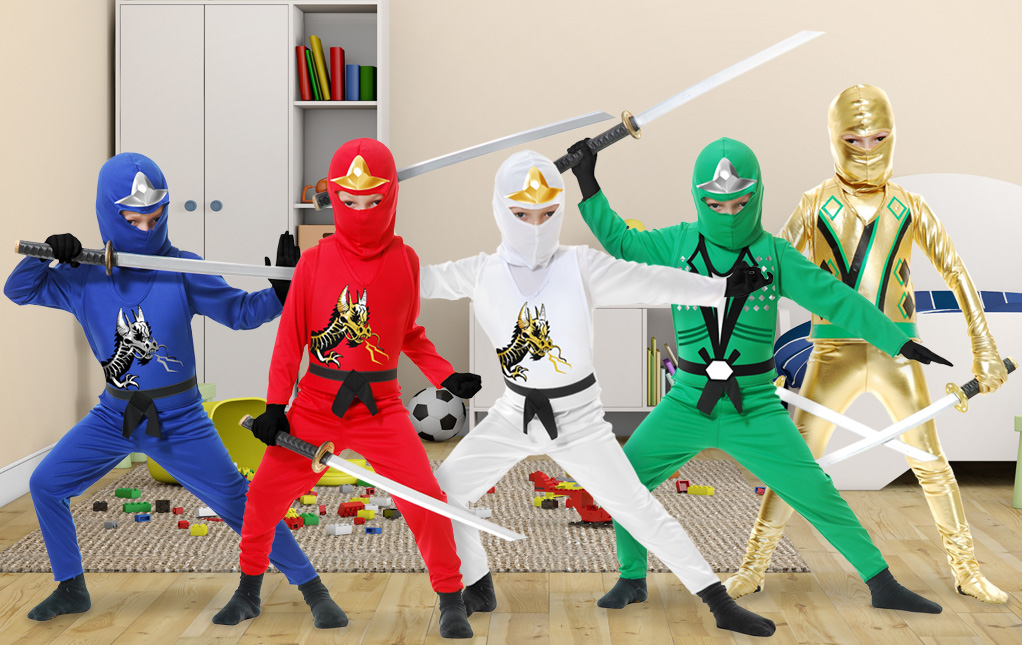 The costumes mentioned above are excellent choices, but when it comes to Ninjago costume ideas, you don't have to limit yourself to the official LEGO costumes. All your child will need is a ninja suit, and their imaginations will take over! We have ninja costumes for kids that feature the classic ninja look, complete with pants, a top, and a hood. They're available in the same colors the Ninjago team wears and they've got a comfy fit that's perfect for playtime. Be sure to shop our Ninja swords to get your child a plastic weapon for playtime, too. Our Ninjago sword is the best choice for LEGO fun!
When kids want the best Ninjago outfit, take a look at the cool Ninja Avengers Series II costumes. Available in red, blue, white, and red, each costume features a comfy ninja suit complete with realistic graphic art on the front. One of these outfits is sure to make any kiddo feel just like their favorite Ninjago hero! For even more awesomeness, buy the