Game of Thrones Costume Ideas
You know how you feel when you hear it. Da duh. Da da duh duh. The opening theme to Game of Thrones means you're about to watch about 55 minutes of violence, sex, gore, and medieval politics. And it's safe to say, since you're here perusing Game of Thrones costumes, that you absolutely love it. And you're not alone. The hit HBO show has smashed records worldwide and created legions of dedicated fans!
This means, of course, that it's a prime theme for costume and cosplay fun. So whether you'd like to be your favorite character or would just like some Game of Thrones Halloween costumes to perfectly capture the medieval style of the show, we've got you covered with a sweet selection of costume ideas. Scroll down to see our top selling Game of Thrones costume styles along with extra tips, tricks, and ideas to see if we can get you started on your Game of Thrones costume journey. Because Valar Dohaeris. All men must serve…in costume!
Daenerys Targaryen Costumes
From Pentos to Qarth to Meereen, then to Westeros, and even all the way up beyond the Wall, we've rooted for and followed Daenerys Targaryen on her long journey. She didn't have much in her humble beginnings, but by the series finale, she had amassed 3 dragons, several armies, and thousands of dedicated supporters. (It's fair to say that she lost some things as well.) But no matter which stop on Dany's route was your favorite, we can get you a costume that matches the on-screen style of that tim`e period. Check out these Khaleesi inspired costumes to see if any of them represent the moment you're looking to capture in your Daenerys Targaryen costume cosplay!
Dragon Queen Costume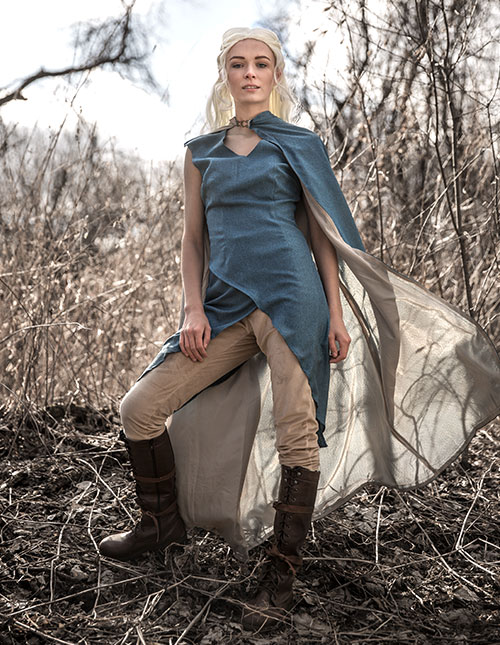 It doesn't take Daenarys Targaryen long to become more than just a mother to her dragons: by season three, she's Mhysa, the mother to the freed slaves of Yunkai. You can capture her look as the Breaker of Chains by going in this Dragon Queen Women's costume. It inspired by her threads from this season of Game of Thrones, and with our Dragon Queen wig, you'll really be able to capture her signature look. Complete your look with a Drogon shoulder prop, and you too will be ready to rule with fire. Dracarys!
Winter Dragon Queen Costume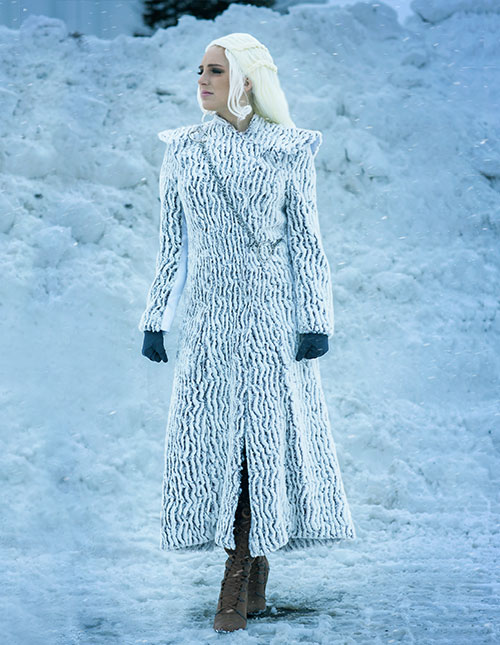 Flash forward to season 8 of Game of Thrones, and Dany is wearing thick furs and luxurious gowns to match her claim as Queen of the Seven Kingdoms. Case in point, her luxurious, white fur jacket worn at Winterfell and beyond the wall. We've worked to replicate that style and pay homage to the incredible Game of Thrones costume designer's work, and we think this Winter Dragon Queen Costume hits the mark perfectly. The fully lined coat features polyester faux fur with long vertical weaving to replicate the screen-worn coat's look.
Jon Snow Costumes
Jon Snow's costume changed up just a bit when he left the Night's Watch, but if you want to go in a Jon Snow Costume, the classic Night's Watch look is your first and best choice. We've created a worthy replica of that screen style, and it's got gritty styling and extra attention to detail to let you play the part. Top it off with our Dark Northern King wig, and you'll be a ringer for Jon's signature style.
Dark Northern King Costume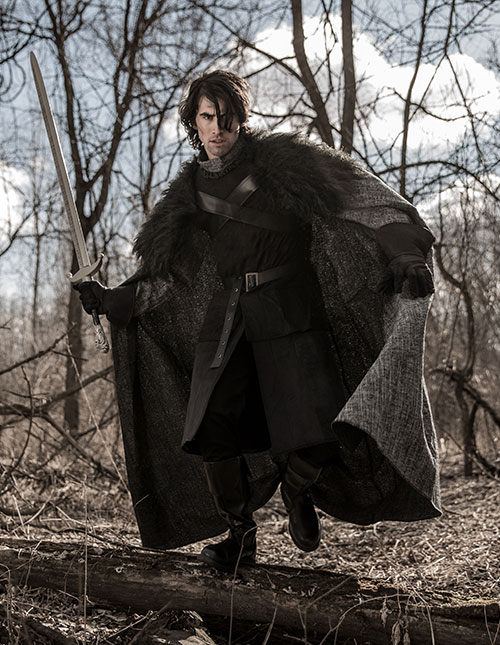 For most of the series, Jon Snow has been a member of the Night's Watch. As such, he can almost always be found in the typical garb of the Watchers on the Wall. This men's Dark Northern King costume features thick fur on the cape, black faux suede, and gray linen fabric for a worthy recreation of his Castle Black gear. Just be sure you're prepared to take your vows: "Night gathers, and now my watch begins."
Dark Northern King Wig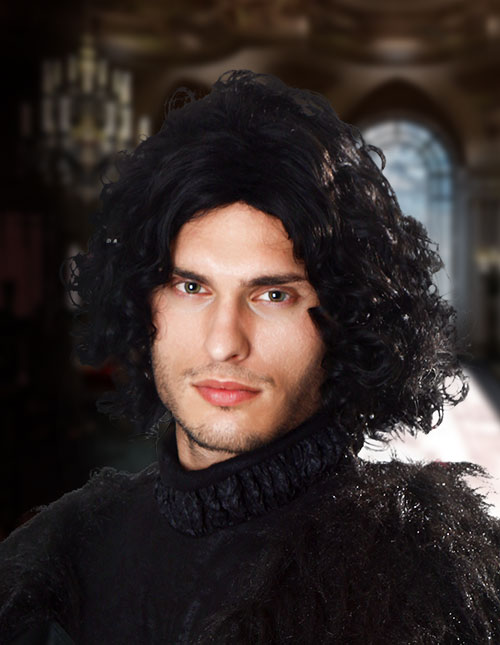 Greasy, black locks are a signature part of Jon Snow's style, and you can get the look just right with our Dark North King Wig. It doesn't matter what your own hair is like, just slip on this wig and you'll be ready to do battle with the fiercest of enemies. Or, you know, hop into a hot spring cave and kick it with a friend. After all, you can choose whatever adventure you'd like when you're suited up in costume!
Game of Thrones Swords
When you're looking to complete your Game of Thrones costume theme, a trusty sword is sure to go a long way. Which is exactly why we carry a full assortment of Game of Thrones swords! Our swords are officially licensed and manufactured by Neptune Trading, who worked with HBO to get each weapon's signature details just right. Our selection includes most of the named swords featured on the show, but we've got 2 of the most famous ones featured right here, Longclaw and the Catspaw Dagger.
Longclaw Sword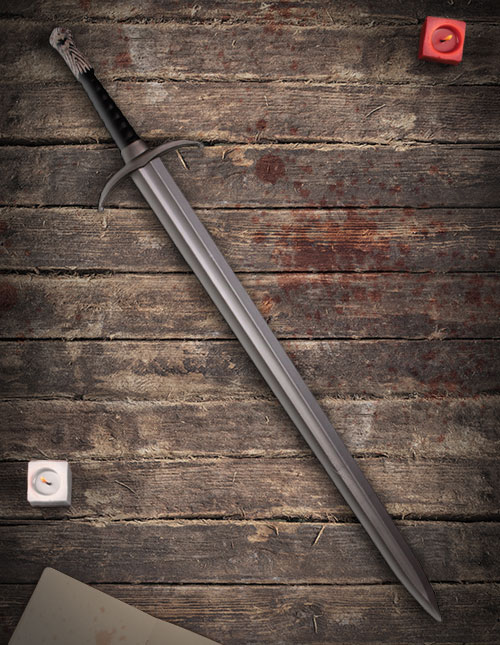 Longclaw was the ancestral sword of House Mormont, so we should have been able to figure out that big things were in store for Jon Snow when it was gifted to him by Lord Commander Jorah Mormont. Flash forward a few seasons later, and Jon's using the Valyrian steel sword to battle Boltons, wights, and White Walkers. You can get yourself an HBO officially licensed foam replica when you get our collector's Longclaw Sword. It gets all the details right, like the wolf head on the pommel, and it even comes with a collector's box for safe storing.
Catspaw Dagger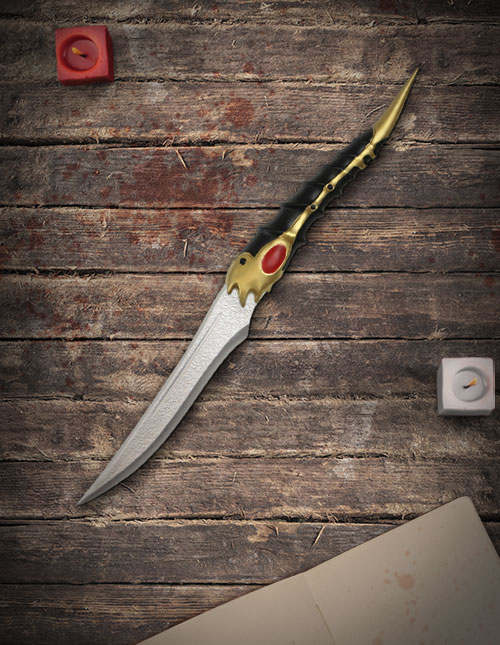 Of all the famous swords featured on the show, it was the small but wicked Catspaw Dagger that played perhaps the most significant role in the events that unfolded. We'll let you be the judge of that (no spoilers here) but in the meantime, you'll definitely want to grab this foam Catspaw Dagger for your collection or to keep at your side when you suit up in an Arya Stark costume. Do your own training to get down a quick hand switch maneuver—you just never know when it may come in handy!
Frozen Lake Battle
There are many memorable moments throughout the series, but when it comes to battle sequences, there's one icy encounter in particular that's sure to stay fresh in fan's minds. And that would be, of course, the fierce battle when Jon Snow's band took on wights and White Walkers on a frozen lake north of the wall. You can recreate this iconic television moment by grabbing our Dark Northern King Costume and Wild Warrior Costume to recreate the scene with Jon and Tormund. Check these Love Your Look images to see if they inspire your next costume cosplay!
Icy Island: Jon Snow and Tormund Giantsbane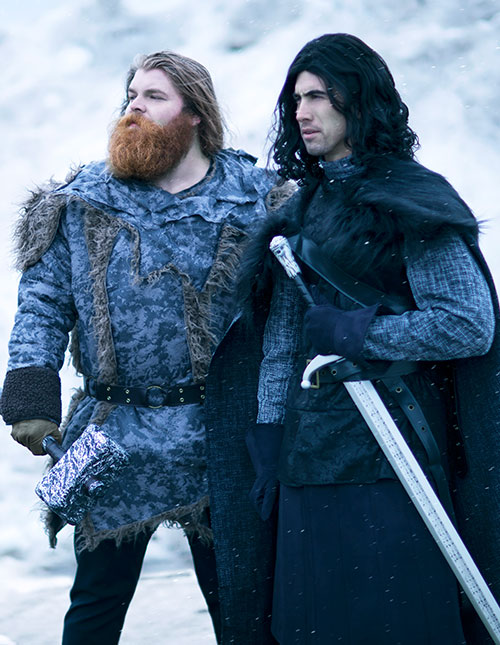 So Jon and Tormund are stuck on the lake's tiny rock island, remaining safe from Wight attack only due to the thin ice surrounding them. We think if you found yourself in a similar situation, you'd spend a significant amount of time sizing up the scene and plotting your next move. That's exactly what our Jon and Tormund are doing right here. Make your own battle plans when you suit up in these Made By Us costumes. Maybe you won't be able to hatch a plan to save the day, but at least you're going to look great with the attention to detail featured on each of these costume styles.
Game of Thrones Cosplay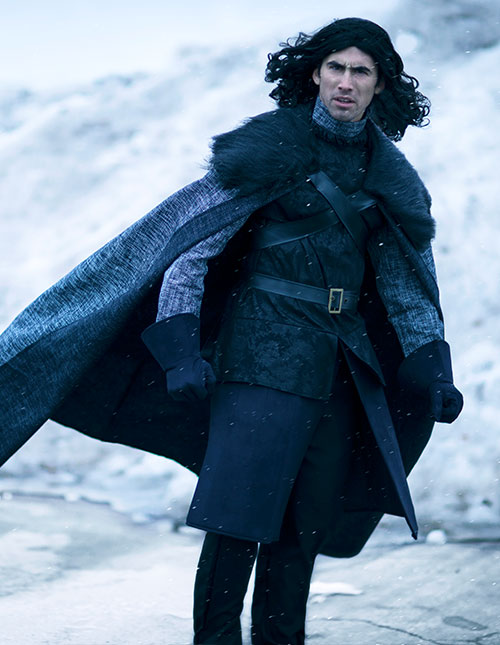 From the expression on our Jon's face, we think the Night King just had a mic drop moment. As in, a bullseye with his ice spear! You'll still have to find a way out of the situation, so stand just like our guy in this photo, with an intense stare and a sense of amazement. If your acting skills aren't super refined, don't worry, our costume will do the heavy lifting. After all, it sure carries some intensity with its deep blacks and plenty of faux fur.
Ready for Battle Against the Night King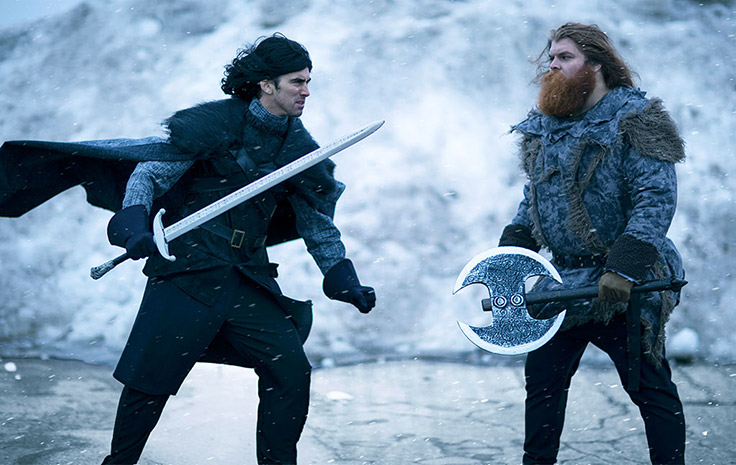 Grab your axe, grab your sword, and get ready for battle. Because the ice has frozen over and those wights are coming! We hope you arm yourself with some of our prop weapons for your own faux battle scene. We don't offer any Valyrian steel, obviously, but our prop weapons are sure to do a great job of completing your costume theme. We have the officially licensed foam Longclaw sword as well as a plastic axe that works great for Tormund. Just grab your weapons and give your buddy a final glance before you engage the enemy—this battle is about to go down!