Eevee Halloween Costumes
1 - 8 of 8
---
Eevee, from Pokemon, represents infinite possibility! You can turn a humble little Eevee into a Pokemon of just about any type. That's sort of why we love our Eevee costumes. With our selection of different styles and accessories, any fan of the adorable creature can express their own infinite possibilities! Whether you want a classic Eevee Halloween costume or just a few accessories to round out your Eevee cosplay, we've got it right here.
read more
read less
Main Content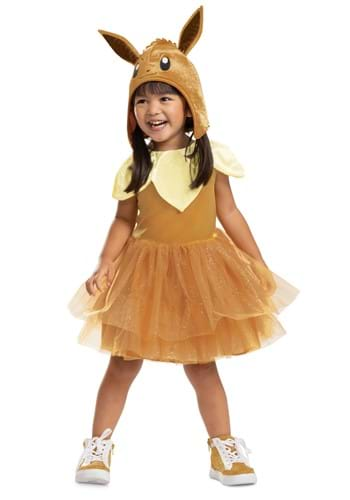 Coming Soon
---
Remember when there were only 150 Pokemon? It seems like just yesterday to us. Of course, these days, there are nearly 1,000 different Pokemon that have spanned across countless games and we have no telling what the future will hold for the series! Out of all of those Pokemon, there's still a particular one that still stays at the top of our list, Eevee. Eevee is unique creature, being one of the first Pokemon to have multiple evolution options. Depending on what stone you use, you can transform Eevee into just about any type you can imagine. Not only is that great for gameplay, but it's also a really great metaphor for the infinite possibilities available to Pokemon and their trainers. We've often compared our own lives to that of a humble Eevee... and it's part of the reason why we love Eevee costumes. We like the idea that you can be anything you want, given the right circumstances, so we love what Eevee represents and it's why we've taken such an interest in costumes based on Eevee.
Our selection of costumes based on the popular Pokemon reflects Eevee's adaptable nature. After all you can feed Eevee any kind of evolution stone to transform it into a powerful evolved form! That's why we don't just carry a single style of Eevee Halloween costume! We have a bunch of different styles that take their inspiration from the classic Pokemon.
Of course, kids love Pokemon more than anyone else. When we were just a youngin' in middle school, we toted around a Game Boy Pocket and a copy of Pokemon Red, looking to trade Pokemon with any other gamers in school. That's why we made sure to get some great Eevee costumes for kids. We also have some dress-style outfits that are easily one of the best Eevee costumes for girls out there.
Since Pokemon came out all the way back in 1996, we know that there are a ton of adult Pokemon fans out there. That's why we didn't leave the adults out! We have some adult Eevee Pokemon costumes, which are perfect for anyone who wants to relive their younger years by dressing up as their favorite Pokemon.
Finally, if you're looking to create your own Eevee Halloween costume, then we have a handful of accessories to add to your costume to complete the look. We have plenty of masks, hats, and accessory kits that will help you create a costume worthy of the classic critter.
If you need an Eevee costume, then just check out our selection and start your own evolution today!