Boba Fett Halloween Costumes
Over the years, Boba Fett played several different roles in the Star Wars universe. We met him in the prequel movies as an unaltered clone of Jango Fett. His career as a bounty hunter began to take off in the Clone Wars TV series, and by the time of the original trilogy, he was one of the most feared bounty hunters in the galaxy. When he was pushed into a Sarlacc pit on Tatooine, we thought his career was over! But Boba Fett turned out to be tougher than we thought. We learned more about his life after he escaped the Sarlacc in the series The Mandalorian and The Book of Boba Fett. And although we can't say we approve of every single decision he's ever made, he's certainly one of the most interesting and dynamic characters we've met, and we can't wait to hear more of his story!
Adult Boba Fett Costume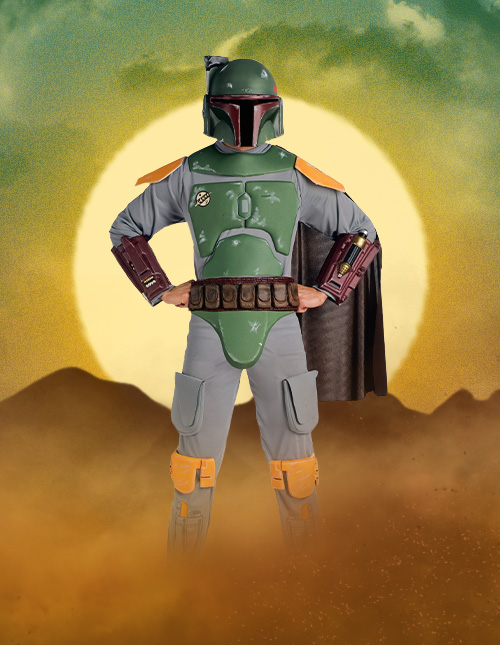 Who exactly is Boba Fett? Is he an unfortunate child who lost his father at a young age? A ruthless bounty hunter who worked for the side of evil? Or do you think of him as the firm but not unnecessarily cruel Tatooine crime lord? This complex character has several sides, but we think that's a positive! That means you can portray him however you'd like. So bring home this Adult Boba Fett Costume and you can work for Darth Vader, rule Mos Espa, or travel the galaxy in Slave I!
Kids Boba Fett Costume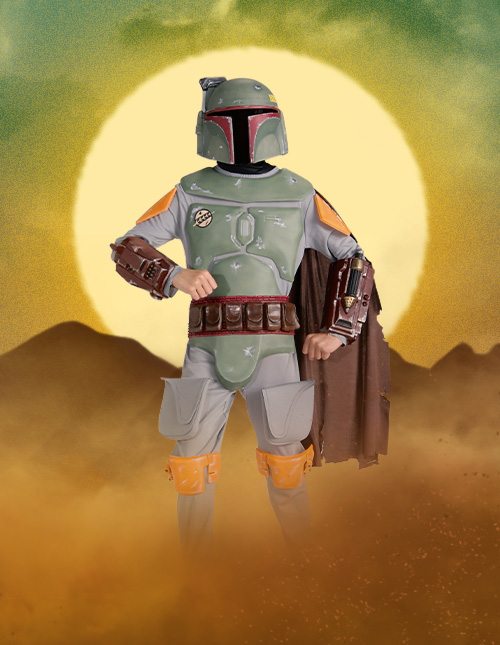 Is your kiddo obsessed with space travel? Perhaps they've wanted to be an astronaut for as long as you can remember. Or maybe their dream is to go to the moon someday. If your little one wants to dress up as a character who travels space, they have a lot of choices. However, one of our favorites is Boba Fett! We get to meet him as a child and learn quite a lot about his life. Your child will love getting their start as a bounty hunter with our kids Boba Fett costume. And although we hope your child doesn't imitate everything Boba does, we hope they have a great time creating their very own space adventures!
Boba Fett Helmets
Boba Fett's uniquely painted armor is one of the easiest ways to recognize him. Unlike plain robes, it sets him apart from other characters. And unlike regular Stormtrooper armor, it's made of protective beskar. Of course, possibly the most iconic part of Boba Fett's armor is his helmet. So, if you want the full experience of being this bounty hunter, you'll need a Boba Fett costume helmet to complete your costume. And yes, while his helmet gives him better vision and protects his head, it also just looks cool!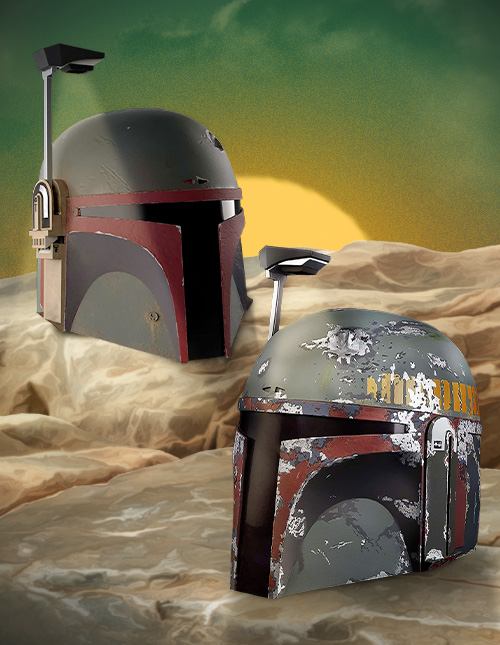 Boba Fett Black Series Helmet
After capturing Han Solo for Jabba the Hutt and delivering him to Tatooine, Boba Fett gets knocked right into a Sarlacc pit! And while you might think that would be a career-ending situation for most people, Boba Fett is not "most people." He manages to escape and continue living on the sandy planet for quite some time. But of course, his armor shows a little bit of wear and tear. This Boba Fett Black Series helmet will add a battle-worn look to your costume, but it still works as well as if it were brand-new!
Premium Re-Armored Boba Fett Helmet
Boba Fett's helmet, like the man himself, has been through a lot! It originally belonged to Jango Fett, and then traveled with Boba for several years. So, we think it's about time that it got a refresh! In season two of The Mandalorian, Boba Fett manages to clean and repaint his armor, just in time to help rescue Grogu. Add this premium re-armored Boba Fett helmet to your costume and you'll be able to experience a classic accessory, but with a fresh new look! Of course, it still has the iconic dent and scanner to keep everything looking movie accurate.
Boba Fett Accessories
If you want to look like a man who regularly travels around in a spaceship, then you'll need some space gear of your own! Get the look you want with our selection of Boba Fett accessories! Whether you need a sturdy pair of boots, a protective helmet, or a trusty blaster, we have a wide selection for you to choose from. You can complete your bounty hunter costume or put your own unique spin on a Boba Fett cosplay with our authentic accessories!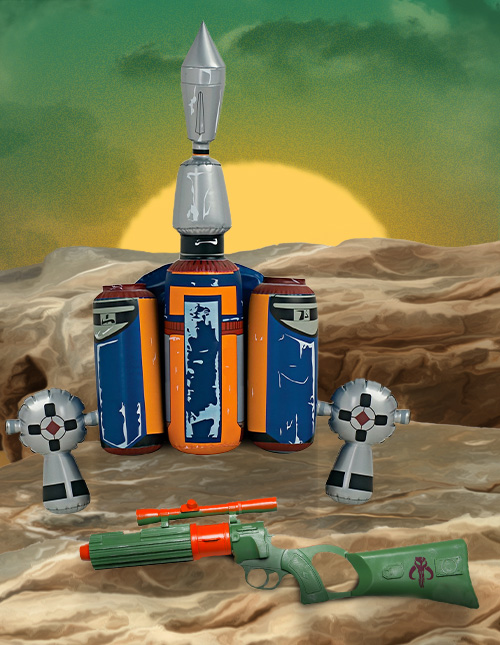 Boba Fett Jet Pack
When Din Djarin first gets a jet pack in the series The Mandalorian, it takes a little practice before he's any good at flying around. However, Boba Fett has had quite a bit of time to perfect his jet pack skills. It's an essential part of a Mandalorian suit of armor, so if you're going to dress up like Boba Fett, you'd better get yourself a jet pack like this one. Now you just have to start figuring out how to get your costume off the ground!
Boba Fett Blaster
There are several essentials that you need for space travel. Of course, the first thing would be a spaceship, but much of the galaxy is dangerous territory. If you're going to be traveling across different planets, especially as a bounty hunter, you'll need a trusty blaster (or two) at your side! This Boba Fett blaster will get the job done. Add it to your costume this Halloween or use it to add just the right touch to a Boba Fett cosplay any time of the year!