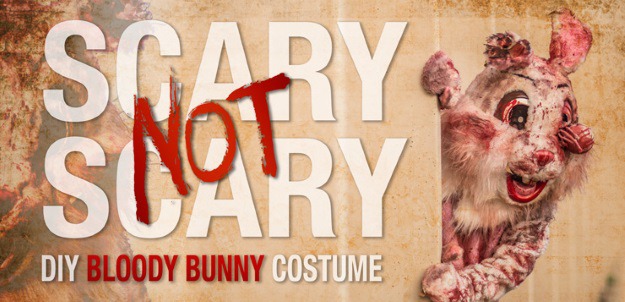 Remember the childhood poem about Little Bunny Foo Foo? He was a fluffy little jerk who would harass all the field mice by bopping them on the heads. Well, karma finally bit Bunny Foo Foo on his furry bottom!
The Good Fairy had enough of his disrespect and she did way more than just turn him into a goon. She took him to her hideaway and The Good Fairy and her magical friends used their wands to cause that bunny bully some serious pain. No one quite knows what happened to Little Bunny Foo Foo; he won't discuss it. We even called The Good Fairy to answer some of our pressing questions regarding the incident, but she hasn't returned any of our calls.
Now Foo Foo spends the majority of his days moping around the briar patch, trying to find a way to keep his eyeball from hanging out of its socket. Has he finally learned his lesson? Only time will tell. We hope, for Foo Foo's sake, that he stays on the fairies' good side!
If you want to concoct your own DIY Bloody Bunny Costume and pay your respects to the former fuzzy tormentor you once sang about...we'll teach you how! Keep in mind, hare today...goon tomorrow!
...