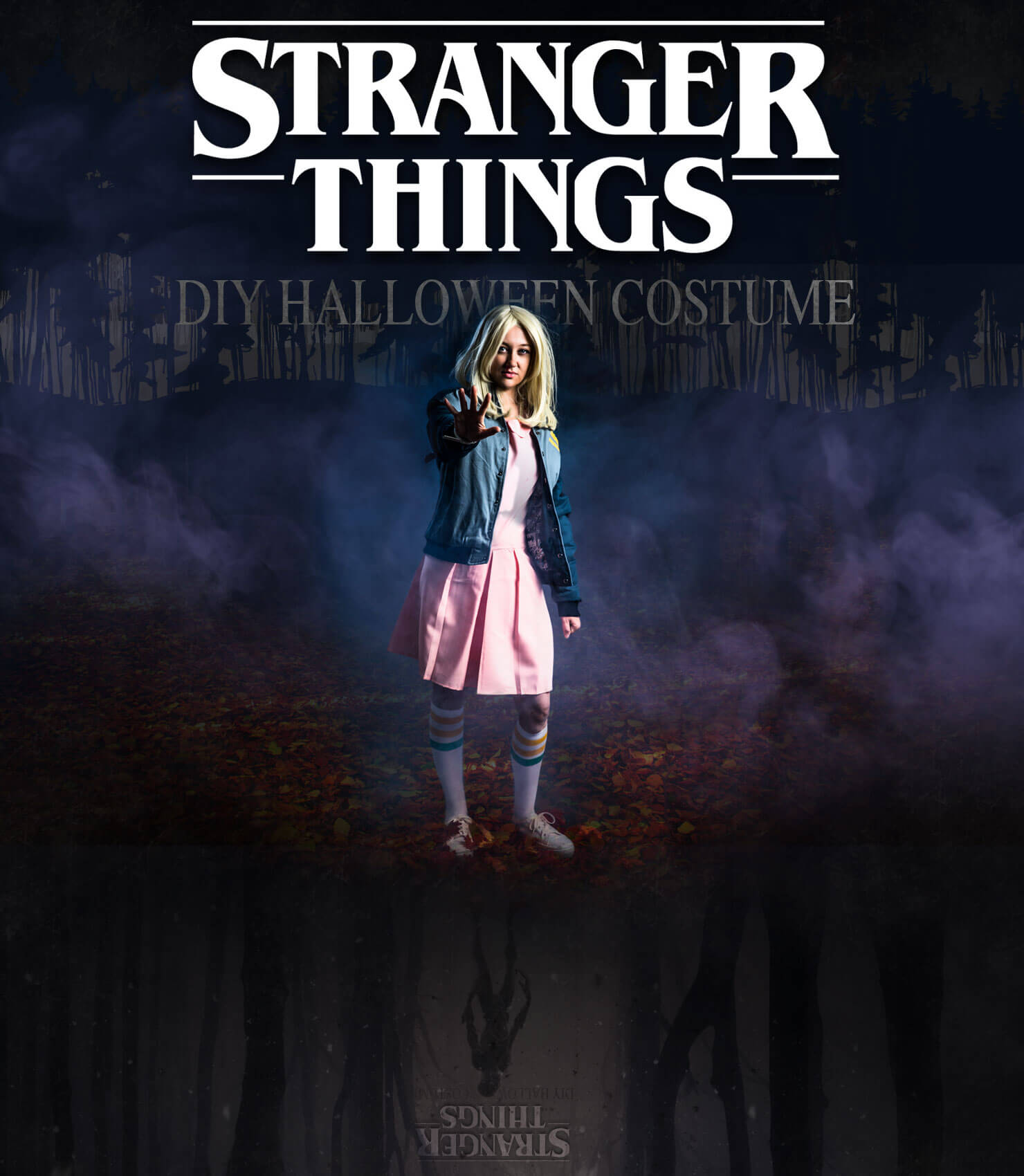 If you are anything like the crew at HalloweenCostumes.com, there's around an eight-hour gap missing from your life in the middle of last July. What happened in those hours? Well, friends, Stranger Things happened. On July 15th, 2016, Netflix launched the entire first season of their original show, an 80s-influenced sci-fi series that featured a group of D&D-playing middle schoolers, an alcoholic police chief, a psychokinetic little girl named after a number, and an internet fan-favorite named Barb. There's so much to love about Stranger Things – the music, the characters, the nods and homages to all of our favorite creepy movies growing up, Steve… – so, it's no wonder that this show is one of the biggest costume trends of the year. We obviously wanted to play along, but we knew we had to do something a little outside the box to compete with the other super creative cosplays out there. So we decided to start from the beginning…
*spoilers in this post!*
DIY Stranger Things Logo Costume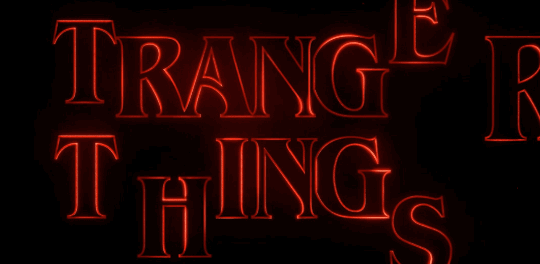 The second that the first glowing red letter hit the screen, we knew that the opening credits for Stranger Things were going to be something special. Part of it reminded us of Stephen King and part of it reminded us of The Thing; altogether, it was a perfect recreation of all things retro-spooky. So, of course, our first thought was… "That HAS to be a costume." We started drafting up plans for a glowing, moving, group costume version of the Stranger Things logo. Here's what we did.
Finished Product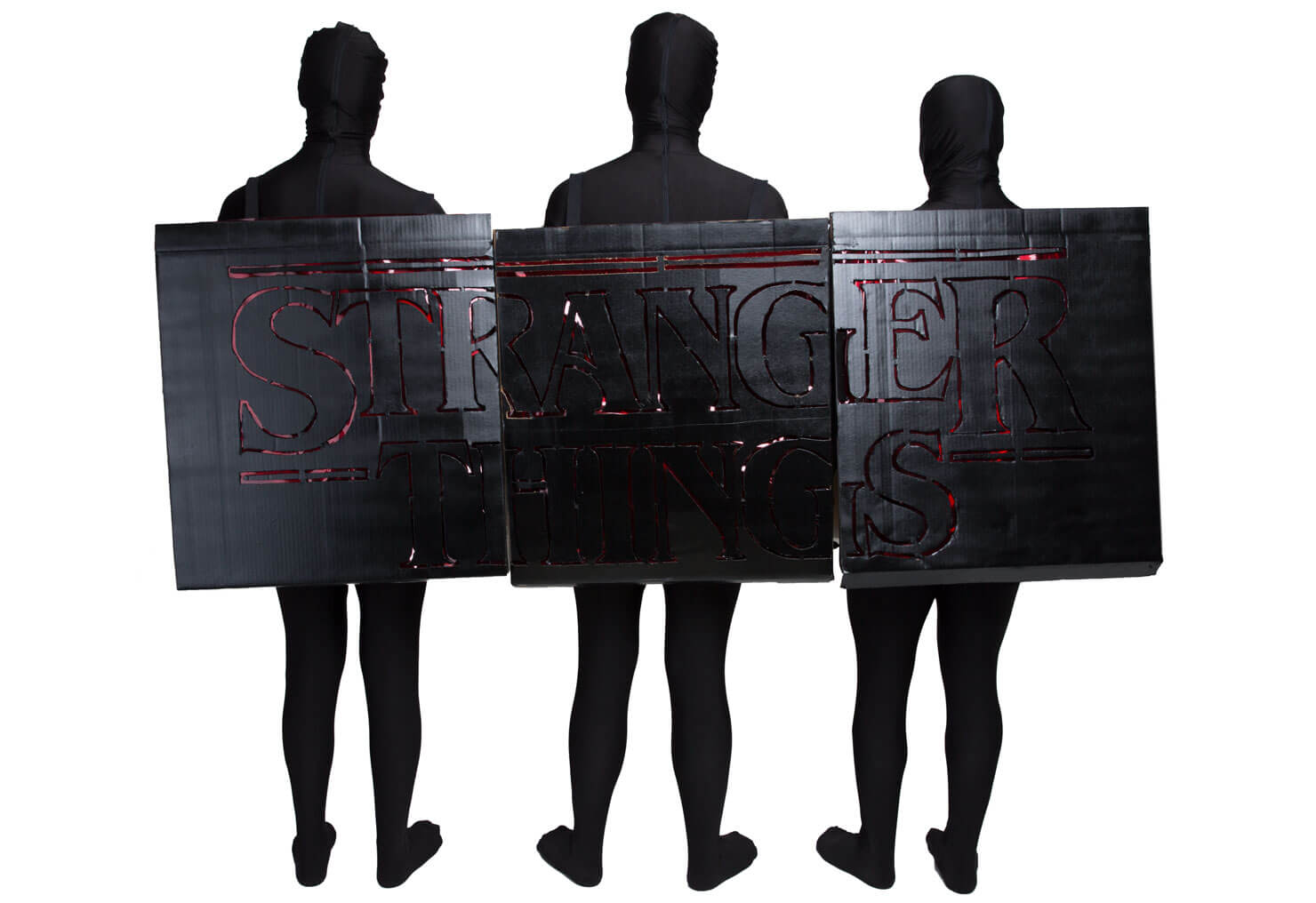 Cool, huh?! This costume took a lot of cardboard, a lot of spray paint, and a lot of X-Acto knifing, but it was 100% worth it. This group costume takes three people who are willing to wear all black body suits in order to get that amazing, spooky dark screen effect.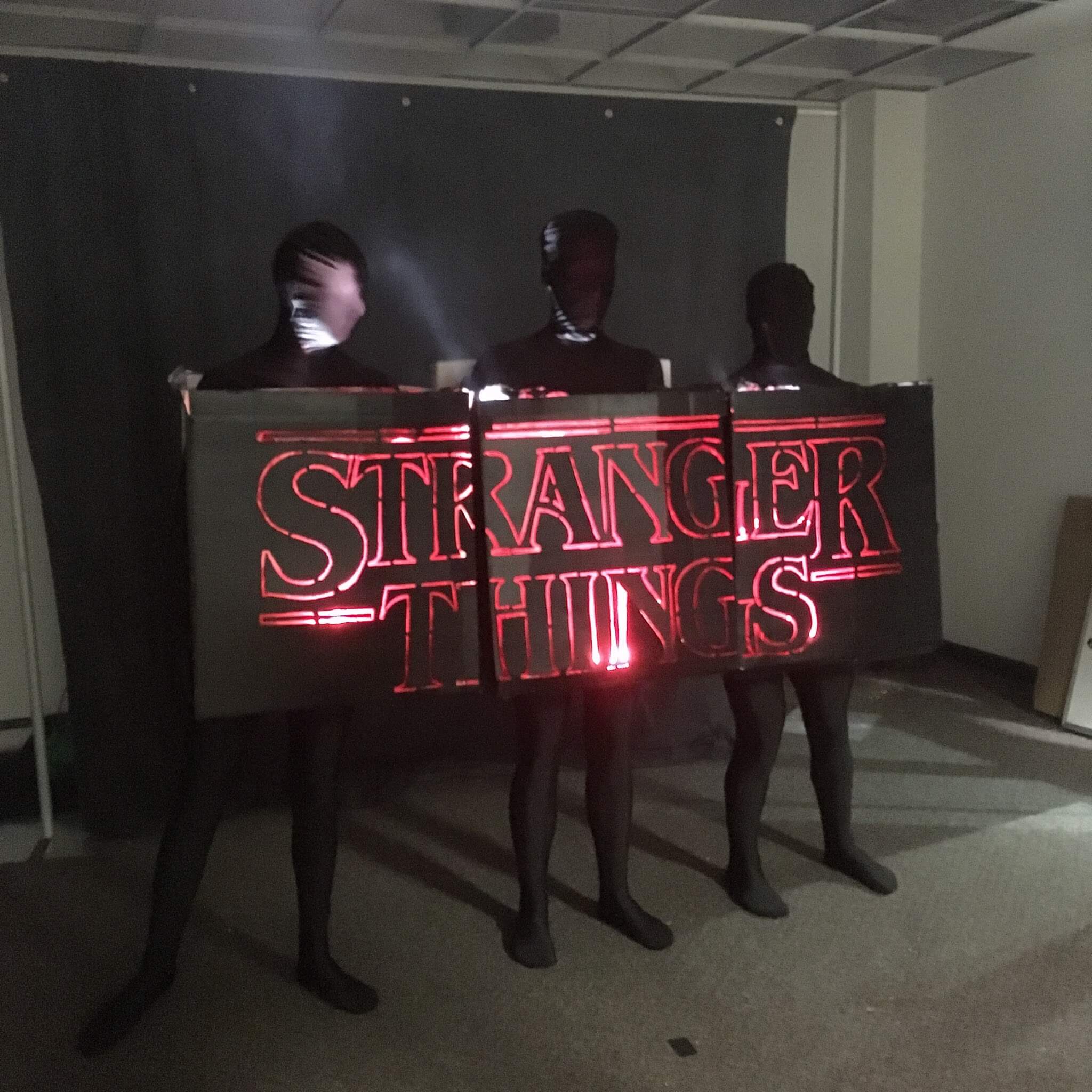 "Why are you keeping this curiosity door locked?!"
DIY Instructions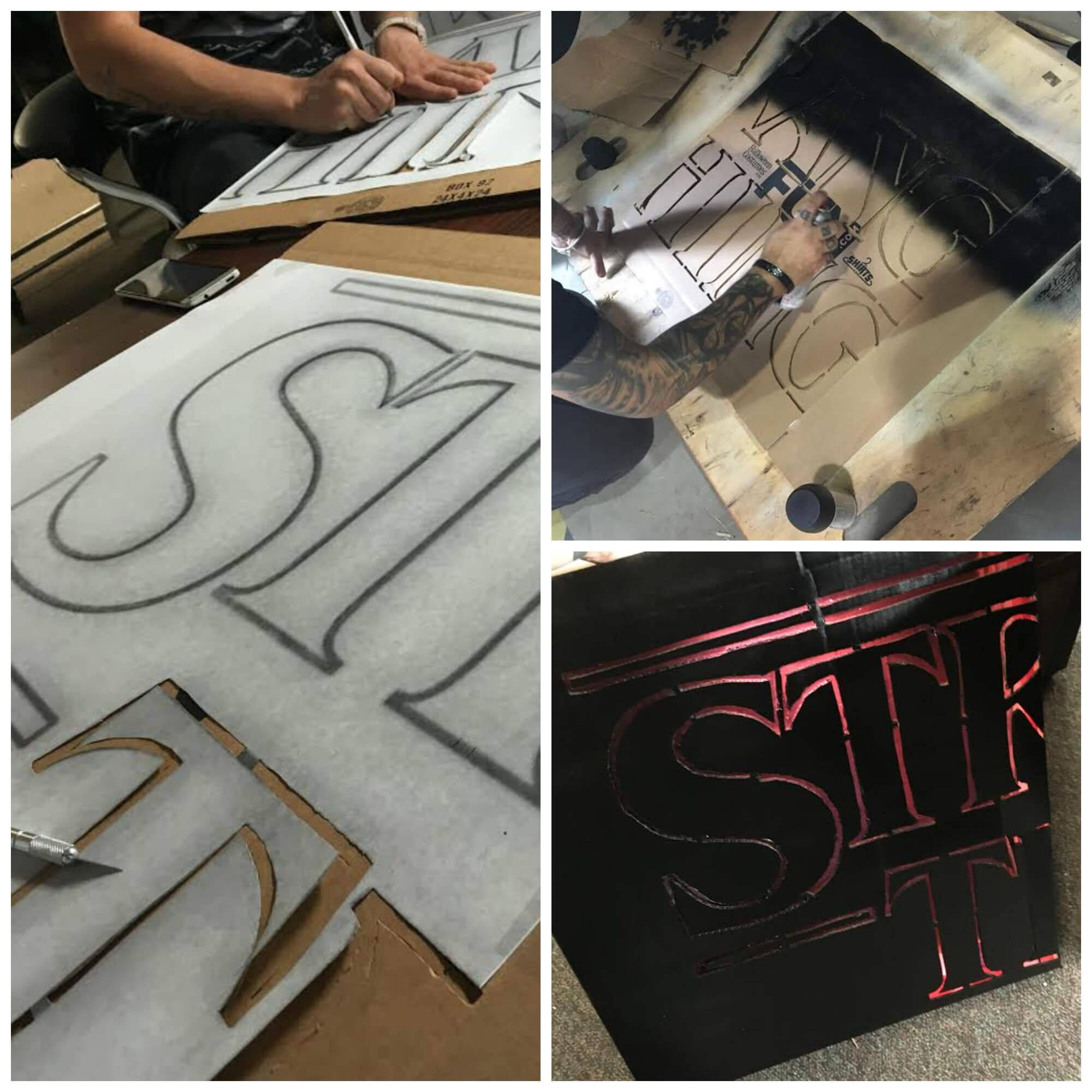 Items Needed:
Thin, square cardboard boxes.
X-Acto knives.
Printed stencils of the letters.
Black spray paint.
Black gaffe tape.
Red cellophane. (We found this in the Christmas section of a hobby shop!)
White Christmas lights.
Thick black straps.
Step One: The first thing we did is get a large version of the logo from a printing store. Here is the font generator! Just make sure that the measurements line up with the size boxes you have and can be split into three parts.
Step Two: Tape each section onto the boxes. Line the boxes up before you start cutting to make sure they will line up evenly across.
Step Three: Start cutting! Leave little pillars open in the letters – you just want to cut out the outlines of the words, so you need the inside parts to remain cardboard. (See image above for reference.)
Step Four: Spray paint!! Cover the whole thing – front, back and sides – with black spray paint. Make sure to get a few coats on there so no cardboard color can be seen through.
Step Five: Add about three sheets of red cellophane to the inside of the box. That way, when the lights shine through, they'll glow a perfect red. We just used black tape to secure it on the inside.
Step Six: Use more tape or a staple gun to attach the black strap to the inside of the front back and the inside of the back box to create a sandwich board to wear over your shoulders. (To see what's on the back, keep reading…)
Step Seven: Last one! Drop some Christmas lights into each box and turn them on! And you've done it! A living, breathing, Stranger Things logo. Wear those black body suits and slowly come together with your friends to reenact the opening sequence. Spoooookyyyy!!!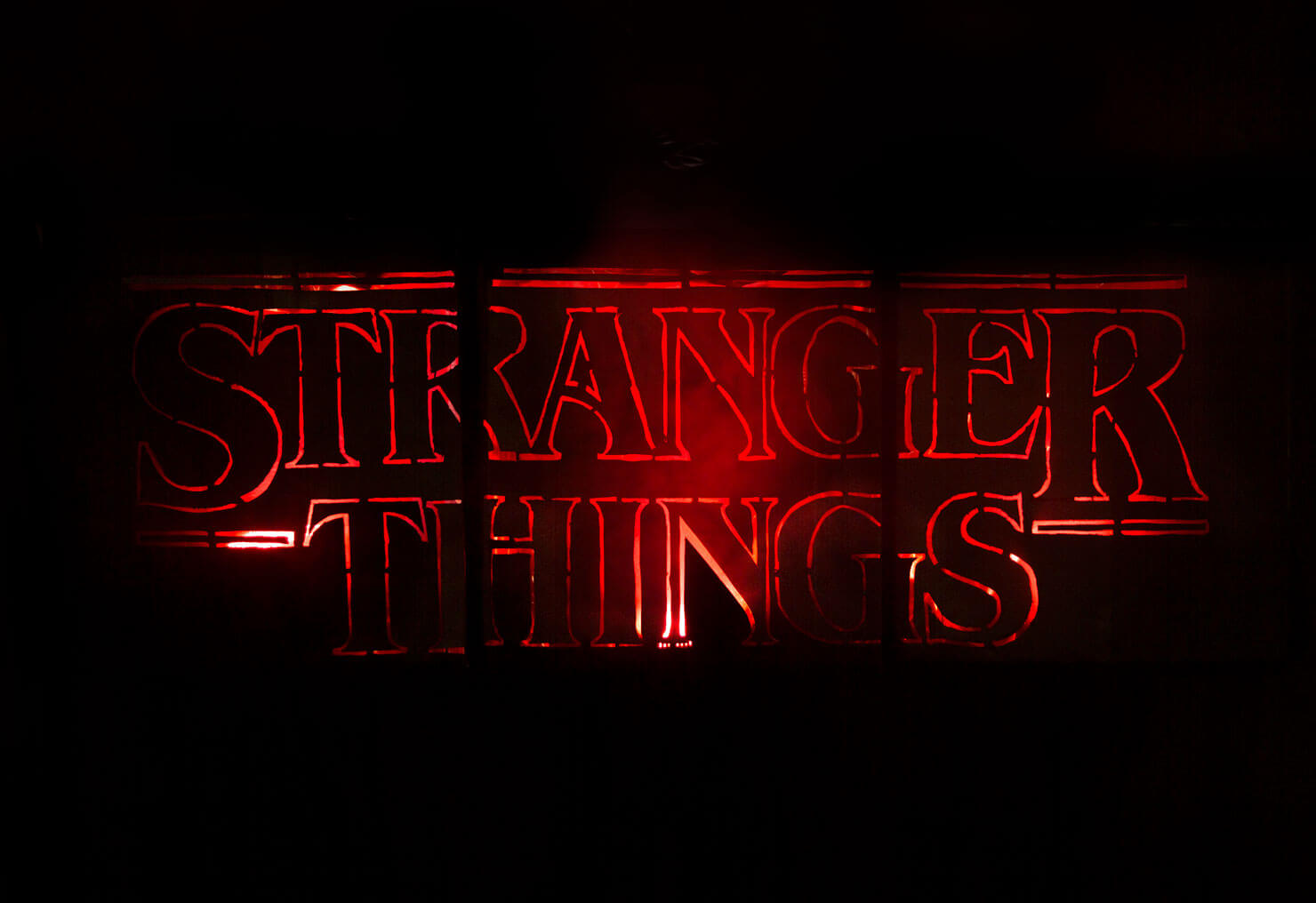 DIY Stranger Things Christmas Light Wall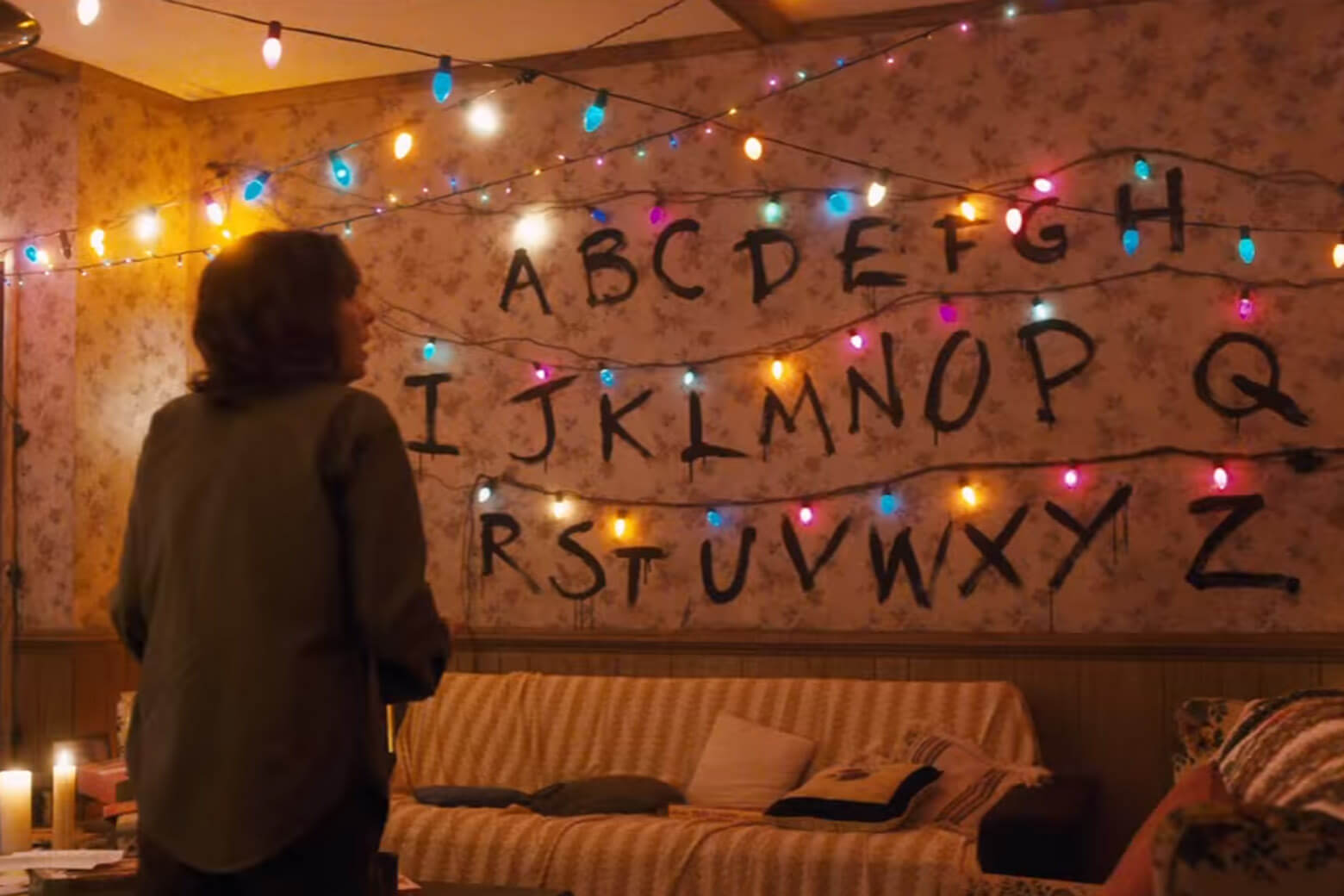 Okay, so we couldn't just stop there with our Stranger Things costume ideas. Remember how we said that there are amazing cosplays out there? We cannot be topped by them! We're HalloweenCostumes.com, for goodness' sake. SO – while you see a spooky, creepy logo in the FRONT, this group costume will feature the famous Stranger Things alphabet wall (WITH Christmas lights, of course) on the back! Whaaaat!
Finished Product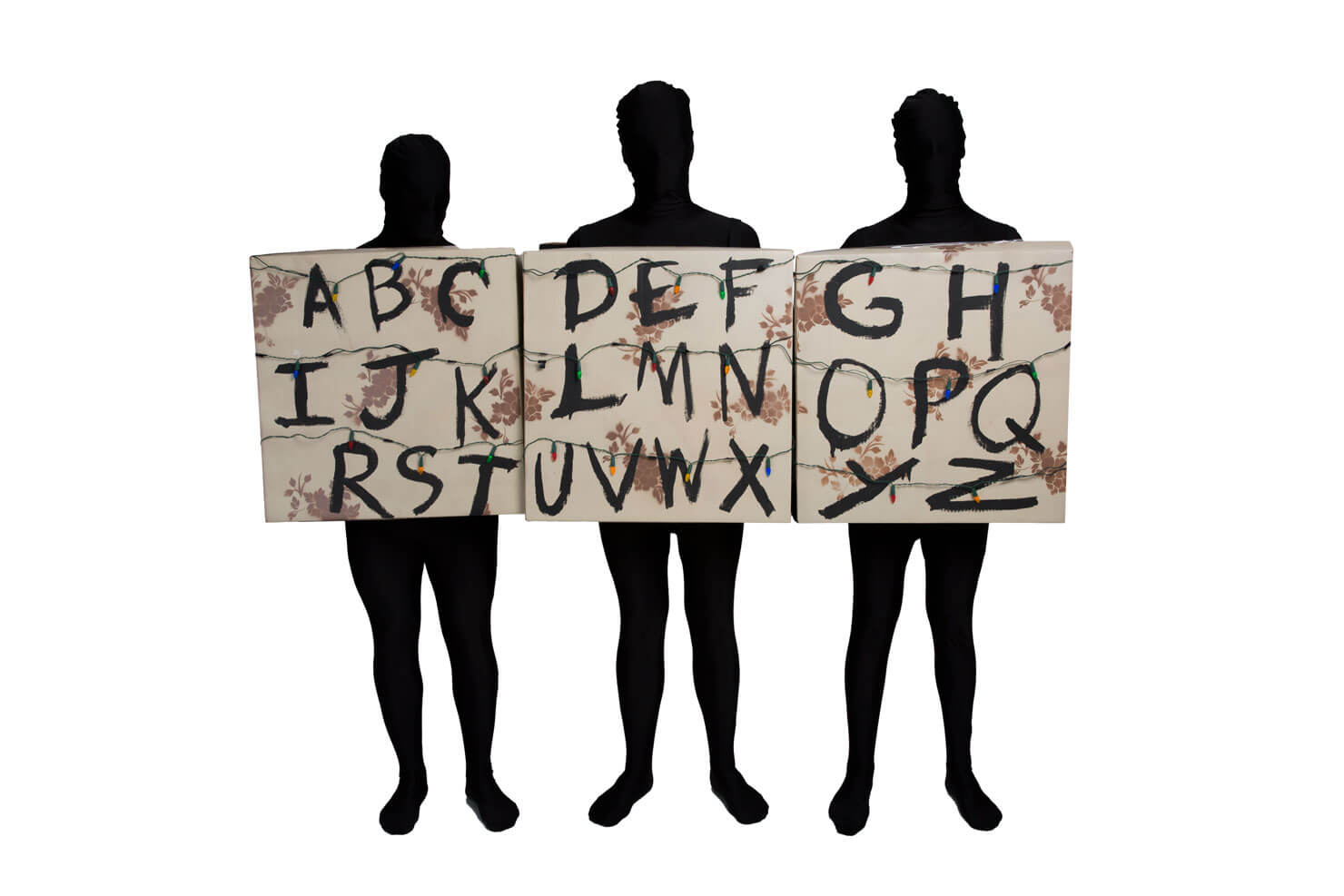 We used three more of the same size cardboard boxes to create the back half of each sandwich board contraption. (Lucky for us that we have an entire warehouse in the office where we ship thousands of costume orders every day! We know that you can find these at any local post office or shipping store, too.) A bit more spray paint, a few wallpaper stencils, some Christmas lights, and this easy DIY will be a very effective one, for both winning a Halloween contest AND for communicating with your friends in the Upside Down. R. U. N!
DIY Instructions
Items Needed:
Three cardboard boxes.
Beige and brown spray paint.
Black paint.
Paintbrush.
Flower stencils.
Small, multi-colored Christmas lights. (Bulbs, please!)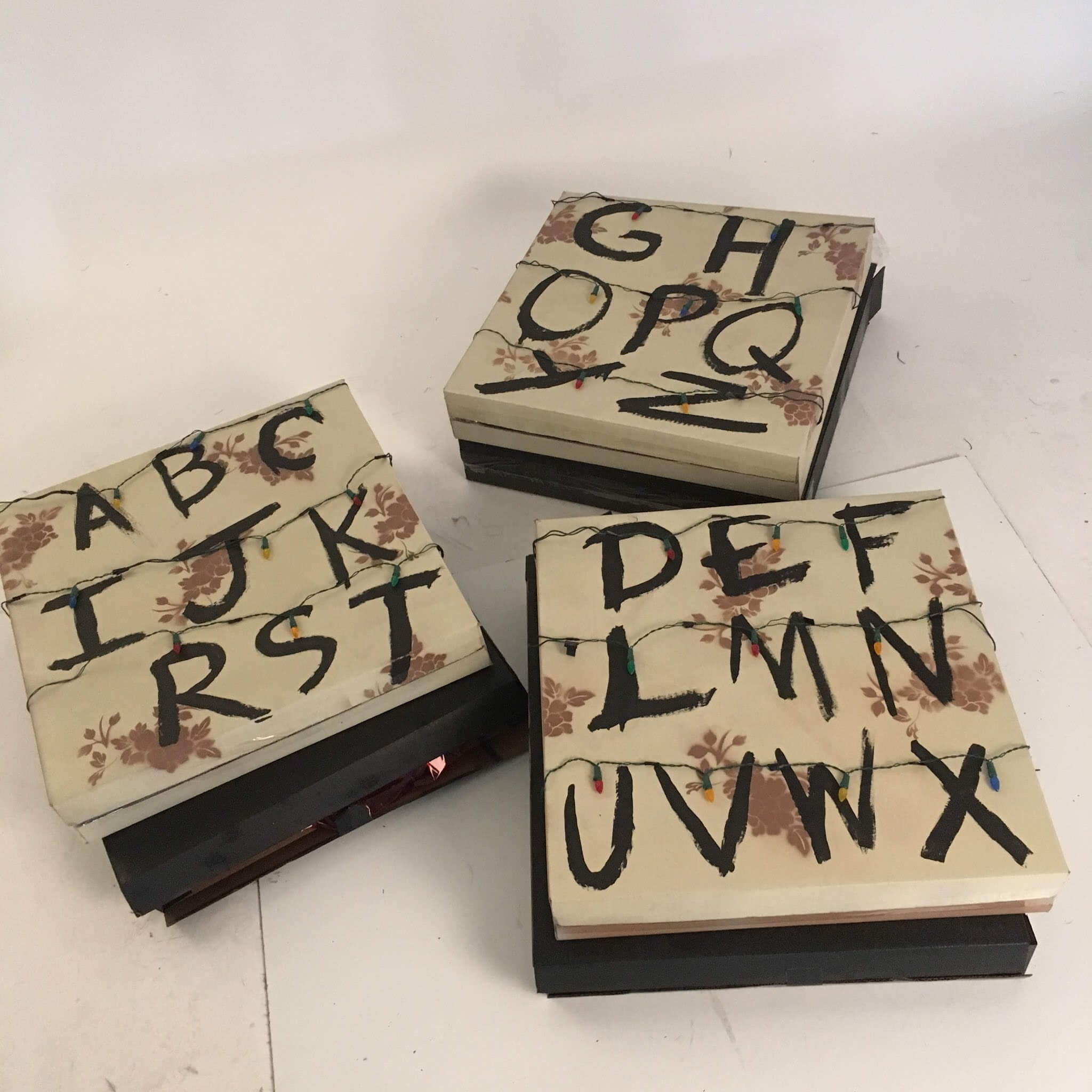 Step One: Spray paint the boxes all one beige-y color to mimic the dingy walls of the Byers home.
Step Two: Take your flower stencil and use it to spray paint some designs on the walls with the darker brown. Make sure they aren't all even across; you can even do half on one edge of the box and half on another!
Step Three: Paint on the alphabet. Take this as an opportunity to re-watch the whole series to know exactly where Joyce Byers places each letter.
Step Four: String up the Christmas lights! We're, uh, a little passionate about the details, so we took the time to rewire these bulbs so each letter only had one light above it. Then, we cut holes in the side of the boxes so we could place the little battery pack/on-off switch for easy access while wearing the costume. (See image above for reference.)
Step Five: Wait for the messages from the Upside Down to start…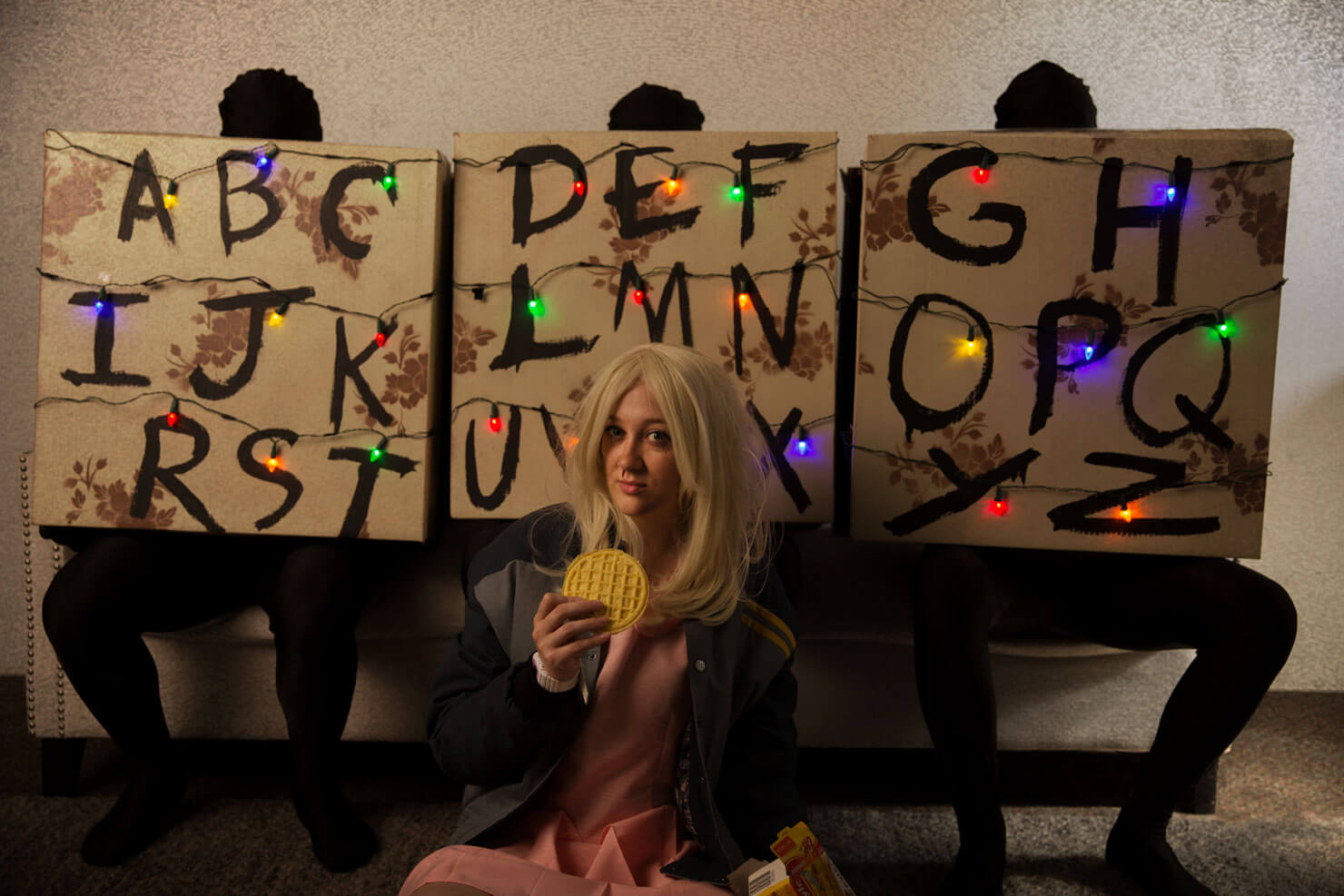 "Should I stay or should I go now?"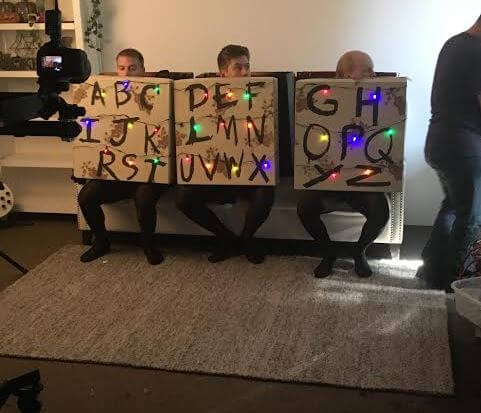 There's real boys in there! Don't worry!
DIY Eleven from Stranger Things Halloween Costume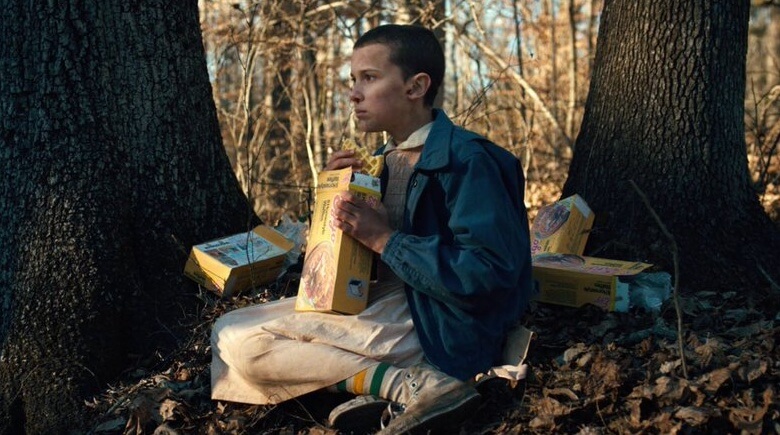 There are lots of amazing characters in Stranger Things. Hopper, Steve, Dustin (duh), but no one stands out more than the one and only Eleven. Maybe it's because Millie Bobby Brown is an incredible actress who knocks it out of the park, maybe it's because the character is written so compellingly you half-can't wait/half-are afraid to find out what her past is. All we know is that Eleven Halloween costumes are rivaling only Harley Quinn for popularity this year. We, of course, had to get in on the Stranger Things cosplay fun.
Finished Product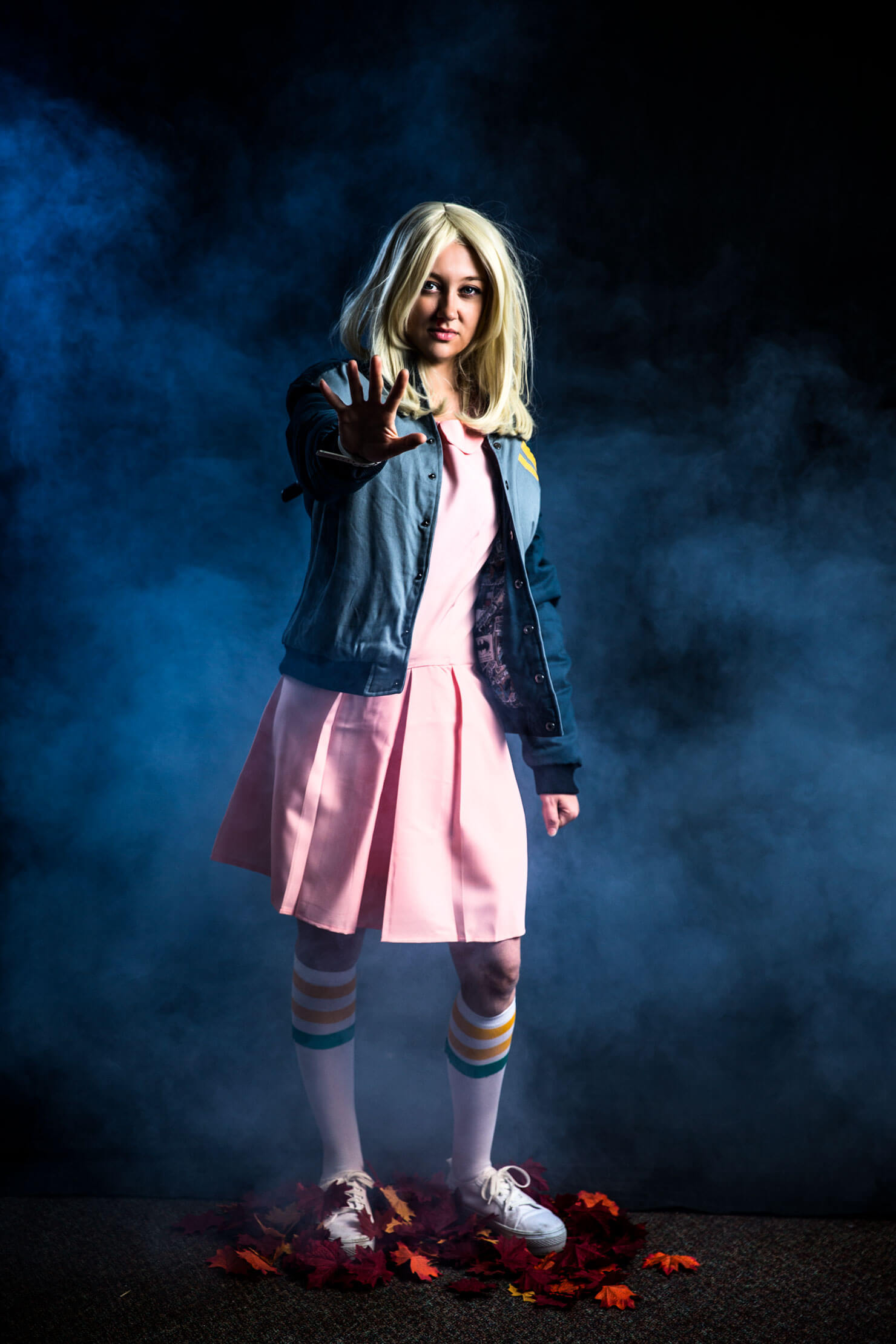 "She's our friend and she's crazy!"
The best thing about this costume is that it's super easy! You don't need much crafting time at all. ALSO – you don't need to shave your head. Remember, Elle dons that old wig when she goes with the boys to school. However, the Eggos are not an option. Bring that breakfast treats with you!
Products Used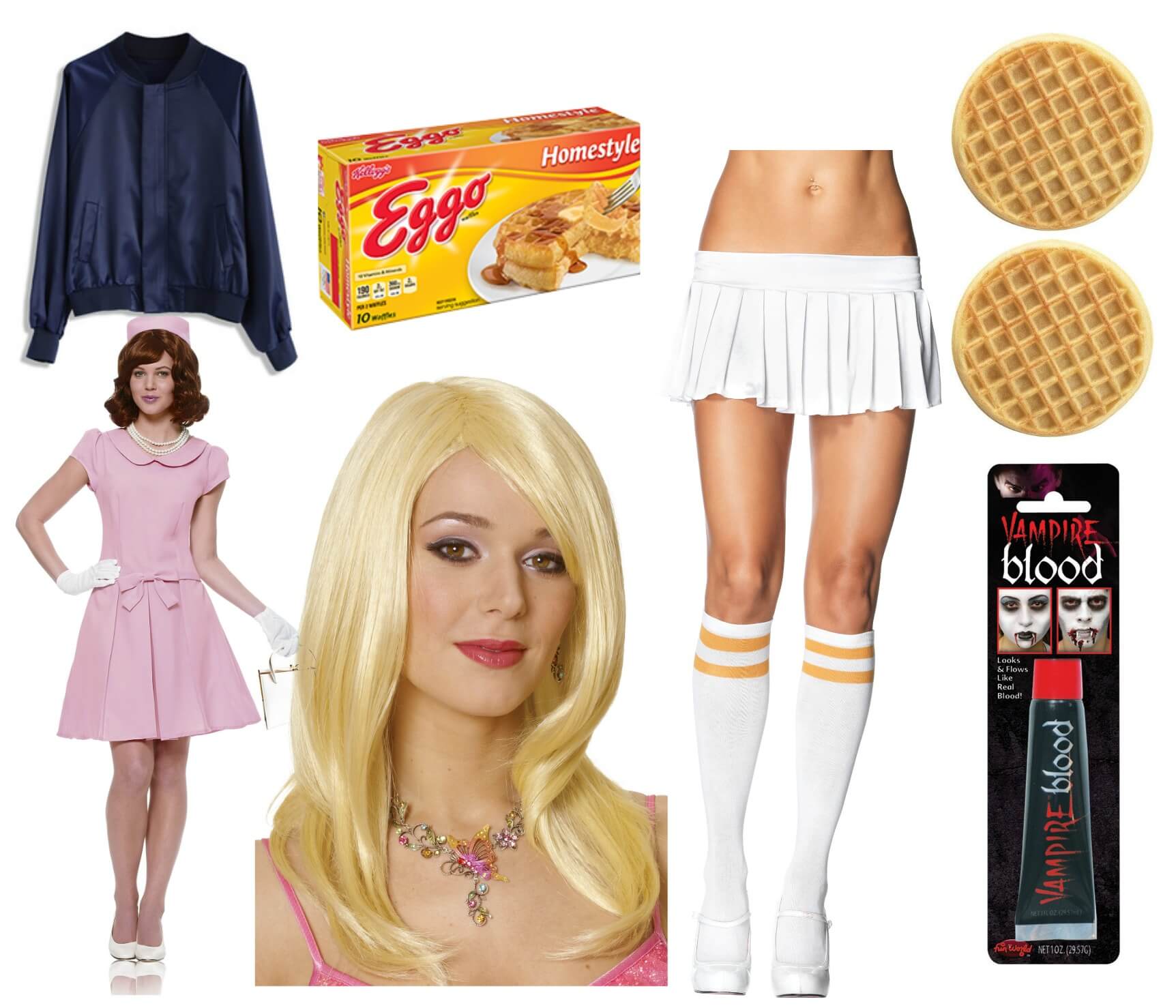 Blue Bomber Jacket Eggos Pink Dress
Blonde Wig Athletic Socks Fake Blood
Another key detail to this costume – a bloody nose. Poor Eleven's powers take a toll on her body, and whenever she gets some psychic work done, her nose starts to bleed... Probably not good for the brain, huh? Eleven is the sweetest government experiment we've ever known and we really hope that those Eggos that Hopper left in the woods means that we haven't seen the last of her.
We hope you liked our costumes! Good luck in your Halloween endeavors this year, let us know if you dressed as any character from Stranger Things or any other of your favorite shows! You can browse through all of our TV and movie costumes for more Stranger Things Halloween costumes inspirations. In the meantime, watch out for the Demogorgon, listen to some Smiths, and say a prayer for poor Barb.