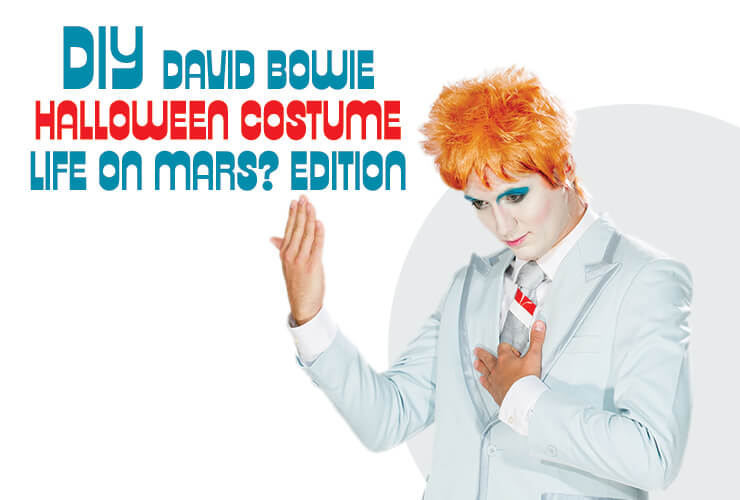 In January 2016, the world lost David Bowie, one of the most loved, creative, and inspiring individuals of all time. To call him just a musician would leave out all his memorable fashion looks. To call him just a rock star wouldn't do justice to his acting career. From Labyrinth to Zoolander, from Hunky Dory to Ziggy Stardust, David Bowie's outfits, as well as David Bowie himself, left an impression wherever he went and whatever he did. To pay homage to his many iconic looks, we've picked one of our favorites to turn into a DIY Halloween costume. We went with his blue suit and orange hair combo in the "Life on Mars?" video. See below for all the details!
DIY David Bowie Costume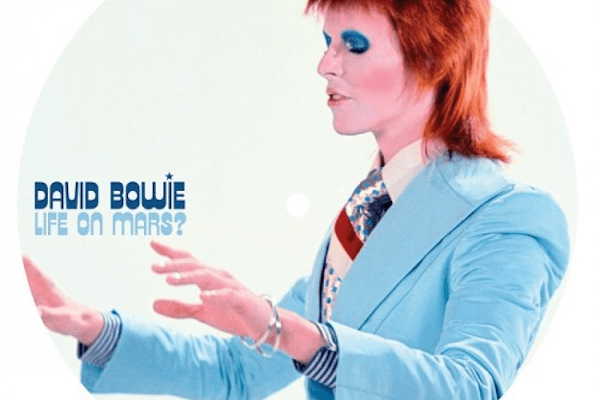 Of all the David Bowie outfits, why did we go with the "Life on Mars?" look? It was a very tough decision, but the striking, ice blue suit with matching eyeshadow, platform boots, and fiery orange hair won us over. Maybe next time we'll pull together a Goblin King outfit or recreate the cover of Alladin Sane with the iconic lightning bolt. The video was released in 1973, but the outfit remains memorable to this day.
The Finished Product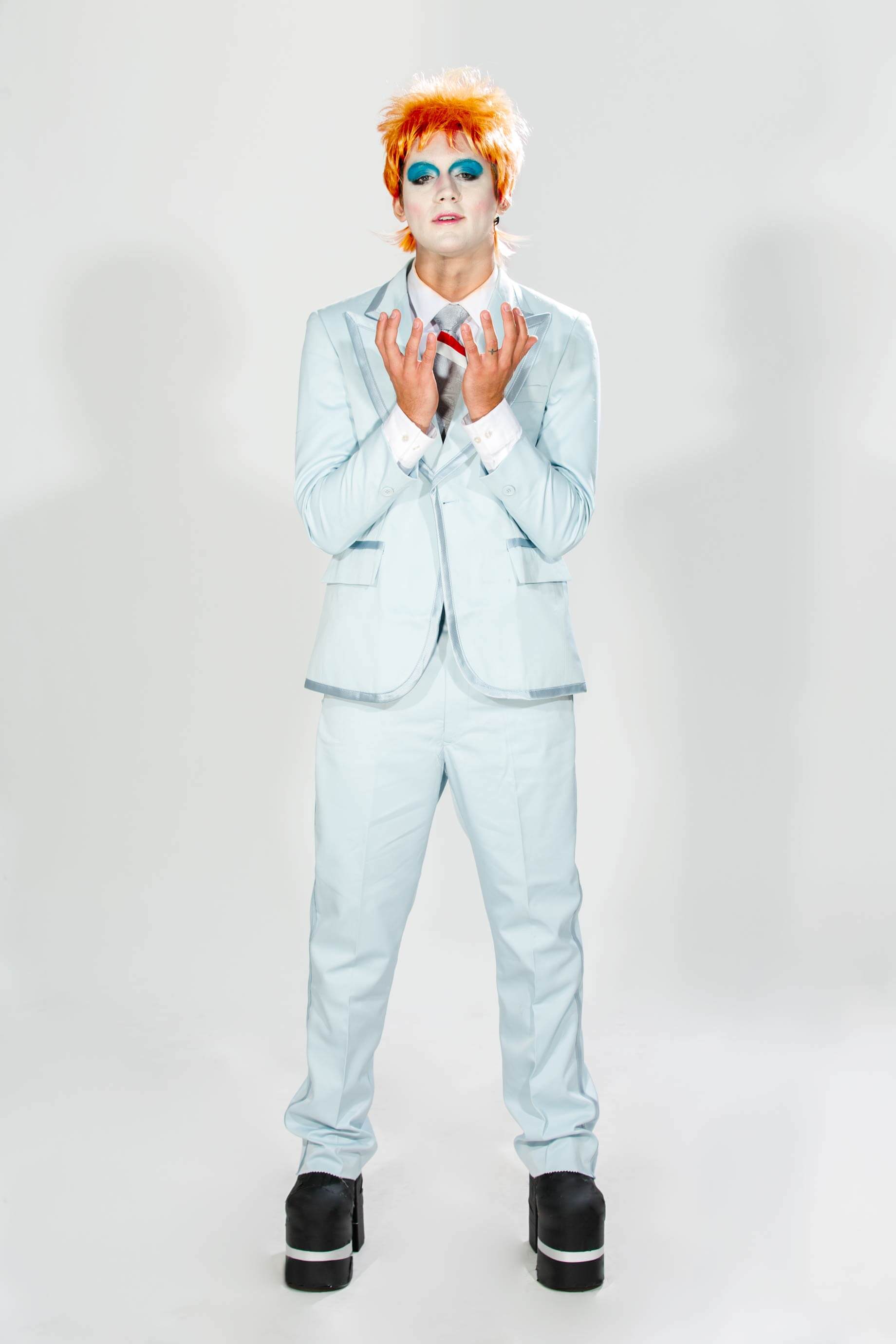 "It's a god-awful small affair / to the girl with the mousy hair."
For a look so eye-catching, it was fairly easy to put together! The main item, of course, is David Bowie's blue suit and half an hour or so to apply some amazing makeup. While it doesn't sound so classy and artistic to say, the suit is actually one of our Dumb and Dumber costumes! The boots are loaned from another famous musician: these are our KISS rock and roll platform boots.
Products Used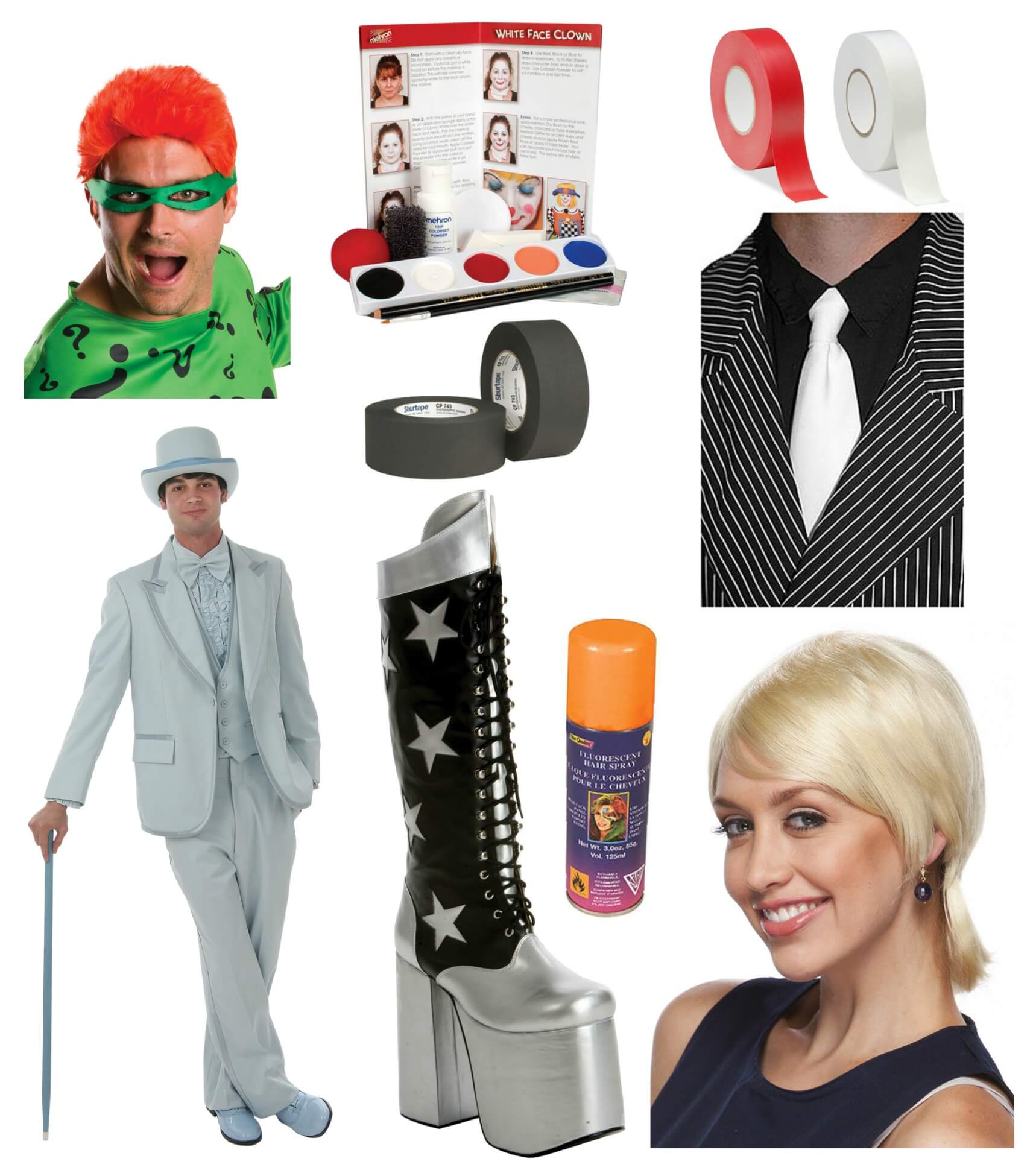 Clown Makeup Kit Black, Red, & White Electrical Tape White Tie
Baby Blue Tux KISS Starchild Boots Orange Hairspray Rocker Wig
So, just a few items of crafting! One, to get the most accurate looking boots to match his kicks in the video, we went at those big boys with some black gaffer tape. Be sure to leave a little stripe of silver in there! Two, still in the mood for tape? COOL! Grab red and white and add one line each on the tie to match the video. Easy. Done. Then... makeup and hair! We have a full makeup tutorial below (phew!), but for the hair, you have two choices. There's the red joker wig that's the right color, but the wrong cut. Aaaaaand the Carol Brady, which is the right cut, but the wrong color. You pick your pony, guys. We ended up going with the blonde wig, cutting the top up a bit for that delicious mullet style, and spraying it down with orange color.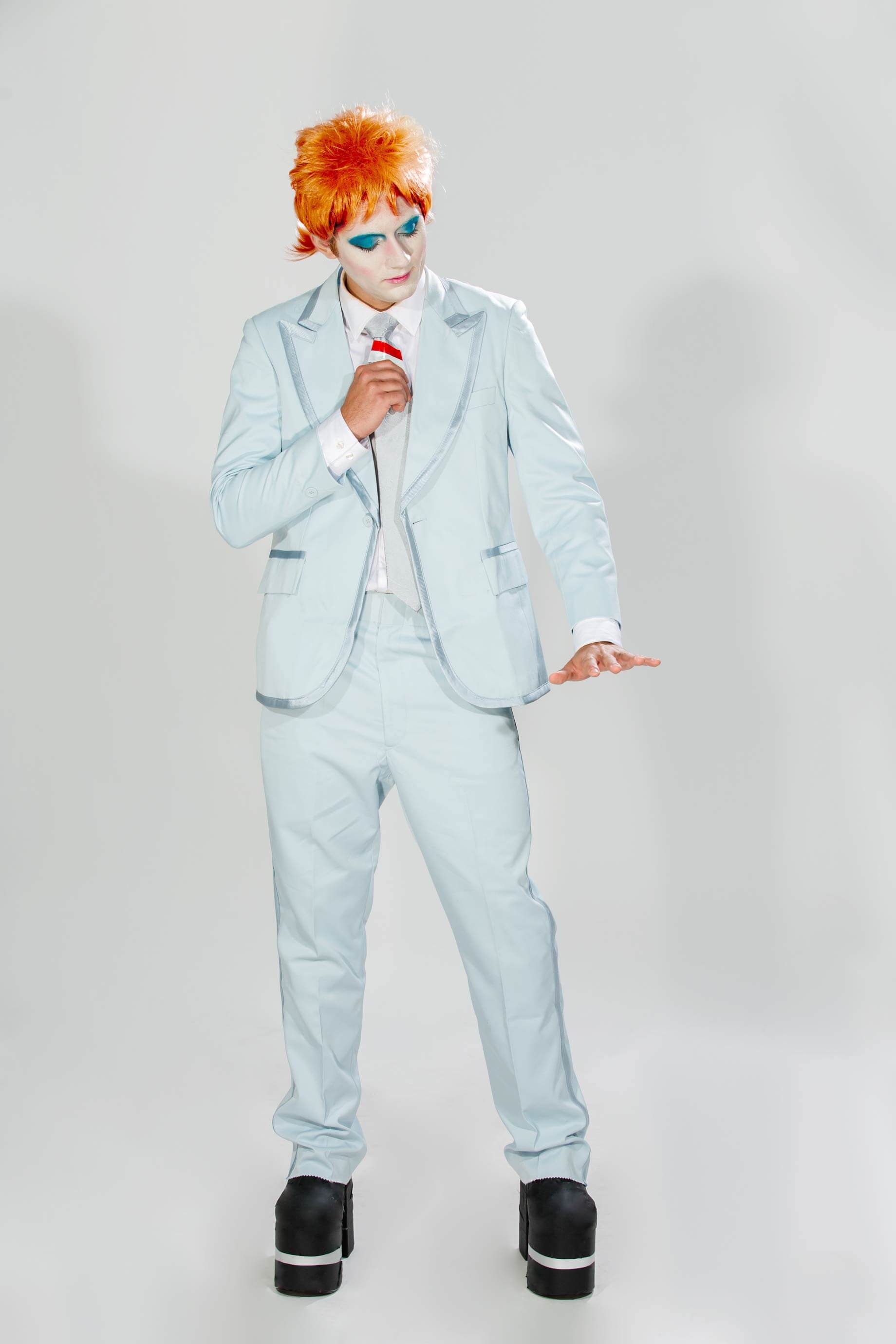 "But the film is a saddening bore / for she's lived it ten times or more."
David Bowie Life on Mars? Makeup Tutorial Video
Our artist will guide you through the steps, from setting the perfectly pale base to the electric blue eyes and pink cheeks and lips.
David Bowie Life on Mars? Makeup Tutorial Video Transcript
Alright guys, so the first thing that you want to do is set the face with a translucent powder. That way, when you apply the face paint, it stays more pigmented. That way, you don't have to layer as much.
Alright, so next you want to apply the face paint all over the face using a brush, and then blending it out with a sponge. Next, I moved on to the eyebrows. I used a white cream eyeshadow base, filling the eyebrows in, and then blending it out.
Next, using a teal eyeliner, I created a deep-set crease starting in the middle of the eyebrow and moved it all the way to the inner corner of the eye. Next, I used the same eyeliner pencil, filling in the middle of the lid all the way out to the outer crease. Next, using a blue-pigmented eyeshadow, I applied it on top, blending it out.
Next, using the same cream eyeshadow that I used on the eyebrows, I went in to the inner corner of the eye and blended it out. Then, I set that with a white, shimmery eyeshadow.
Then, moving on to the lower lash line, take a black eyeliner and smudge a thick line on the outer corner of the lower lash line. Then, using a white eyeliner pencil, I applied it to his waterline.
Next, I am applying a second layer of face paint. That way, you don't see his real skin showing through. Then, I am moving back to the eyes, applying a white, shimmery eyeshadow to the inner corner of the lower lash line, and then blending it into the black eyeliner.
Next, I am going back into the black eyeliner, smudging it up further into the lid area, connecting it to the blue eyeshadow.
Next, I am going in adding pink accents to his face, using a very pigmented pink eyeshadow, and then blending that out.
Now, moving onto the lips, I applied a soft, pink lipstick to the outer ridges of his lips, then applying a dark, bright pink color to the inner part, blending both of them together, and then applying a sparkly lipgloss on top.
Then I set it, and then we were good.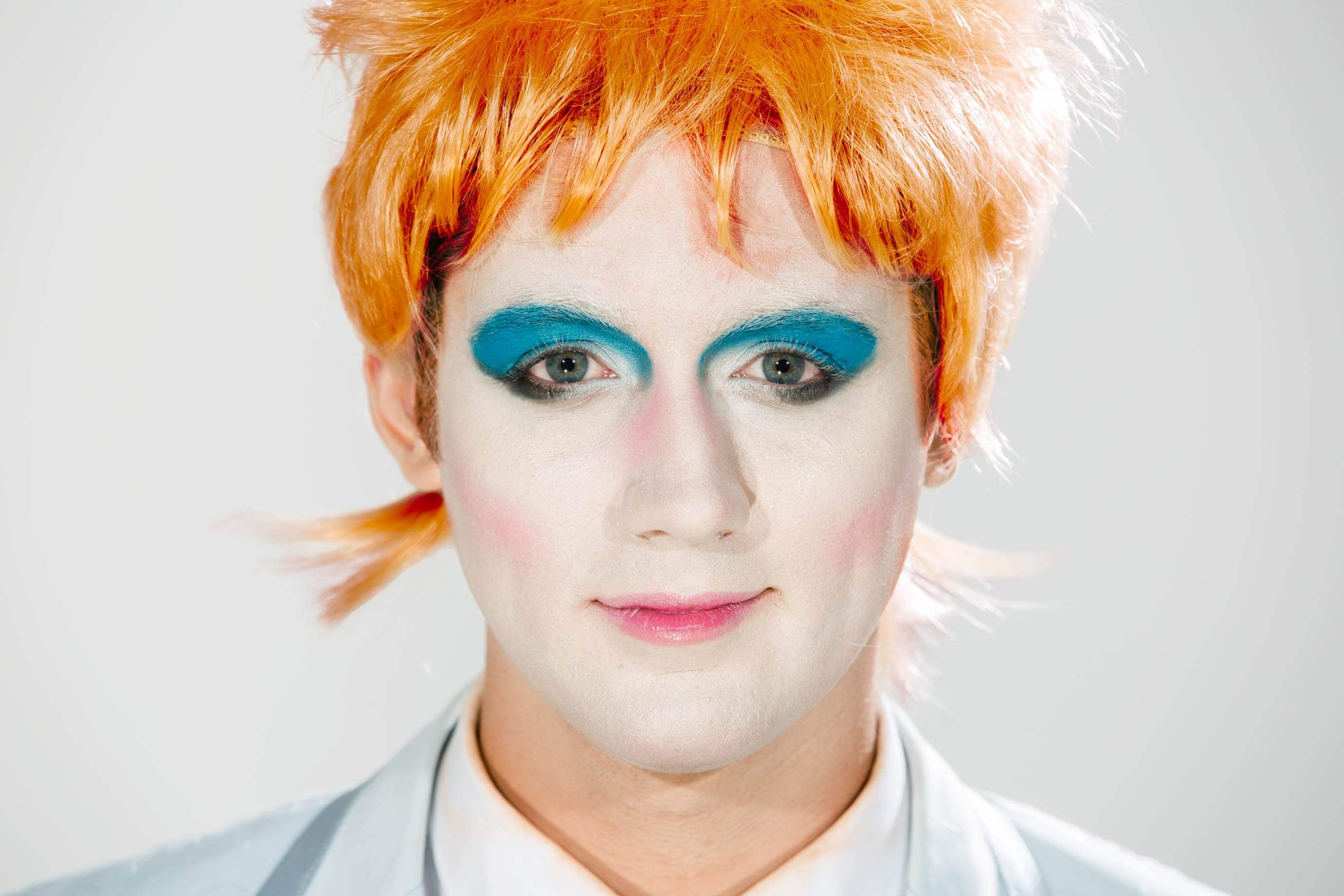 David Bowie Cosplay Inspiration
Like we've mentioned above, there are about a million and one outfits and style that come to mind when you mention David Bowie. We wish we could, but we just don't have the time to recreate all of our favorites. Here are some cosplay and costume inspiration pictures we've found online from Halloweens and conventions past.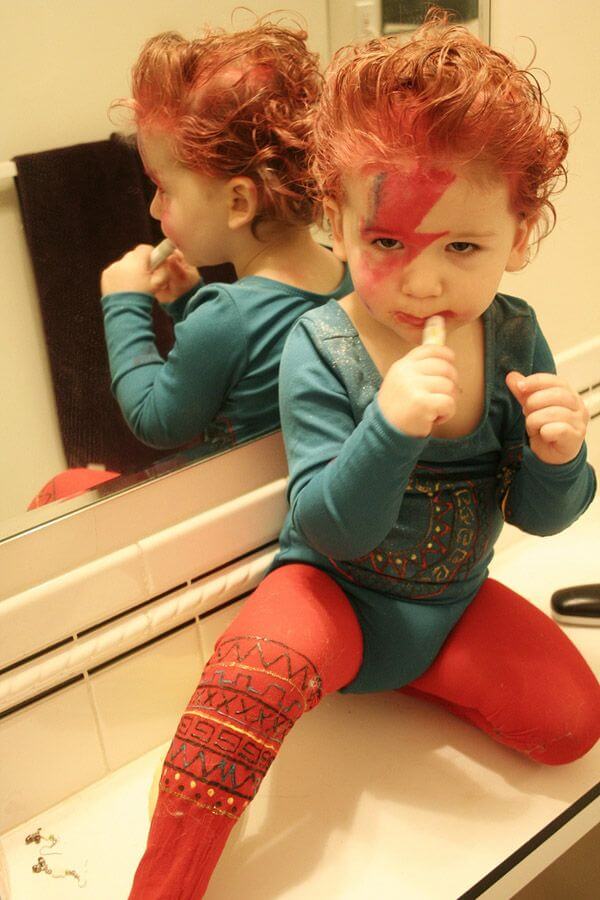 [source]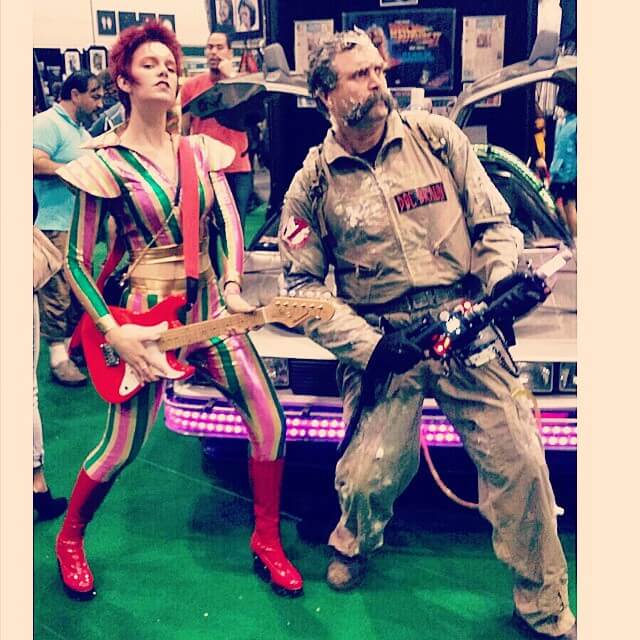 [source]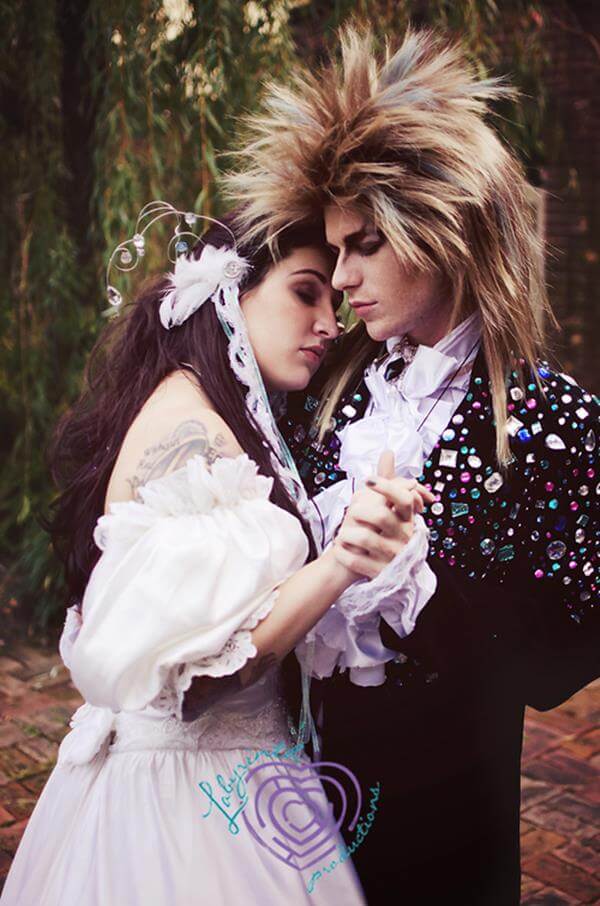 [source]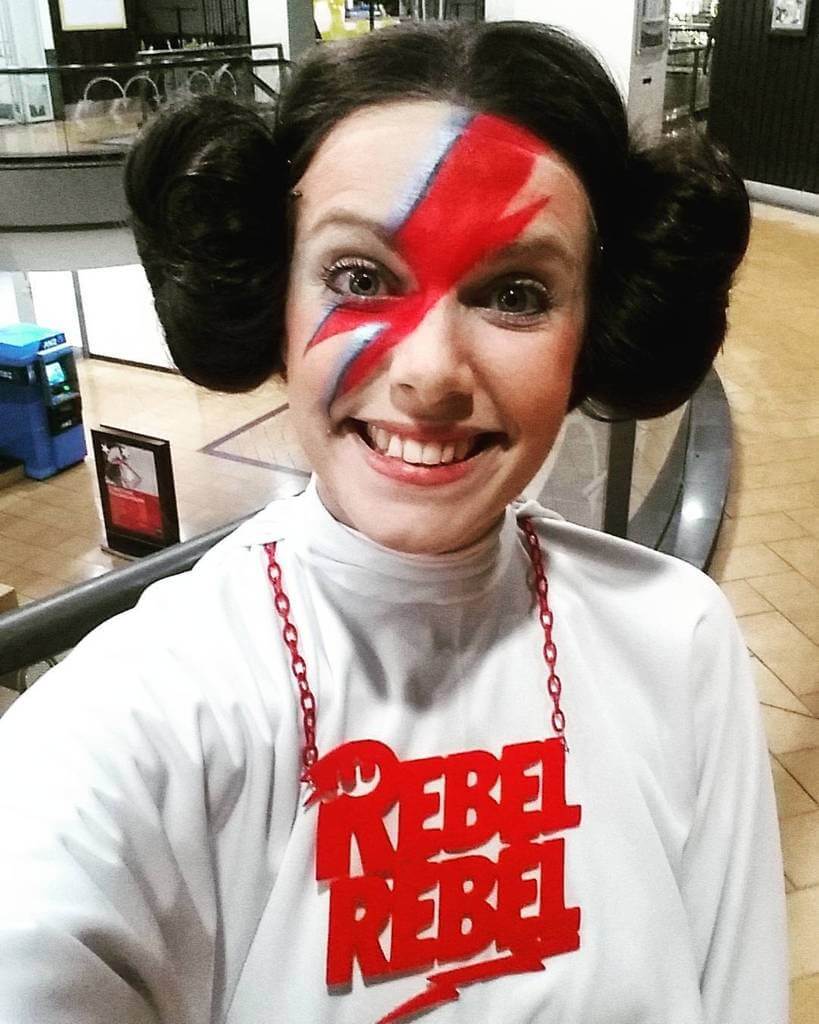 [source]
Which is your favorite David Bowie look? Do you know anyone or are you yourself paying tribute to the Starman this Halloween? Please share with us in the comments, we'd love to see. You can see all of our celebrity and music costumes here, too, if a David Bowie costume isn't your pick for the season.