Halloween season has arrived, but but just one week later comes another "YUUGE day" in the USA - Election Day. We know that you're hip. You're with it. You read the newspaper. But do your friends know that you're up with the news? Impress them with these totally unique and interesting costumes. You can straight up replicate the look of Donald Trump or Hillary Clinton, or you can go a more interesting route. Here are some ideas for your Halloween.
Election 2016
Let's start with the obvious - dressing up as the candidates. Has there ever been a year where dressing up as these human caricatures has been this fruitful? Take these accessories and add them to your best (pant)suit and have the season's most topical costume. Also: Yeah, we know Bernie dropped out of the race ages ago, but his hair is just too fun not to imitate.

Historical Costumes

Abraham Lincoln Costume Teddy Roosevelt Costume Jackie Kennedy Costume
Ben Franklin Costume Betsy Ross Costume
It's time for the political deep cuts. Lots of people will be wearing Trump and Hillary costumes this Halloween, but how many people will be paying homage to the creator of the American flag, Betsy Ross? Wow your friends with your fun facts about the creator of the National Parks, Teddy Roosevelt. These costumes will have you looking good and intellectual all at once.
Political Masks
Nixon Bill Clinton George Bush Trump
Let's face it - costumes are hard work. Makeup, hair, getting the right fit. You're a busy person. You want to be topical, but you also don't want to spend all day getting ready. Throw these masks on and head to the party. There are some retro looks, such as JFK and Nixon. (You can stage the countries previous most awkward debate with those two! Now the history books won't even mention that one!) Urge your friends to tear down that wall with a Reagan mask or give the old thumbs up with the Bill Clinton mask.

Bizarre Political Costume Ideas
You strive for the double-take. You want people asking to get a photo with you. These WTF-worthy costumes are for you. Be JFK back from the dead, take over for Teddy on Mount Rushmore (for added comedic effect, combine this costume with our Teddy Roosevelt costume), or just be a bald eagle. 'Murica!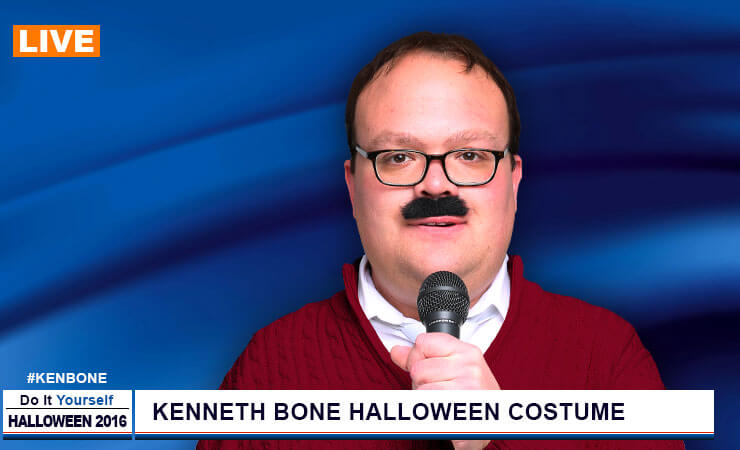 Last option? Bring on the ULTRA topical references with this DIY Ken Bone costume we've created. We were inspired by the friendly undecided voter from this month's second presidential debate and created a do-it-yourself look that anyone can replicate! See our blog post for instructions.
We hope this patriotic and presidential guide has helped you at LEAST decide who you're going to be for Halloween. Who to vote for, though? That decision is on you! See all of our political costumes for more inspiration - you can even go back to the founding fathers. We mean, have you heard of this guy Hamilton?