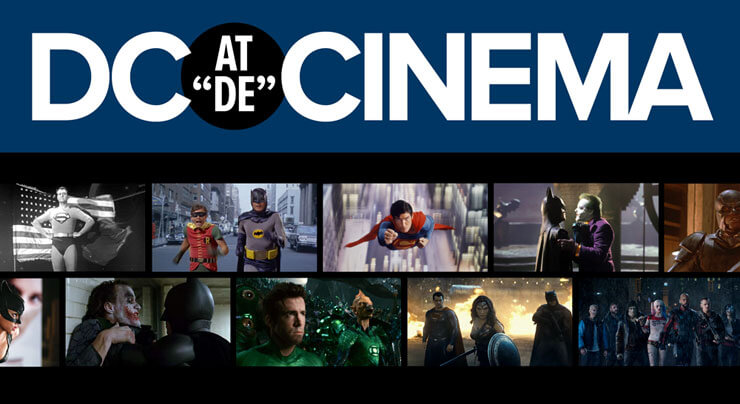 The Man of Steel and the Dark Knight already duked it out earlier this year in Zack Snyder's Batman v Superman. In August, Suicide Squad aims to up the ante by forcing a whole bunch of supervillains to work together on a team and sending them on black ops missions for the government. (What could possibly go awry with that plan?) All that superhero movie action got the old brain-juices flowing about films based on the DC comic book universe. It seems like there have been a million Batman movies since Adam West first donned the costume and Superman sure hasn't been shy about showing up on the silver screen. Do you remember that time that Shaq was a superhero? How many movies has DC done anyways? Well, ponder no further! This handy infographic lists every theatrically release full-length film that DC has ever made.
Click Image for Larger View

Embed This Image On Your Site:
DC at the Cinema: Feature Films from the DC Universe Transcipt
Before Marvel even dreamed of the silver screen, DC had already begun its journey into movies. From blazing blockbuster highs and bumbling box office bomb lows, DC's history in films has been one astounding roller coaster ride. It's time to take a tour through the decades of DC Comics live-action theatrical releases (not including imprints like WildStorm, Vertigo, or Paradox Press), so strap yourself in and get ready to take the journey.
1951
Superman and the Mole Men- Lippert Pictures
Made to test how audiences would react to a new Superman TV series, this film was the first full-length superhero movie ever made for the silver screen. The movie only clocked in at 58 minutes, but in 1951 that was enough to make it eligible as a full-length film.
1966
Batman- 20th Century Fox
Born from the TV series starring as Adam West, this silly Batman romp premiered between seasons one and two. It will forever be known for introducing the world to Shark Repellent Bat-Spray and for branding comic books as a campy medium in the eyes of pop culture.
1978
Superman- Warner Bros.
Touting the tagline, "You'll Believe a Man Can Fly," this Superman film starred Christopher Reeve and wowed audiences with its high budget special effects. It followed Star Wars and Close Encounters of the Third Kind, ushering in the modern age of special effects in film.
1980
Superman II- Warner Bros.
This sequel was mostly filmed simultaneously alongside the original film, but Richard Lester replaced Richard Donner as director near the end of filming. It became the second-highest-grossing wide-release film in 1981, being beaten only by Indiana Jones: Raiders Of The Lost Ark.
1982
Swamp Thing- Embassy Pictures
Wes Craven wrote and directed the film before he went on to create A Nightmare on Elm Street. Swamp Thing was the first movie based on a non-costume wearing DC Comics character. Despite being panned by critics, the movie found success on home video.
1983
Superman III- Warner Bros
Richard Pryer found his was into this oddball third movie in the series. The movie was filled with gags (amped up from the antics slipped into Superman II by Richard Lester), but failed to garner much success in the theaters, both financially and critically.
1984
Supergirl- Tristar Pictures
Much like Superman III, Supergirl failed to meet expectations, both in ticket sales and audience approval. It did open at #1 at the box office, but the total gross never came close to covering the movie's $35 million budget, making it another big flop.
1987
Superman IV: The Quest For Peace- Warner Bros.
Cannon Films bought the rights to Superman after Supergirl tanked at the box office. Warner Bros. gave them $40 million to create the film, but the studio cut corners, putting only $17 million into the final product. This blunder marked the end of Superman movies until 2006.
1989
The Return of Swamp Thing- Millimeter Films
This campy return to the Swamp Thing co-starred Heather Locklear, which earned her the Razzle Award as Warst Actress for 1989. The movie spawned a series that aired on USA Network, which tried to move to a less campy, darker style.
1989
Batman- Warner Bros.
The history of controversy over casting choices for Batman movies began here. Public reaction to Micheal Keaton playing Bruce Wayne was highly negative. however his performance pleased many fans. The movie's success also opened the gates for the acclaimed Batman: The Animated Series.
1992
Batman Returns- Warner Bros.
The sequel to Tim Burton's 1989 Batman has big shoes to fill. The original film had $750 million in merchandise, so McDonald's paired with Batman Returns for Happy Meal toys.
1995
Batman Forever- Warner Bros.
After the toy debacle with Batman Returns, Warner Bros. desired a more family-friendly Batman movie that could sell plenty of toys. Tim Burton was replaced by Joel Schumacher, but it still rose to be the second highest-grossing film of 1995, despite mixed reviews.
1997
Batman & Robin- Warner Bros.
Director Joel Schumacher felt pressure from Warner Bros. to make this iteration of Batman even more "toyetic" and family-friendly to increase toy sales. The infamous "Bat nipples" also debuted on Batman and Robin's suits. They were not well-received by audiences.
Steel- Warner Bros.
Shaq-mania nearly conquered the world until this box-office blunder. Steel cost nearly $16 million, but only brought in $1.7 million in sales. The film was critically planned, with Shaq's performance even gaining him a nomination for Worst Actor in the 18th Annual Razzles.
2004
Catwoman- Warner Bros.
Development for Catwoman began as a Batman Returns spin-off to star Michelle Pfieffer, but got shelved until 2001 as a vehicle for Ashley Judd. Halle Berry eventually got attached to the movie after it suffered development issues, but it was critically panned on release.
2005
Constantine- Warner Bros.
Constantine marked the second non-costumed character from DC Comics to get his own movie, Coincidentally, Constantine made his comic book debut in Swamp Thing (Vol. 2) #37. The Keanu Reeves vehicle made double its budget, despite mixed reviews among critics nad fans.
Batman Begins- Warner Bros.
Christopher Nolan heralded in the new age of dark and gritty superhero movies grounded in reality. Although it didn't set any records at the bow office, it received generally favorable reviews, which were sorely needed to restore faith in Batman films.
2006
V for Vendetta- Warner Bros.
V for Vendetta familiarized Noth American audiences with the Guy Fawkes mask, an old English tradition. The movie made over double its budget and garnered positive reviews.
Superman Returns- Warner Bros.
Superman Returns sought to once again return Superman to the pop-culture forefront. Despite decent reviews, this movie didn't set any records for 2006 but did manage to make the top ten highest-grossing films of the year.
2008
Watchmen- Warner Bros.
Fans had high hopes for this film translation of Alan Moore's iconic piece. Although the movie only brought in $184.3 million at the box office, it did cover its $130 million budget. Despite mediocre reviews, it lead to Zack Snyder directing Man of Steel.
2010
Jonah Hex- Warner Bros.
Academy nominated Josh Brolin starred as the leading man in this comic book cowboy film. The movie flopped both commercially and with comic fans, only making back $10 million and holding a 12% "rotten" rating on Rotten Tomatoes.
2011
Green Lantern- Warner Bros.
Green Lantern came under fire from critics and fans alike after being released. Burned by bad reviews, the film failed to meet expectations and struggled to even make its budget back in the box office. Even star Ryan Reynolds had issue with the film, publicly criticizing the movie.
2012
The Dark Knight Rises- Warner Bros.
The final piece to Christopher Nolan's trilogy, the director was hesitant to create the third movie. The film had the second-biggest opening weekend of 2012, being topped only by The Avengers, so it's safe to say that his third movie in the trilogy was a success.
2013
Man of Steel- Warner Bros.
Ideas for a gritty, realistic Superman reboot arose while writer David S. Goyer and Christopher Nolan brainstormed for The Dark Knight rises. Nolan pitched Goyer's ideas to the studio, but declined to take on a directing role in the film, taking the role of producer instead.
2016
Batman V Superman: Dawn of Justice- Warner Bros.
Split reviews hindered this blockbuster from conquering Captain America: Civil War's box office numbers, but it did manage to make it one of the top-grossing movies of 2016. Ben Affleck's portrayal of Bruce Wayne also pleasantly surprised skeptical fans.
Suicide Squad- Warner Bros.
Fans raved with joy at Jared Leto landing the role as The Joker, however, those same fans have been skeptical about the updated look of the characters in trailers. The renowned actor has taken to playing nefarious pranks on the rest of the cast to get into character.
Sources: Box Office Mojo, Entertainment Weekly, Rotten Tomatoes, Wikia, Wikipedia
Special note: We didn't include any imprints like WildStorm, Vertigo, or Paradox Press, so we don't want to see anyone getting too crazy about that in the comments! We'd rather see a discussion about why Shark repellent Bat-spray seems to make sharks explode rather than just repel them. Feel free to post about that, or tell us how awesome Heath Ledger was as the Joker in The Dark Knight, or just let us what you think of the latest DC movie, Suicide Squad, and the new Suicide Squad costumes.
Design Credit: Kate Willaert