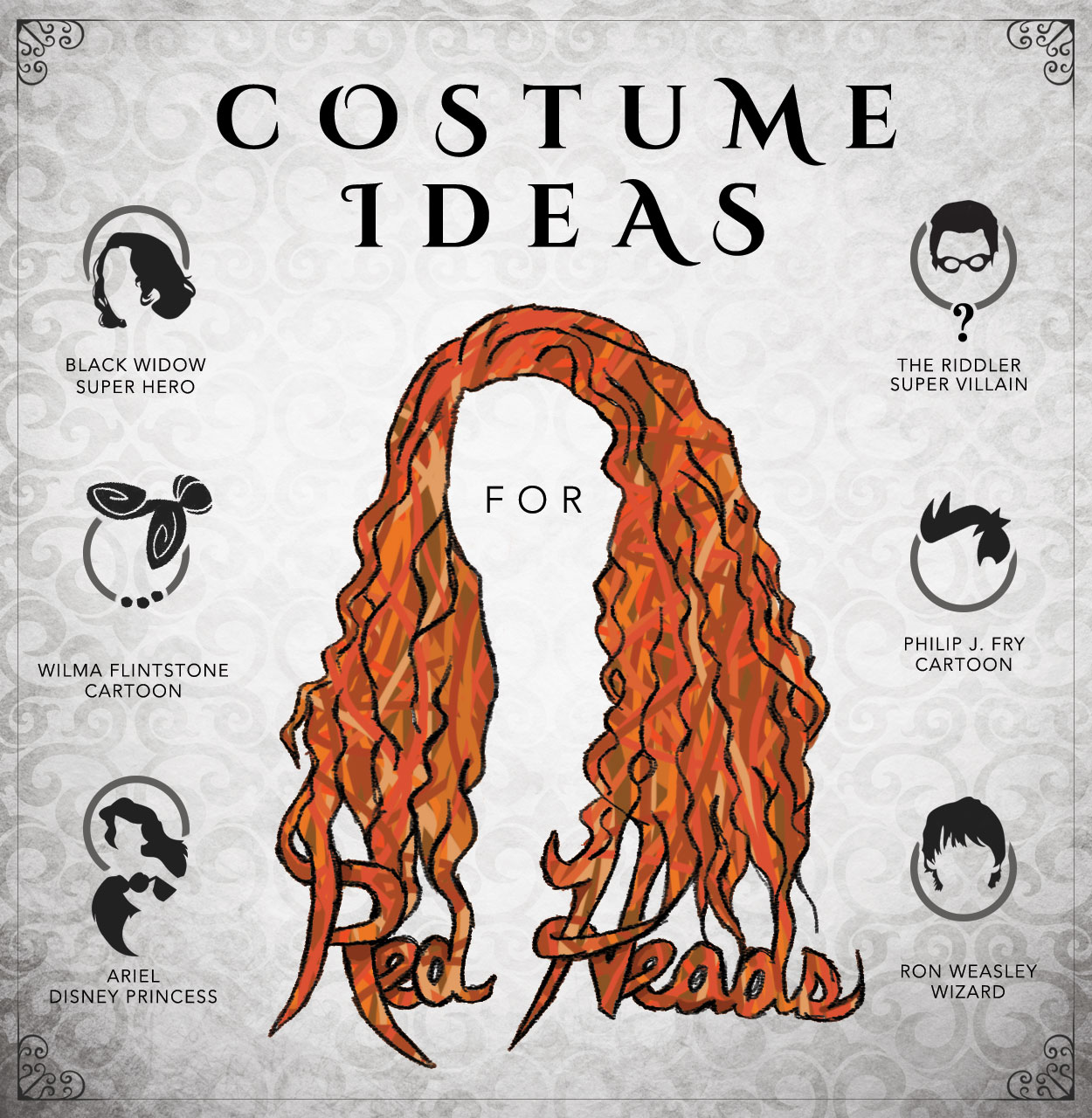 So you have red hair and your pals are begging you to go out in costume this Halloween. Why not dress up in a costume that complements your flaming locks? These Halloween costumes for redheads are a great way to show off (what we hope is) one of your favorite traits while looking like the pop culture character you love! We've rounded up some of the most recognizable redheaded characters, so pick out your favorite and don the costume. You'll love the freedom of not wearing a pesky wig while receiving compliments on your adorable hairdo!
1. Poison Ivy Costume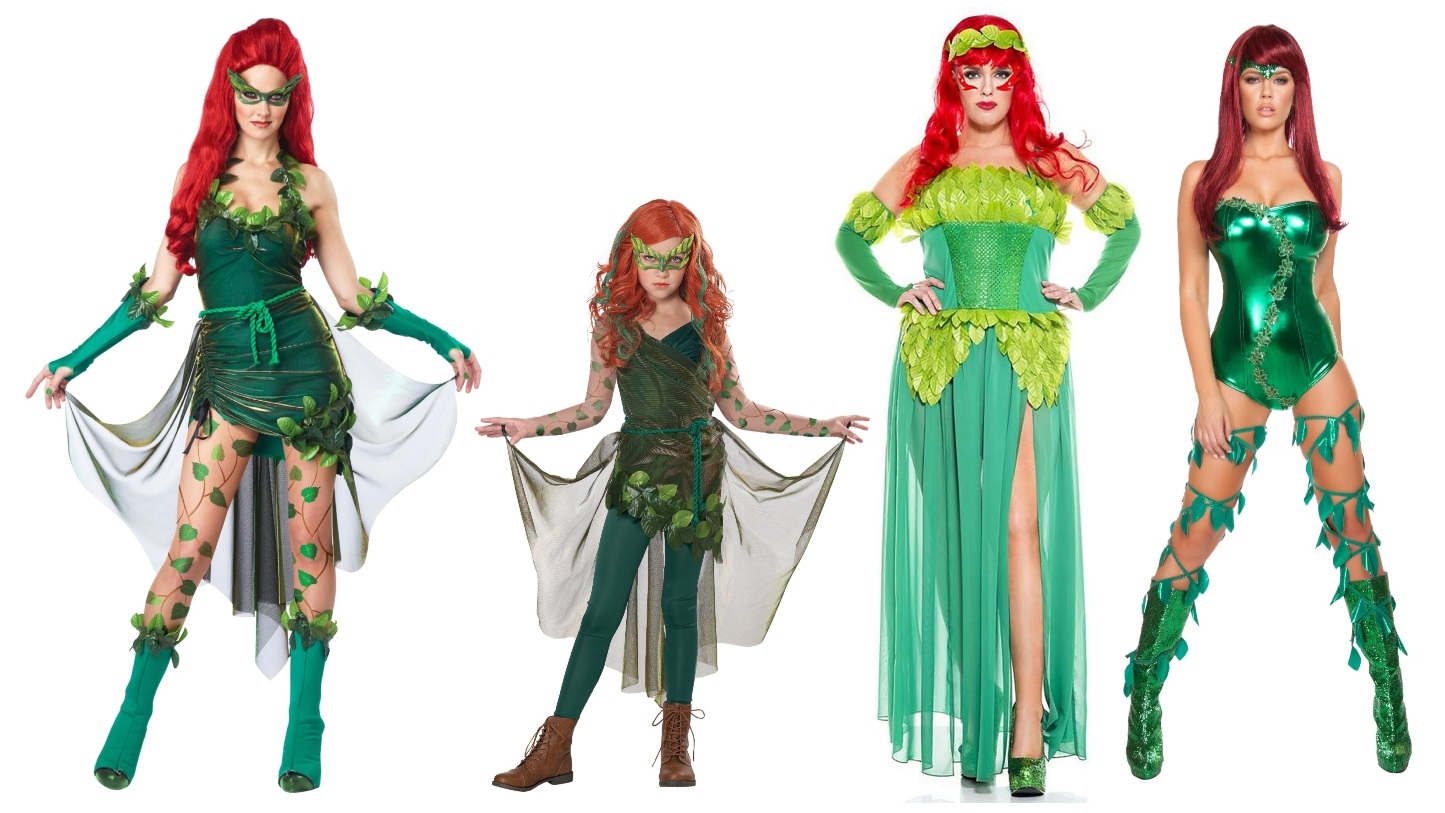 Superhero-obsessed ladies with red hair will love hunting down the Dark Knight while wrapped in vines and wearing an all-green ensemble as Poison Ivy. She has been known to team up with Harley Quinn, and they sometimes engage in less villainous activities. You can easily turn this Poison Ivy costume into a couples' costume idea by adding either Harley Quinn or Batman—either one is a great choice!
2. Devil Costume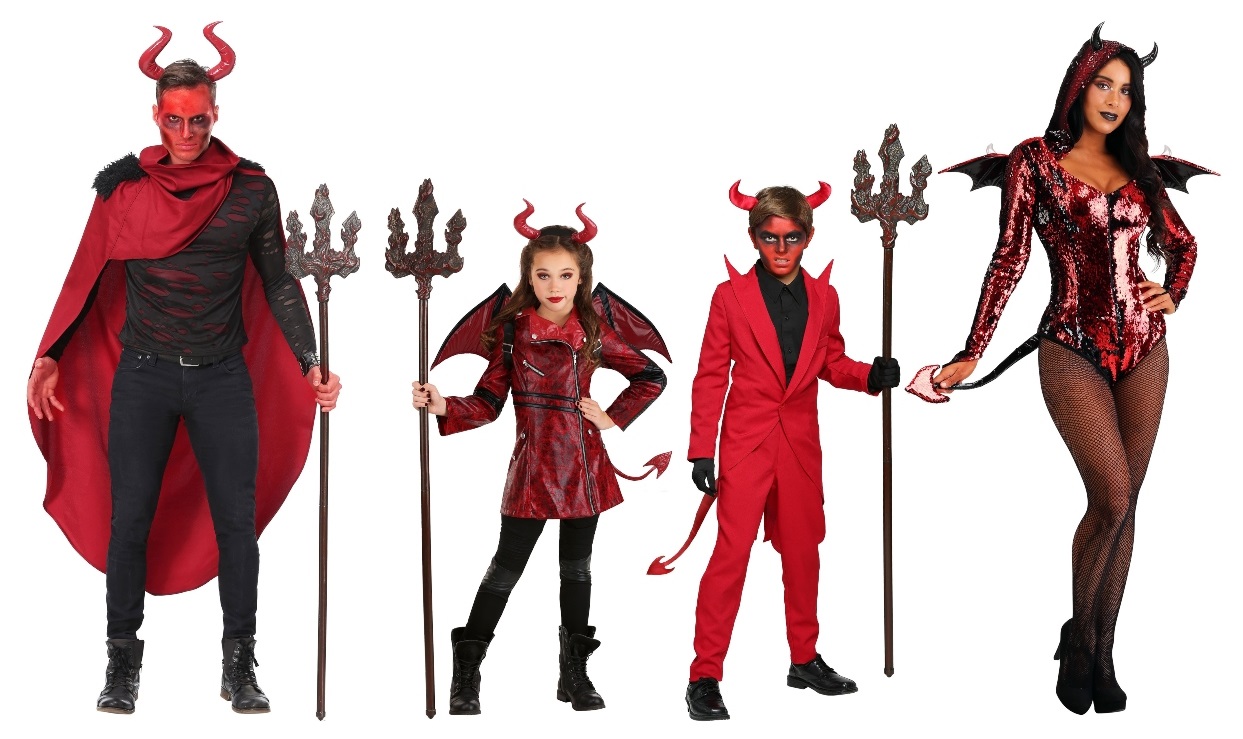 Now obviously you don't have to be a redhead to go out as the devil. However, your fiery red hair fits in with the aesthetic of a devil costume so well! There are so many costumes for this redheaded outfit idea that you can choose whatever fits your personal style. Slip into something sexy if you're feeling a bit devious, or go full demon lord with a costume that makes you feel powerful. Your red locks will be your best costume accessory!
3. Pennywise Costume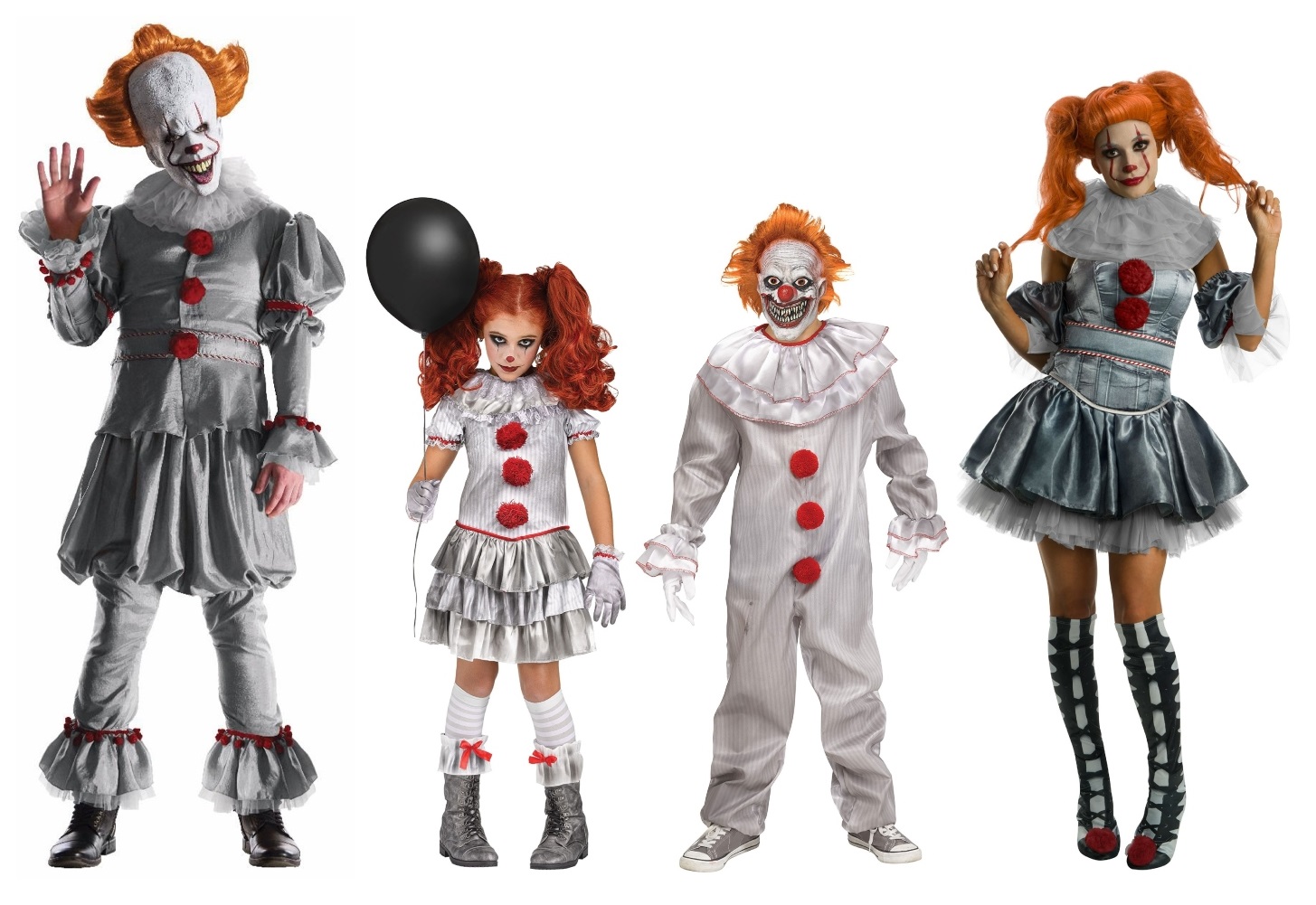 Maybe you're more of a Stephen King fan who loves Pennywise? Who wouldn't want to float! (Plus, it gives you an excuse to carry a balloon everywhere.) Tease your hair into a terrifying rendition of our favorite killer clown's 'do, or make the most of your locks and style it however you want! Pennywise costumes are so iconic that it gives you a little wiggle room to put your own spin on this famous clown.
4. Scarlet Witch Costume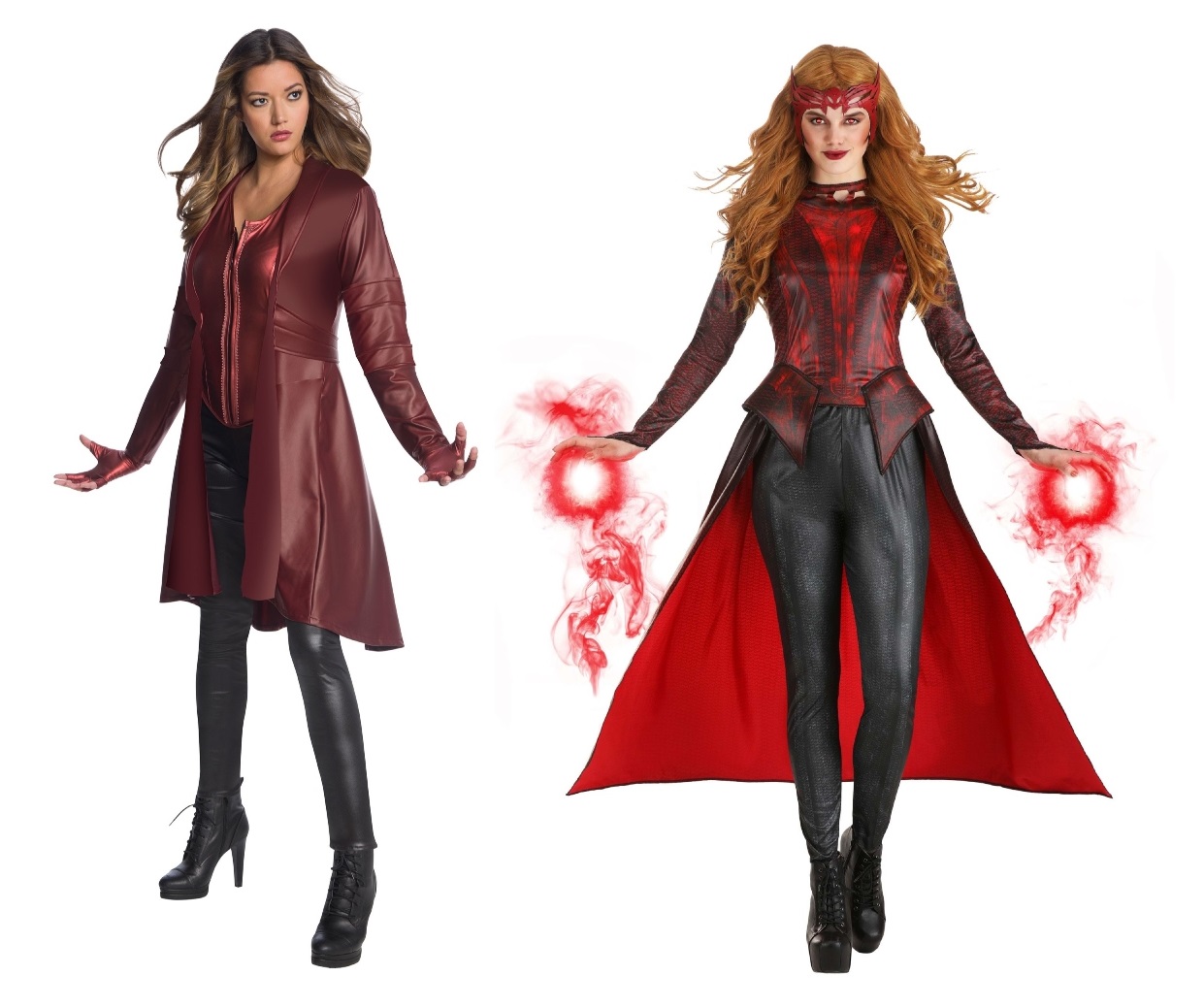 If you're a big fan of the Avengers movies, you know that there are a couple of redheaded superheroes at your fingertips. Scarlet is even part of her name, so you know that a Scarlet Witch costume is going to be good! Her hair fluctuates between red and brown, so Wanda works for any type of red hair. You can also choose between her Avengers movie outfits, something closer to a Wandavision costume, or one of her other comic book appearances. We're sure your red hair will look fabulous no matter which costume you pick!
5. Black Widow Costume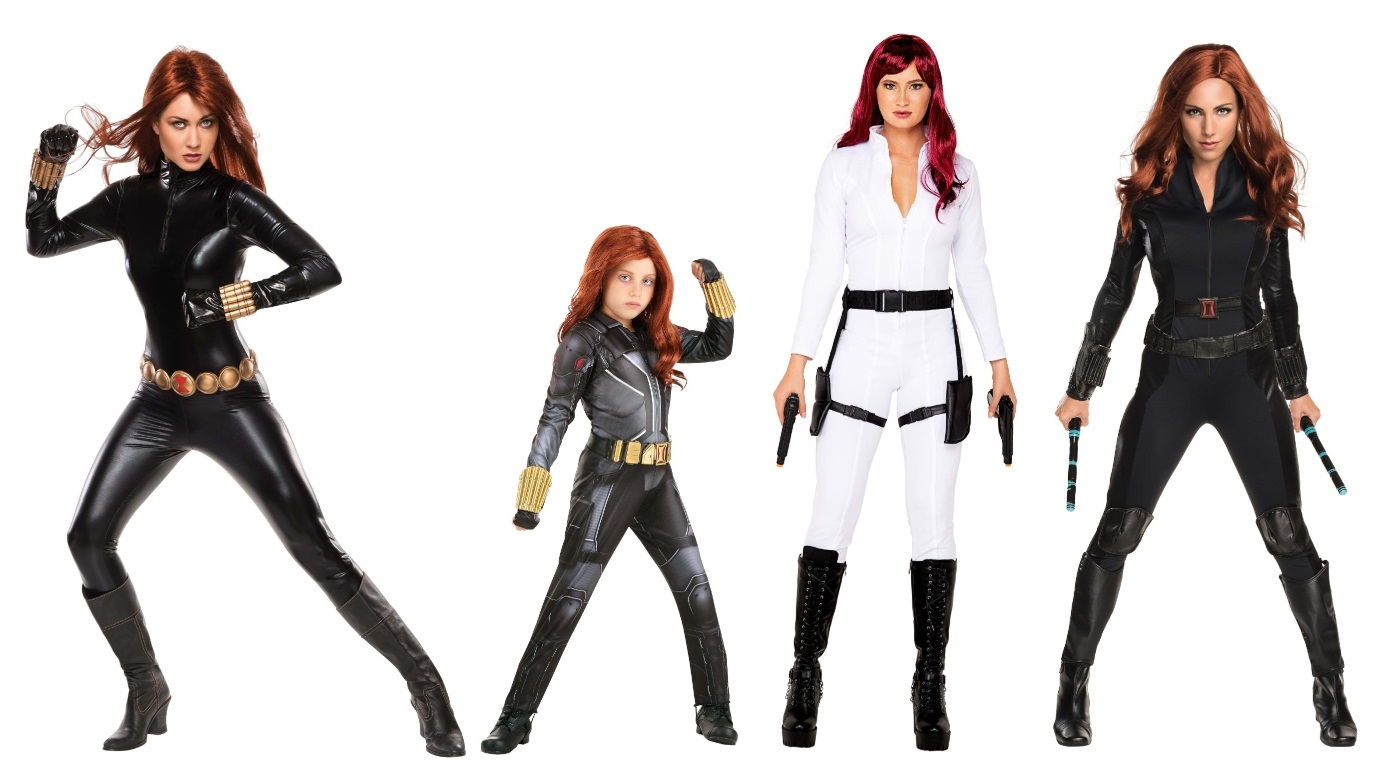 Redheaded ladies who love kicking butt and wearing zip-up jumpsuits will flock toward embodying the Avengers assassin, Black Widow. You'll love looking like Natasha Romanoff's stunt double while playing up your red hair. She has a few different outfits, so you can even get away with wearing a black catsuit and creating your own Black Widow costume. However, we also have a few of her Avengers movie costumes, including her newer white suit.
6. Daphne Costume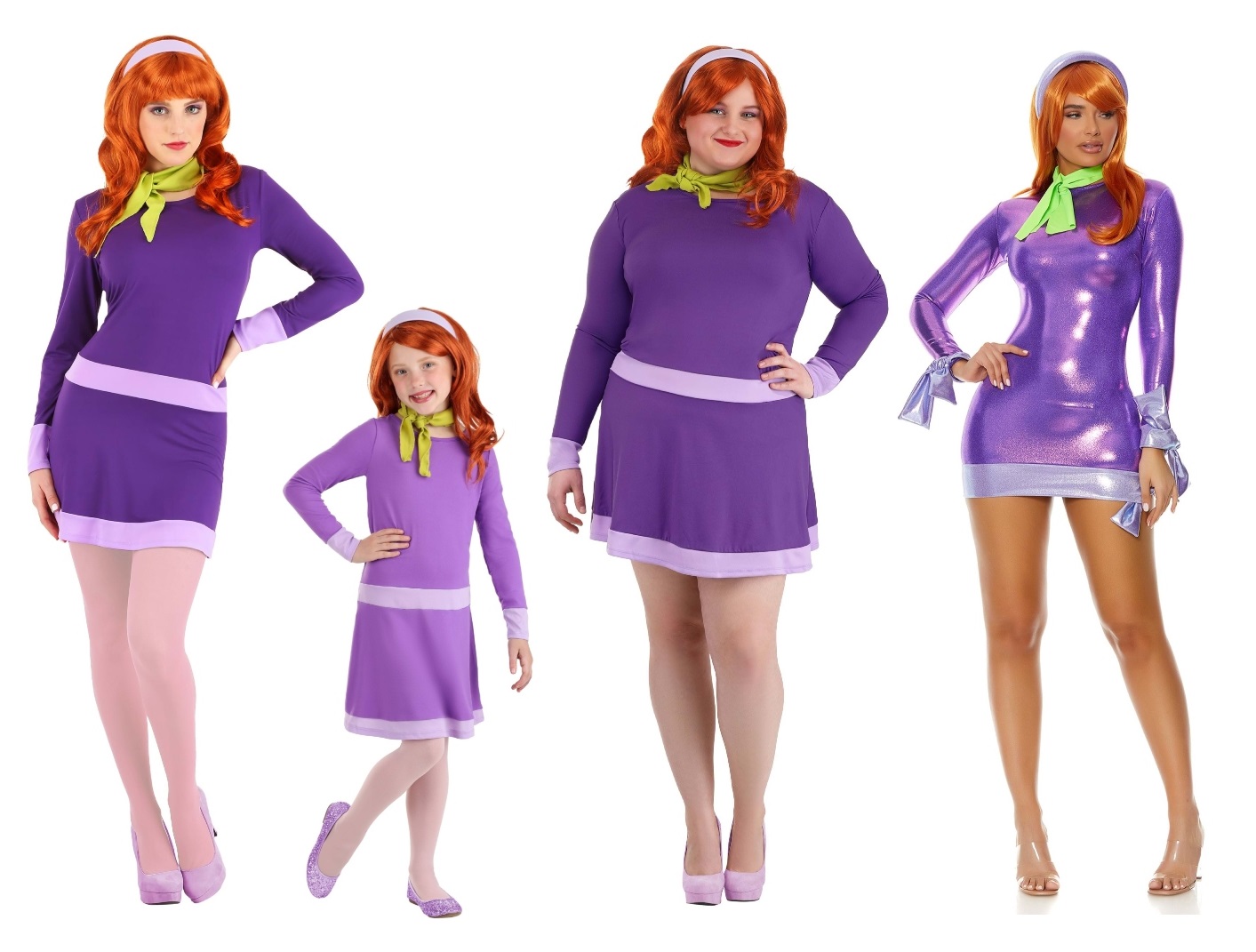 If solving spooky mysteries is your passion, a Daphne costume would be delightful! You'll feel ready to hop in the Mystery Machine van with Scooby and the rest of the crime-solving squad. These are great costumes for women with red hair, but your cartoon-loving daughter can get in on the fun with a costume in her size too. Bonus points if you have a pup to take along as Scooby-Doo!
7. Jessica Rabbit Costume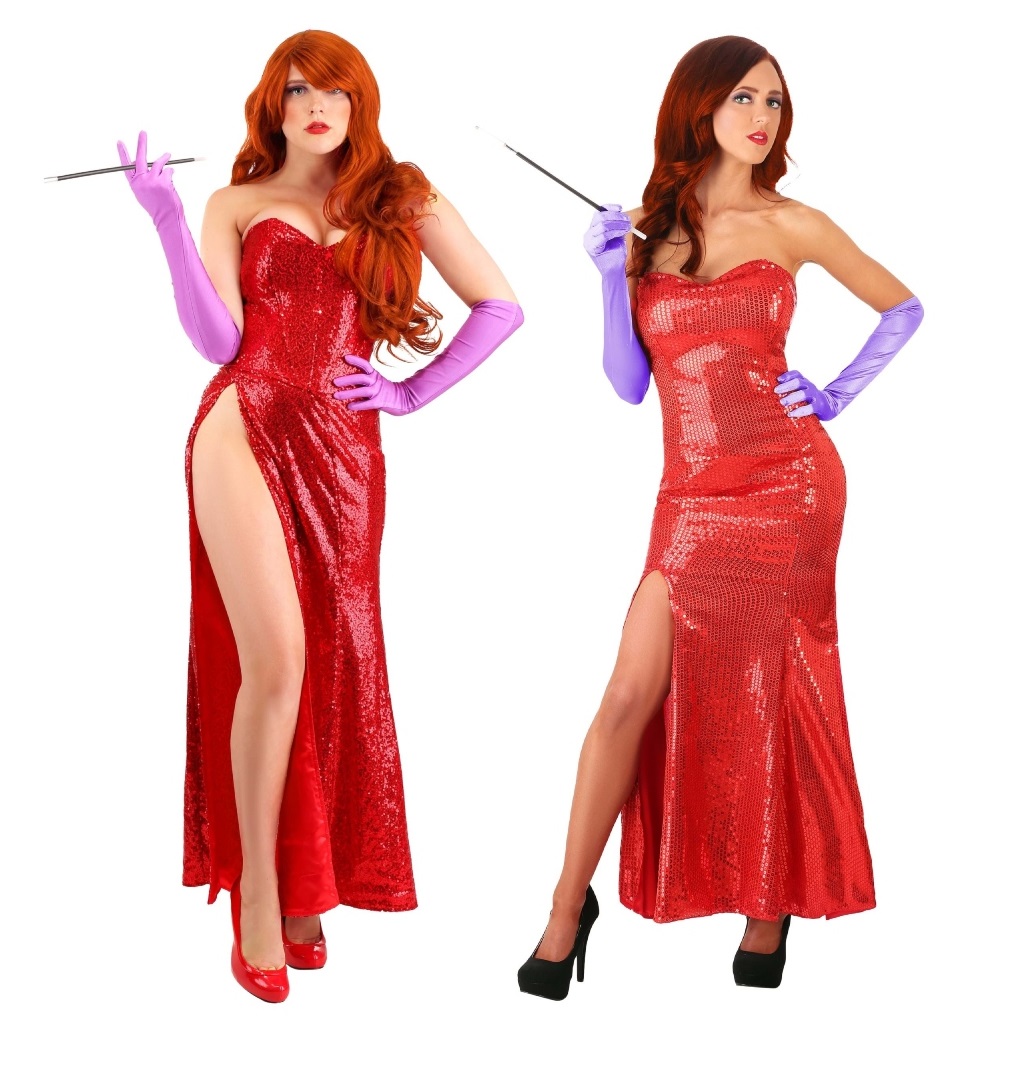 If sultry singers are more your speed, There's no better red-haired costume idea than Jessica Rabbit. People don't always get what she sees in Roger Rabbit, but we love a gal who can appreciate a good dad joke! While the ability to sing isn't a requirement for this Jessica Rabbit costume, it certainly wouldn't hurt.
8. Chucky Costume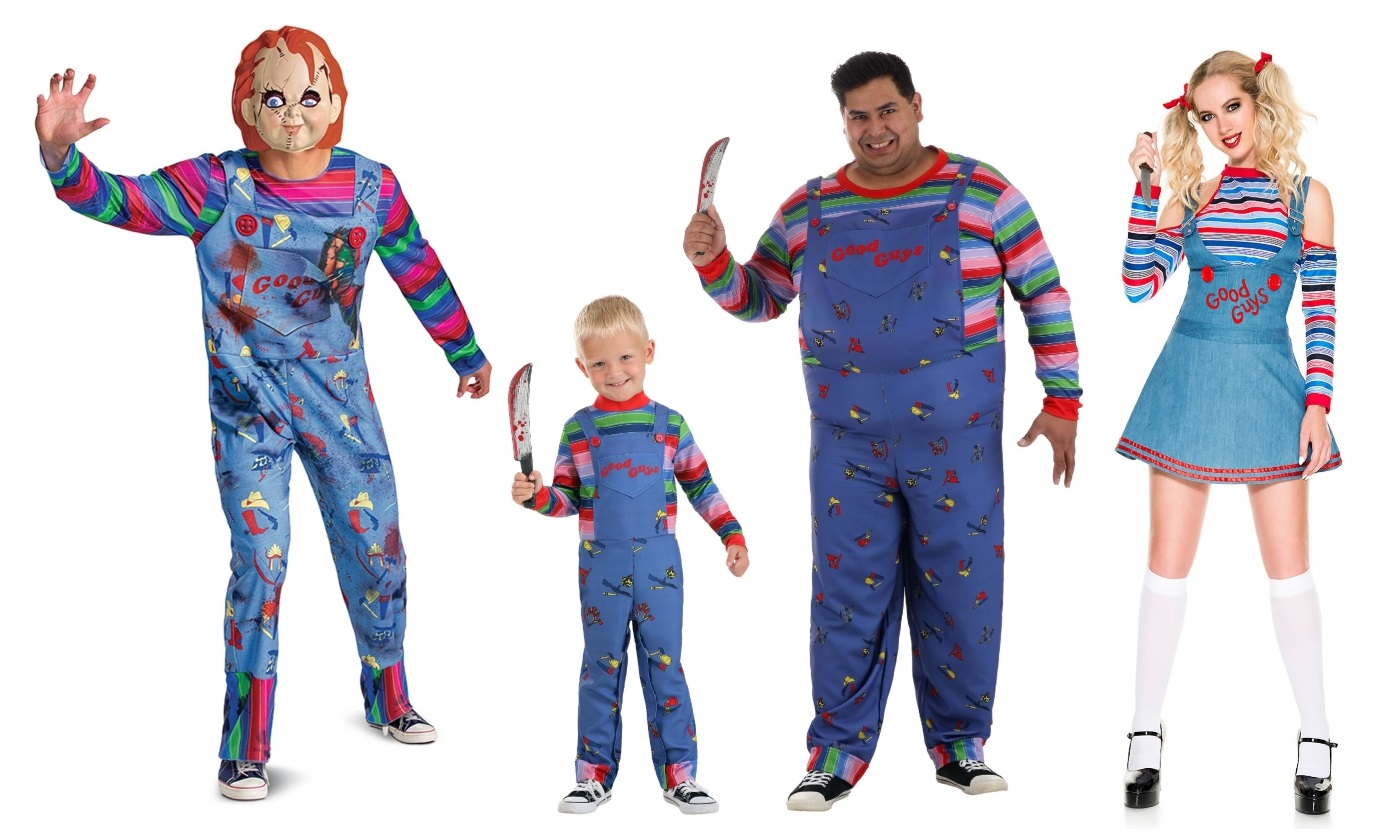 If you're a big horror movie fan, Chucky is probably one of the best redheaded costume ideas for guys. This creepy doll has scared hundreds of people, so you can't go wrong with a Chucky costume for Halloween! While some of these outfits provide a mask for you, feel free to tease your mane and do your own Chucky makeup. We're friends 'til the end!
9. Queen of Hearts Costume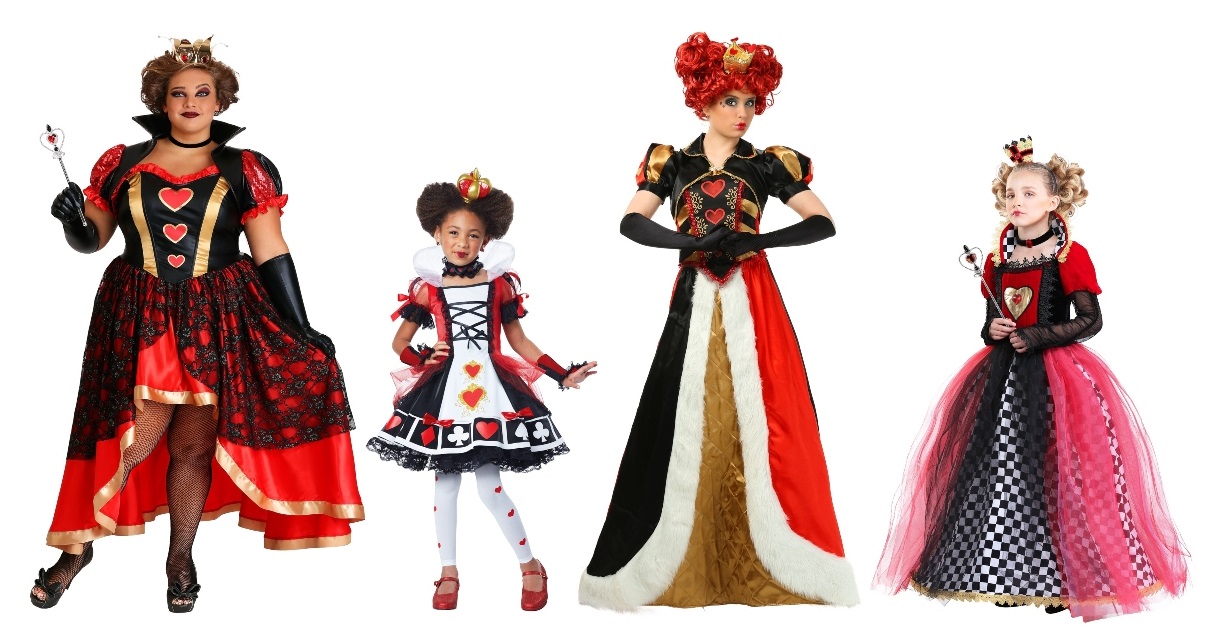 There are quite a few depictions of the Queen of Hearts, and some of them include women with red hair! Sure she may have had black hair in the animated Disney classic, but this is still the perfect costume for girls with red hair. There's a lot of variety here, so go with your heart, if you will. These Queen of Hearts costumes will complement your red mane so well! Also, don't forget a crown—it will look flawless on top of your beautiful crimson strands.
10. Mad Hatter Costume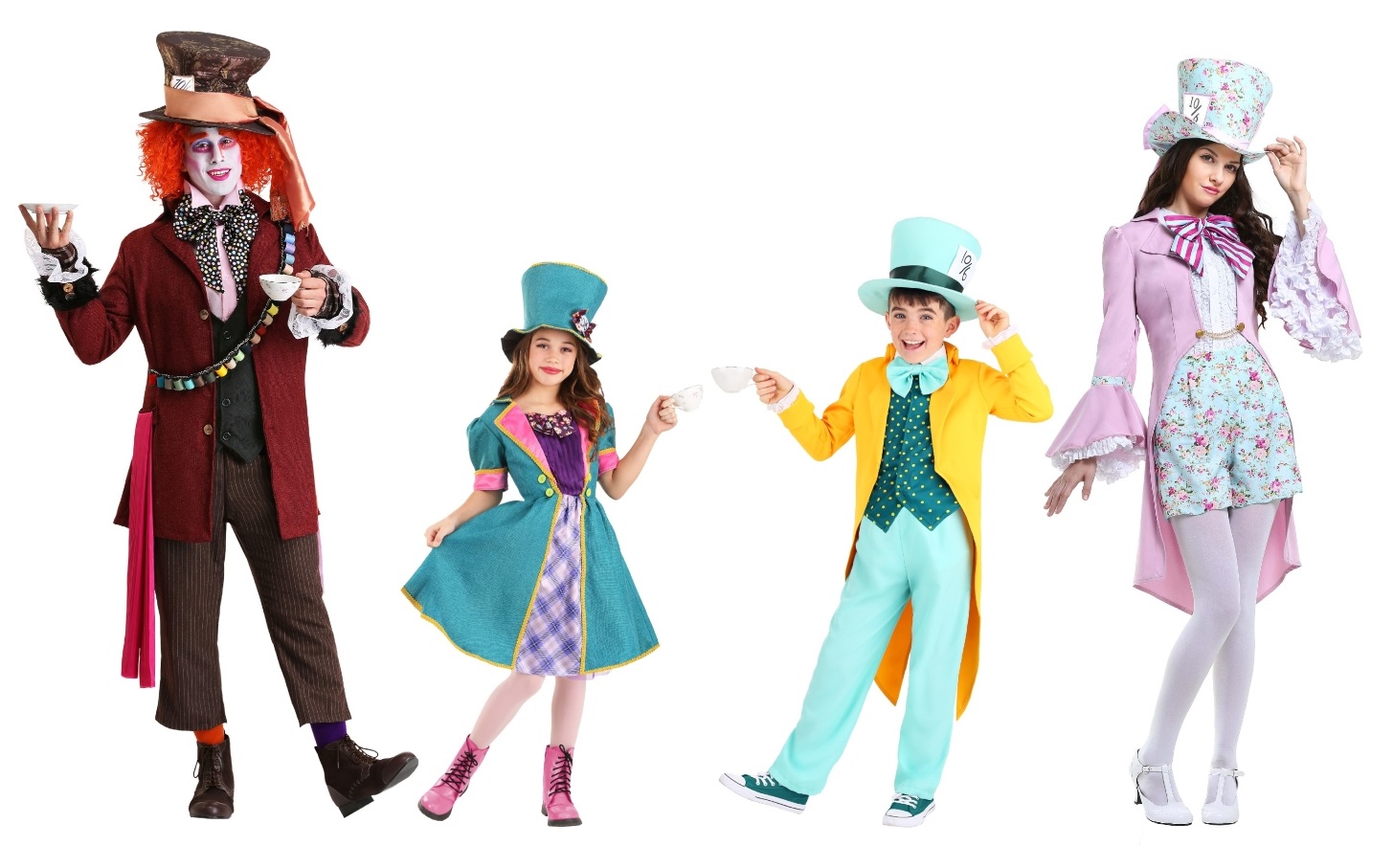 Maybe you have a bright shock of orange curls that feels more like a mane than hair. Although a little bit insane and strikingly odd, the Mad Hatter is a friendly character who just wants to aid Alice on her journey through Wonderland. You'll love sporting the bandolier, bow tie, and especially the top hat, since it'll bring attention to your natural fiery hair. This is another great costume for men with red hair, but you can also find Mad Hatter costumes suited for women and children too. He's such a popular character that we can't blame anyone if they want to be the Mad Hatter for Halloween!
11. Starfire Costume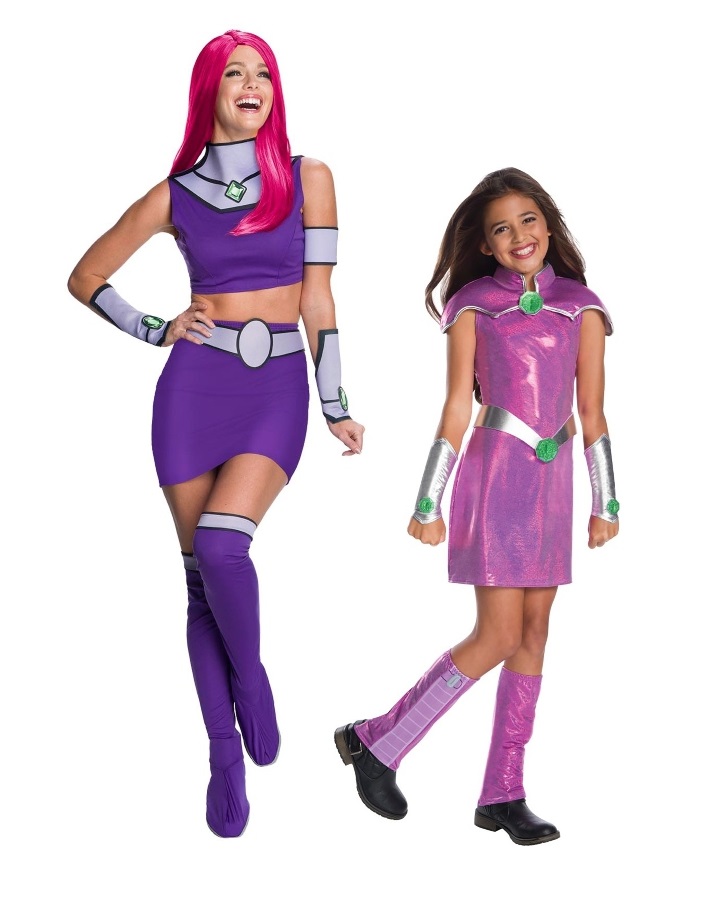 We already met a few of our favorite red-haired superheroes from Marvel, but we're not about to forget characters like Starfire from DC Comics! Her Earth language could use a little work, but that's honestly part of what we love about our favorite crime-fighting alien. Starfire joined the Teen Titans, so you can always take this red hair costume idea and expand it into a group by adding more Teen Titans costumes! We're sure it will be a hit at both Halloween and Comic-Con.
12. Viking Costume (Erik the Red)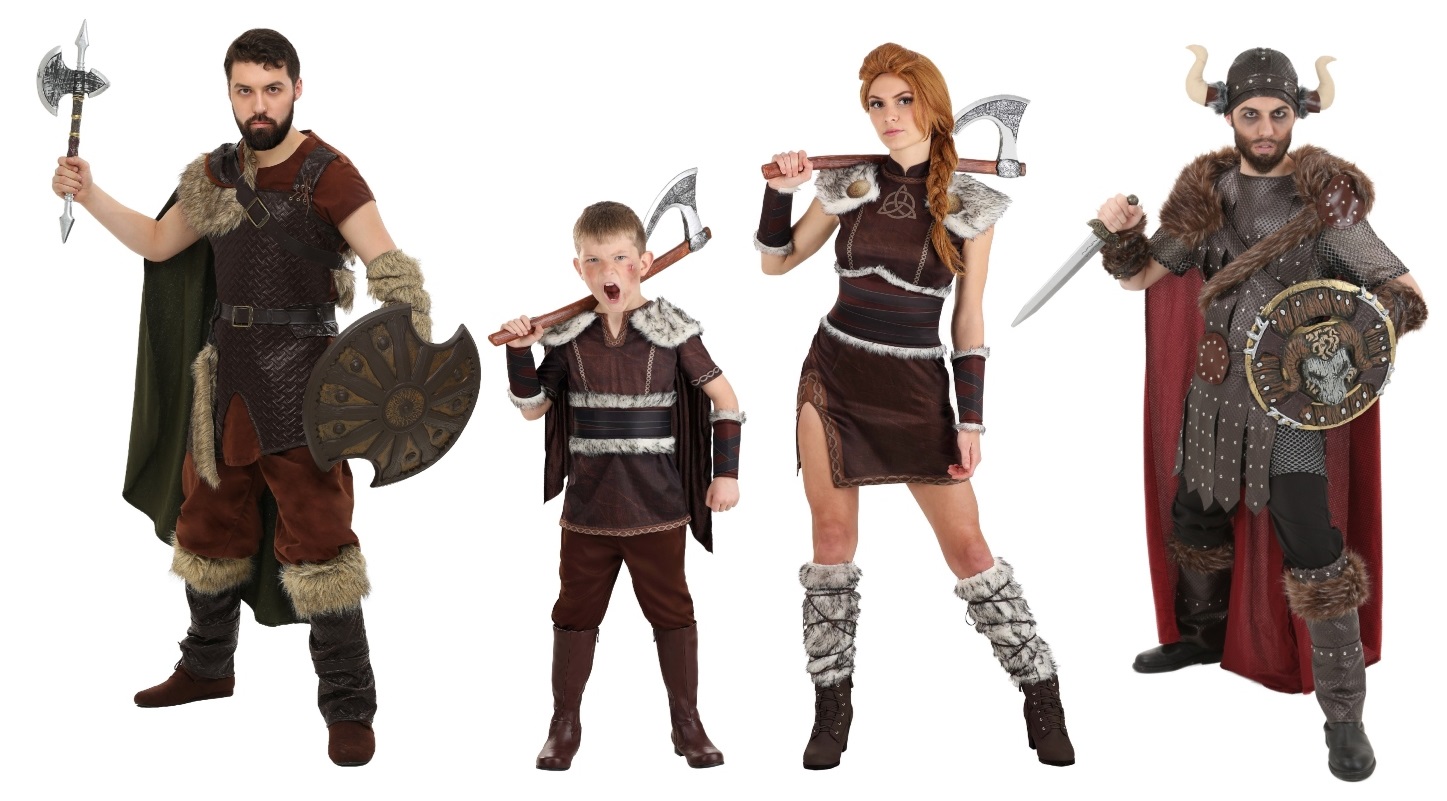 We already took a look at a ton of fictional redheads, but there are tons of famous redheads in history too! For example, take Erik the Red, the Viking known for discovering Greenland. (And what a sneaky name he gave the place!) If you're a redheaded guy with a beard, you'll have tons of fun with this historical Viking costume idea. Of course, should your boy be too little to grow a bristling beard of his own, you can get him a red beard to match his hair.
13. Ariel Costume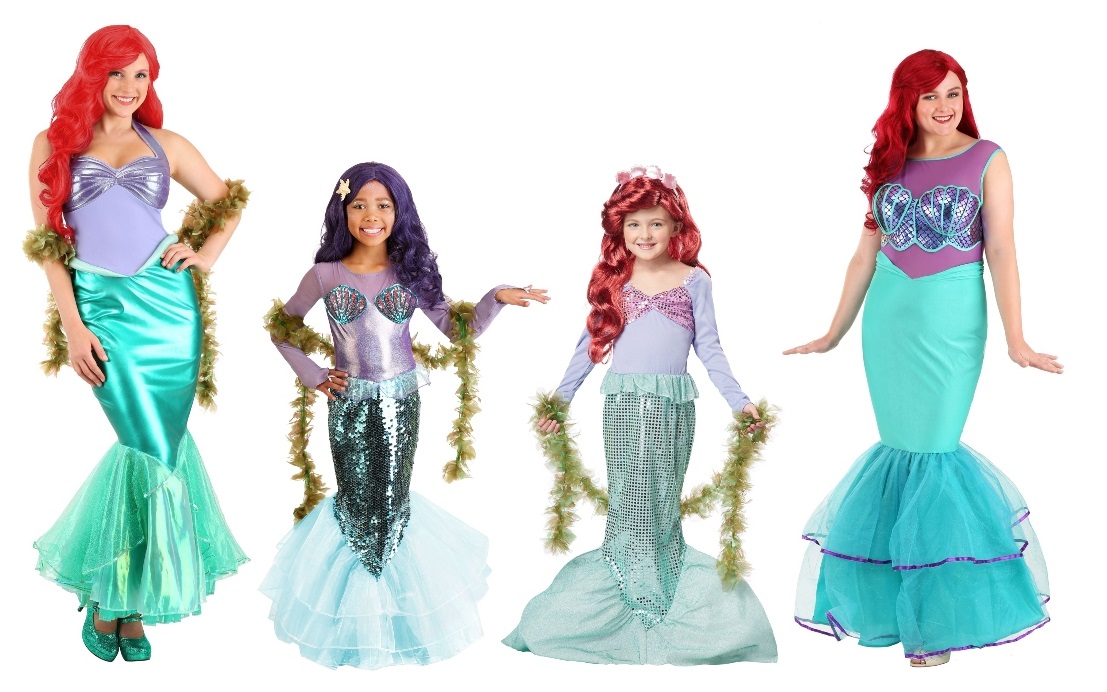 Think back to your childhood. Who was your favorite Disney character? We bet it was a character who had red hair just like you! Have a magical time this Halloween dressed as your favorite fiery fictional Disney darling. Of course, one of our top picks for you is Ariel from The Little Mermaid. She's spunky, sassy, and she also has a healthy crop of thick foxy locks. Clip a starfish barrette into your mane as a cute piece of flair that will draw even more attention to your noteworthy hair. You're going to fall in love with these Princess Ariel costumes!
14. Kim Possible Costume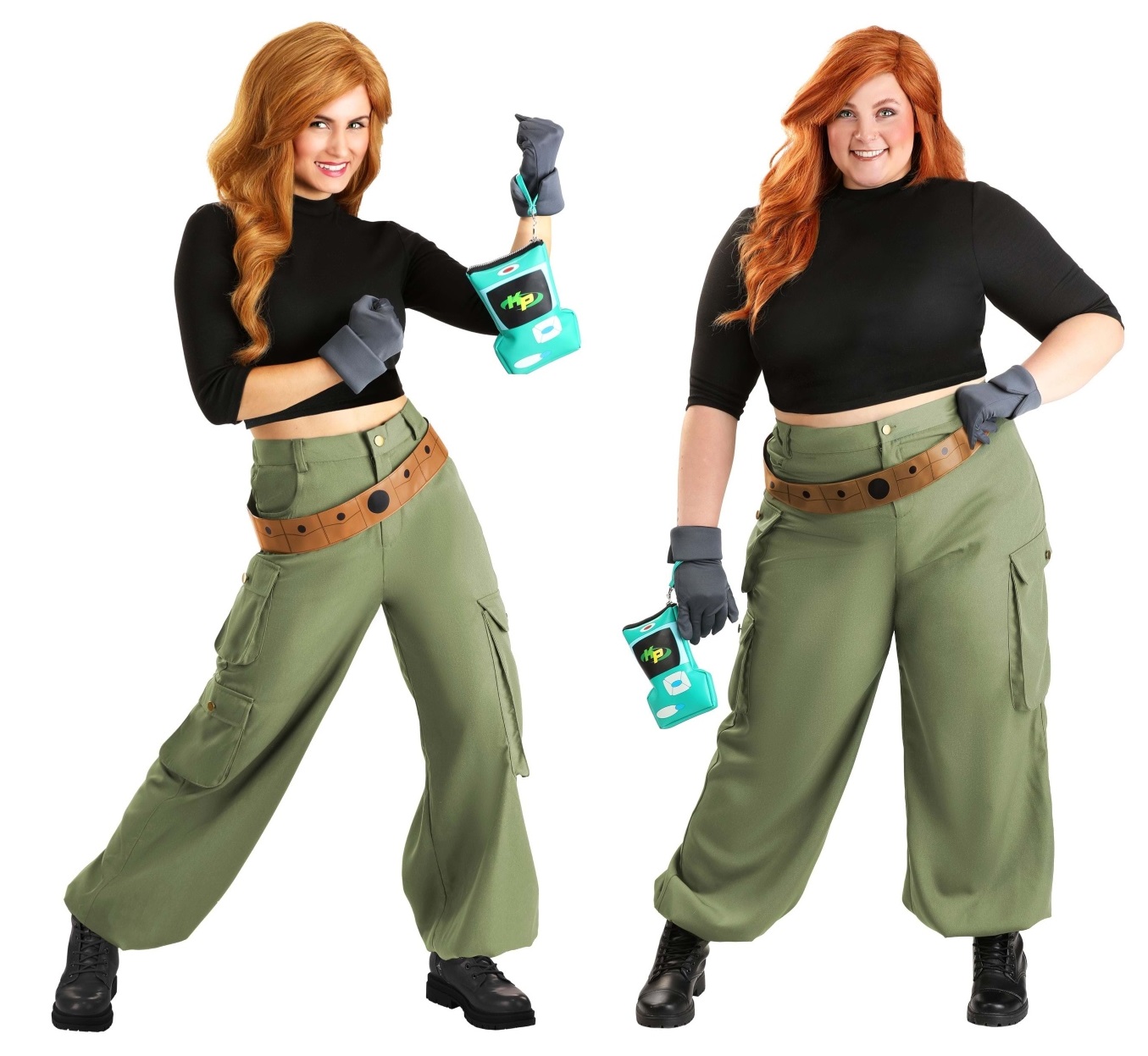 Call me, beep me, if you want to reach me. Our favorite Disney channel heroine had one of the catchiest theme songs on TV at the time, and if you know, you know. This is a fairly easy DIY costume, but you can also find Kim Possible costumes all ready to go! Turn this into the ultimate girl duo costume by adding a gal pal as Kim's adversary, Shego.
15. Anna Costume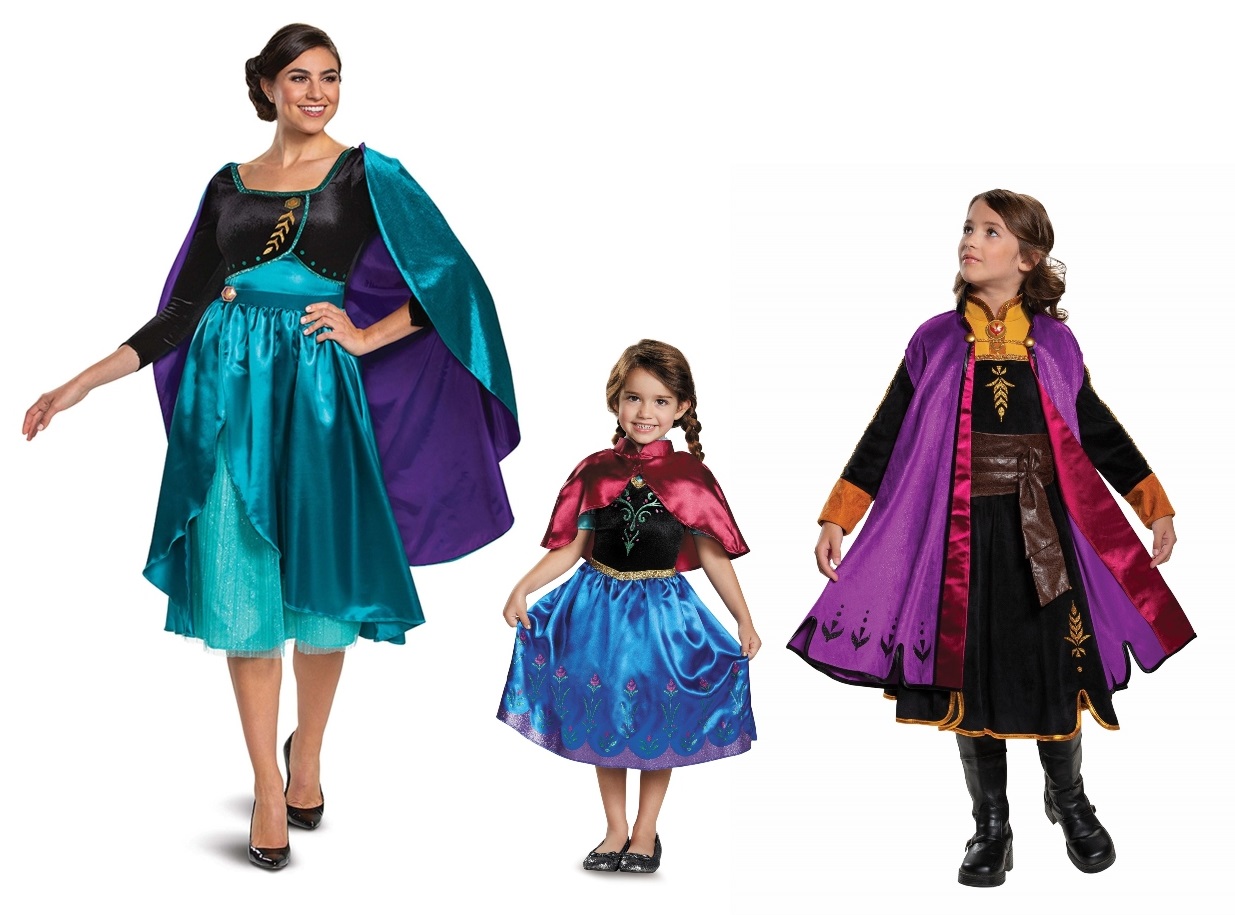 There are a handful of Disney characters with red hair, and Anna happens to be one of our favorite princesses! This spunky Disney Princess has an extraordinary bond with her sister, and she's willing to do whatever it takes for her to feel comfortable in her own skin. Anna has one of the best collections of outfits in the Frozen franchise, so check out our Anna costumes for more red-haired Halloween costume ideas.
16. Sally Costume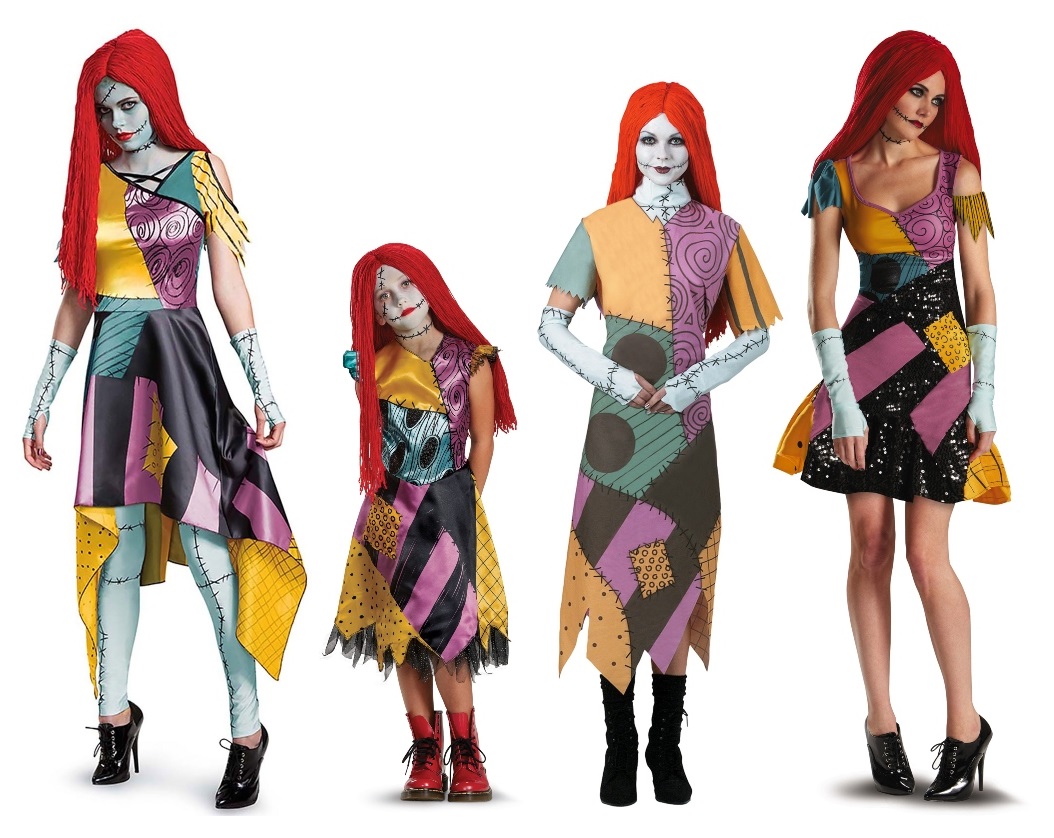 If you'd rather channel a slightly spooky Disney character, we recommend dressing as Sally, the ragdoll creation from The Nightmare Before Christmas. You may not be able to detach your limbs like the incredibly clever character, but you will be able to achieve her red hairdo. Just straighten your hair and get out there with this Sally costume to find your very own Pumpkin King!
17. Jessie Costume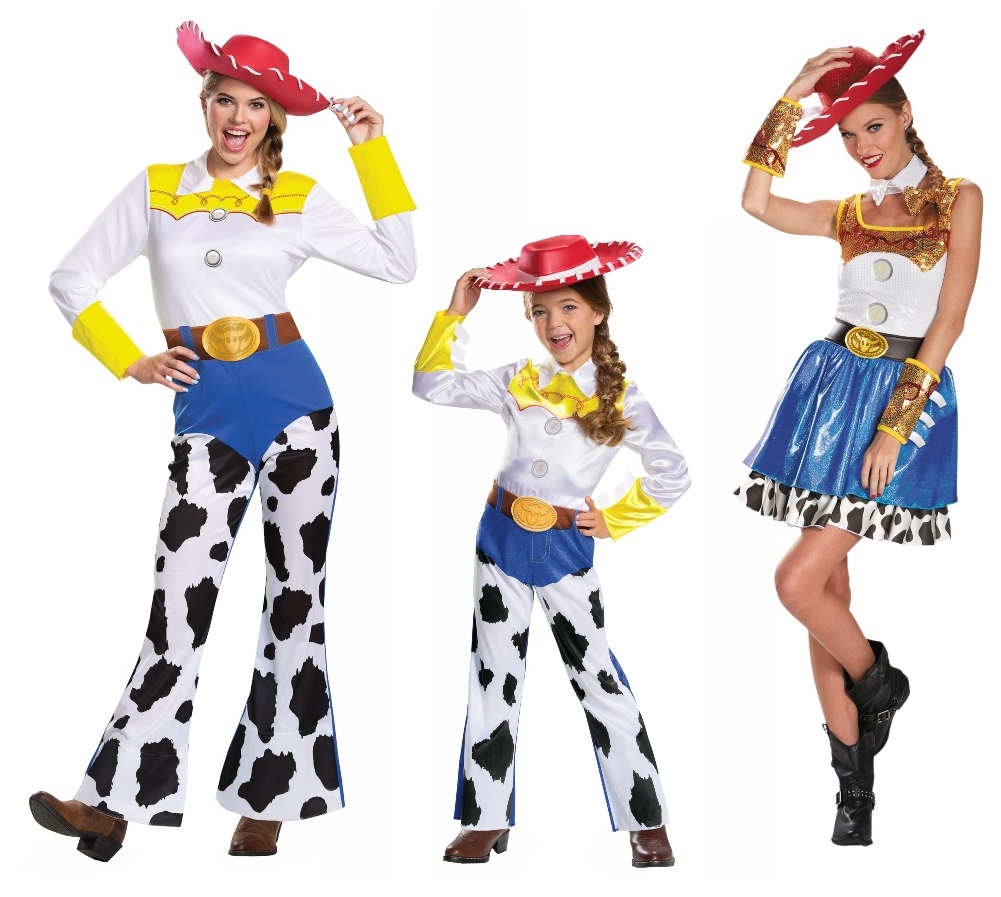 Having a rootin' tootin' good time will be a piece of cake as long as you dress up as Jessie, the rowdy wrangler from the Toy Story movies. All you'll need to do is put on your cowboy boots, hat, braid your hair, and practice saying "howdy, partner!" These Jessie costumes are great for girls with red hair who love Pixar movies.
18. Batgirl Costume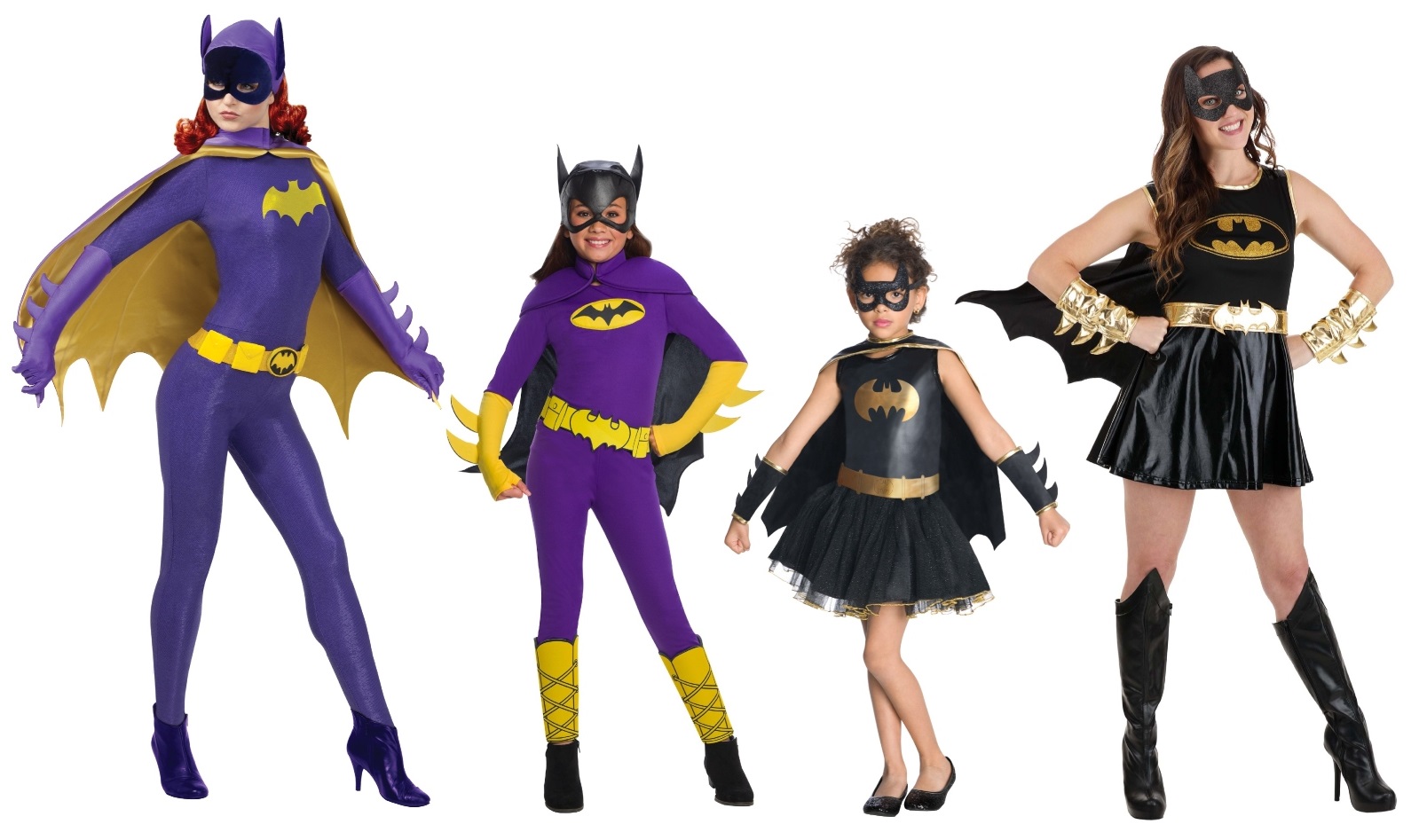 There have been several women in the Batgirl cape and cowl, but who could forget one of our favorites, Babs? Barbara Gordon debuted in the Batman comics but was also a fan favorite on the Adam West Batman show. The daughter of James Gordon, the Gotham City police commissioner, she fights crime without her father's knowledge. There are quite a few different Batgirl costumes to choose from, but they'd all go great with red hair, in our opinion!
19. Leprechaun Costume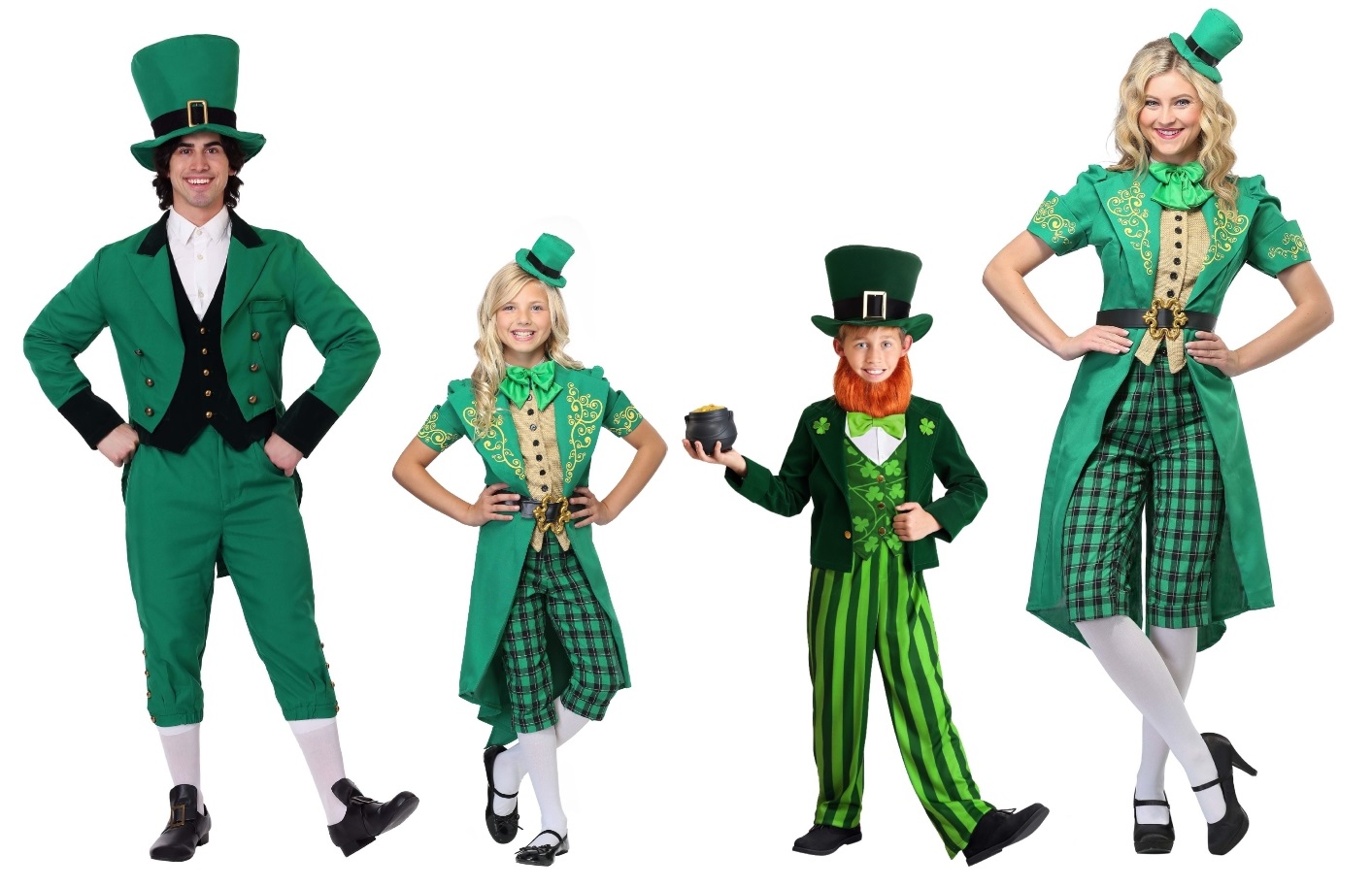 If you're a fan of creatures from fairy tales and myths, you're going to love wearing your red hair with a leprechaun costume! These supernatural sprites have an affinity for shoes and gold, so perhaps you already have something else in common. When people stop you and ask if your red hair is real or if you're wearing a wig to match your costume, just give them a wink and say that you're a leprechaun!
20. Winifred Sanderson Costume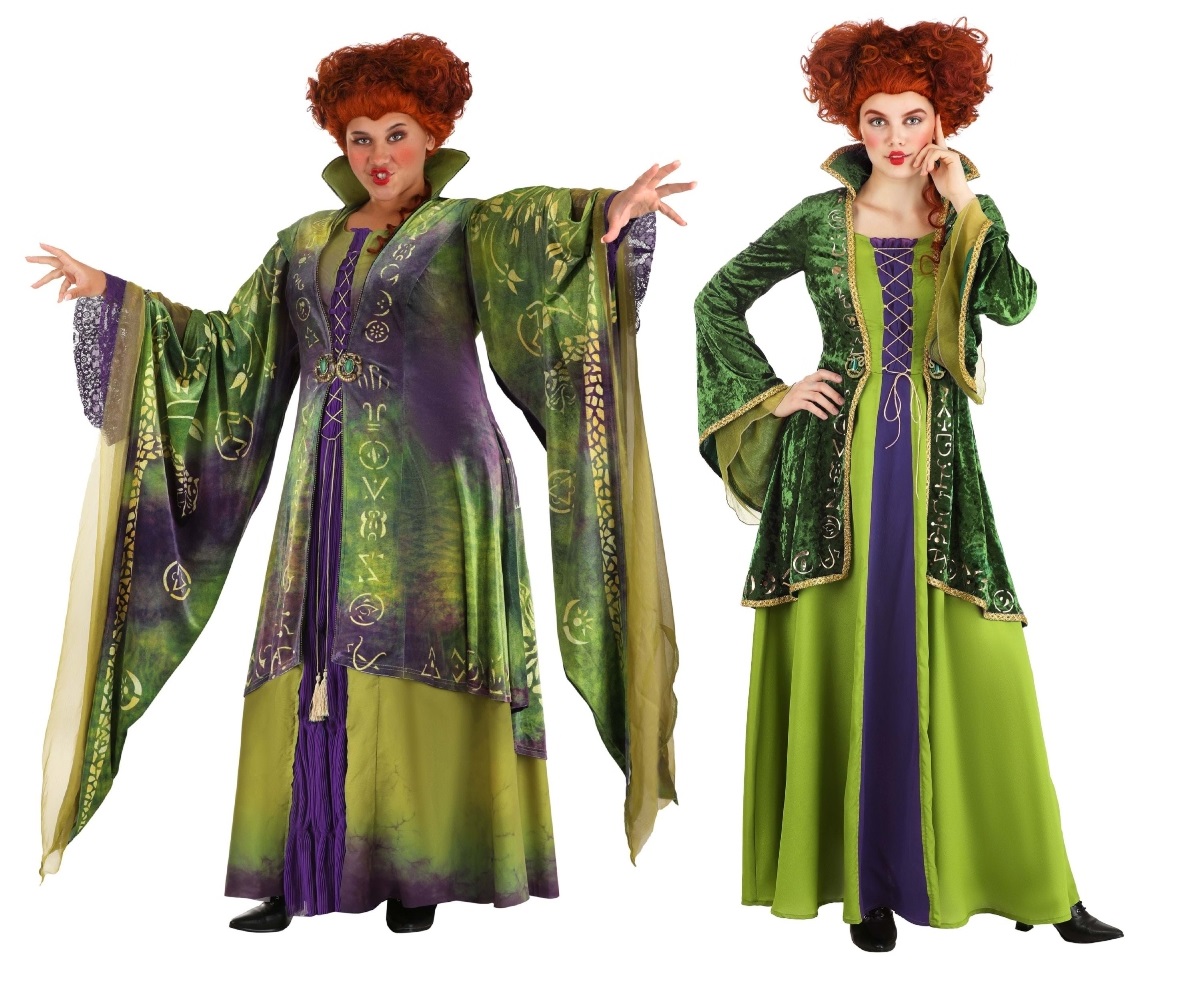 If you're looking to dress as a red-haired character who will send shivers up and down the spine of everyone (especially children), we urge you to check out our Winifred Sanderson costume. She's spooky, she's kooky and she's ready to gobble up some souls! Gather a few more sisters in Hocus Pocus costumes and you'll have Wini's whole crew!
21. Hercules Costume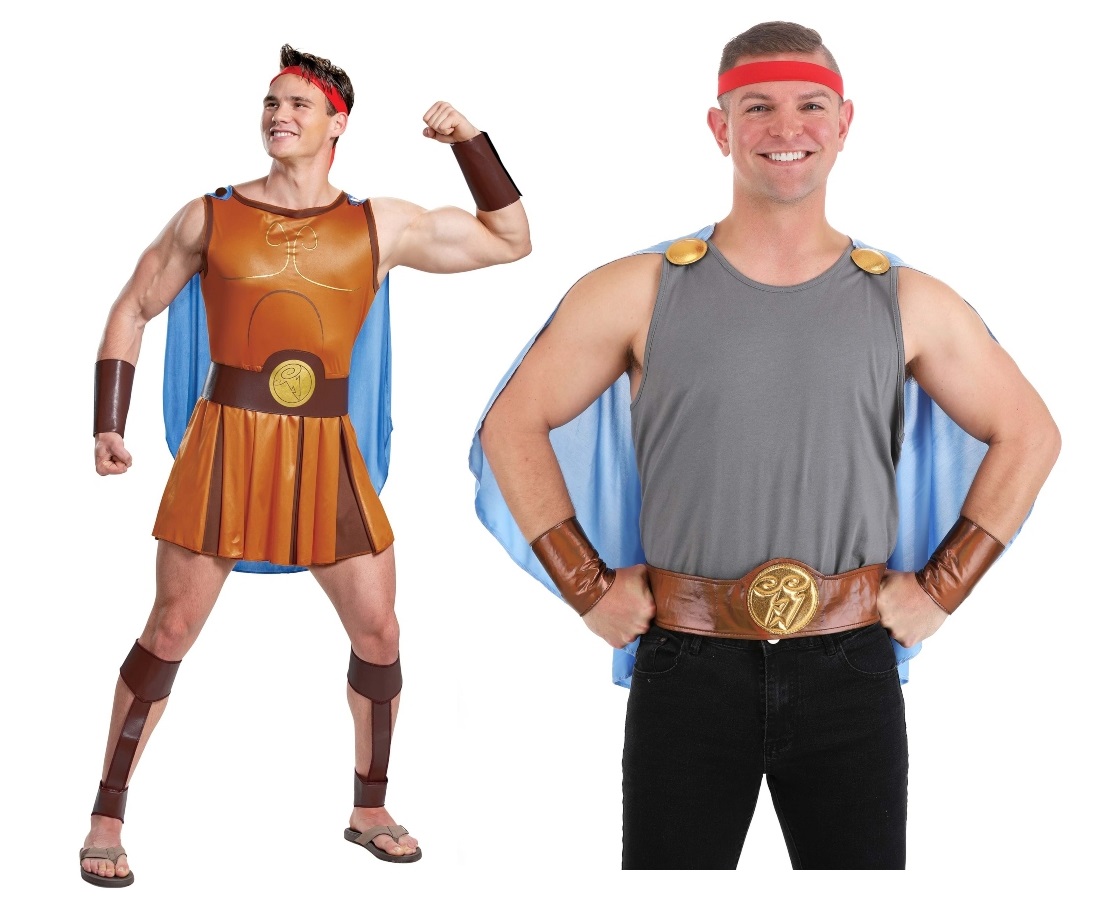 Who put the "glad" in gladiator? Hercules has to be one of the most buff redheads we have ever seen! This demigod also had one of Disney's best soundtracks, so don't be afraid to belt out some "Go the Distance" if you happen to feel so inclined. We have a few more Hercules costumes should you want to turn this into a couple or group costume idea, but our hats are off to you if you manage to get an entire crew of Muses together!
22. Merida Costume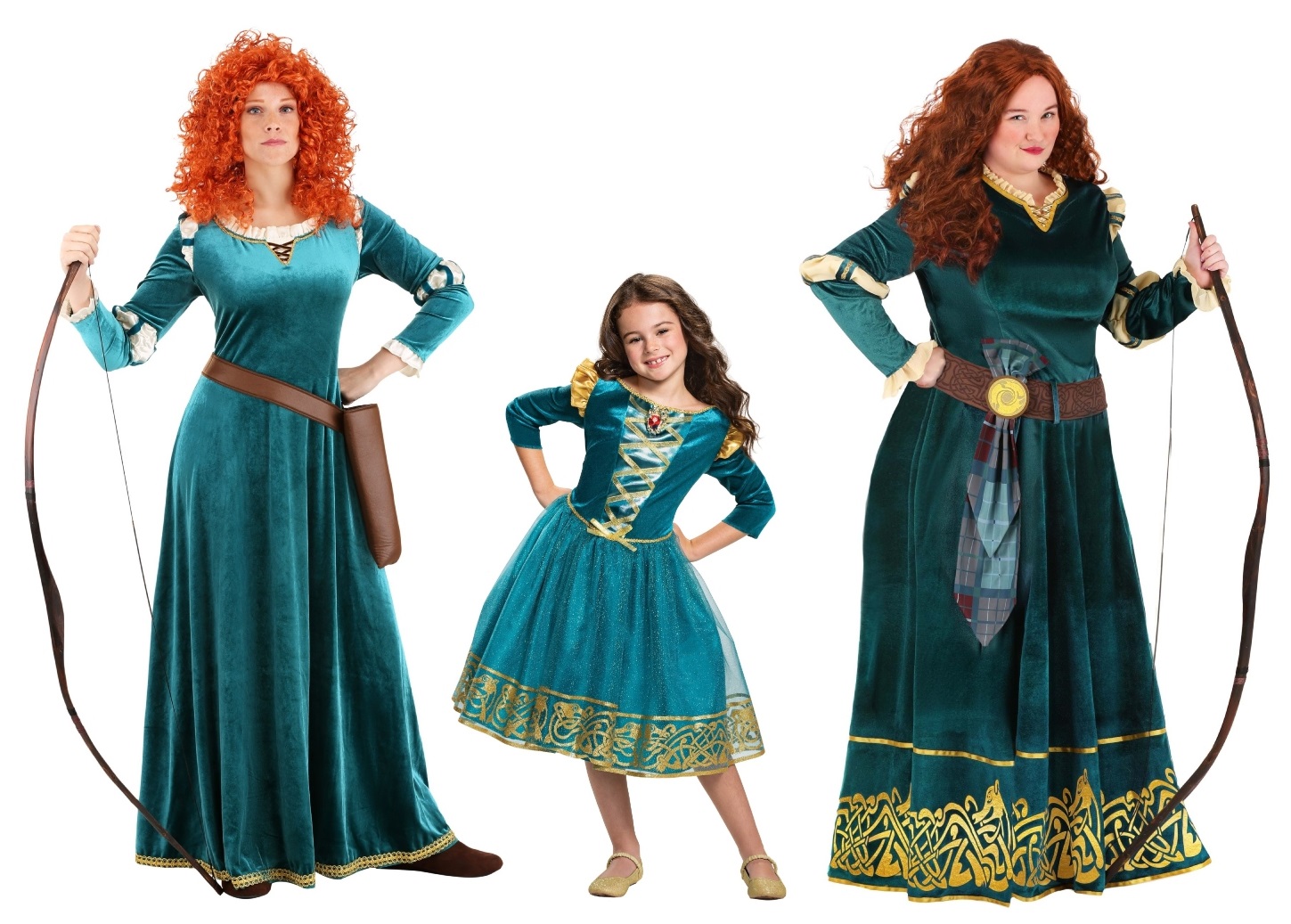 Out of all of the Disney Princesses, Princess Merida probably has the coolest hair. (Except for maybe Rapunzel, but hers is magical so it doesn't count or something.) She also rides a horse and is an expert marksman with a bow and arrow, and you probably wanted to be her at some point in time. Well, with a Merida Halloween costume, you can! Just...maybe leave the real bow and arrows at home.
23. Wilma Flintstone Costume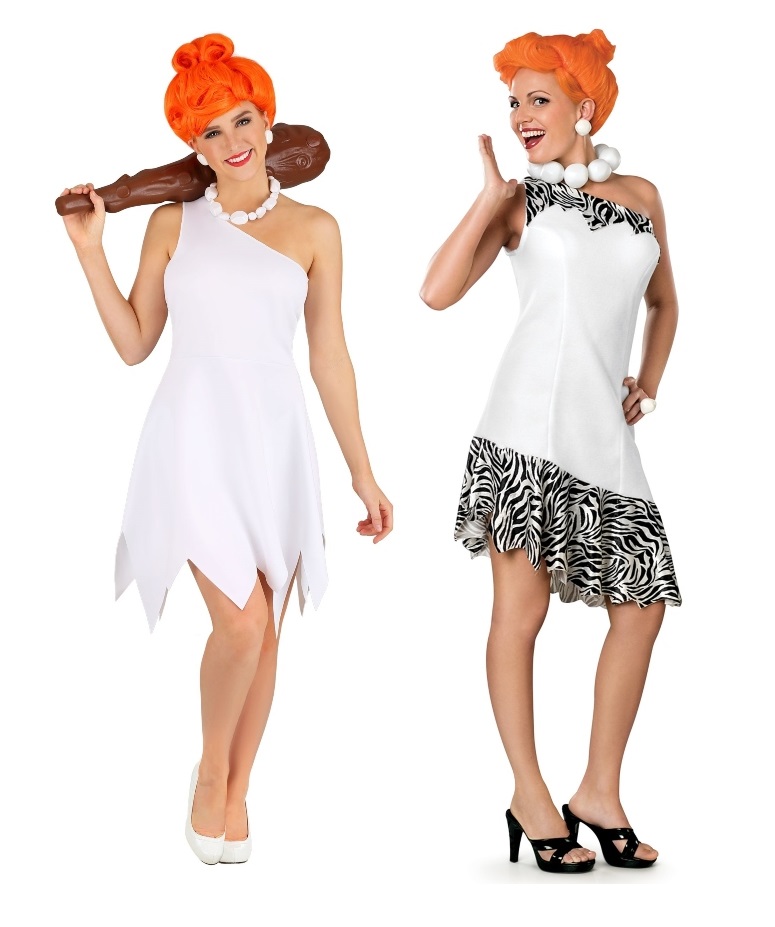 Fans of classic cartoons have probably been waiting to see Wilma Flintstone pop up in this list of redheaded costumes, and here she is! Level-headed Wilma acts as the backbone of the family and is usually the voice of reason when her husband comes up with some hair-brained scheme. She's also stronger than she looks, but she probably had to be without all of our modern-day conveniences. Wilma even had a small dinosaur as a pet! We don't expect you to live up to her cartoonishly crazy standards, but your natural red hair will undoubtedly help you look the part when wearing your Wilma Flintstone costume.
24. Ginger Spice Costume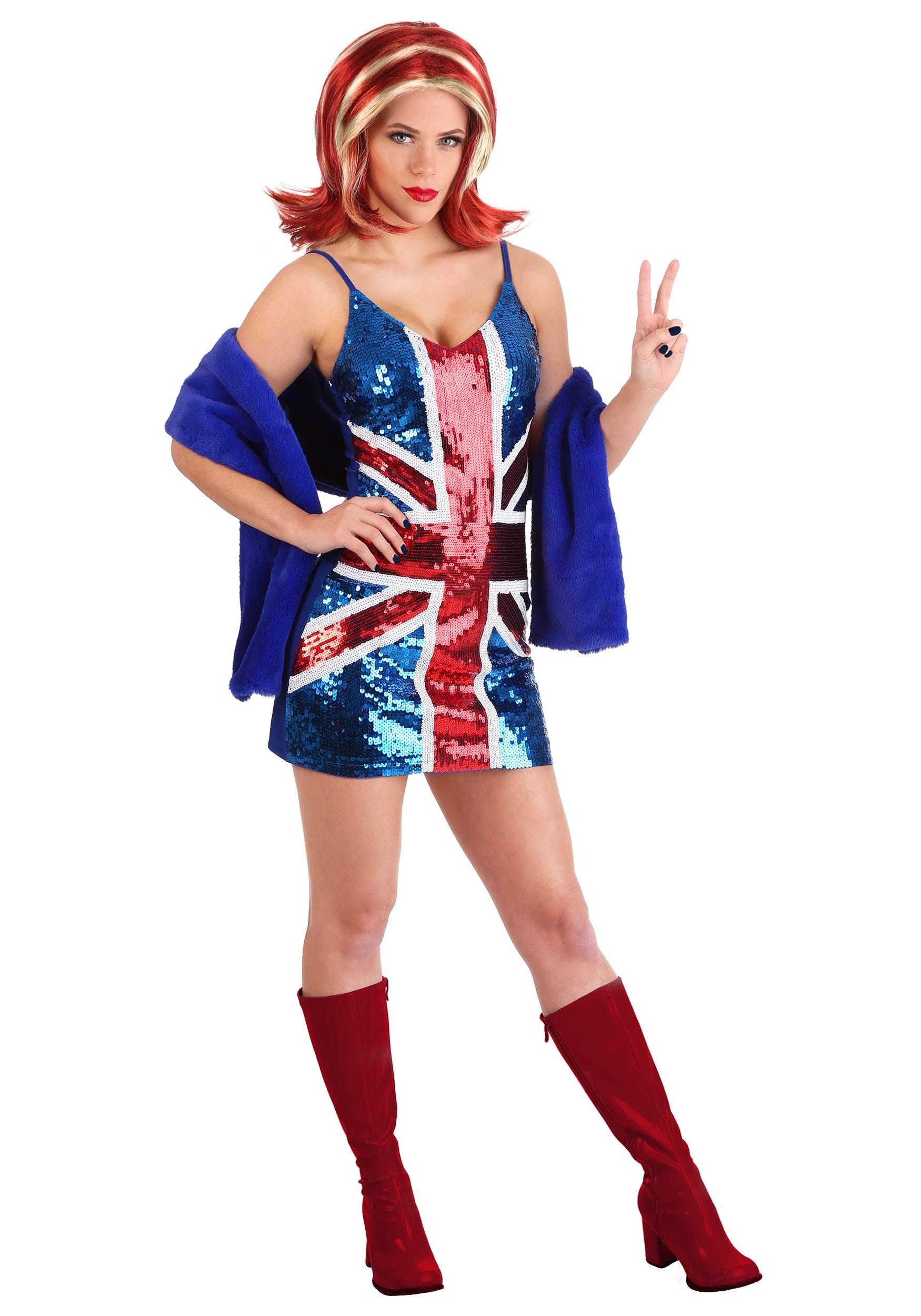 Maybe you're not as much of a character person as you are a fan of the celebrity beat. If you're still waiting for the Spice Girls to get back together again, perhaps you can lead the charge with this Ginger Spice Halloween costume. Her Union Jack dress was a 90s pop icon, recognizable across the globe. We hope you still remember the lyrics for "Wannabe"!
25. The Flash Costume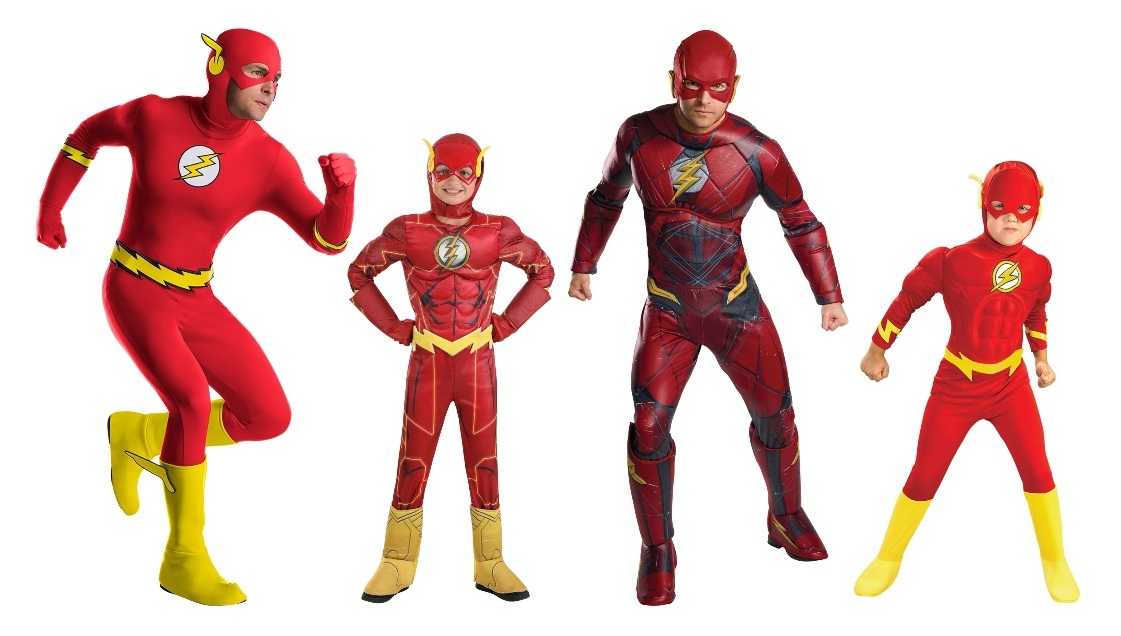 Superman may be faster than a speeding bullet, but no one is faster than the Flash! This super speedster has a wit that's just as quick, making him quite a popular hero. Several men have taken up the mantle of the Flash, but if you're looking for a red-haired character to cosplay, we'd suggest taking a look at Wally West! Now, your Flash costume may cover those fiery locks, but you'll certainly feel authentic at conventions or Halloween.
26. Glinda Costume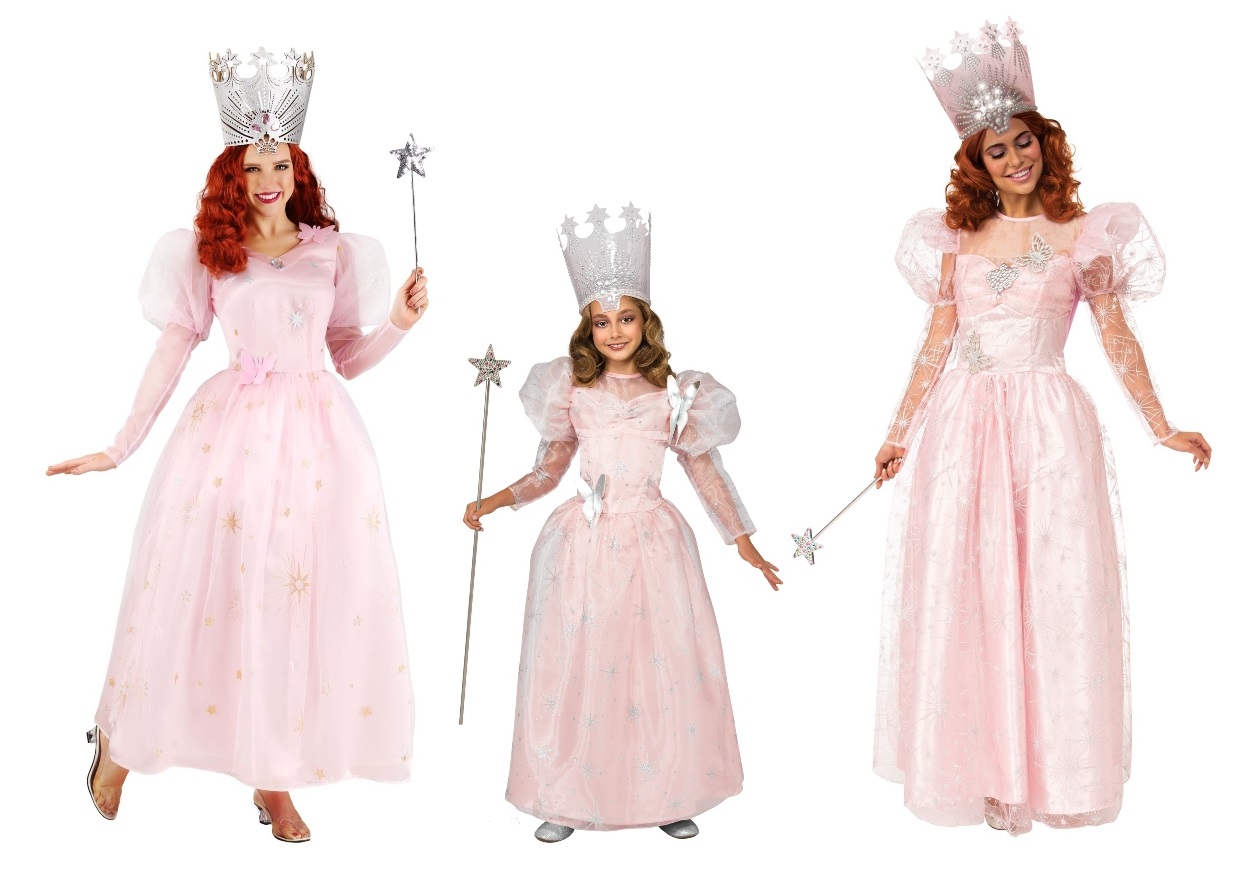 The Wizard of Oz is filled with colorful characters, and of course, one of our favorites is Glinda the Good Witch. She dazzles in her sparkling pink ballgown, and of course, her pink outfit goes great with her pretty red curls. If you're a bit of a diva and you want to stand out with your red hair this Halloween, you might consider giving a Glinda Halloween costume a try!
27. I Love Lucy Costume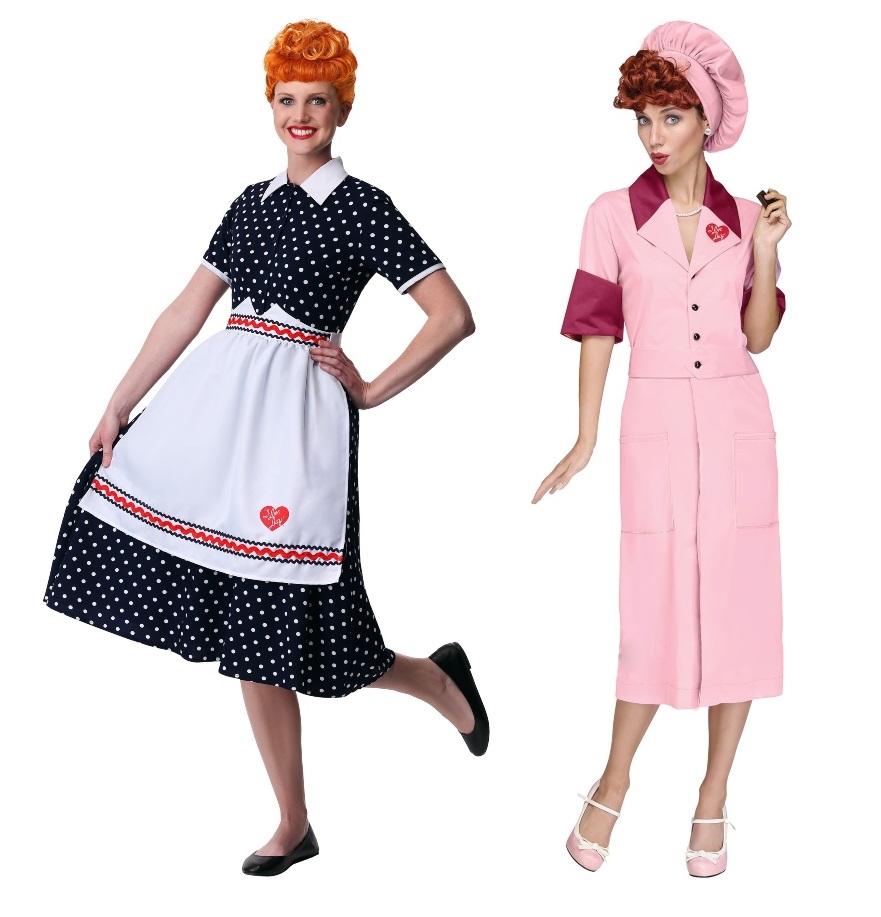 Do you like vintage TV or perhaps vintage-style costumes? Well, get your red hair ready for a Lucille Ball costume! Whether you prefer her classic polka-dot dress or her pink candy factory outfit, we're sure you'll look great. You can even turn this women's costume for redheads into a couples' costume by adding Ricky Ricardo!
28. Ms. Frizzle Costume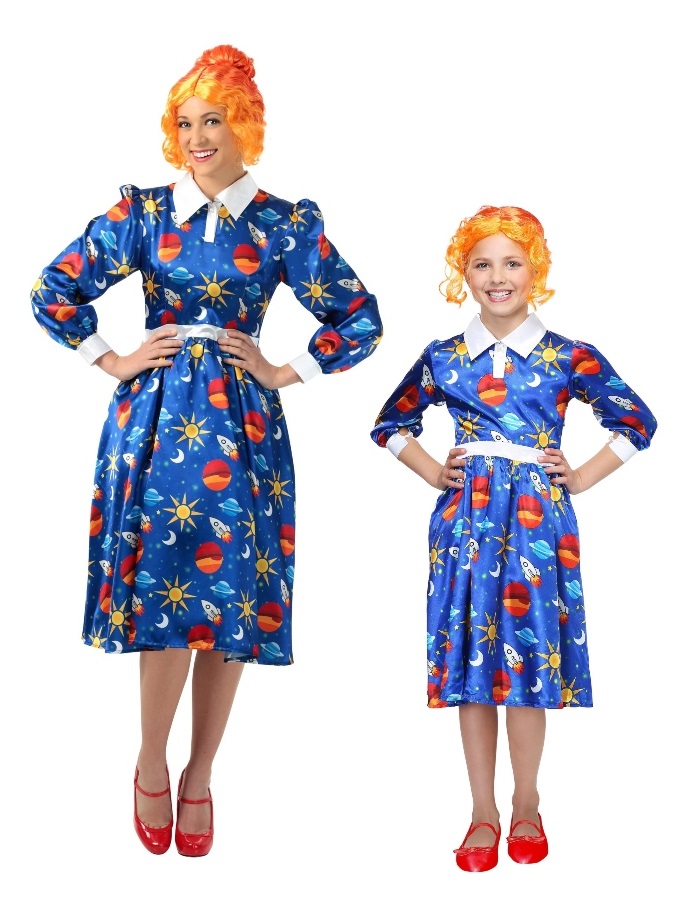 "Take chances, make mistakes and get messy!" You know you're in for a treat when you hear Ms. Frizzle's catchphrase. As kids, she was our favorite teacher, and as adults, we're kind of jealous of her wardrobe. (Ms. Frizzle's dresses were the best and you can't convince us otherwise!) Of course, your carrot top is the best accessory for this Magic School Bus costume.
29. The Riddler Costume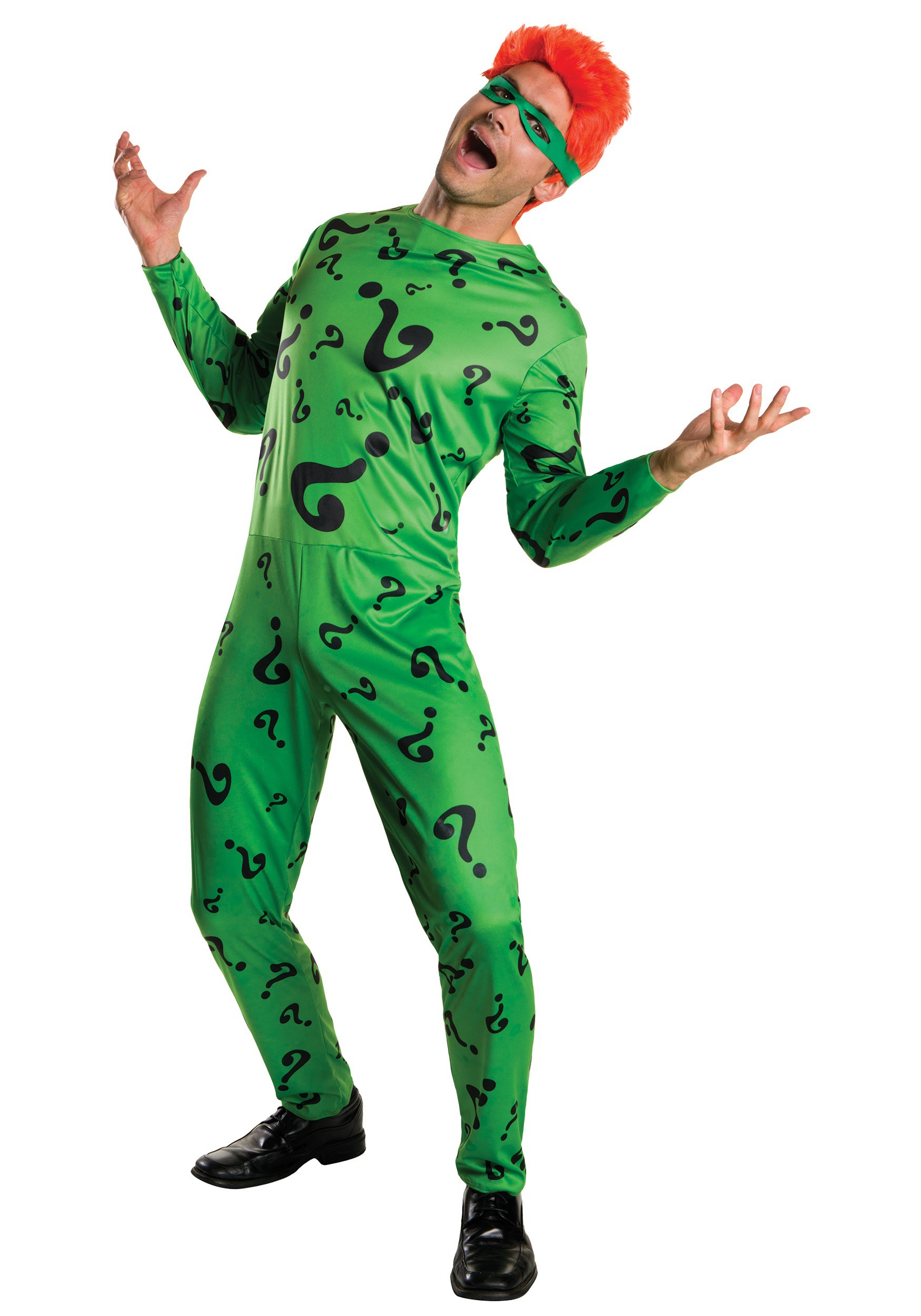 Riddle me this, riddle me that! Most depictions of the Riddler give him black or brown hair, but Jim Carrey's Riddler from the Batman Forever movie has a bright shock of red hair. This is a great costume idea for red-haired guys, especially if you happen to like Jim Carrey. He brings an eccentricity to the Riddler that makes him quite menacing! Should you still prefer one of the other Riddler costumes, that's a great choice too.
30. Raggedy Ann Costume & Raggedy Andy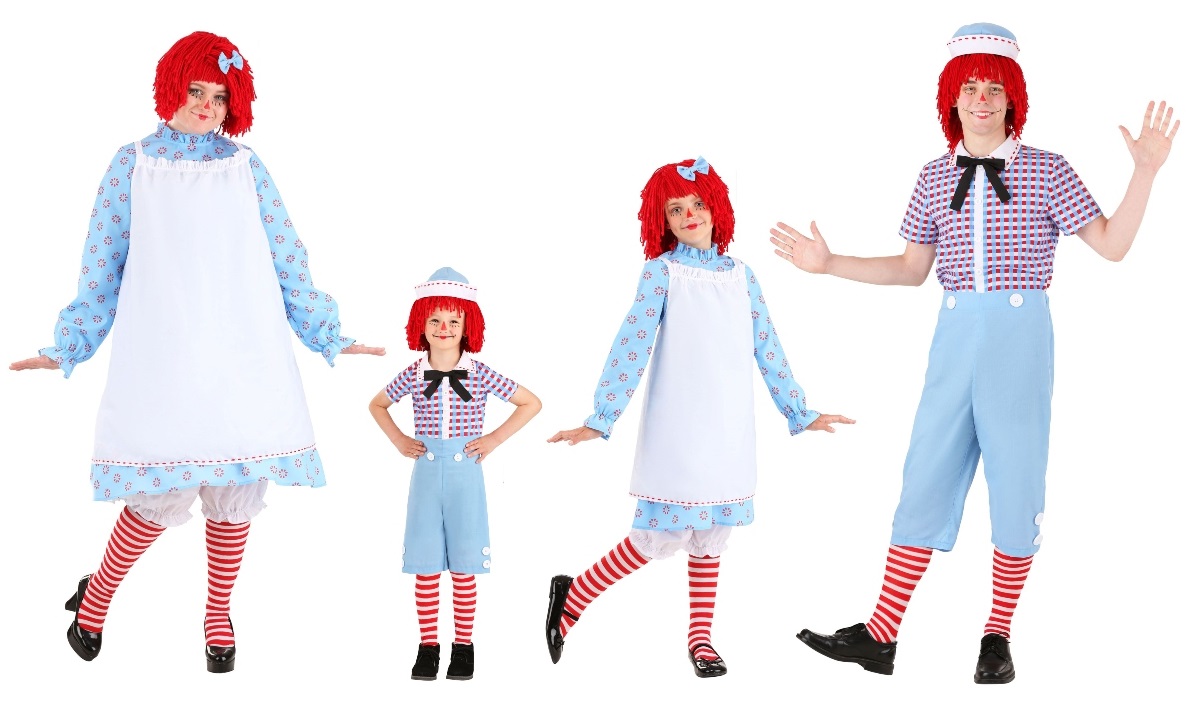 If you're from a family of redheads, perhaps you can get everyone together for a Raggedy Ann costume group. These classic ragdolls are famous for their red yarn hair, but your natural red hair would look great as it is! Hailing from the early 1900s, Raggedy Ann was introduced five years before Raggedy Andy came along. (We guess you could say that makes her the older sibling?) This duo was also in a series of books as well as being children's toys, making them a legacy that would endure for decades.
31. Mera Costume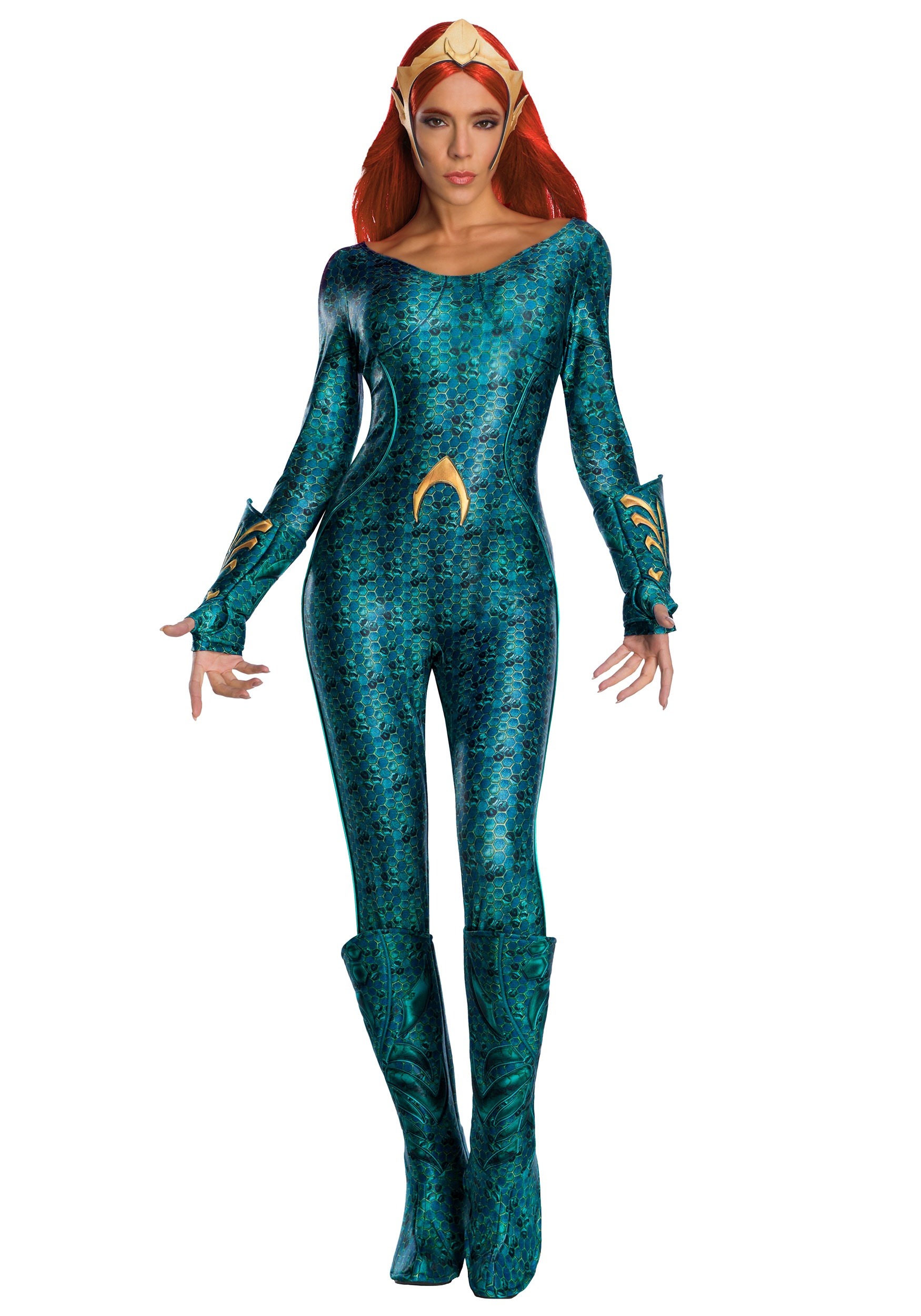 If you have long red hair and are looking for a superhero costume idea, maybe you'd prefer to be Mera, the Queen of Atlantis. The wife of Aquaman can manipulate water and use it to create solid objects—pretty cool! (Honestly, her powers seem more suited for being on land than those of her husband. She even has a degree of super-strength!) Should you like the idea of essentially being Ariel with superpowers, this women's Mera costume is great for you.
32. Sansa Stark Costume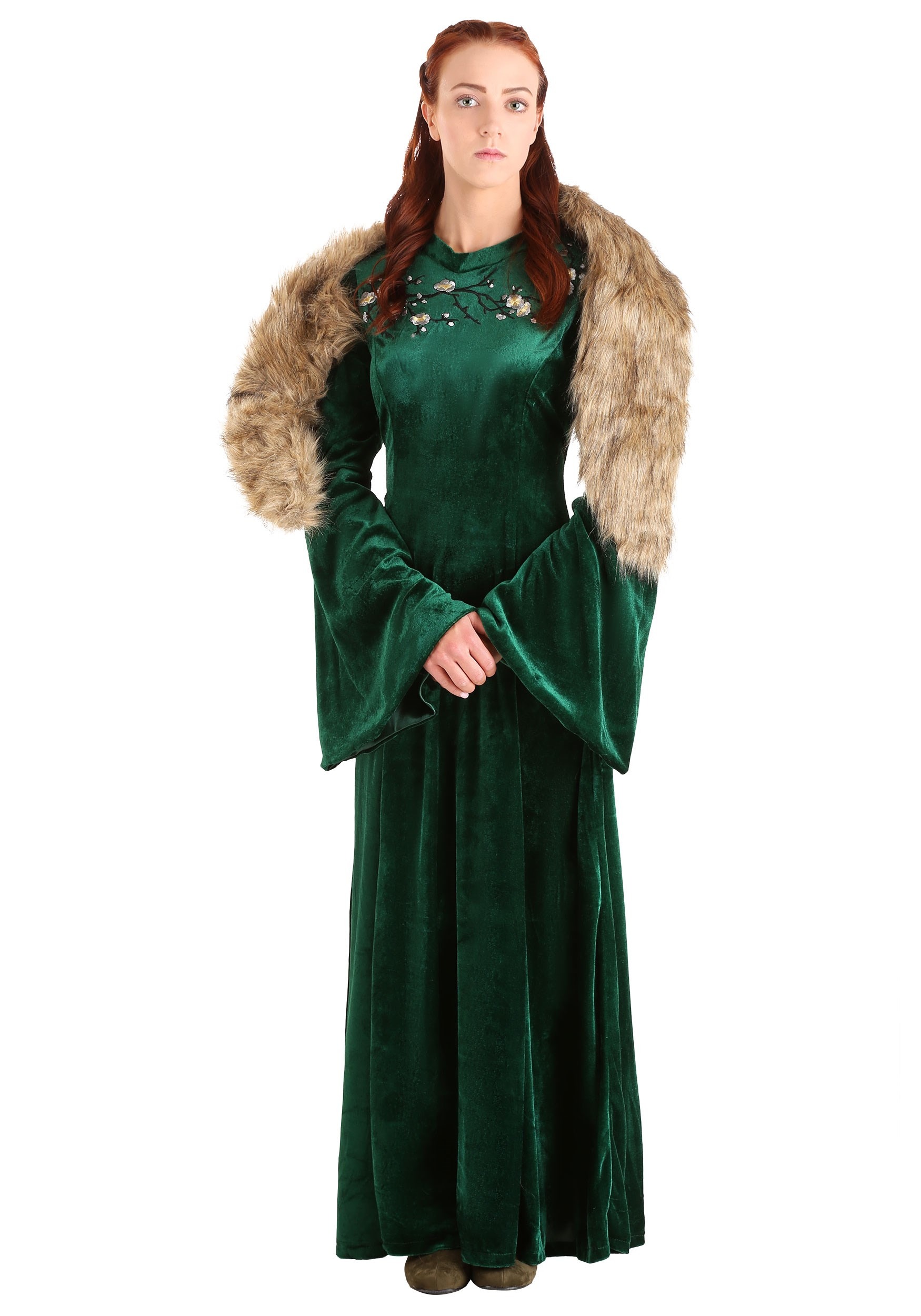 It's tough to survive in Game of Thrones, but Sansa manages to do just that, becoming the Queen of the North. In stark contrast to her younger sister Arya, Sansa prides herself on her ladylike qualities. However, when the going gets tough, she soldiers on and becomes well-versed in court intrigue and politics. Pair this with other Game of Thrones costumes and you can have a costume for two or more!
33. Columbia Costume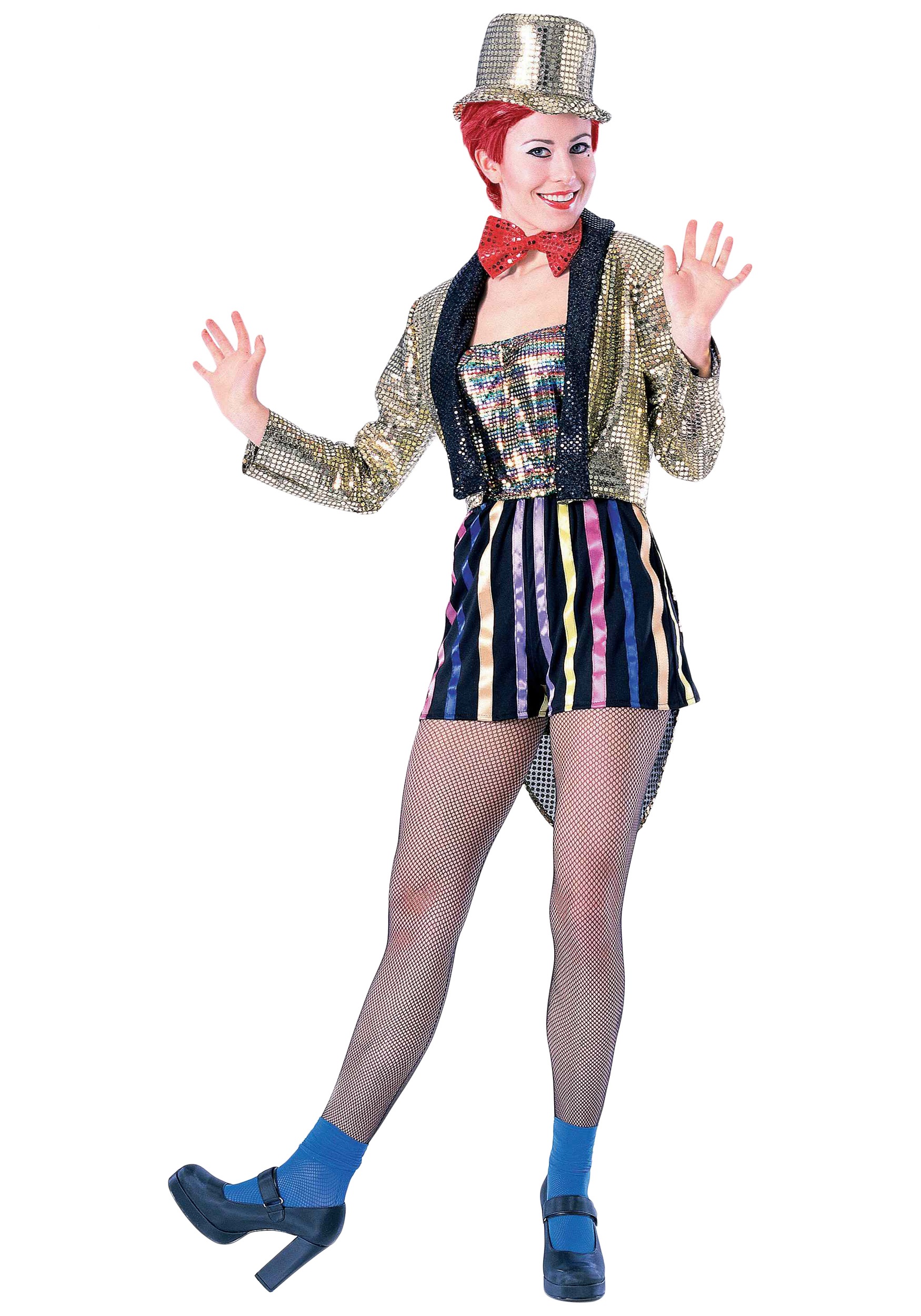 Columbia from Rocky Horror Picture Show
Let's do the time warp again! The zany musical movie Rocky Horror Picture Show has many excellent songs and a cult classic following. Whether you fell in love with the film itself or the audience participation at midnight screenings, your red hair is perfect for the character of Columbia. One of the show's main characters, she's in quite a few of the musical numbers. However, you're going to want to look out for Frank-N-Furter!
34. Dexter Costume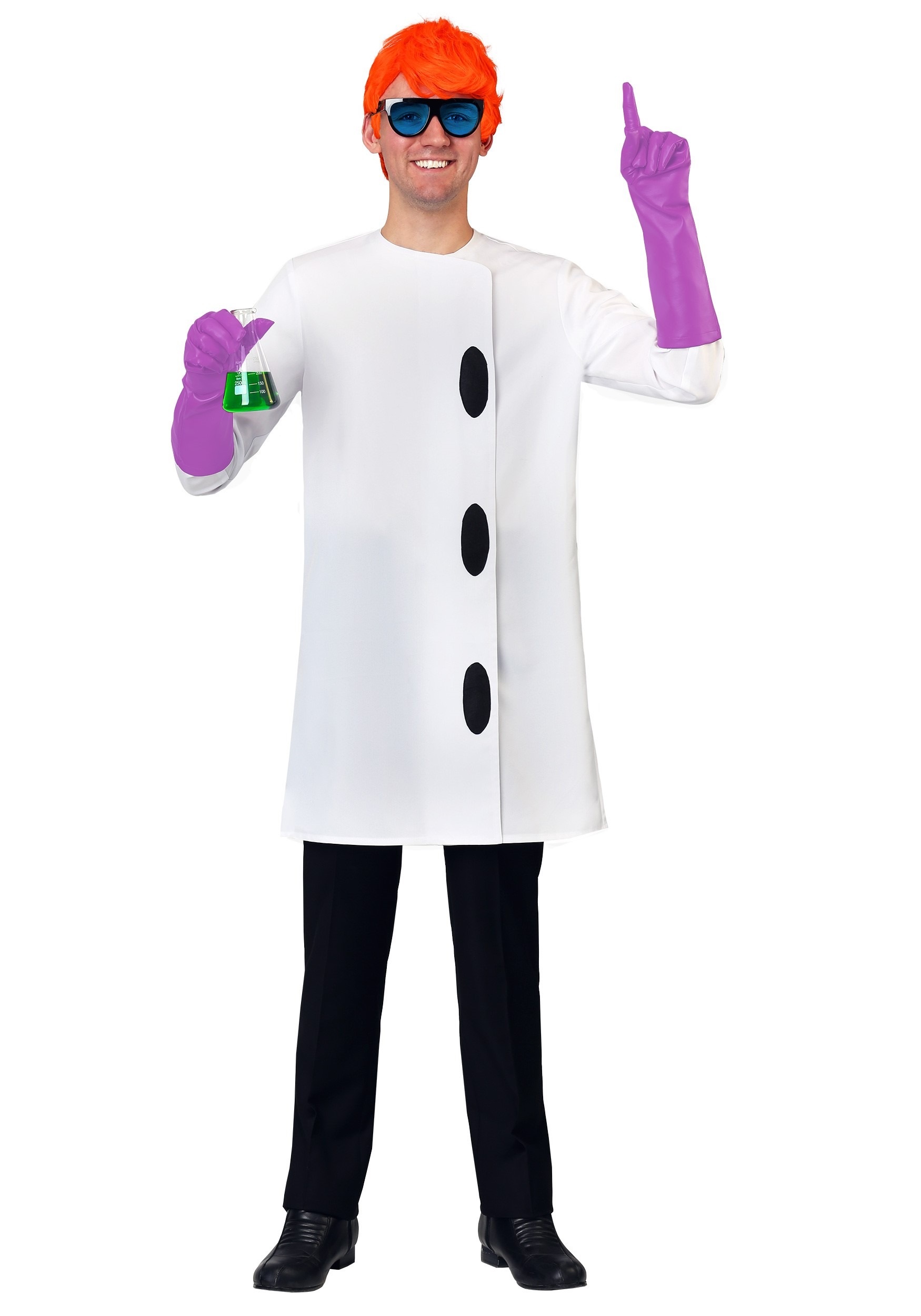 "Dee Dee! Get out of my laboratory!" Famous for his misadventures in his secret lab, Dexter has to be one of the smartest redheaded characters on this list. The 90s cartoon character conducted science experiments that would put regular science fair projects to shame, but he was constantly at odds with his sister. (How the two of them managed to keep his lab a secret from their parents, we'll never know!) You'll certainly look great in a Dexter Halloween costume, but if you're looking to up the ante, find a friend to be Dee Dee. You'll be able to spot all the 90s kids when they get excited about your costumes!
35. Miss Argentina Costume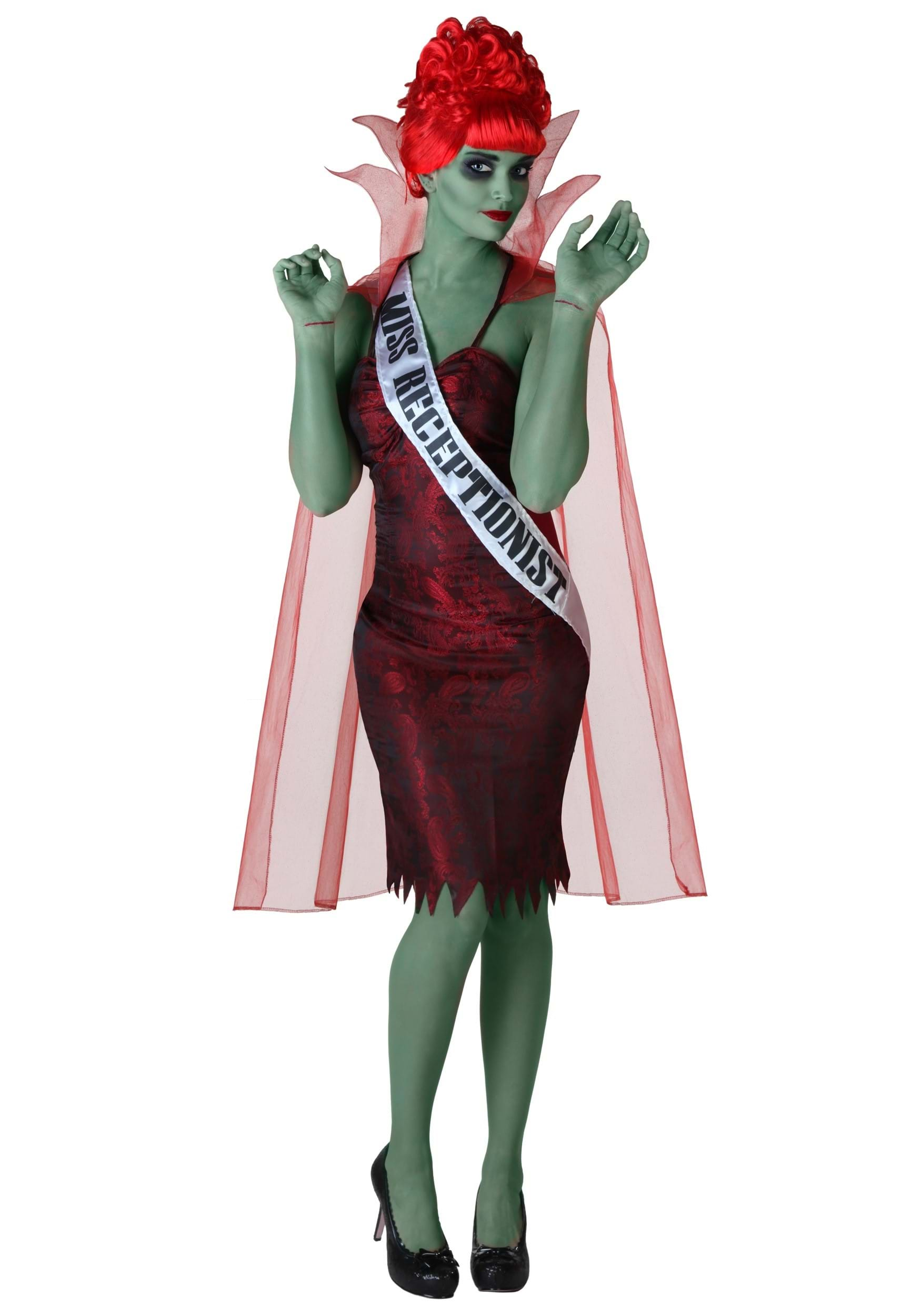 The Neitherworld waiting room in Beetlejuice contains a host of memorable characters, but none of them stick out quite as much as miss Argentina. Doomed to be a receptionist in the afterlife, she's clearly unhappy with her job. Her green skin stands out in stark contrast to her bright red hair and red dress, making her a great costume idea for redheads who love Halloween movies. If you want to grab a few more Beetlejuice costumes, you can even get a small group together for more fun!
36. Ron Weasley Costume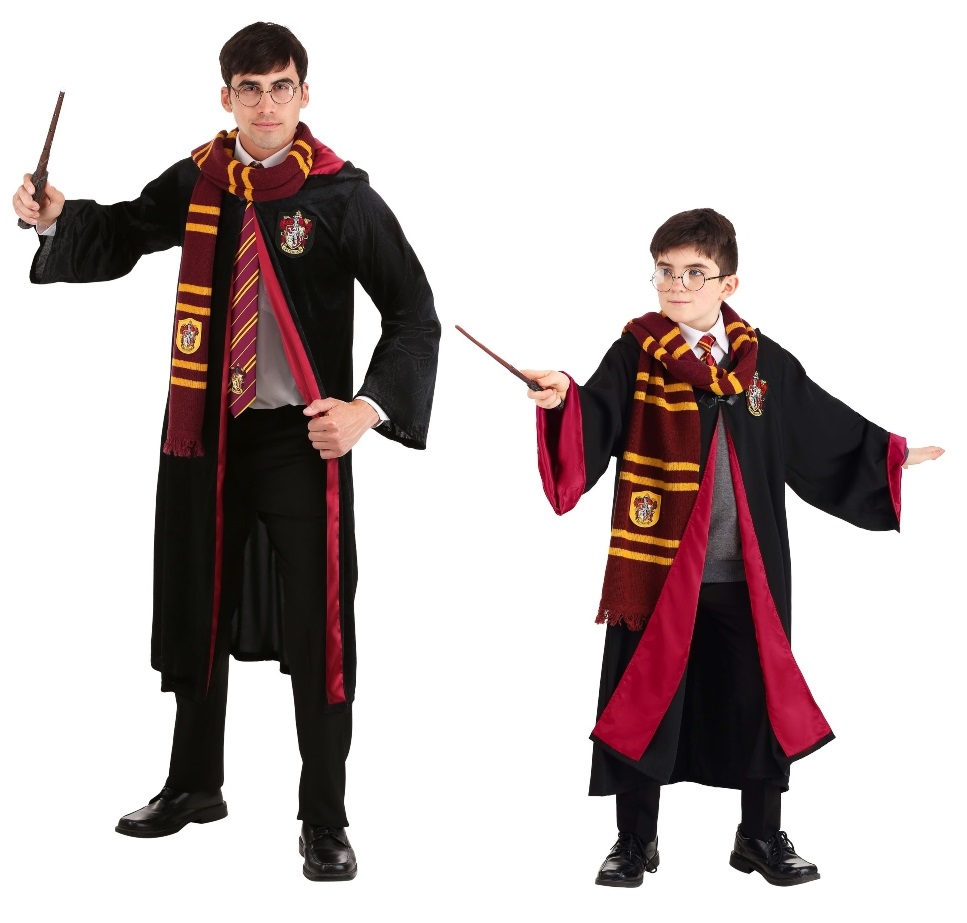 Harry Potter fans are undoubtedly familiar with the Weasley family, an entire family of redheads in the Harry Potter universe. As Harry Potter's best friend, Ron is probably the most well-known. However, you can feel free to be ambitious and dress as any one of a number of Weasleys. Grab a fellow redhead and go as mischievous twins Fred and George, or pull together a Ginny Weasley outfit. (Just make sure any pranks don't get out of hand!) Also, any one of several Harry Potter costumes would pair well with a Weasley, from teachers like McGonagall and Snape to the Headmaster himself!
37. Fry Costume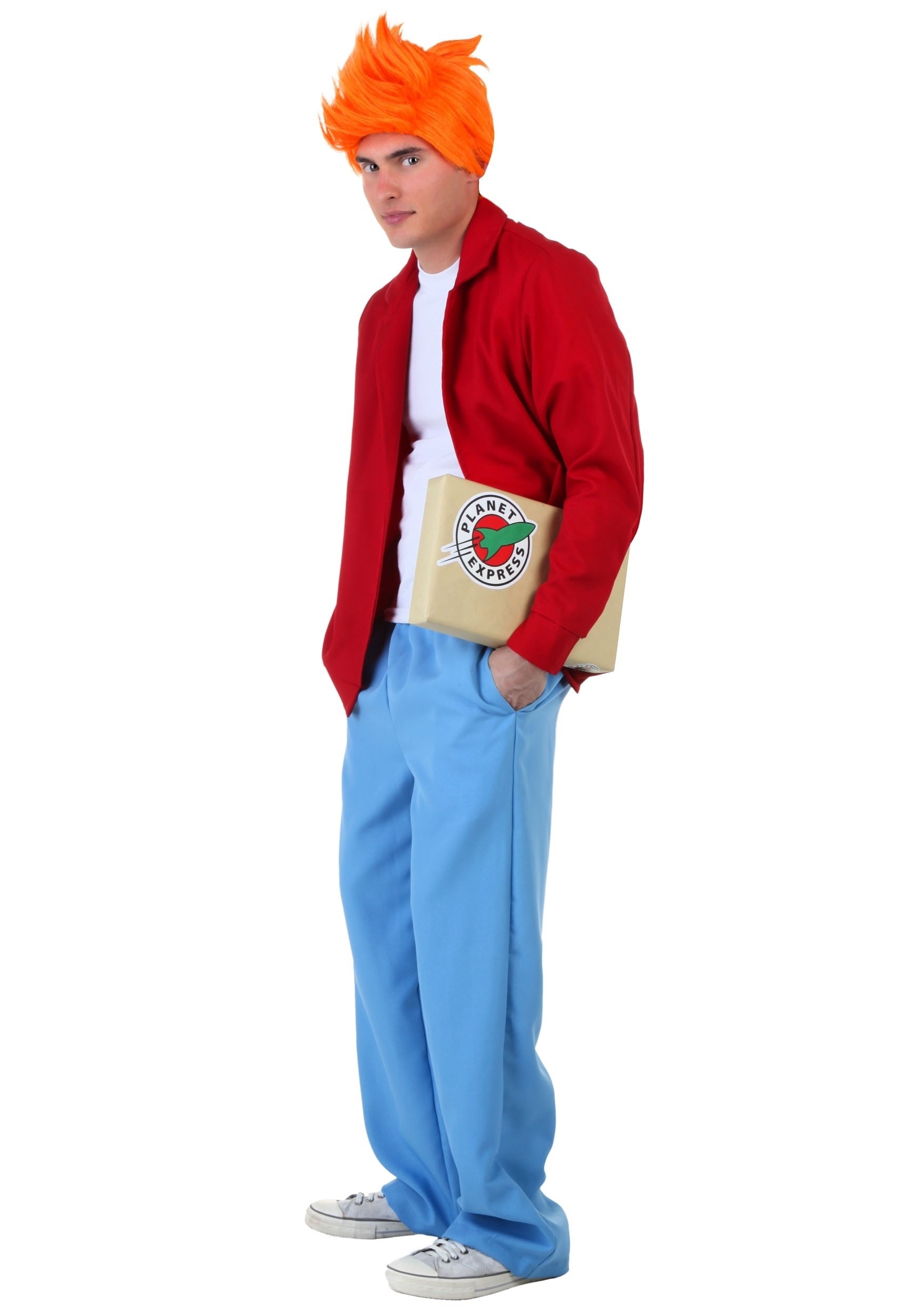 The main protagonist of Futurama, Fry is a simple costume idea for red-haired guys. All you need is a red jacket, blue pants and a white t-shirt to pull off this Halloween costume. (Granted, it wouldn't hurt to have a Planet Express delivery as a prop.) Recruit a friend to be Bender, and you can conjure up a whole host of shenanigans this Halloween!
38. Vincent Van Gogh Costume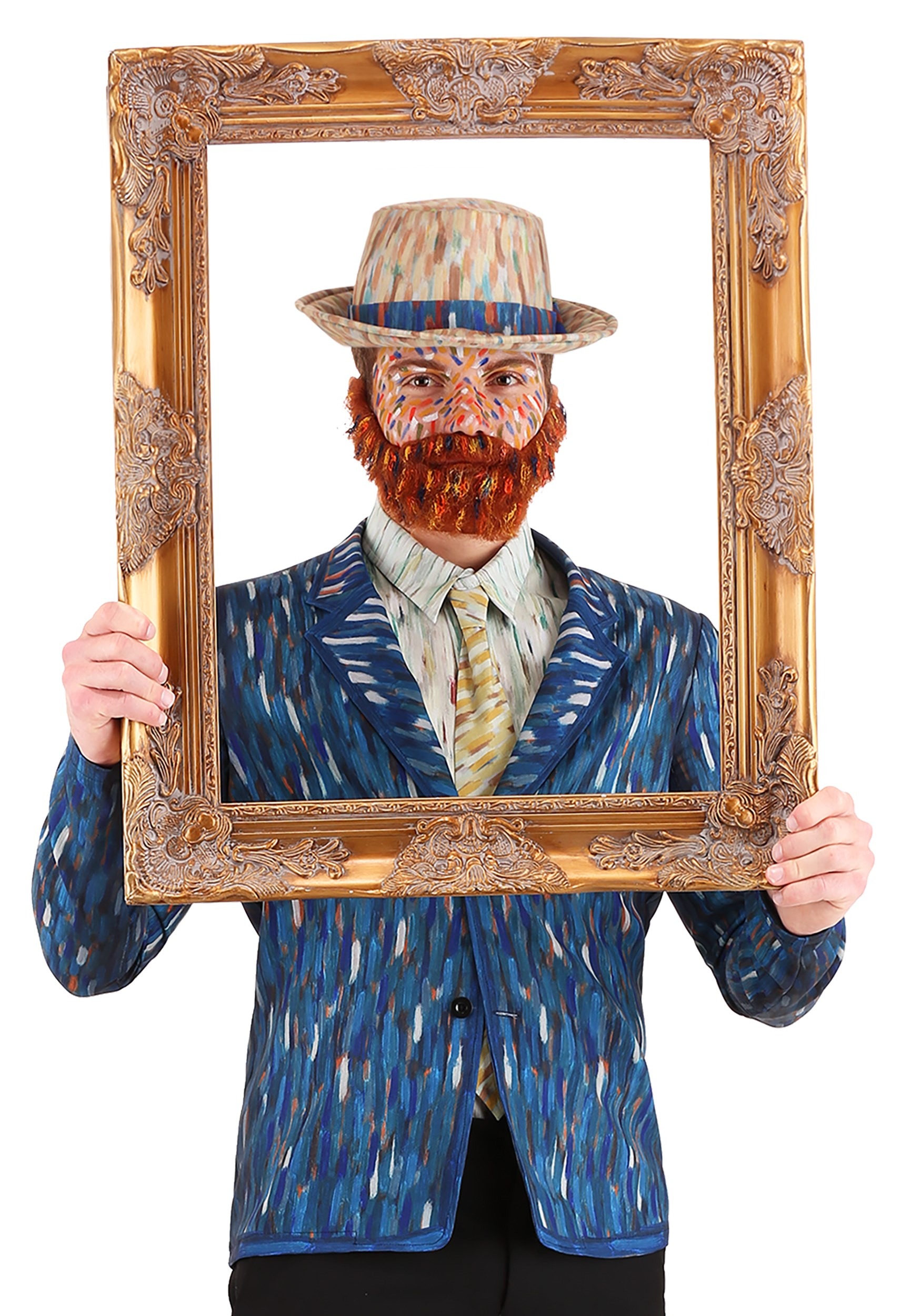 Anyone interested in the arts would love to wear a Vincent van Gogh costume. This Dutch painter struggled as an artist during his lifetime, but he became incredibly famous after death. We hope you're a fan of trying new makeup techniques, because you'll want to mimic his impressionist style for this Halloween costume idea. Bonus points if you can capture his bandaged-ear portrait appearance!
39. Queen Elizabeth I Costume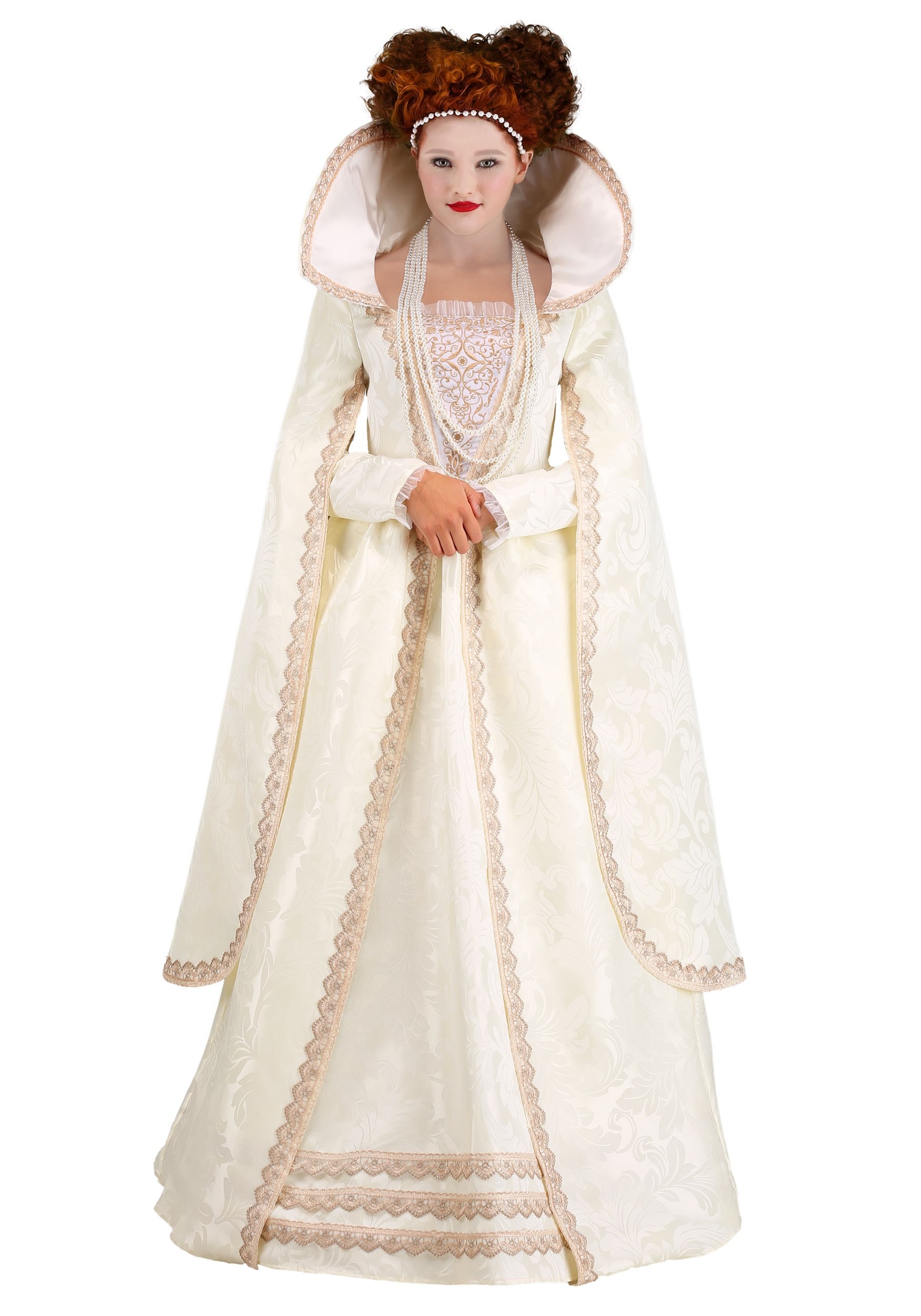 There have been many famous rulers throughout history, and Queen Elizabeth I was one of the better ones. Back in those days, rulers didn't always stay in power for very long, but she reigned for an unprecedented 44 years! This helped to give the kingdom a sense of national identity, and arts like English drama flourished. Her reign is also known as the Elizabethan era, a golden age for the English. If you love history, dress as this red-haired ruler for Halloween!
40. Dottie Costume
"There's no crying in baseball!" Or in these cute A League of Their Own costumes! Red-haired adults and kids will love these vintage-style ladies' baseball uniforms from the movie. If you have another redheaded pal, you can even go together as Dottie and her sister Kit. Just make sure to reconcile your differences before going to your Halloween party.
41. Tai Costume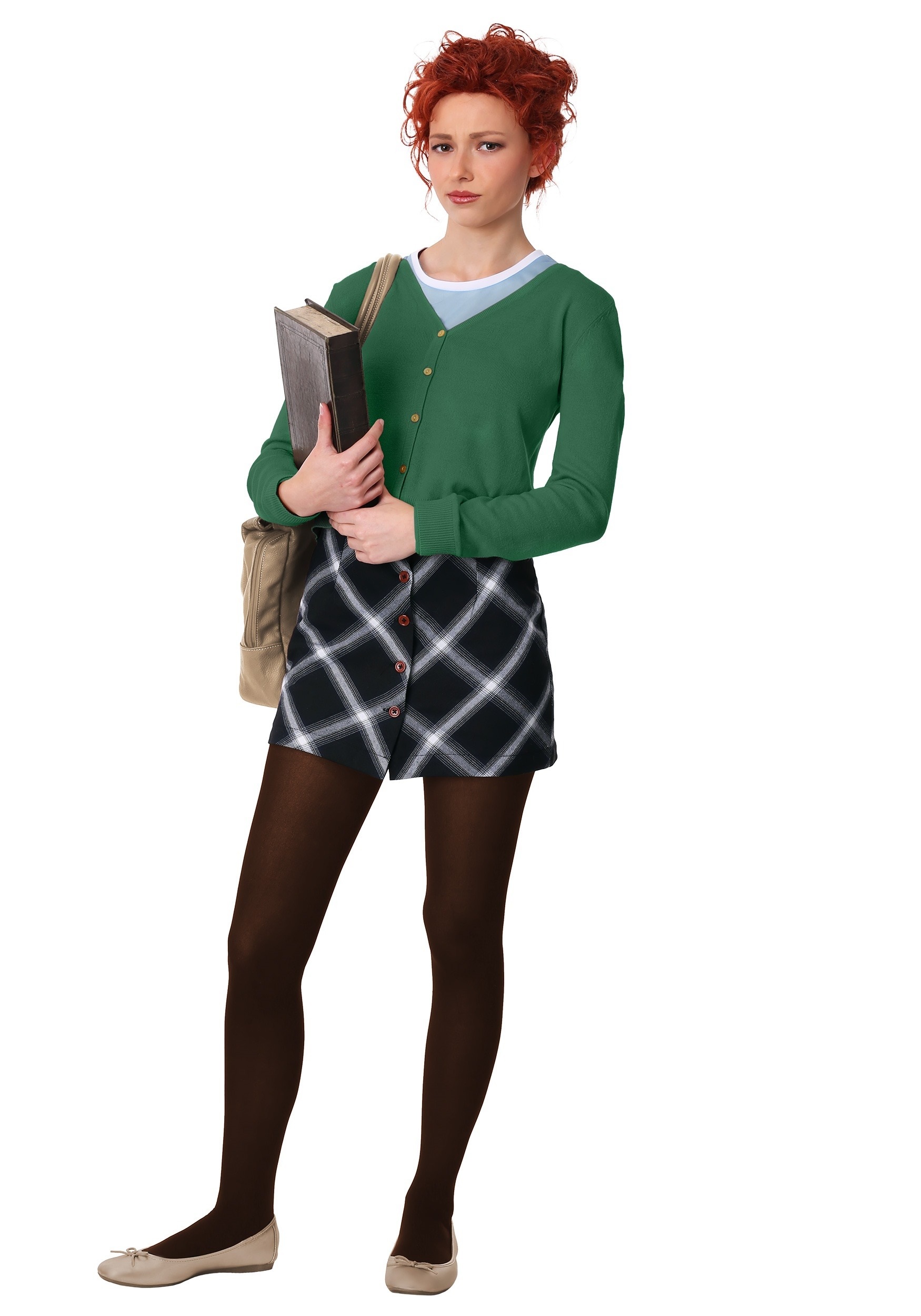 Are you a big fan of the movie Clueless? You don't even have to be the new girl in town—just don this Tai costume and show off your fabulous fiery locks! Cher may have been the focus of the movie, but you have main character energy too.
42. Jean Grey Costume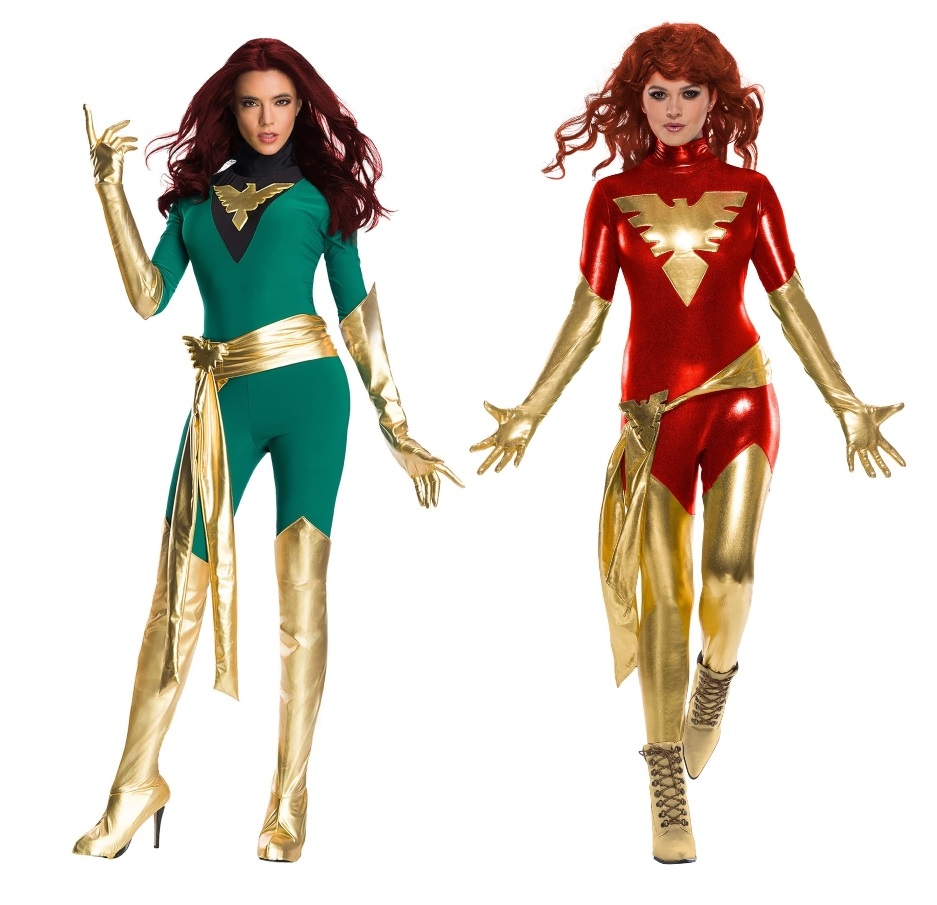 X-Men fans are happy to know that there's a red-haired mutant in the character of Jean Grey. One of the most powerful telepaths the world has ever seen (and also one of the most powerful mutants to ever live), she did her best to help the mutant cause. Her costume has changed quite a bit throughout her appearances, but she always maintains her flaming red hair.
43. John Glenn Costume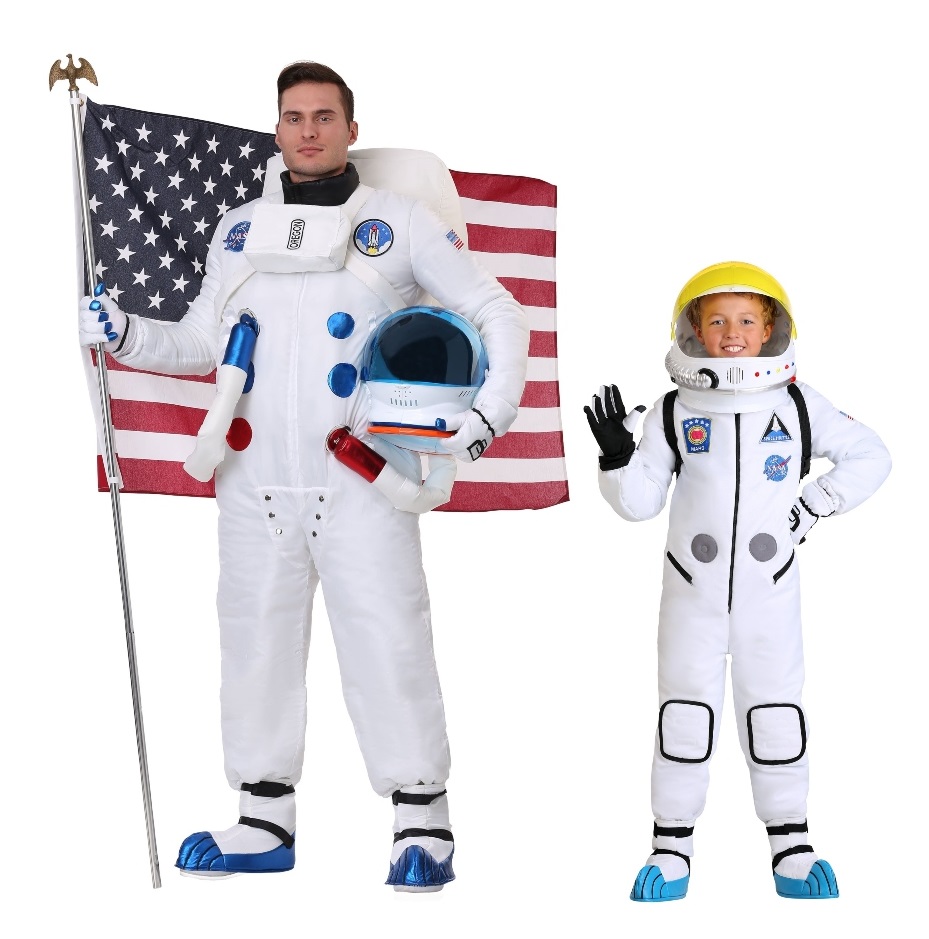 You can't talk about famous redheads of history without mentioning John Glenn, the first man to orbit the Earth. (Plus, any excuse to wear an astronaut costume is a good excuse!) We have a variety of astronaut costumes that will do the trick, but it's hard to pass up a chance to wear the classic white astronaut suit.
So which costume will you pick out to complement your red hair? There are tons of other fabulous redheads in the movies and on TV if you're looking for more redhead costumes. Pick out your favorite and let us know what you decide on in the comment section below!