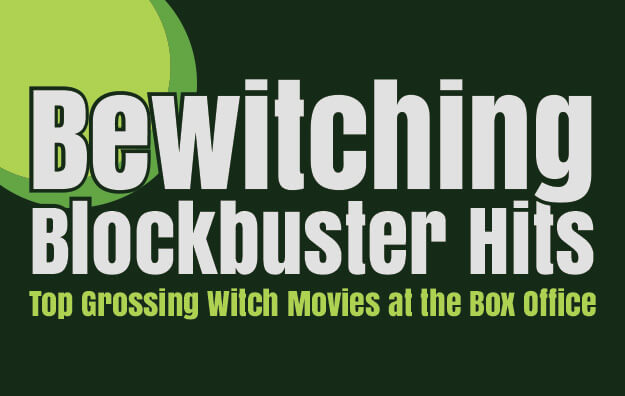 You don't need to be under a spell in order to enjoy a witch movie. It's just something about witches, whether it be their pointy black hats or their magical power prowess, that make them enchanting to watch on the big screen. Plus, there's witch movies for people of all ages! Kids, teens, and adults all love seeing a wickedly captivating movie involving spellbinding sorcerers, so it's no surprise that the Harry Potter and The Chronicles of Narnia franchises are the top two grossing witch movies of all time. Of course, there's also a ton of terrifying necromancer movies that easily conjure fear. Fans of the horror genre can agree that The Blair Witch Project is one of the most frightening horror movies ever made. It also spawned a found footage horror movie craze that would scare millions over the next two decades. Whether you're a fan of wacky witch movies like Hocus Pocus and Teen Witch or you enjoy being spooked by scary movies centered around eerie Wiccan ways, you'll enjoy checking out this Bewitching Blockbuster Hits infographic. We've compiled the top money-making witch movies so check the list to make sure that you've seen them all. If you haven't, you better put down your broomstick and reach for the remote because you have some serious witchcraft to watch. Prepare to be spellbound!

Click Image for Larger View
Embed This Image On Your Site:
Bewitching Blockbuster Hits: Top Grossing Witch Movies at the Box Office Transcript
Numbers reflect the available information regarding worldwide box office sales in 2016, except if noted as domestic only. Dollar amounts have not been adjusted for inflation.
Teen Witch (1989)
(Domestic Only)
$27,843
Ek Thi Daayan (2013)
(Domestic Only)
$112,135
The Haunting of Morella (1990)
(Domestic Only)
$1,547,867
The Crucible (1996)
(Domestic Only)
$7,343,114
The Witches (1990)
(Domestic Only)
$10,360,553
The Craft (1996)
(Domestic Only)
$24,819,936
The Witch (2016)
(As of March 20, 2016)
$27,840,234
The Covenant (2006)
$37,597,471
Hocus Pocus (1993)
(Domestic Only)
$39,514,713
Practical Magic (1998)
(Domestic Only)
$46,683,377
Beautiful Creatures (2013)
$60,052,138
The Witches of Eastwick (1987)
(Domestic Only)
$63,760,510
Season of the Witch (2011)
$91,627,228
Bewitched (2005)
$131,426,169
The Last Witch Hunter (2015)
$140,396,650
Hansel & Gretel: Witch Hunters (2013)
$226,346,746
The Blair Witch Franchise
$1,580,364,900
Book of Shadows: Blair Witch 2 (2000)
$47,737,094
The Blair Witch Project (1999)
$246,639,099
The Wizard of Oz Franchise
$546,423,280
Legends of Oz: Dorothy's Return (2014)
$18,662,021
Oz the Great and Powerful (2013)
$493,311,825
Return to Oz (1989)
$11,137,801
The Wizard of Oz (1939)
$23,311,633
The Chronicles of Narnia Franchise
$1,580,364,900
Voyage of the Dawn Treader (2010)
$415,666,217
Prince Caspian (2008)
$419,665,568
The Lion, The Witch, and The Wardrobe (2005)
$745,013,115
The Harry Potter Franchise
$7,726,174,542
Harry Potter and the Deathly Hallows Part 2 (2011)
$1,341,511,219
Harry Potter and the Deathly Hallows Part 1 (2010)
$959,301,070
Harry Potter and the Half-Blood Prince (2009)
$935,083,686
Harry Potter and the Order of the Phoenix (2007)
$942,943,935
Harry Potter and the Goblet of Fire (2005)
$896,911,078
Harry Potter and the Prisoner of Azkaban (2004)
$896,911,078
Harry Potter and the Chamber of Secrets (2002)
$878,979,634
Harry Potter and the Sorceror's Stone (2001)
$974,755,371
Source: Box Office Mojo
Well, did you make yourself a freshly brewed potion and sit down with your black cat to watch all the movies listed in the infographic? Which ones had you cringed in fear and which ones had you cackling with delight? Let us know in the comments section below and don't forget to check out all of our wonderful witch costumes that we sell too so you can look like your favorite witch while you're watching the movies!
Design Credit: Abby Bartels