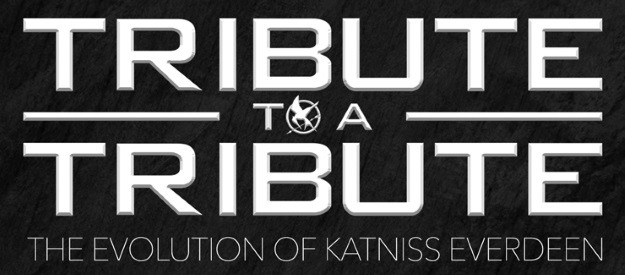 Let's be real about Katniss for a second: the girl can rock all kinds of looks. From combat boots to sky-high stilettos, she transforms from a tomboy to the belle of the ball in the blink of an eye. She even manages to look like a trendsetter in her mother's drab blue dress on the day of The Reaping. It's safe to say that jumpsuits are a staple in Katniss' closet because jumpsuits are both sporty and elegant, just like Katniss! We know that she'll wear the red battle suit in the final movie, but we're also wondering, what other outfits will the Girl on Fire unveil? Will there be more stunning jumpsuits? Will she wow us by wearing any more couture dresses from the Capitol? Will her trusty Mockingjay pin stay with her 'til the very end? Our questions keep piling up as the anticipation mounts! It's safe to say that we are Hunger Games fanatics and we'll gladly admit that we're obsessed with Miss Everdeen's wardrobe. If you're just as pumped for The Hunger Games: Mockingjay - Part 2 as we are, take a look at our infographic. We hope that it will keep you satisfied until the release on Nov. 20th!
Click Image for Larger Size

Embed This Image On Your Site:
Well, which of these looks do you wish hung in your closet? What do you think of Katniss' blood red armor? What other amazing outfits do you think Katniss will wear in Hunger Games: Mockingjay - Part 2? Maybe you'll see your favorite in our Hunger Games costumes selection! Let us know all your thoughts in the comments below, and may the fashion odds ever be in your favor.
Design Credit: Cody Petersen