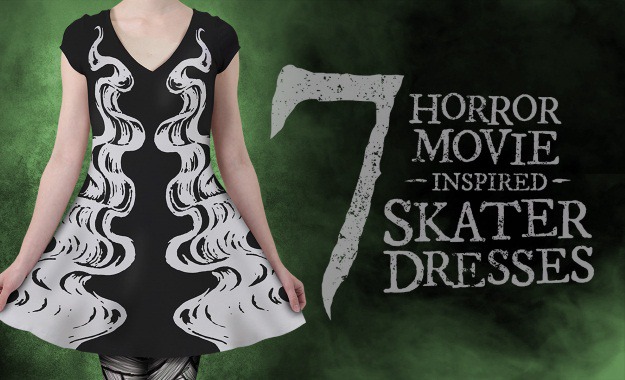 We'd say that horror and beauty go together pretty easily after seeing these skater dresses that our graphic design department created. Inspired by classic horror films from vintage Hollywood, we made seven mock-ups of dresses that we'd LOVE to see become reality! Wouldn't you like to wear an outfit featuring the very first zombie shown in Night of the Living Dead? Or maybe you'd like to hit the town with a skirt that looks like Frankenstein's monster's stitched-together skin! Imagine the accessories! A coffin purse to go with Dracula or a fur stole to go with the Wolf Man. So cute. Take a look at all of our creations and see if you spot your favorite scary movie in the collection. We've put them in order of each film's release!
1. Nosferatu (1922)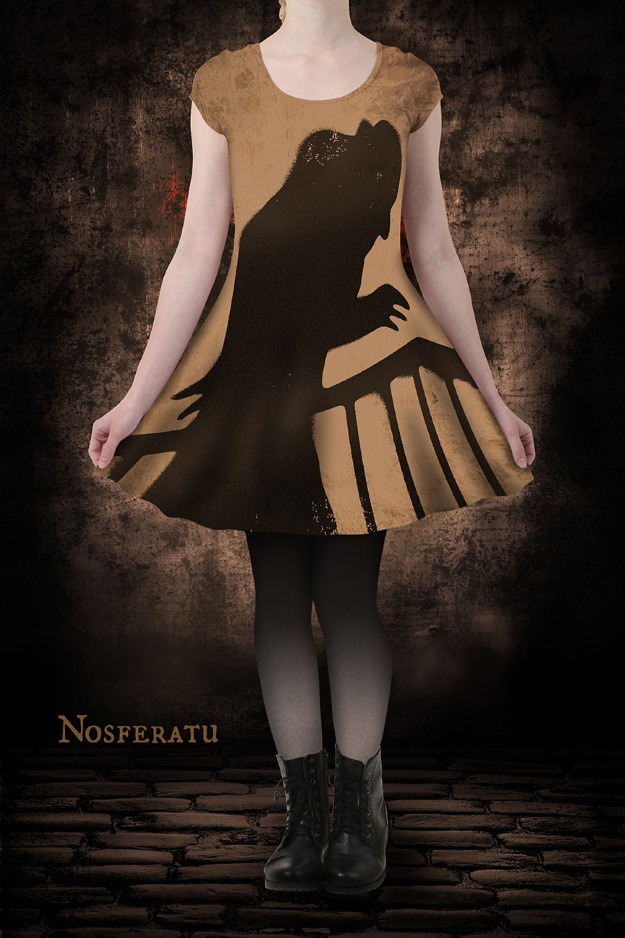 "Blood! Your precious blood!"
Nosferatu was one of the earliest vampire films created and is regarded as a cinematic masterpiece. This dress is inspired by the famous shot of Count Orlok climbing the stairs, off to do a terrible deed. This black shadow on the golden background is so classic that we knew we had to include it in our dress homage.
2. The Phantom of the Opera (1925)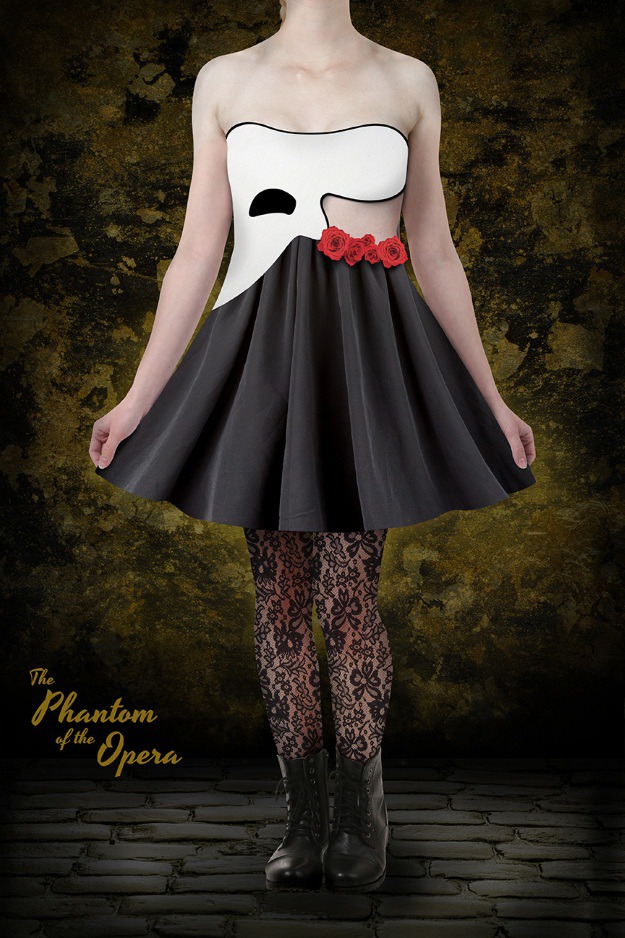 "A masterpiece of horror that shocked cinema for decades!"
While Andrew Lloyd Webber might have brought the story to the musical theater world in the 80s, the original film terrorized movie-goers all the way back in the 20s. However, we do admit that our dress is a liiittle more Broadway and a little less Lon Chaney. Chaney didn't wear the famous white mask in the movie, but our dress sure does. We recommend accessorizing with chandelier earrings.
3. Dracula (1931)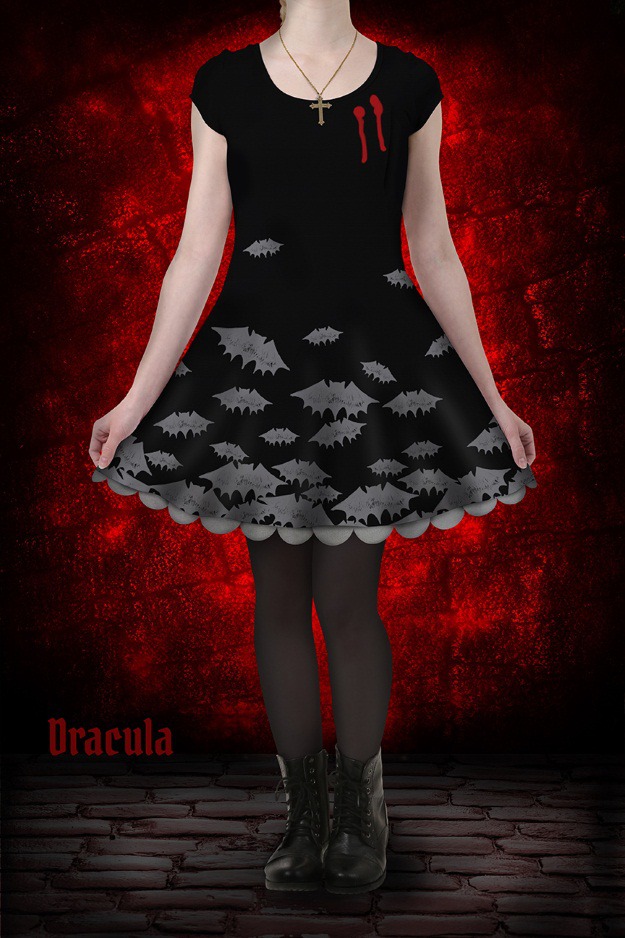 "The story of the strangest passion ever known!"
Vampires tend to have incredible fashion sense and their folklore features some pretty cool motifs, so this design was a blast to create. Inspired in part by Gothic Lolita fashion from Japan, this dress features a scalloped hem, a vampire bat pattern, and, of course, the tell-tale bite marks. We're hoping that Bela Lugosi himself would like this look, even if the model is wearing a cross necklace…
4. Frankenstein (1931)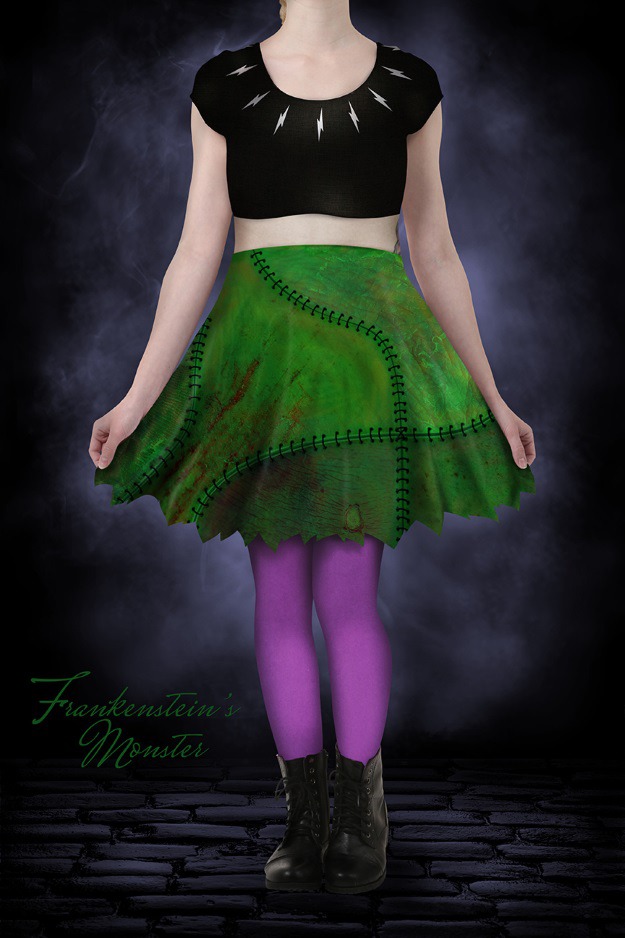 "A monster science created – but could not destroy!"
Frankenstein's monster was created in a lab by a mad scientist who wanted to reanimate the dead. Our designers didn't have that exact goal in mind, but the creative process might have been a little similar. Our favorite part of this outfit is the skin skirt (ew!). The patches of skin all stitched together totally look like recycled body parts. Gives a new meaning to "going green," right? We'll be here all night, ladies and gentlemen!
5. The Bride of Frankenstein (1935)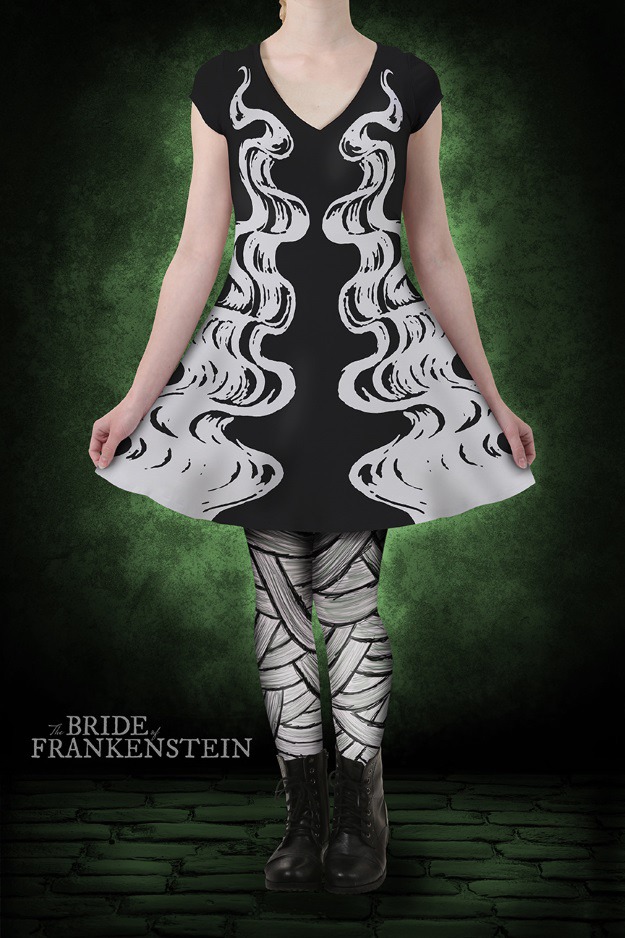 "More fearful than the monster himself!"
The first lady of horror, Frankenstein's bride is best known for her wonderful up-do. That beehive, accentuated with two white lightning bolts, is instantly recognizable, so we knew that had to be the centerpiece of this dress. The bandage tights are there in place of her white, gauze gown.
6. The Wolf Man (1941)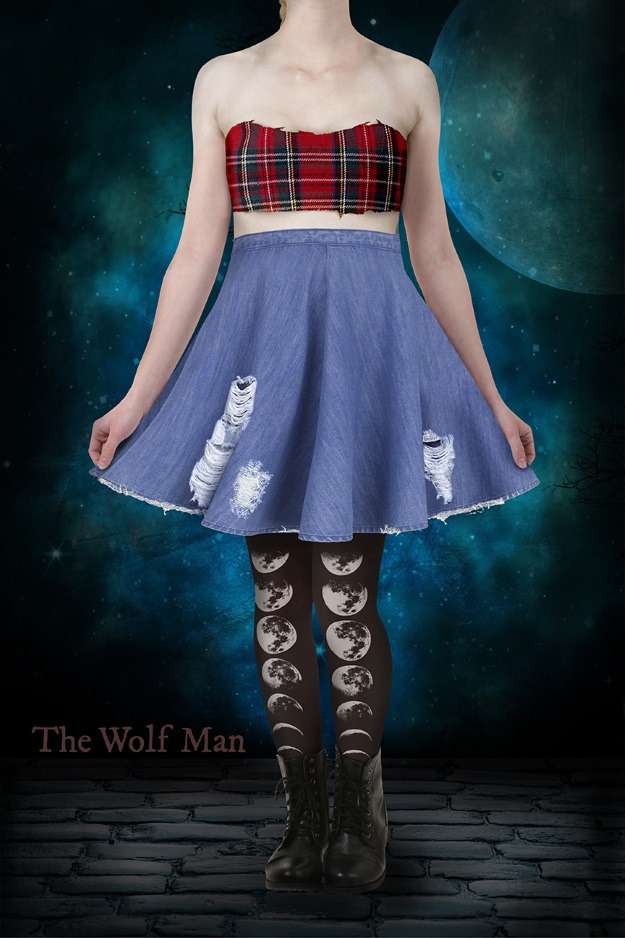 "Night monster... prowling... killing... terrifying a countryside... with the blood lust of a savage beast!"
This high-waisted skater skirt and crop top combo looks like a werewolf attacked it! Or … it looks like it was what the poor girl was wearing when she turned into the monster. The tattered jean skirt, the ripped up flannel crop – definitely post-transformation. Maybe wearing the phases of the moon on her tights wasn't a great idea…
7. Night of the Living Dead (1968)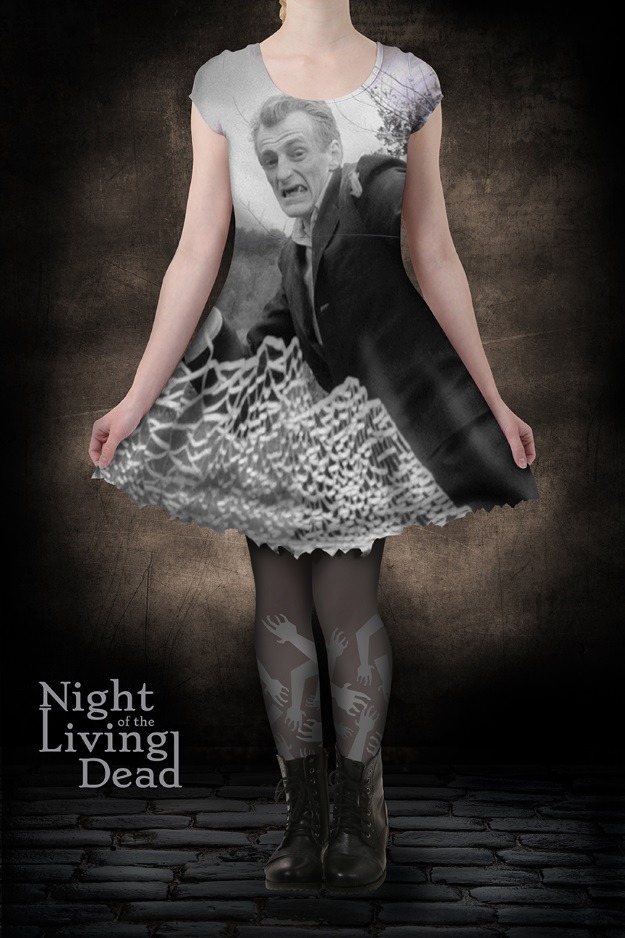 "They won't stay dead!"
In 1968, George Romero released his very first zombie movie, Night of the Living Dead. This dress, incidentally, features the gentleman who was the very first zombie who appeared IN that film. The shattered glass on the skirt helps us imagine what it was like to peek out at this undead creature after crashing into him in a cemetery. Eek!
Which of these dresses would you wear for a night out to the movies? Would you like to see any of these made in real life? Let us know in the comments! Be sure to share with us if you have any other horror films you want to see refashioned into a cute outfit.
Design Credit: Abby Bartels & Jason Knudson