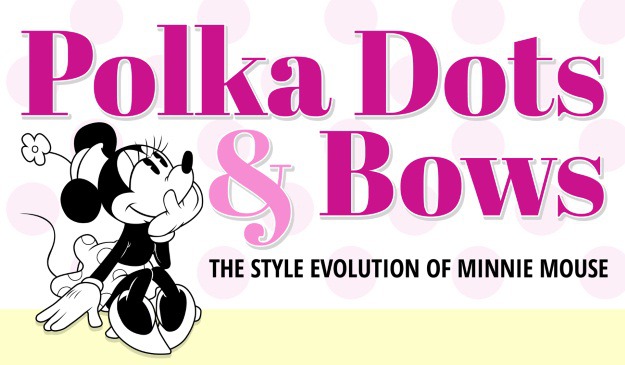 Minnie Mouse, lesser known as Minerva Mouse, has been on the Disney scene since 1928. Walt Disney and Ub lwerks needed a replacement for Oswald the Lucky Rabbit and their new star Mickey Mouse wasn't enough to fill that void all by himself, so it was determined he needed a love interest. It is never clear whether Mickey and Minnie are dating, married, or if he is just trying to win her affection, but their relationship changed throughout the decades. Her role opposite Mickey has also wavered from an independent woman to a damsel in distress, and back to a stronger female character in later years as she became increasingly popular.
Early on, Minnie was designed like a typical 1920s fashionista. She had her flapper dress, patched knickers, black stockings, and her over-sized heels. We can't forget her iconic bowler hat with the flower! Minnie doesn't quite look like that today, and she has had an assortment of physical changes to accompany the changing styles. If you're wondering, "what does Minnie Mouse look like now", keep reading through the infographic until you reach the present! In fact, since Minnie has been drawn in comics, appears in animated shorts, television shows, and so much more, she has been estimated to have over a hundred outfits. That's every girl's dream! You can see the most major changes below, in our style evolution infographic of Miss Minnie Mouse!
Click Image to See Larger Version

Embed This Image On Your Site:
Polka Dots & Bows:
The Style Evolution of Minnie Mouse Transcript
Minerva Mouse, better known as Minnie Mouse, has been a style icon for generations. Between her bows, polka dots, and the most ears we love, she has become one of the most recognizable characters in animation today. She has appeared in over 3,000 comics, several animated shorts and television series, and is a live presence at all Disney theme parks around the world. Minnie's style has evolved with the cultural changes and it's estimated that she has over 200 outfits, but some of her looks stand out more than others. Let's take a look at how Minnie Mouse's style has changed through the years.
1928
Minnie Mouse was first drawn to be the love interest of Mickey Mouse in 1928 by Ub Iwerks and Walt Disney. Together, Mickey and Minnie replaced Oswald the Lucky Rabbit, who had proved to be a popular character for Universal Pictures. Minnie's original design was modeled after the stereotypical 1920s flapper girl. She wore a short flapper dress over her knickers, along with black stockings and oversized high heels. A bowler hat with a flower in it was also a frequent addition to Minnie's wardrobe.
1935
The year marked the first time that Mickey and Minnie were featured in color during their animated shorts. In animated appearances, she was only pictures in solid colored skirts because polka dots were too difficult to control. Even though the rubber hose animation style froth twenties was starting to fade, Minnie still was unable to be animated with her signature polka dots. In these early appearances, Minnie favored blue, black, and green dresses to match her hat.
1940
A 1940 redesign of Minnie Mouse made the animation process much easier. Mickey and Minnie were originally drawn for simplicity, using circles for the head, body, and ears. Once rubber hose animation faded out, the circles limited their ability to move in standard animation. They were both given pear-shaped bodies because they are the easiest to use in animation. Several characters created after Mickey and Minnie were also drawn with pear-shaped bodies for this reason.
1941
In 1941, Minnie Mouse appeared for the first time in animation with her iconic bow and polka dots! Her bowler hat and flower were replaced with the large bow between the ears and small bows were also added to her pumps. Instead of the solid black eyes, she was given pupils and her nose was shortened to make her appear more attractive. The 1940s started the trend where she wore more pink and red full dresses rather than the skirt she previously donned.
40s-50s
Very few animated shorts featured Minnie in the 1940s and 1950s. Mickey had a few new friends, Donald and Goofy, who came to the forefront of many of his stories and caused Minnie to fade into the background. In 1955, Minnie appeared alongside Mickey in The Mickey Mouse Club, a popular television show that ran intermittently through 1999. During these years, Minnie remained conservative in her look and demeanor in her few appearances.
60s-70s
As other Disney theatrical films became popular, Mickey and Minnie slowly faded away. Although they were in a state of retirement, their iconic ears remained prevalent on the Disney scene. Comics were the only place Mickey and Minnie appeared together during these decades. Minnie was drawn with yellow gloves in the comics as opposed to the white gloves worn during animation. The Mickey Mouse Club was revived in 1977, but the show was cancelled in less than six months.
1983
Although we didn't see much of Mickey of Minnie in the past three decades, their 1983 revival was still a popular one with Mickey's Christmas Carol. Minnie Mouse was cast as Mrs. Cratchit, so she wore a different style of clothing entirely. She didn't speak during the appearance, but was seen on screen regularly. her hat still featured her beloved bow, but the polka dots were left out. Minnie also wore blue, which she hadn't worn since the 1920s and 1930s.
1986
After a very slow start in the 1980s for Minnie, Disney declared 1986 the year of Minnie Mouse at all Disney parks. This was the year Minnie finally received a primary spotlight and her popularity skyrocketed. She was featured in a more modern, 1980s style dress featuring her vastly recognized polka dots and her matching red bow. Although Minnie Mouse had worn red dresses before, and undoubtedly worn polka dots, this became Minnie's signature look with the occasional variation.
1988
Following a surge in popularity, Minnie Mouse was given her own television special called Totally Minnie, her first starring role. Suzanne Somers hosted the NBC musical special in which we see Minnie Mouse sing "Don't Go Breaking My Heart" with Elton John among other musical numbers. The combination of live action and animation shows Minnie in several outfits, including an eccentric 1980s number complete with hand warmers!
90s-00s
During the 1990s and early 2000s, Minnie appeared in a few different television shows. In Mickey Mouse Works and House of Mouse, Minnie doesn't sport her recognizable polka dots. Instead, she wear outfits that appear to be much like what she wore in the 1930s. She ditched the red and pink in favor of a few variations of blue. While her skirt had taken a bit of a different shape, this Minnie could be easily confused with her style in 1930s animation if it weren't for her bow.
2006
Disney Junior first broadcasted an episode of Mickey Mouse Clubhouse in 2006 and it is still airing to this day. Popular among many children, Mickey Mouse Clubhouse is an educational show in which the gang helps solve age appropriate problems. Minnie brings back the pink polka dotted dress and oversized pink heels. Occasionally, Minnie is seen with her red polka dotted dress, but every time she claps her heels singing "hot dog, hot dog, hot diggity-dog," she's wearing pink!
2013
Once again, Minnie's look changed with the release of a new television series, Mickey Mouse. Minnie's appearance transformed drastically as her original look was restored. With her bowler hat and flapper girl outfit, Minnie appeared very similar to her early 1930s self with the exception of her body shape and accentuated eyelashes. The series took place in the modern times and more distinct locations around the world, such as Paris and Tokyo.
2013 (Present)
Controversy arose as Disney decided to team up with fashion designers to give Minnie Mouse a makeover. When she was unveiled in her newest look, Minnie had lost the polka dots and the bows once again. This time, they were traded in for a navy dress and a pink sequined hat. While some Minnie Mouse fans were sad she no longer was wearing her iconic dots, others say it is proof that she looks great in anything!
Sources:
https://en.wikipedia.org/wiki/Minnie_Mouse
http://disney.wikia.com/wiki/Minnie_Mouse
Minnie has had a lot of wardrobe changes throughout the years! What Minnie Mouse style do you like best? Tell us in the comments below. In the meantime, if you are searching for a Halloween idea and you love Minnie half as much as we do, head on over to find a Minnie Mouse and Mickey Mouse costume for the occasion! We have tons of great Disney costumes so you can add even more classic Disney characters.
Design Credit: Kate Lemke