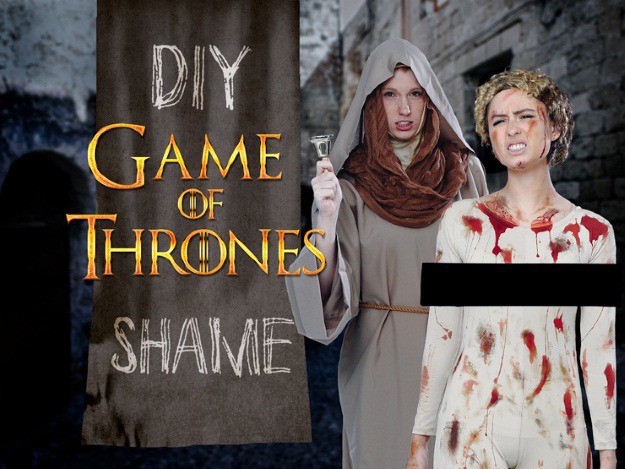 SHAME! SHAME! SHAME! We all felt it in our bones. Our skin crawled with it and it was in our nightmares in the nights that followed. That was the awful magic at the end of Game of Thrones season five during Cersei Lannister's painful walk of shame through the streets of King's Landing. To no surprise, this is one Halloween costume we can expect to see on the streets for Halloween 2015!
This Game of Thrones Shame costume DIY will give you a solid starting point for making a big splash this Halloween with a questionably laughable, and truly disturbing Game of Thrones couples costume for Halloween. Either pairing a nun with an inflatable doll costume for solo party-goers or trying your hand at a Game of Thrones Shame costumes DIY like we did here, will be par for the course in this year's top "Why didn't I think of that?" costume. Without further ado, we bring you the finished product, along with a DIY list for pulling this costume off yourself!
Game of Thrones 'Shame' Costume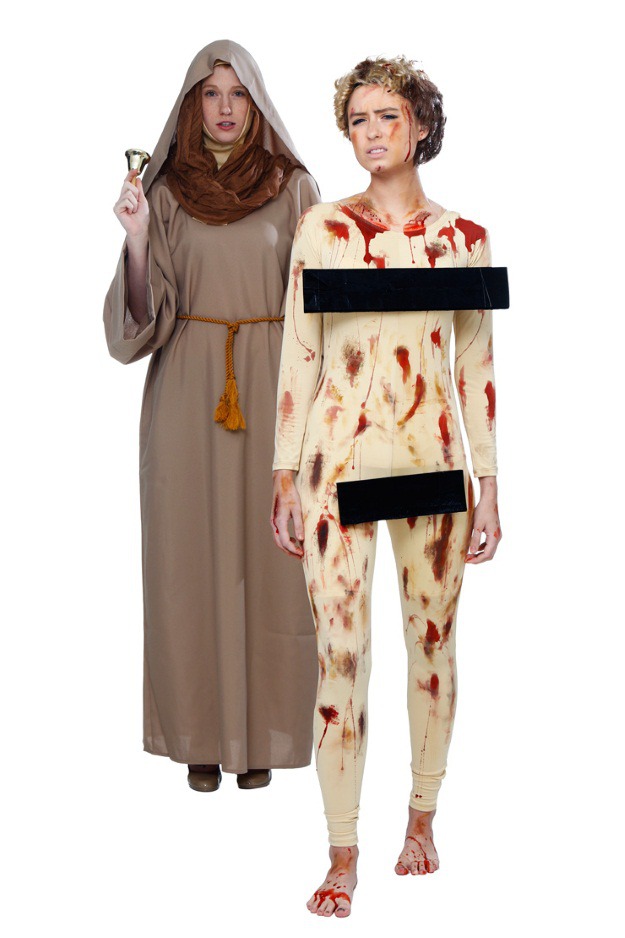 To achieve this look, you actually don't need to use too many products or even change them all that much right out of the packages. That is, of course, not factoring in points for bravery! Anyone daring enough to wear Cersei's bloody flesh suit getup will need to have plenty of that! All of that aside, here is how you can pull it off.
DIY Cersie Lannister Shame Costume - Products used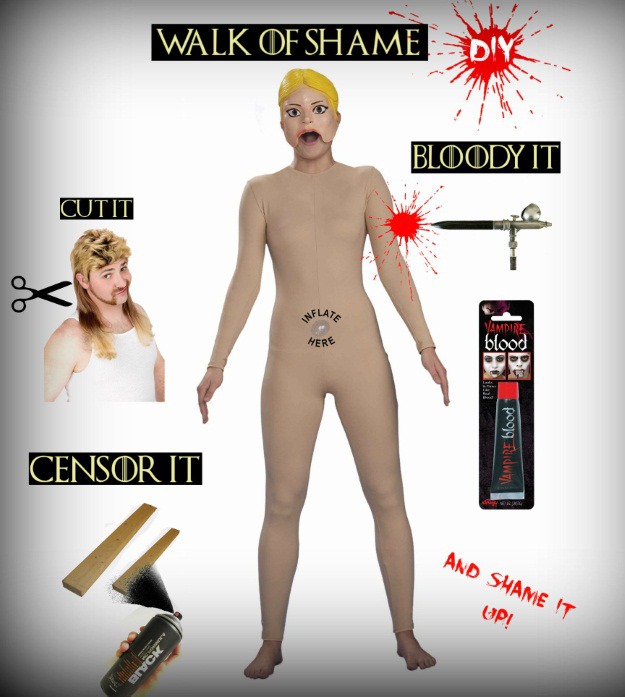 Inflatable Doll Costume - Shop Blonde Mullet Wig - Shop Theatrical Blood - Shop
Pieces of Wood, Black Spray Paint, Fishing Line - Sold separately Airbrush Gun - Optional
The details are up to you, but here's how we used some of our products to make this ghastly costume in three easy steps:
Step 1 - Cut It!
Take that mullet wig of yours and you will see how perfect it is for the hack job they gave poor Cersei. Chop, chop, chop away! And remember, this doesn't need to be clean. Cut with reckless abandon, but don't cut it too short. That's about all that could go wrong here.
Step 2 - Bloody It!
We used a small airbrush spray gun to apply the blood, but you get the idea. This could be done pretty easily even by simply blotting and spraying the blood on with a straw or brush. If you want to chuck tomatoes and other foodstuff at it, do it up! Either way, you want to look like you just finished the worst walk of shame of your entire life, so make it nasty and people will get the idea.
Step 3 - Censor It!
Obviously, Cersei was entirely naked in this scene - well, her body double was anyway - but we thought it would be funny to really call out the "Look, I'm naked!" theme with some "censor bars" cut from 2 x 2 boards we had lying around. Once cut, just spray paint the boards black, allow them to dry thoroughly, and tie on some fishing line to drape over the neck. You might also consider adding some cushion on the neck where the fishing line meets the skin. We found it had a tendency to grind into the skin quite uncomfortably. Now you are almost ready to SHAME it up!
DIY Cersei Lannister Shame Costume - The Finished Look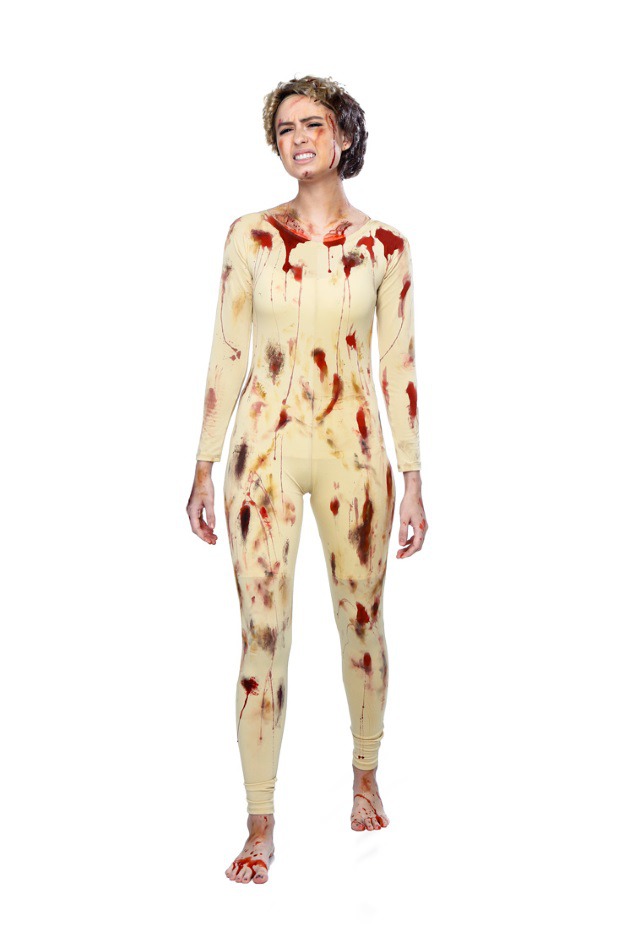 DIY Shame Nun Costume - Products Used
No Shame Cersei is complete without her Shame Nun. The good news is, this one is even easier! But isn't riding in a high horse usually pretty easy in general?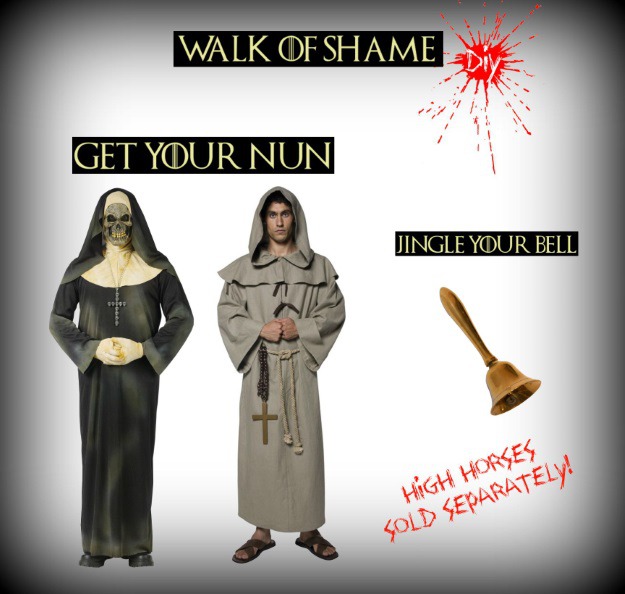 Cowl From Sinister Sister Costume - Shop Friar Tuck Costume - Shop
Bell - Sold Separately
All we did for this nun getup was combine these two costumes together - the headpiece from the Sinister Sister nun plus the entire Friar Tuck costume, worn backwards. True, true, we also threw in a brown scarf to wrap around the neck to get the 'drapery' look. Also true: The colors are slightly off, we'll admit. But that's the best and funniest part about DIYs! Have some fun with it, and please don't take yourself too seriously. Cersei had this coming for some time now anyway, wouldn't you agree?
DIY Shame Nun Costume - The Finished Look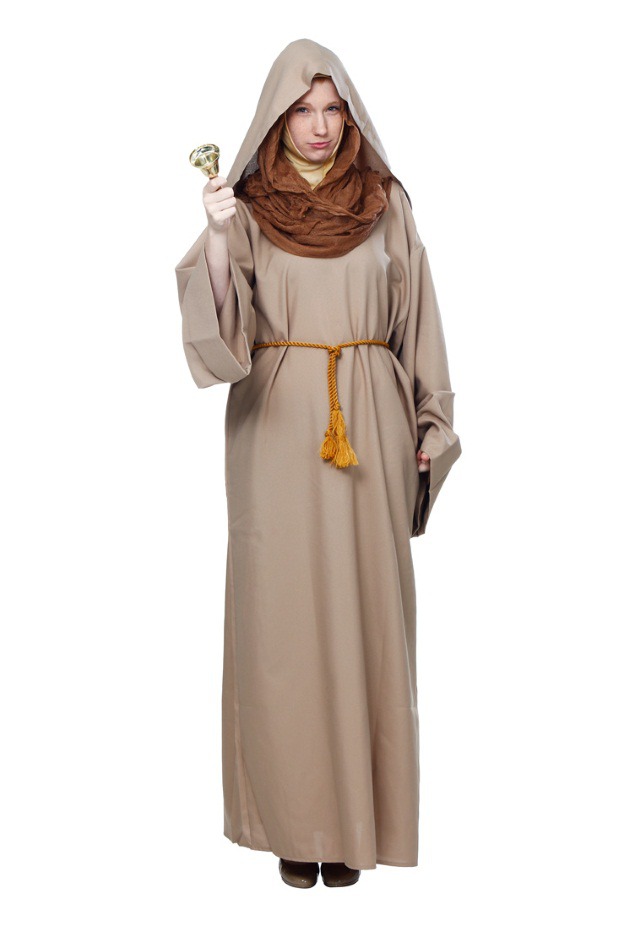 Don't forget! The best part about a Game of Thrones DIY shame costume is the likelihood that you will run into someone wearing a truly shameful costume out there on Halloween. You can give them a good ringing for their misdeeds!
Have some other Game of Thrones ideas that we should make into a DIY for Halloween 2015? We'd love to hear from you in the comments below! And for some ready-to-wear options, you can view our complete selection of Game of Thrones costumes and accessories here!