The well received debut of Pixar's latest film, Inside Out, already has fans asking for more. To date, the film has earned over 350 million box office bucks, making it the second highest grossing Pixar film next to the 2010 movie Toy Story 3. Given the extremely popular nature of the film, Pixar has confirmed that it will add an animated short to the DVD release. Riley's First Date? will appear on the bonus features with the October 13th digital HD release followed by the Blu-ray release on November 3rd. Here is the trailer for the new short:
The Emotions
In the original Inside Out film, the emotions of Riley Anderson exhausted themselves in a never ending battle to do what they each thought was best for her. Since they are all very different emotions, agreements were in short supply - especially between Joy and Sadness. When they got lost in the long term memory center of Riley's brain, Disgust, Anger, and Fear, were left to guide Riley through her day-to-day life. No spoilers here, we'll let you see the film for yourself.

Inside Out Costumes
Being that the DVD release is so close to Halloween, this top box office hit might just stake its claim on Halloween this year! Every year, Halloween costumes seem to be reflective of top pop culture moments from the year. Movies tend to be a big part of that combination, especially superhero movies and some of the most recent kids movies. While Minion costumes are sure to be a top contender for 2015 Halloween costumes, Inside Out costumes are likely not far behind!
Now for the hard part: choosing the emotion you want to be for Halloween. Are you going to be reaching for the Disgust costume or are you thinking the Joy costume might suit you better? Whatever emotion you choose, you can't go wrong with an Inside Out costume this year!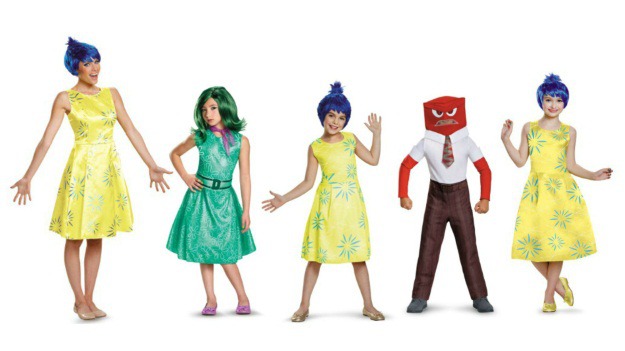 Adult Joy Costume Disgust Costume Joy Costume
Anger Costume Deluxe Joy Costume
Inside Out Accessories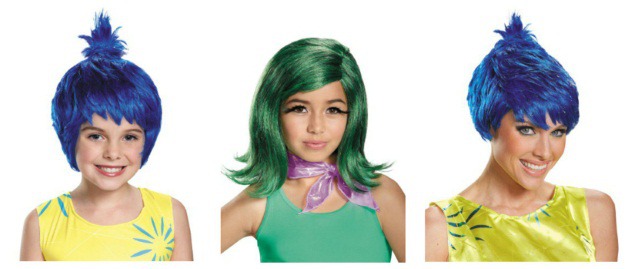 Child Joy Wig Disgust Kit Adult Joy Wig
What costume are you going to sport for Halloween this year? Let us know in the comments below. Be sure and take a look at all of our Inside Out costumes, and if you are looking for more ideas, head on over and check out some of our other Halloween costumes for kids. There's just no way you won't find the perfect Halloween costume (that's something all the emotions CAN agree on!).