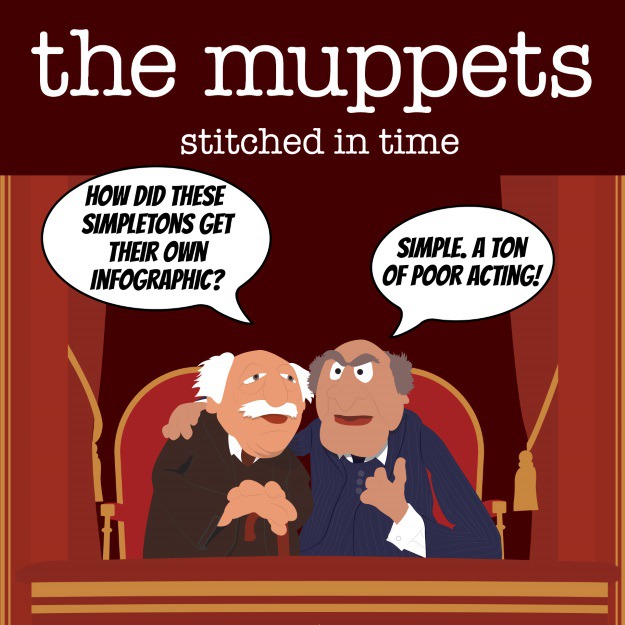 2019 Update: We've added a transcript below the infographic.
It's hard to imagine a world without the Muppets. Quite frankly, you shouldn't try to imagine it. Without Jim Henson's lovable characters, everyone would probably be living in some awful dystopian world where cell phones are used to make phone calls instead of watching funny Kermit videos. Instead, let's take a look at the Muppets through the years and how each of them began their lucrative careers as a puppet entertainer. From Kermit to Walter, this infographic outlines all the star Muppets' debuts.
Click image for larger view

Embed This Image on Your Site:
The Muppets "Stitched in Time" Transcript
Today the Muppets might seem like one big happy family, albeit a slightly dysfunctional one at times, but it's been a long road getting to where they're at today. Over the years, Jim Henson and his friends have grown the family, adding a list of unforgettable faces. This timeline outlines when some of the Muppets' biggest stars broke onto the scene.
Kermit
First Appearance: Sam and Friends (1955)
With little more than an old coat, some ping pong balls and a head full of imagination, Jim Henson created the biggest amphibian star of all time. Kermit the Frog often takes the role as leader and straight-man of the Muppet crew. A statue of him and Jim Henson can be seen at the University of Maryland, College Park.
Rowlf
First Appearance: Purina Dog Chow Commercials (1962)
Before Kermit stole the show, Rowlf was the big Muppet name! He made his claim to fame as the Purina Dog Food spokesdog and as the co-host on The Jimmy Dean Show. He joined The Muppet Show's cast as their resident pianist.
Gonzo
First Appearance: The Great Santa Claus Switch (1970)
What is he? An alien or an animal? No one really knows, but he loves wild stunts and his girlfriend, Camilla, that's for sure! He originally appeared as a Frackle named Snarl, but after a makeover and a name change, he started making his name as a high octane daredevil.
Thog
First Appearance: The Great Santa Claus Switch (1970)
Originally 9½ feet tall, Thog is the kind of monster who might have trouble hiding under your bed. Despite starting out as an evil henchman in The Great Santa Claus Switch, Thog prefers dancing to being bad. Give him a good tune and a dance partner and he's ready to go! (He's surprisingly light on his feet.)
Sweetums
First Appearance: The Frog Prince (1971)
Sweetums gets a bad rap for trying to smash Robin and Kermit in The Frog Prince, but what's an ogre supposed to do when his tummy is rumbling? He's actually a pretty nice guy and he's been the show's in-house ogre ever since!
Miss Piggy
First Appearance: The Tonight Show (1974)
Like all starlets, Miss Piggy is a master at reinventing herself. She began her Muppet career as Piggy Lee in a segment on The Tonight Show and later became "Piggy" in Herb Alpert and the Tijuana Brass. It wasn't until The Muppet Show that she gained the name Miss Piggy. Her and Kermit share an on and off relationship, leaving many fans wondering "will they or won't they?"
Electric Mayhem
First Appearance: The Muppet Show Pilot (1975)
The band line-up includes Dr. Teeth, Floyd Pepper, Janice, Zoot, and Animal. Each Muppet was inspired by real-life musicians. Dr. Teeth was modeled after keyboardists Dr. John and Elton John. Floyd got his look from the Beatles' "Sgt. Pepper's Lonely Hearts Club Band". Janice took her name from Janis Joplin, but derived her appearance more from Mick Jagger. Zoot was inspired by Argentinean saxophonist Gato Barbieri. Animal has been compared to Keith Moon and Mick Fleetwood, but since none of them have tried turning their trap kit into dinner during a performance, it's safe to say that Animal is a one of a kind drummer.
Sam the Eagle
First Appearance: The Muppet Show Pilot (1975)
Censorship came down on The Muppet Show in the form of another Muppet! Sam the Eagle makes sure that the rest of the Muppets create a show that exemplifies American family values, or at least he tries to. Despite his objections, the Muppets are a constant source of debauchery.
Swedish Chef
First Appearance: The Muppet Show Pilot (1975)
According to Brian Henson, Jim used to practice his "Mock Swedish" at traffic lights and from that, the character of the Swedish Chef was born. Make no mistake, the gibberish that the Swedish Chef speaks doesn't make sense in any language, especially Swedish. Bork! Bork! Bork!
Waldorf & Statler
First Appearances: Waldorf in Muppet Meeting Films (1975) and both in The Muppet Show (1975)
Waldorf made his first appearance under the name P. Fenton Cosgrove in Muppet Meeting Films, but he paired up with Statler in The Muppet Show pilot and it was bromance at first sight. These two hecklers are a comedian's worst nightmare (just ask Fozzie) and spend a ton of time in the balcony of The Muppet Theater.
Fozzie Bear
First Appearance: The Muppet Show Pilot (1976)
Oh, Fozzie! You can't blame a bear for following his dream, even if he doesn't have much talent at it. As the show's stand-up comic, he tries his best to make the crowd laugh, but has made a career out of bombing. The bear got his name from Franz "Faz" Fazakas, who built Fozzie's wiggling ears.
Scooter
First Appearance: The Muppet Show #101 (1976)
Scooter acts as The Muppet Show's "gofer" and sometimes stage manager. His twin sister Skeeter shows up in The Muppet Babies, but never made it on to any of the main shows or movies. Scooter didn't make any appearances from 1992-1999 because of the death of his performer, Richard Hunt.
Bunsen & Beaker
First Appearances: Bunsen in The Muppet Show #108 (1976), Beaker in The Muppet Show #202 (1977)
Dr. Bunsen Honeydew values science and knowledge above all else, including the safety of his assistant, Beaker. Great Britain loves this pair of puppet scientists! In a 2004 BBC poll, they beat out all the competition as Britain's favorite cinematic scientists. They beat out Spock, The Doctor from Doctor Who, and Doc Brown from Back to the Future.
Camilla the Chicken
First Appearance: The Muppet Show #318 (1977)
Chickens appeared as background characters as early as The Muppet Show #217, where Gonzo dances with an unnamed chicken, but it wasn't until Gonzo's first real date that Camilla made her break into the show. Camilla's still waiting decades for Gonzo to propose, but he's waiting until he becomes a millionaire to pop the question.
Rizzo the Rat
First Appearance: The Muppet Show #418 (1980)
Steve Whitmire saw some old rat puppets made out of bottles and he gained the inspiration for Rizzo the Rat. His name actually comes from Dustin Hoffman's character, Ratso Rizzo, from Midnight Cowboy.
Pepe
First Appearance: Muppets Tonight #10 (1996)
His full name is Pepino Rodrigo Serrano Gonzales, but most people know him as Pepe the King Prawn. (Don't ever call him a shrimp.) Aside from being a part of the Muppets, he's also an accomplished writer. His book, It's Hard Out Here For a Shrimp: Life, Love & Living Large, can be found in various book stores around the world.
Walter
First Appearance: The Muppets Film (2011)
Think you're the number one Muppet fan? Think again—that title goes to Walter. His main talent is whistling and he was created for the 2011 film by Jason Segel and Nicholas Stoller. Peter Linz, who became Walter's puppeteer, was instructed to base his performance on Michael Cera.
Denise
First Appearance: ABC Promo for The Muppets (2015)
Spamela Anderson was used as the new pig in the Muppets' pitch to ABC, but she's been redesigned for the 2015 show, The Muppets, as Denise. It seems Miss Piggy may have some competition for Kermit's affection.
We hope you had a nice stroll down Muppet lane during our Muppets timeline. All of Jim Henson's creations have a special place in our heart, but which one do you think made the biggest splash? Let us know in the comments and be sure to check out our Muppets costumes!
Infographic designed by Abby Bartels