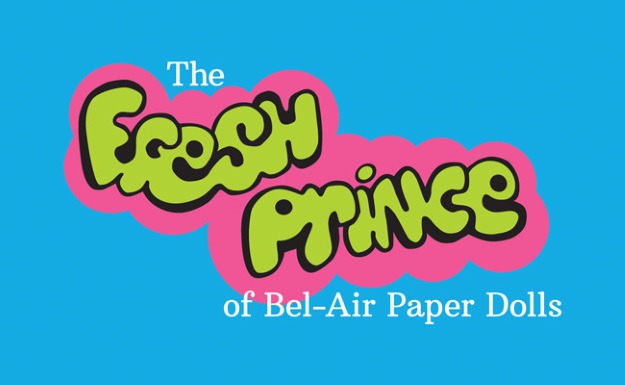 "I looked at my kingdom, I was finally there, to sit on my throne, as the Prince of my desk chair." If you've been perusing the internet from your cubicle at all today, you've probably heard some news that will make you feel a little old: today marks the 25th anniversary of the first episode of the treasured American sitcom, The Fresh Prince of Bel-Air! Yes, it has been TWENTY-FIVE years since you coveted Hilary's wardrobe, practiced doing "The Carlton" in front of your mirror, snickered at Uncle Phil's sassy comebacks, and rapped along with Jazzy Jeff's catchy opening theme song. To celebrate, we created printable paper dolls modeled after 6 of the show's most famous and fashion-forward characters. Why? Why not! Without further ado, we'd like to take a moment, just sit right there, we'll tell you how we made these paper fresh dolls of the Banks from Bel-Air.
1. Will Smith Paper Doll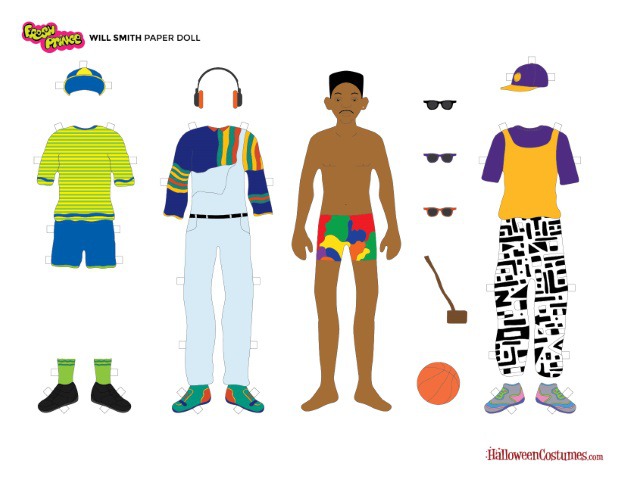 Click HERE for Printable PDF
You can't pull off a nickname like "The Fresh Prince" or play yourself on TV for six successful seasons if you're not a cool guy, which Will Smith inarguably is. This sitcom catapulted Smith to superstardom, and there's even a rumor that he will be rebooting the series next year! We'd like to chill out max and play it cool, but that's a prettttty exciting prospect. We loaded this paper doll with funky fresh Will Smith Fresh Prince outfits and accessories, including a few of Will's signature upturned ball caps.
2. Carlton Banks Paper Doll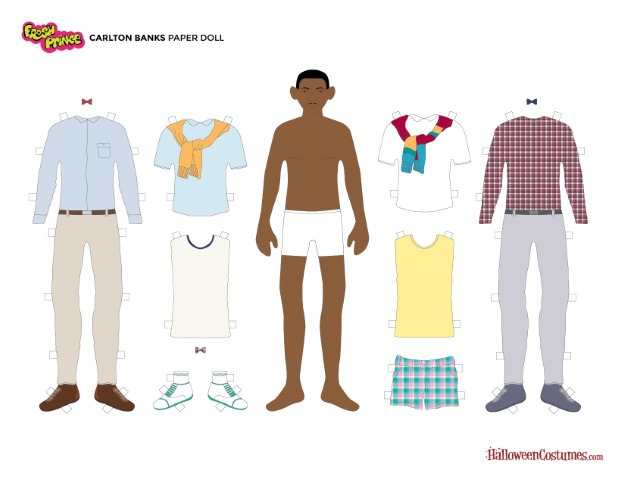 Click HERE for Printable PDF
Alfonso Ribeiro has done pretty well for himself since his Fresh Prince days - he even showcased his rhythmic prowess on a recent season of Dancing With The Stars! Wherever he goes with his career, though, it seems he'll forever be MOST known for the spirited dance move he debuted on The Fresh Prince, "The Carlton." Remember when he lead a flash mob of the dance, on the streets of L.A.?? We do. Besides doing "The Carlton," this television character will go down in history for his uber-preppy wardrobe. That's why we filled his paper doll sheet with smart khakis, classic plaids, bow ties, and cardigans.
3. Uncle Phil Paper Doll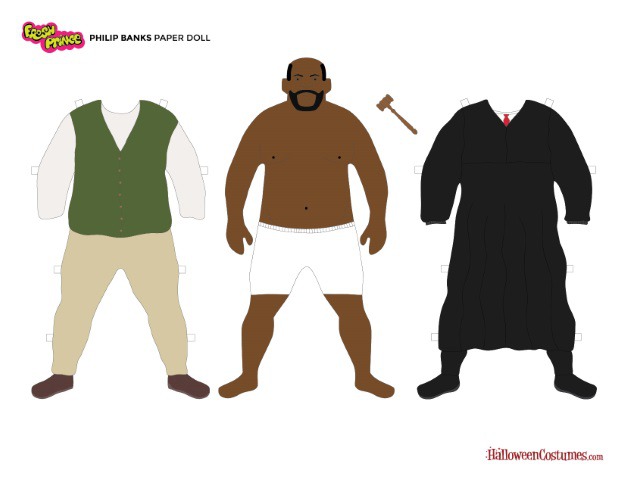 Click HERE for Printable PDF
Philip Banks, aka "Uncle Phil," has been voted one of the best TV dads of all time, and who are we to disagree? As a professional judge, he ruled his Bel-Air household with dignity and authority - he literally knew how to lay down the law. BUT, we learned over six wonderful seasons that he was a big softie at heart! His character was the king of sassy, endearing comebacks, smart dad fashions (see his paper doll ensemble above), and, let us not forget, tossing Jazzy Jeff out of the house as many times as humanly possible.
4. Hilary Banks Paper Doll
Click HERE for Printable PDF
If Uncle Phil is one of the best sitcom dads, then Hilary Banks is like TOTALLY for sure one of pop culture's best valley girls everrrr. Her bouncy curls, over-the-top sass, and trendy, expensive, fantastic wardrobe, were mesmerizing! It's no wonder she got hired on as "Hilary Banks: The Real Weather Girl" at her local television station (recognize that outfit above?). One of our favorite recurring themes of Karyn Parsons' character was whenever she burst in the door with new hats, purses, and shopping bags from her latest spree, so we made sure to include some of each in her paper doll printable.
5. Ashley Banks Paper Doll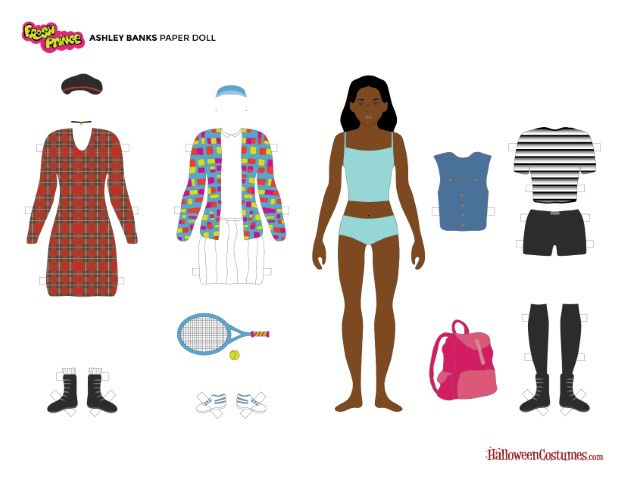 Click HERE for Printable PDF
Ashley Banks, essentially America's little sister, was such a fun and sweet character on the show. Like all little sisters, though, she grew up over the years. It was very entertaining watching her wardrobe transition from sweet and demure to THAT STRIPED CROP TOP seen 'round the world! Sorry, Uncle Phil - she had to become her own woman at some point. Will's energetic young shadow, Ashley's outfits were always full of fun, playful patterns, and bright colors, so we infused her paper doll's printable fashions with both. Too bad we can't have all of the Ashley Banks outfits because she was stylin'!
6. Geoffrey Butler Paper Doll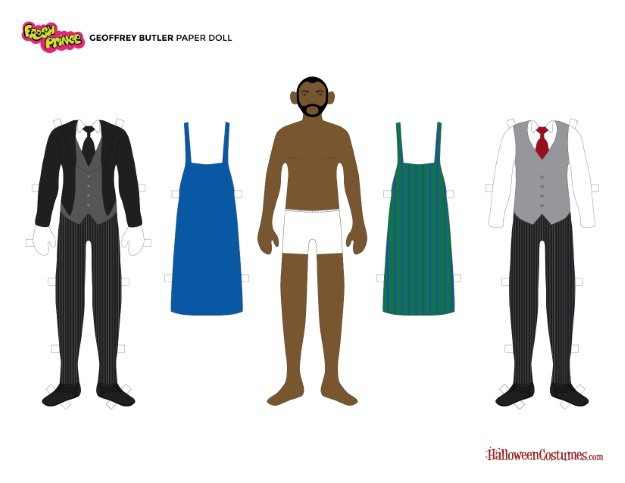 Click HERE for Printable PDF
There's probably not a television character in history that can crack jokes and crack eggs quite as well as Geoffrey. He was so cynical, so sarcastic, and did you know, so professionally accomplished? He is an Oxford University graduate, former Olympic runner, and even spent a time as Chuck Norris' sparring partner. The Banks certainly had a gem in Geoffrey! For this formally mannered fellow, we included formal paper outfits including his signature suits, gloves, and aprons.
There you have it! 6 printable paper dolls sure to trigger a sense of nostalgia for anyone who has ever yelled, "yo home, smell ya later" to a cab driver. (We don't recommend doing that, btw.) Which "doll" is your favorite? Which character from the show was your favorite? What are your favorite Fresh Prince outfits? Do you actually plan on printing these out and recreating a favorite episode at your desk? Let us know in the comments below! And if the nostalgia bug has bitten you, you can shop our selection of TV and movie costumes HERE. Lastly, if you enjoyed these printables, feel share them - with friends, coworkers, and of course, "your auntie and uncle!" Ba dum chhhh.
Design Credit: Travis Green