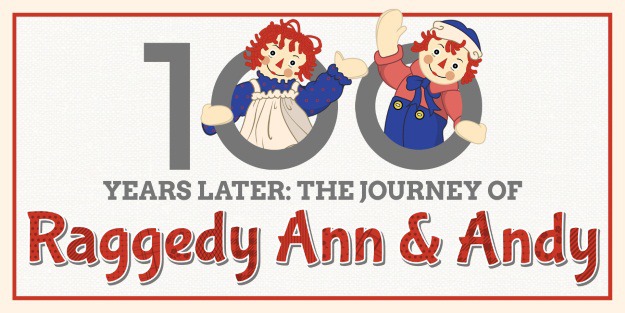 If you're a child who grew up in the United States, chances are that either your parents or grandparents had a vintage Raggedy Ann or Andy doll that you played with when you were little. The red-haired, triangle-nosed doll has been around for 100 years now and to celebrate her centennial birthday, we put together this infographic showing all of her designs through Raggedy Ann history. There are more than you think! Since 1918, Raggedy Ann has had a lot of changes, both in appearance and manufacturer. We hope you enjoy this nostalgic look at the classic toy!
Click Infographic to View Larger Version

Embed This Image On Your Site:
100 Years Later: The Journey of Raggedy Ann & Andy Transcript
There aren't many toys that have been around for 100 years or more. There's the teddy bear, jigsaw puzzles, Crayola crayons, and Raggedy Ann. The brainchild of Johnny Gruelle, the initial patent for Raggedy Ann granted for an "all-cloth doll with shoe-button eyes, a painted face, brown yarn hair, a dress, pantaloons, a pinafore, striped legs, and black cloth shoes" in 1915.
1918
Gruelle Family Hand-Crafted
The very first Raggedy Ann was made by Johnny Gruelle's mother for his sister. Different accounts vary, but one version of the legend goes that after his own daughter, Marcella, was born in 1902, Johnny retrieved that original doll from his mother's attic. He gave it to Marcella and it became her favorite toy. The first 200 or so dolls to be sold commercially were made by members of the Gruelle family.
1918-1919
"Cottage" Raggedy Ann
P.F. Volland, Non-Breakable Doll & Toy Company
Johnny Gruelle entertained Marcella by inventing stories about Raggedy Ann, and , in 1918, published a book containing some of those stories. His publisher, P.F. Volland, licensed the Non-Breakable Doll & Toy Company to mass-produce dolls that were sold along with each copy of the book. It was one of the first-ever merchandise/ media tie-ins.
1920-1926
"Patent" Raggedy Ann
P.F. Volland, Maskegon Toy & Garment Works
The primary distinguishing feature of the "Patent" Raggedy Ann doll was that she had the words "Patented Sept. 7, 1915" stamped on her belly. Why was she called Raggedy Ann? Johnny and Marcella came up with the name by combining the titles of two poems, "The Raggedy Man" and "Little Orphan Annie," written by a family friend, the poet James Whitcomb Riley.
1920-1927
"Crescent Smile" Raggedy Andy
P.F. Volland, Beer-Keeler-Bowman
Raggedy Ann's brother, Raggedy Andy, made his appearance in 1920. Legend holds that a friend of Johnny's sister visited him and brought him Raggedy Andy and told him this doll had been made by her mother at the same time Johnny's mother made Raggedy Andy. The two friends played with their brother-and-sister dolls, constantly.
Mid-Late 1920's
"Single Eyelash" Raggedy Ann and Andy
P.F. Volland
There is quite a bit of variation among the "Single Eyelash" dolls. This is due to the fact that Volland contracted with at least two, and possibly three or more, different manufacturers during this period.
Late 1920s-Early 1930s
"Transitional" Raggedy Ann & Raggedy Andy
P.F. Volland, C.B. Moore, or Gerlach-Barklow
Again, these show a lot of variation due to being made by multiple manufacturers. The Volland Company took a serious financial blow in the stock market crash and was scrambling to stay afloat. While they cut corners on some of their other products, they didn't with Raggedy Ann and Andy because the dolls and related books were their highest money maker.
1931-1933
"Finale" Raggedy Ann & Raggedy Andy
P.F. Volland, C.B. Moore Co.
P.F. Volland Company ultimately didn't survive. It filed for bankruptcy in 1934 and sold the illustrations and publishing right to M.A. Donohue. However, Johnny Gruelle retained the patent and copyright to the doll design. These "Finale" dolls, the last to be produced through Volland, were made and sold as a matched pair.
1935-1936
"Exposition" Raggedies
Exposition Doll & Toy Co
After the Volland bankruptcy, Johnny made an agreement with Exposition Doll and Toy Co. to manufacture Raggedy Ann and Andy. Exposition withdrew from its contract in 1936 because of the 1935 patent-infringement lawsuit Gruelle filed against Molly-e's owner, Molly E. Goldman.
1935-1938
Unlicensed Production Molly-e's Doll Outfitters
Without Permission
Molly-e's Doll Outfitters jumped into the void following the Volland bankruptcy and started making Raggedy Ann and Andy dolls. There was just one hitch- they didn't have permission to do so. Molly Goldman may have thought she had permission, she had been in talks with Greulle before he made his agreement with Exposition. The dispute was finally settled in Johnny's favor in 1937, just a few months before he died.
1938-1963
Raggedy Ann & Raggedy Andy
Georgene Novelties
After Johnny Gruelle's death, his widow, Myrtle, formed The Johnny Greulle Company, bought back the rights to the books, and licensed Georgene Novelties (also known as Averill Mfg. Corp) to produce the dolls. Georgene and Paul Averill's company made many variations of the doll from 1938 through 1963. The dolls in this image are from around 1940.
1940-1946
"Awake Asleep" Raggedy Ann & Raggedy Andy
Georgene Novelties
These "Awake Asleep" dolls were unique in that they were reversible and had two faces- one awake and one asleep. Turning the doll around was all that was needed to show the other face. They were made in the early 1940's. At the same time, home seamstresses started making their own Raggedy Ann and Andy dolls from a pattern published under license in 1940 by the McCall's Pattern Company.
1943-1946
"Wartime" Raggedy Ann & Raggedy Andy
Georgene Novelties
The Second World War imposed economies on everyone, including Raggedy Ann and Andy. The war-era dolls used the same face for both Raggedy Ann and Andy and varied prints for Ann's dress and Andy's shirt.
1946-1950
"Postwar/Silsby" Raggedy Ann and Andy
Georgene Novelties
These looked exactly the same as the wartime dolls, the only difference was the word "Silsby" on the tag. Myrtle Gruelle remarried and Silsby was her new married name. The marriage, and consequently her use of the name Silsby, didn't last very long. The "Silsby" dolls were only produced for about a year, then the name was removed from the tag. The late '40s dolls were otherwise identical to the "Silsby" dolls.
1950s-1960s
Raggedy Ann & Raggedy Andy
Georgene Novelties
In the 1950s, Georgene Novelties began making the dolls in a variety of larger sizes, up to 52" tall. Except for size, however, the dolls were identical. Undressed, there was no difference between Raggedy Ann and a Raggedy Andy. Georgene's 25-year license agreement ended in early 1963.
1963-1965
"Joy of the Toy" Raggedy Ann & Raggedy Andy
Knickerbocker Toy Co,
In 1962, Knickerbocker, owned by Warner Bros., made a bid to the Gruelle family for the soon-to-expire doll license, Their bid was accepted, and they took over the manufacturing in 1963, Their company slogan was "A Joy of a Toy" and this phrase was included on the taf of every Raggedy Ann and Andy doll. Unlike Georgene's Knickerbocker did not put the year of manufacture on the tags.
1962-1982
"Knickerbocker" Raggedy ann & Raggedy Andy
Hasbro/Playskool, Master License
In 1983, Warner Bros, sold Knickerbocker and the Raggedy Ann license rights to Hasbro. Hasbro granted the license for doll production to Applause, but oversaw marketing campaigns that would see Raggedy Ann make her debut as a balloon in the 1984 Macy's Thanksgiving Day Parade, as well as star in an animated TV series from 1988 to 1992.
1983-2011
"Applause Toy Co" Raggedy Ann & Raggedy Andy
Applause Toy Co. /Russ Berrie
Applause To Co./ Russ Berrie was granted the doll-production license after Hasbro bought Knickerbocker in 1983. Their version of the dolls was more uniform and brightly colored. It was during their tenure as license-holder that Raggedy Ann was inducted into the National Toy Hall of Fame in 2002 and joined by her brother in 2007.
1994
"African-American" Raggedy Ann
Applause Toy co. Russ Berrie created the first licensed version of an African-American Raggedy Ann in 1994, although homegrown seamstresses had been making their own versions since the 1940s. P.F. Volland and Georgene Novelties produced dolls of "Beloved Belindy" a stereotyped no-longer-politically-correct African American doll from the early books, in the '30s and '40s, as well. This version shown here, made by Applause and sold with a Playskool label, was the first officially licensed, non-Caucasian Raggedy Ann.
2012- Present
"Plush" Raggedy Ann & Raggedy Andy
Aurora World Inc. (exclusive plush doll license)
Aurora World Inc. acquired the doll license under Hasbro in 2012. The Aurora dolls have returned to a more vintage look, closer to that of the early Georgene dolls. Raggedy Ann has lived through a lot of history and has herself become a part of our culture. She started the media/marketing merchandise concept in 1918 when her dolls and books were sold together, paving the way for characters like Cabbage Patch Kids, Transformers, and Teenage Mutant Ninja Turtles.
Sources: Notsoraggedyacre.com; raggedy-ann.com; raggedyannraggedyandydolls.com
Which was your favorite look? Do you remember which version of Raggedy Ann and Andy you had in your toy room? We hope you liked this look into the past! What will Ann look like in the year 2115? Maybe a robot. Maybe not. Who knows?! What we DO know is that we have these cute Raggedy Ann costumes just in time for Halloween! (If you have a guy that's willing to, you can even go as a Raggedy Ann and Andy costume together!)
Infographic Design Credit: Kate Lemke
Infographic Writing Credit: Kylie Ahlschwede