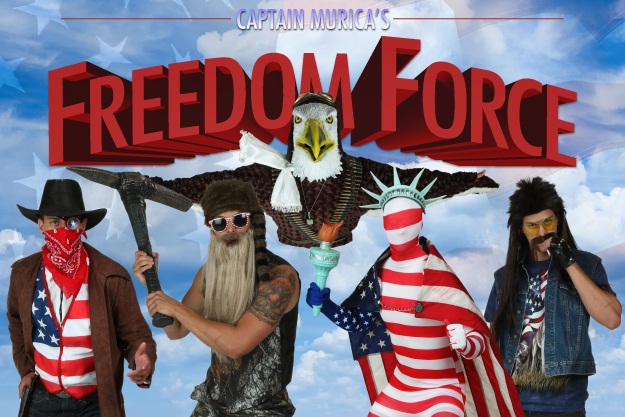 No shoes, no shirt, no problem! This is 'Murica, and we aren't afraid of a little business in the front and a whole lot of party in the back. Taking this a little further – probably way too far, in fact – we dreamt up our own team of super-patriotic superheroes and named them Captain 'Murica's Freedom Force. Why 'Murica, you ask? Let this piece of poetry answer your question:
"Hey, how exactly is a rainbow made? How exactly does the sun set? How exactly does the Posi-Trac rear end on a Plymouth work? It just does. It just does." – Joe Dirt's Dad
That's right. For those blue-blooded Yanks among us who think that a Gatling-gun-strapped-American-Bald-Eagle streaming red, white, and blue smoke from its tail feathers makes perfect sense, the 4th of July is as much about celebrating the independence of these mighty United States as it is for quiet reflection about demolition derbies, giant unnecessary explosions, and Tennessee Top Hats flapping rhythmically in the wind.
Urban Dictionary Definition: Tennessee Top Hat: Another word for a mullet, a long under-rated hair style that truly exudes power, respect, and most importantly, dignity.
So why not celebrate American independence this 4th of July with a healthy clump of Chuck Norris chest hair sticking out of your Three Wolf Moon cutoff tee and let your mullet down? After all, a country that can't poke a little fun at itself now and then – well that's just un-'Murican!
Captain 'Murica's Freedom Force Wants You!
ALIAS: Captain 'Murica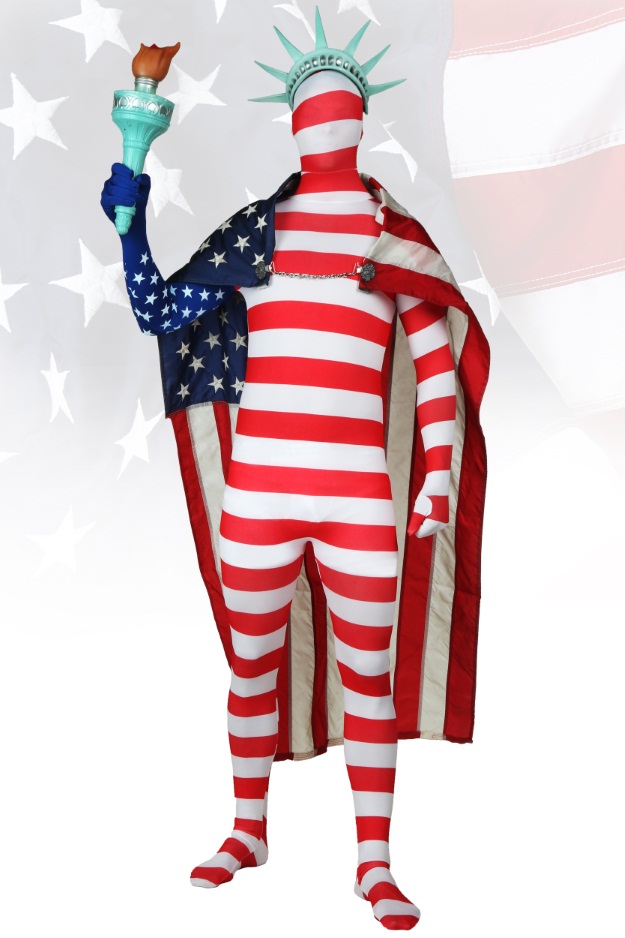 STRENGTH: 'Murica | WEAKNESS: Not 'Murica
When he's not using the metric system (which is all the time), he's making fun of the metric system (which is all the time). He takes the "u" out of "colour" and breaks the spectrum down to just three hues – red, white, and blue. His disdain for the stamp tax is rivaled only by his love for a glorious, unnecessary, and unprompted eagle shrieks and he still says "Remember the Alamo" every time he lights off a bottle rocket.
USA Flag Skin Suit – Shop Statue of Liberty Tiara – Shop Statue of Liberty Torch – Shop
ALIAS: Ruckus Randy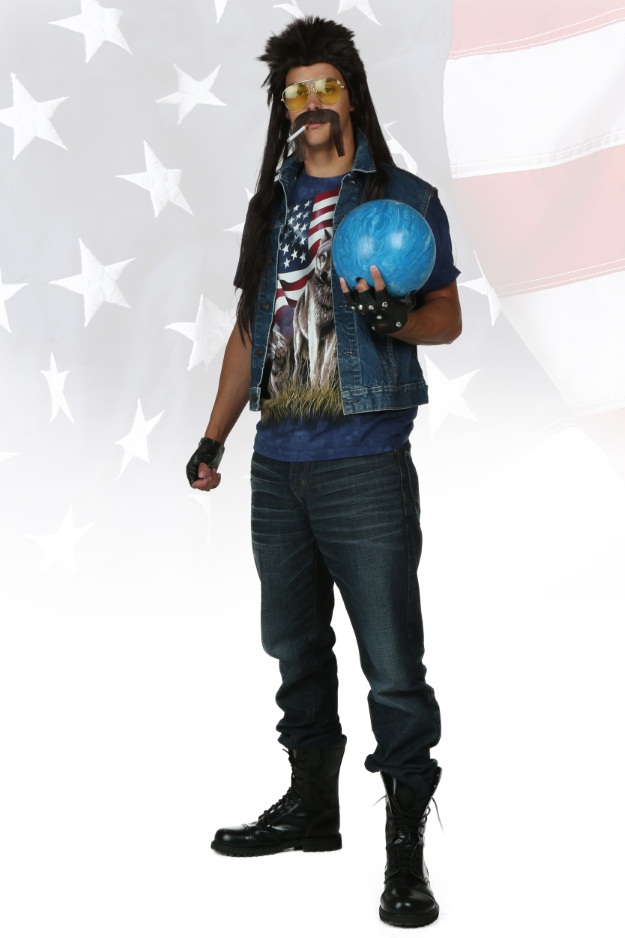 STRENGTH: Beer | WEAKNESS: Light Beer
With amber waves of cascading righteousness, Randy keeps his trigger finger trained and puns on the ready. His bowling ball is faster than a speeding mullet and his silhouette against a billowing pillar of flame is unrivaled. "Business in the front." He fires. "Party in the back." Chugs a beer and winks. While his glasses admit emphysema just might be in his future, Ruckus Randy has the distinct honor of never having a Zima in his life. Because, well, Zima is for wimps and tastes nothing like Busch Light.
Adult Black Combat Boots – Shop Wolf Flag T-Shirt – Shop
Mississippi Mud Flap Wig – Shop Gold Elvis Glasses -- Shop
ALIAS: Peekaboo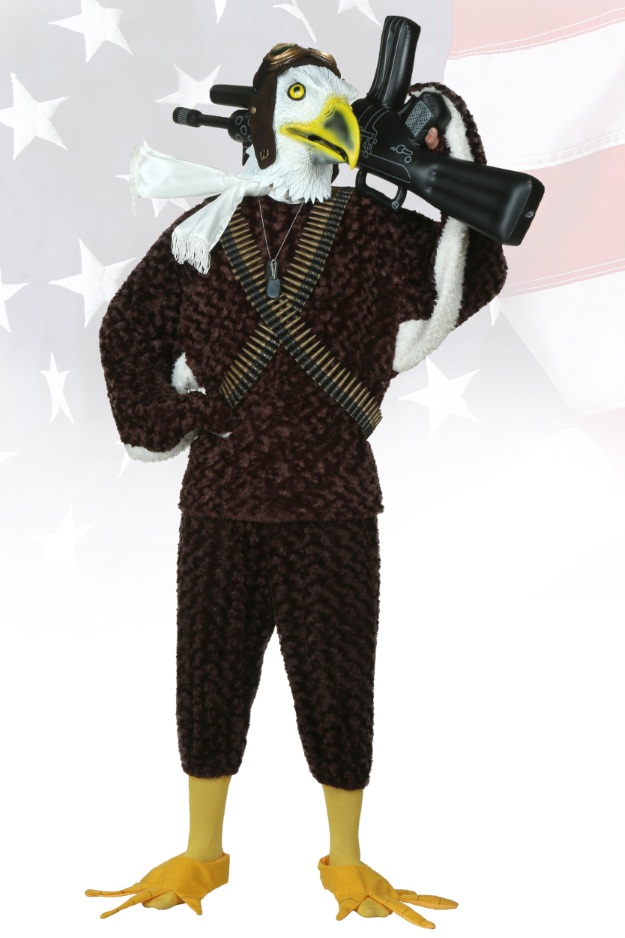 STRENGTH: Death From Above | WEAKNESS: Molting ... a lot. (Seriously, it's gross.)
Screams from a banshee are heard and a shadow appears. Majestic. Fierce. Peekaboo! He sees you! KABOOM! When the Freedom Force needs an eye in the sky, Peekaboo delivers a heavy payload from above. Since he was just a hatchling, he's been cultivating the skill of firing an assault rifle without an opposable thumb.
Bullet Belt – Shop Aviator Set – Shop Inflatable Machine Gun – Shop
Eagle Costume – Shop Eagle Latex Mask – Shop
ALIAS: Buck Die-Nasty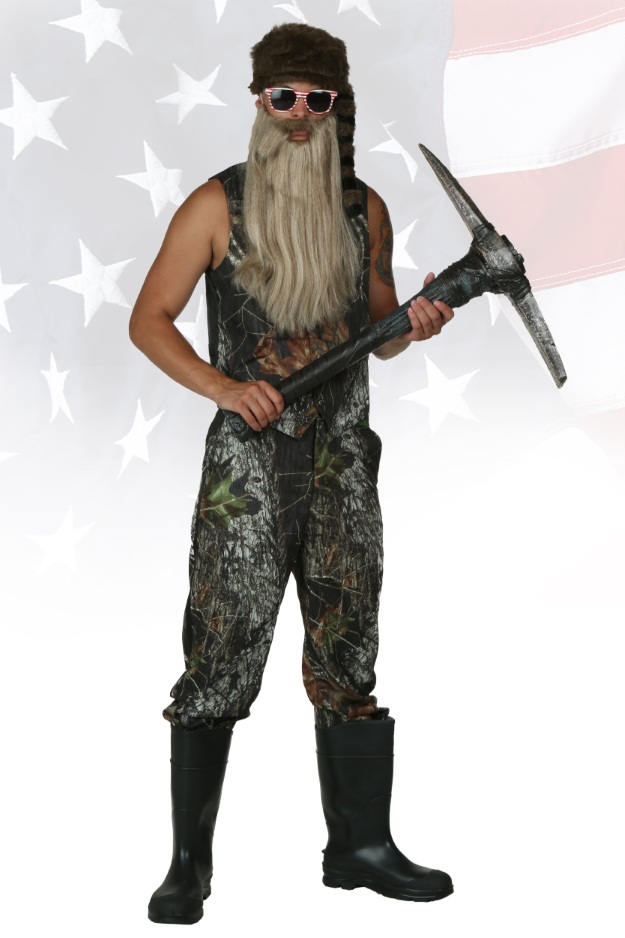 STRENGTH: Bustin' Skulls | WEAKNESS: Salads
Buck Die-Nasty would bite the bullet for his country. Literally. An actual bullet. He'd willingly punch a shark in the face. The raccoon skin he wears on his head? It's still alive. And he smells like a smokehouse. A man of few words, he eats by the herd. His steaks are uncooked and he has callouses on the backs of his hands. Buck Die-Nasty – he'll give you a bear trap for Christmas and call it a hat.
ZZ Top Beard – Shop Sunglasses – Shop Mossy Oak Tux – Shop
Pick Axe – Shop Black Boots – Shop Raccoon Tail Hat -- Shop
ALIAS: Hershel Rawhide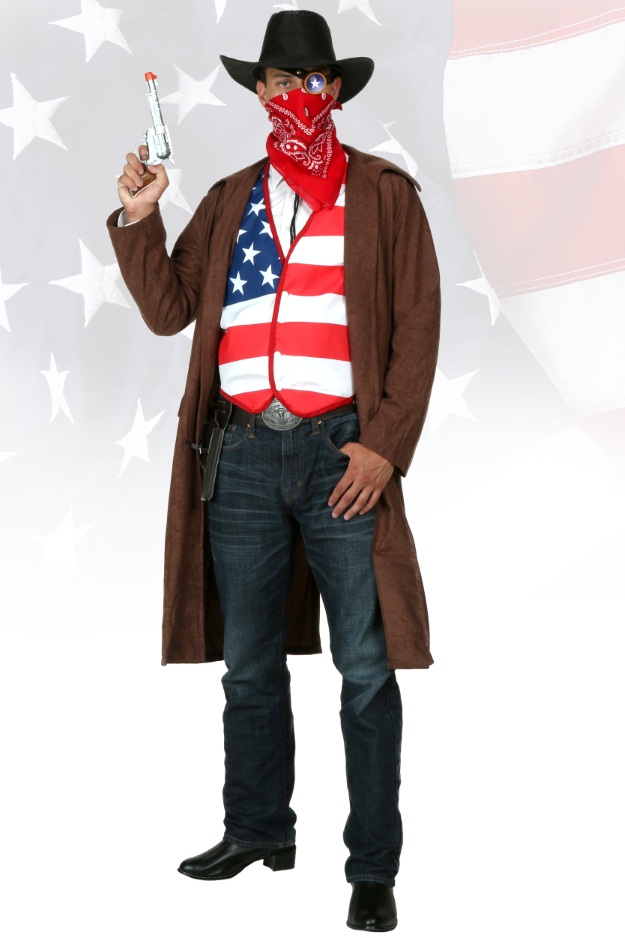 STRENGTH: Patriotic Missles | WEAKNESS: Any Music But Country & The National Anthem
Hershel Rawhide lost his right eye in a poker match with a bull. The bull's horn was the poker. You think that's bad? You should see the bull. "Just an eye," Hershel growled, replacing it with a rib-eye. With his patriotic bullets, who needs depth perception?
American Vest – Shop Gun – Shop Mad-Eye Patch – Shop Gunslinger Costume – Shop
Happy 4th of July from the Freedom Force
In this time of reflection this 4th of July, just remember: "If you don't like America, you can git out."
From Captain 'Murica's Freedom Force and everyone at HalloweenCostumes.com, thanks for playing along and having a sense of humour humor. Now go and have some fun with fireworks and Happy 4th of July!