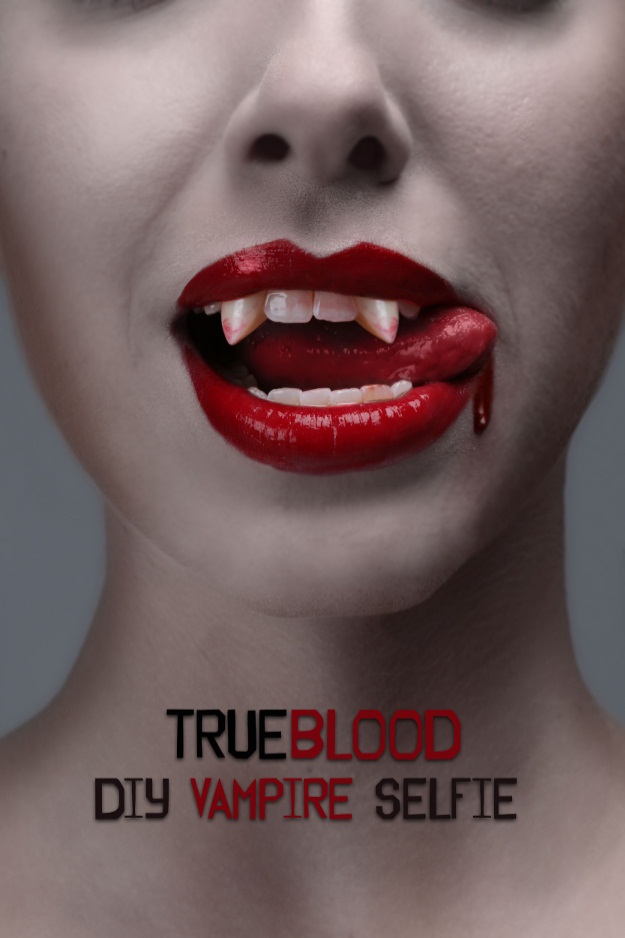 The final season of True Blood premieres this Sunday, and we can't think of any better way to pay homage to Sookie, Bill, and the rest of the Bon Temps bunch, than by changing your social media profile pic to a seductive vampire selfie! We drew our inspiration from the classic True Blood TV poster, which features voluptuous red lips, sharp vampire fangs, a drip of gooey blood, and of course, a flirty tongue (is that you, Miley??).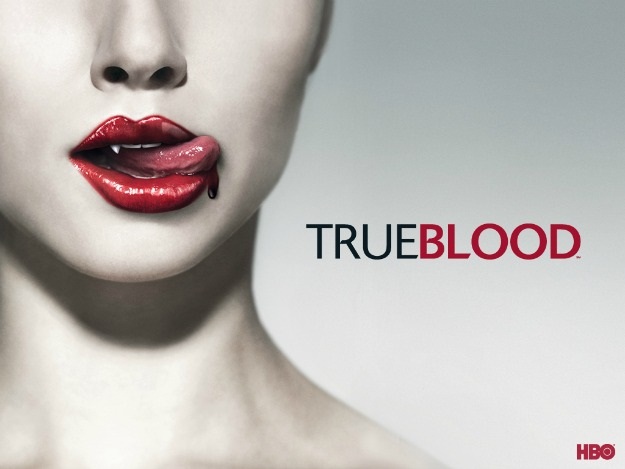 Basically all you need to achieve a look similar to those above is a tube of red lipstick, a pair of fangs, fake blood, and a wicked grin! But chances are, when you have those fun ingredients assembled, you'll want to have an epic selfie session and play around with different poses, accessories, and emotions!
For some of our selfies, we strayed quite a bit from the classic poster image by adding touches like a fake bite wound, a pair of earings, a shiny red mani, and of course, MORE BLOOD! Here are some tips, pose ideas, and additional suggestions, on how to snap a fantastic vampy selfie sure to get Alcede's heart-a-thumpin'!
Products Used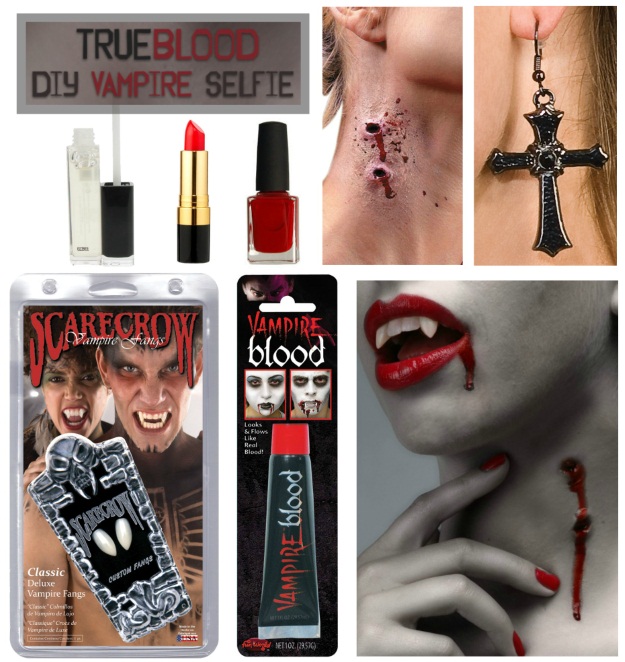 Vampire Bite Prosthetic - Shop Black Gem Cross Earrings - Shop
Deluxe Vampire Fangs - Shop Vampire Blood - Shop
First things first! Pull all of your hair up in a bun and secure it with bobby pins and hairspray. This selfie as all about the NECK, a vampire's favorite body part, so you won't want to cover it with hair! That's also why we opted for a strapless top. (Another reason to go strapless? The fake blood can get a little messy, and you won't want to stain the straps of any of your favorite tops!)
Next, apply a base foundation several shades lighter than your natural skin tone. Be sure to blend it into your face, neck, chest, and even your ears. We sealed our liquid makeup with a top coat of pressed powder as well, for a porcelein-like skin effect.
Next makeup step: the lips! We used a deep red lip liner to ensure perfectly straight lines, covered the liner in a generous coat of red lipstick, and topped it all off with a layer of clear gloss. Slick on a coat of mascara, pop in your fangs, and you're ready to start snappin'.
Tip: This is one time it doesn't matter if you get lipstick on your teeth, so don't stress. it looks like blooooood!
Selfie Time!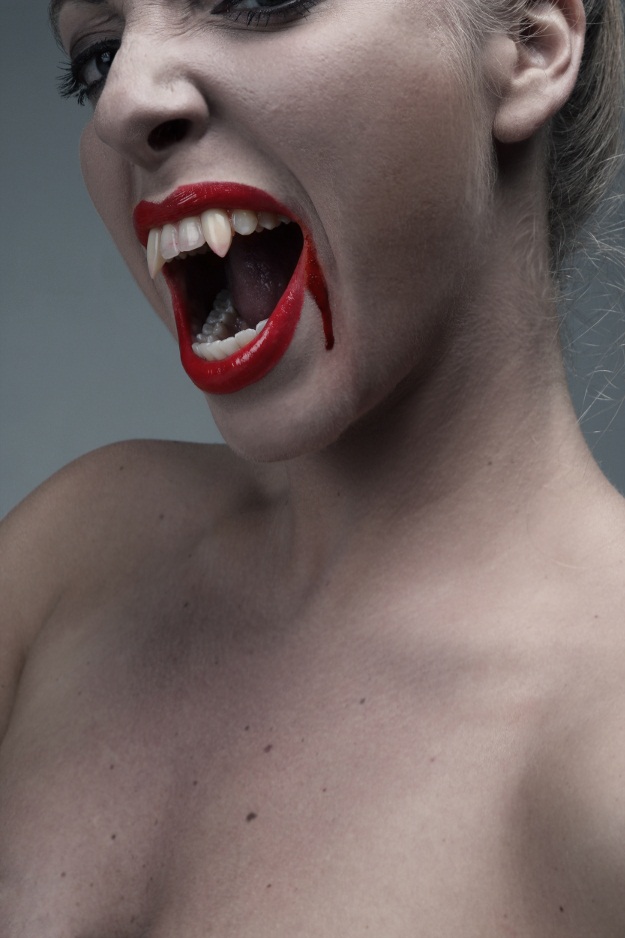 Sassy! This profile pic looks like it could have been taken in a back booth at Fangtasia.
In sticking with the style of the TV poster, we made these selfies about showing a lot of neck skin, and keeping the focus on the lips and fangs, rather than the upper half of the face. Of course you're free to play around with the angle and show more of your eyes!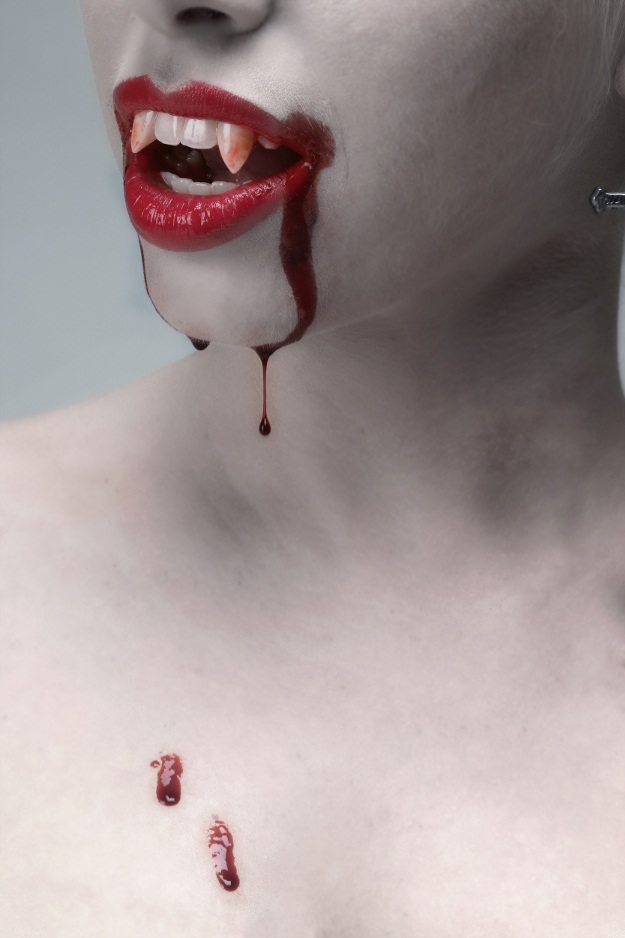 Sometimes it takes a few selfie tries to catch a blood drip at JUST the right moment!
To break up the bottom half of your selfie a bit, you can drip some more blood down the sides of your mouth and onto your chest. It may take a few clicks to catch the syrupy blood at just the right moment, but when you do, the effect is so eerie! In a good way!
Tip: Use paper towels to cover the top half of your shirt. It's a great barrier between your clothing and the fake blood. The gel does firm up in a few seconds and will eventually stay put, but the towels will quell any potential fear of stray droplets in the meantime!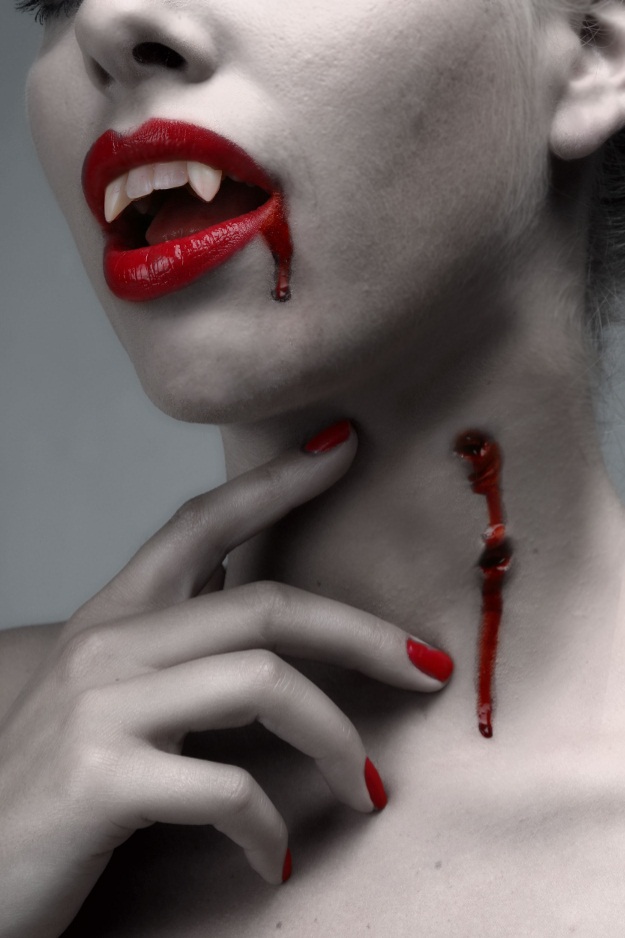 To bite, or to be bitten. That is the question. JK we choose both!
We love the additional POP of red that red nail polish adds to this photo. And the vampire bite wound prosthetic? What a creepy detail. Apply the patch using the adhesive that is included in the package, and cover the flesh tones of the wound with your foundation and powder, until it matches your skin tone. From there, drizzle on as much or as little blood as you care to, and snap snap snap those selfies!
Tip: For added collar bone definition, use a bronzing powder deeper than your skin tone, and apply it above and below the bone. It's may sound like a small detail, but the contrast will make a big difference!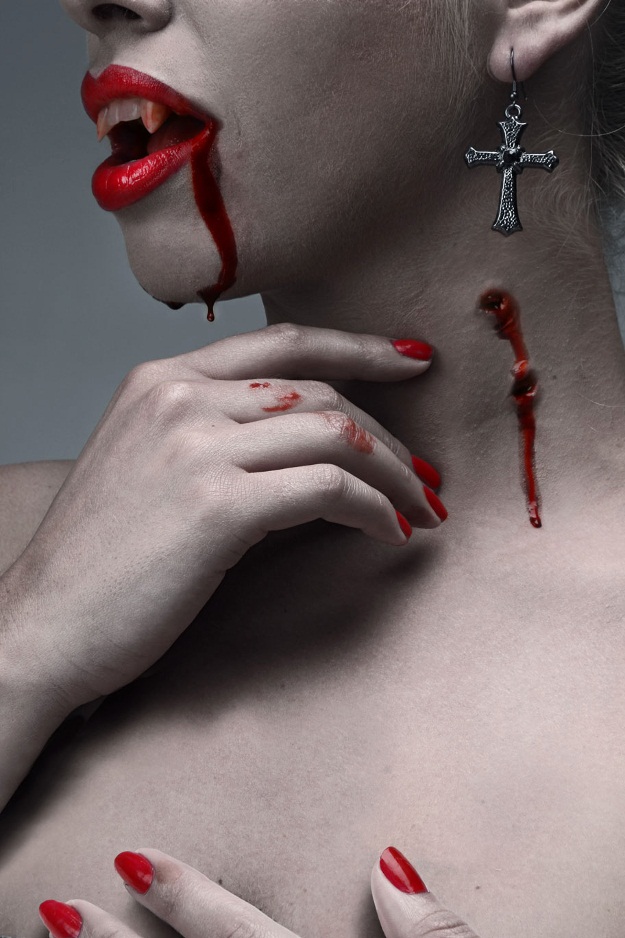 This pic is the perfect blend of seductive and scary. Flirting with that balance is what True Blood is all about!
Alright, you caught us, we needed an extra set of hands to take this pic. It's the only non-selfie, selfie! Perhaps you can enlist the help of a tall, blonde, vampire of the Eric Northman variety to assist in your photoshoot? Jason Stackhouse would probably be too distracted to make sure that the angle is perfect.
That's it, you vamps and vampettes! Feel free to play around with free photo editing apps like PicMonkey, which can help you highlight a particular color in your photo, like...RED! Have a fun photo session, enjoy the season premiere this Sunday, and feel free to share your finished images with us. Just use the hashtag #VampireSelfie!