Hodor?
Translation: "Would you like to throw a Game of Thrones viewing party?" Well, brace yourselves...the season four premiere is coming this Sunday, April 6th! With a few easy tips and tricks you can throw your own Game of Thrones viewing party. All you need is our beautiful Westeros decorations, printable wine and beer labels, a small selection of tasty delicacies from the realm, and a few unique DIY character costume ideas.
Step 1: Choose Some Epic Westeros Decorations
An easy to use stone wall backdrop sets the perfect mood for a GOT viewing party. This lightweight backdrop is made of plastic and can quickly be applied to any surface with clear masking tape. A spooky skull , crusader shield and sword create the appearance of recently won (and lost) battles for the Seven Kingdoms. Your guests will feel as though they are swearing fealty to royalty at King's Landing or visiting what remains of House Stark at Winterfell with these Game of Thrones party decorations!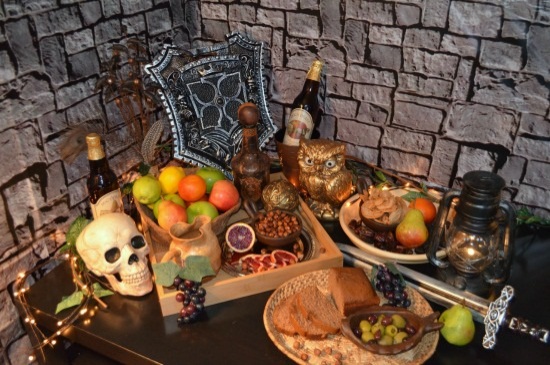 Buried Alive Skeleton Kit Light up Lantern
Indoor Halloween Decor Crusader Sheild and Sword

Step 2: Pick Up Some Tasty GOT Treats
No need to stress about preparing complicated recipes when you can easily pick up a few ready-to-go Westeros delicacies at the store! Below is a list of foods and beverages cherry picked right out of George R. R. Martin's books that you can set out for your guests with minimal effort.
THE BITES
Ripe blue cheese (A Clash of Kings)
Wheels of white cheese (A Clash of Kings)
Dried apples (A Storm of Swords)
Dried berries (A Storm of Swords)
Autumn pears (A Storm of Swords)
A Dornish meal of dates, cheese, and olives, with lemonsweet to drink (A Feast for Crows)
THE DRINKS
Water mixed with lemon squeezings (A Feast for Crows)
Cider (A Storm of Swords)
Sweet cider (A Feast for Crows)
Chilled autumn ale (A Clash of Kings)
Barley beer (The Mystery Knight)
Honeyed wine (A Storm of Swords)
Iced wine (A Storm of Swords)
Spiced wine (A Game of Thrones)
Claret (The Sworn Sword)
Source: Westeros.org
Step 3: Print and Apply Vintage Game of Thrones Wine & Beer Labels
We've created a fun set of printable wine and beer labels to add an authentic Westerosian touch to your viewing party. Indulge in Arbor Red and Arbor Gold wines from House Redwyne, or choose from a selection of Barley Beer, Cider, Sweet Cider, and Autumn Ales from various regions within the realm. Simply click the links PDFs below, print, cut out with scissors, and apply to your favorite beverage bottles with invisible masking or double-sided tape.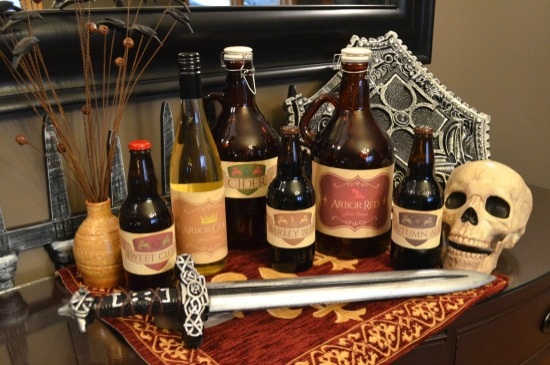 Game of Thrones Wine Label Printable - Here Game of Thrones Beer Label Printable - Here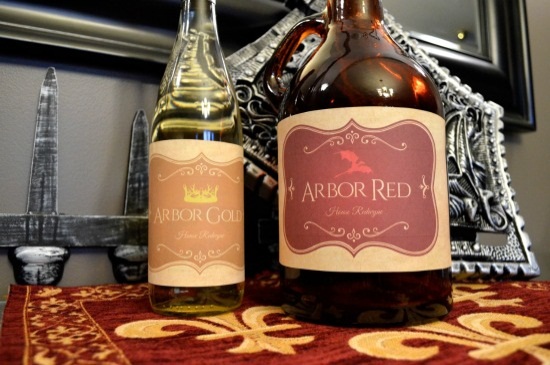 Printable Game of Thrones Wine Labels - Here
Game of Thrones Printable Beer Labels - Here
Step 4: Suit Up! DIY Daenerys Targaryen & Jon Snow Costumes
Daenerys Targaryen Costumes
In previous seasons of Game of Thrones, viewers witnessed Daenerys' continued transition to a dragon-wielding ruler of great power. Her attire followed suit, and she shed her Dothraki leather for a more regal series of dresses and capes in shades of royal blue. For this DIY Daenerys Targaryen costume, we've included four different styles from previous seasons befitting a Queen of Dragons. We have a long white flowing dress like that she wears in season 5. Of course, we also created three different styles that we designed and are exclusive to us! First her iconic blue Qartheen dress over tan trousers. Next, we have an outfit that incorporates her Targaryen colors, red and black. Finally, we also have that stunning white coat from season 7. Just add a pair of gold goddess style heels or sandals, a dragon armband, a platinum blonde wig, or even a shoulder sitting dragon to customize your look, and you will have the perfect Dany costume.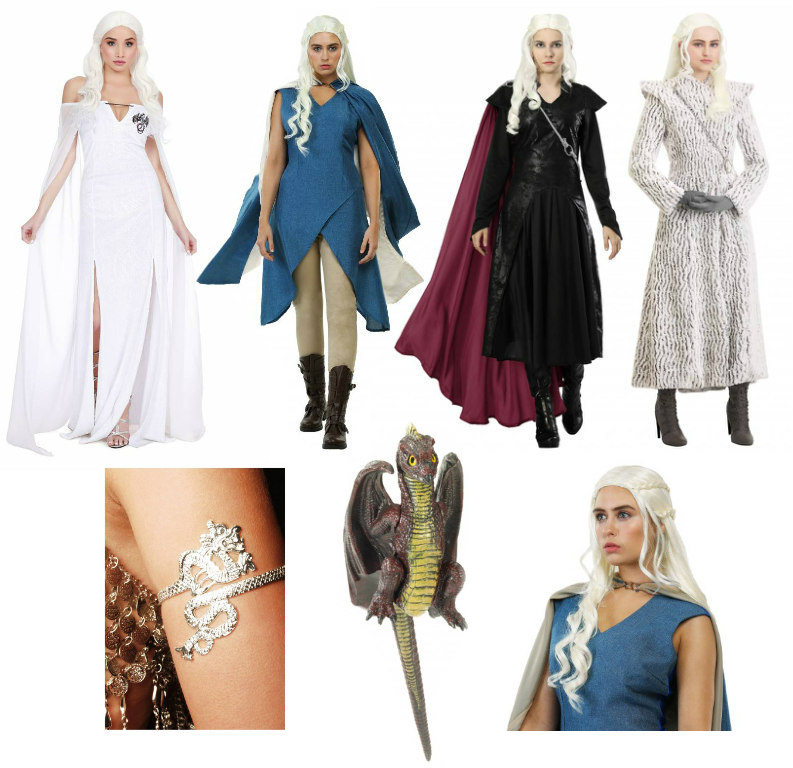 Jon Snow Costumes
We couldn't decide on just one Jon Snow costume (big fans here), so we put together some different DIY costume options. The first is an intimidating "taking the black" leather armor, perfectly suited for the Night's Watch. The second costume option is Jon Snow's dashing Night's Watch "I'm-totally-going-to-kick-some-wilding-butt" winter gear. A heavy fur cape completes the, "Dude, I've totally been ranging north of the wall" look. Don't worry if you can't grow luscious curls like Jon before you need to wear your costume, we even have a wig that features those wavy locks just like Jon! Of course, your outfit isn't complete without your Longclaw sword!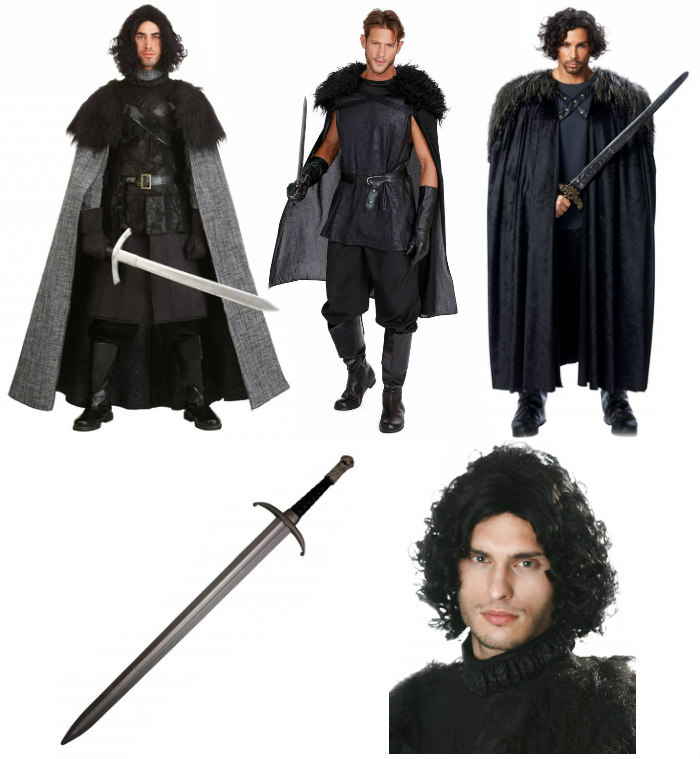 Don't want to be Dany or Jon Snow at your party? Check out these other awesome Game of Thrones DIY costumes featuring characters from different seasons, including the iconic season three's Red Wedding episode (warning, contains spoilers)!
Step 5: Enjoy the Show!
This is it. You've created your ruthless battle plan for an epic Game of Thrones viewing party, and now you get to indulge in the fruits of your labor. Valar morghulis and Valar dohaeris!