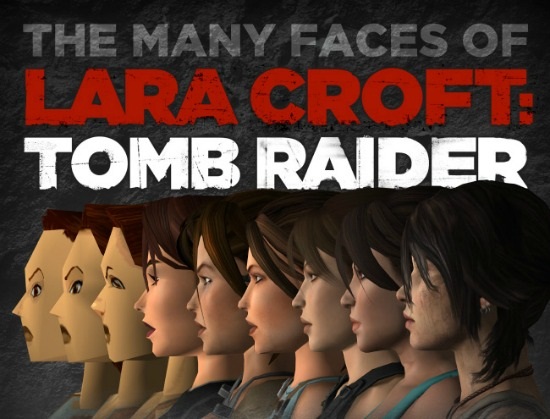 The iconic Miss Lara Croft has been steadily raiding her way into our hearts since debuting in 1996. In fact, she is arguably the gaming world's most recognizable female character! In anticipation of the release of Tomb Raider: Definitive Edition on the 28th, we wanted to take a look back at the visual evolution of this leading gaming lady. Her famed blue tank and twin hip holsters sure have come a long way - from 540 polygons to motion capture realism, to be precise...

[Click infographic for a larger view]
Embed this Image on Your Site:
The Many Faces of Laura Croft: Tomb Raider Infographic Transcript
Despite a vast number of makeovers and reboots since her 1996 debut, Lara Croft remains gaming's most recognizable female icon. Throughout her character evolution, even her in-game model frequently differed from the game's box art and promotional material. Follow the evolution of a legendary Tomb Raider- from polygons to motion capture realism.
Tomb Raider
(1996)
The first in-game incarnation of Lara consisted of 540polygons, though the model used for promo art was much more detailed. While there was much discussion about her bust size, it was actually her unrealistically tiny waist and neck that made her chest look so large by comparision.
Tomb Raider II & Tomb Raider III
(1997 & 1998)
While Laura saw little change, her blue top was cut lower and her boot laces changed color. Her familiar ponytail was finally included on the in-game model. Eidos promoted Lara's inherent sex appeal, posing her provocatively or having her blow kisses to her fans.
Tomb Raider: The Last Revelation & Tomb Raider: Chronicles
(1999 & 2000)
If Lara was considered curvy before, she become voluptuous. The width of her shoulders was reduced and her tank top was lower cut, making Lara's chest appear even larger. Interestingly enough, the promotional figure didn't have such a low cut shirt and looked more modest.
Tomb Raider: The Angel of Darkness
(2003)
Lara's new look was inspired by the Tomb Raider film, though she didn't don the shorts until the end. Her face featured darker eyeliner and lipstick, while her muscle and bone structure were more natural. For the first time Lara's in-game model resembled the promo material.
Lara Croft Tomb Raider: Legend
(2003)
Lara ditched the tank top for a brown t-shirt. Better processing allowed for a 5,000 polygon mode, stylish hair, and more natural-looking skin. there were only slight differences between Lara's game model and box-art.
Lara Croft Tomb Raider: Anniversary
(2007)
Anniversary brought back a familiar top but with more texture. Lara's model was basically identical to Legend's except for textures and hairstyle. Both versions feature slightly less reddish hair and narrower eyes.
Lara Croft Tomb Raider: Underworld
(2008)
Consisting of 32,816 polygons, Lara was the most detailed video game character ever according to Guinness World Records. The promo-art draws attention to musculature, as well as cat-shaped eyes and more pronounced "M" lips.
Lara Croft and the Guardian of Light
(2010)
Guardians of Light brought back the blue tank top while keeping her toned look from Underworld, and paired her for the first time with a male character who wore even less. The promo-art was brilliantly painted and one of the most true-to-life Lara Crofts ever seen.
Tomb Raider
(2013)
The 2013 reboot featured a younger Lara Croft before she donned matching hip holsters. This incarceration looked more like a real person, ditching anatomical exaggerations, and using motion capture to create more lifelike movements. Strangely, box art Lara once again looked like a different person.
Tomb Raider: Definitive Edition
(2014)
The Definitive Edition once again features a new in-game model, plus increased texture resolutions. Lara is incredibly lifelike thanks to subsurface light scattering that allows light to pass through her skin before being redirected, and Tress FX ensuring every single strand of hair moves realistically.
Written by: Robert Browne
Designed by: Kate Willaert
Edited by: Marlon Heimerl
Sources: Business Wire, Gamespot, Gametap, Guinness Book of World Records, IGN
Or Embed this Video Version on Your Site: