Krampus… The concept carries many names – Knecht Ruprecht, Klaubauf, Perchten, Pelznickel and Schmutzli – but the Christmas demon, or "anti-Santa", of European Christmas lore is none other than the infamous, the devious, the notorious, the Gene Simmons' tongued…Krampus.
Ho...Ho...Huh?
For those unfamiliar with the centuries old tradition, let's review. As Saint Nicholas' dark passenger, Krampus is the yin to Santa's yang, dolling out punishments to the naughty children of Austria, Switzerland, Germany, Croatia and increasingly, other regions of Europe and the U.S. with ritualistic fervor.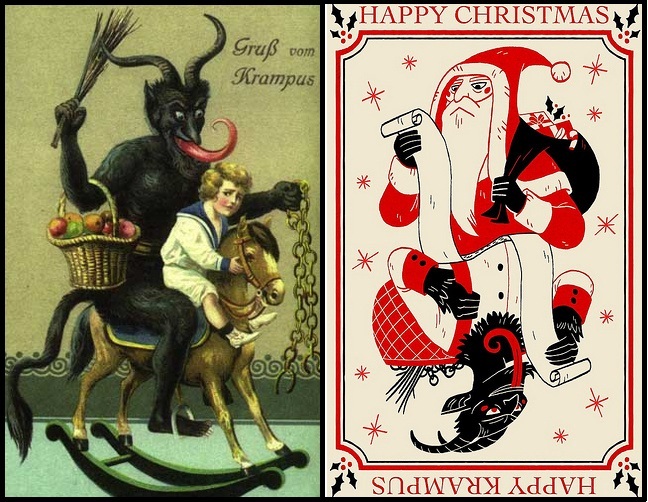 Source: Flickr user Dull Hunk (Creative Commons) // Source: Flickr user Central Asian (Creative Commons)
In the 2Ks, Krampus is really making his presence felt. Perhaps it's the irony, the humor, the morbidity or even just the hope that the concept is somehow true that he has people snared in his brambles.
Regardless of the cause, the concept is hard to turn away. Under Krampus' watch, the penance to be paid for bad behavior – those on Santa's naughty list – makes the American version of coal-in-your-stocking look like a dash through the snow on a one horse open sleigh.
A half-goat, half-demon armed to the (sharp) teeth with birch branches and rusty chains, Krampus is one yuletide force you don't want to cross. With his serpentine tongue and burlap sack, Krampus won't hesitate to give you a good Christmas whipping or haul your naughty keister into the underworld for mischievous deeds.
Krampusnacht! The History
While Krampus gains popularity in the U.S. thanks to appearances on popular TV shows like the Colbert Report, American Dad and The League, his dark shadow fell on the holiday long ago. According to Nat Geo, Krampus makes his annual appearance the night leading into December 6, marking Krampusnacht (Krampus Night).
With a modern twist of Krampuslauf (or Krampus Run) keeping the nightmare alive – where hoards of drunken Krampuses take the streets of Germany, Austria, Hungary, Slovenia and the Czech Republic each year – the Christmas demon is seeing a revival that is hard to miss even overseas.
After all, what about being chased by drunken devils through the streets doesn't get one in the Christmas spirit?
Krampus Run, Anthering 2012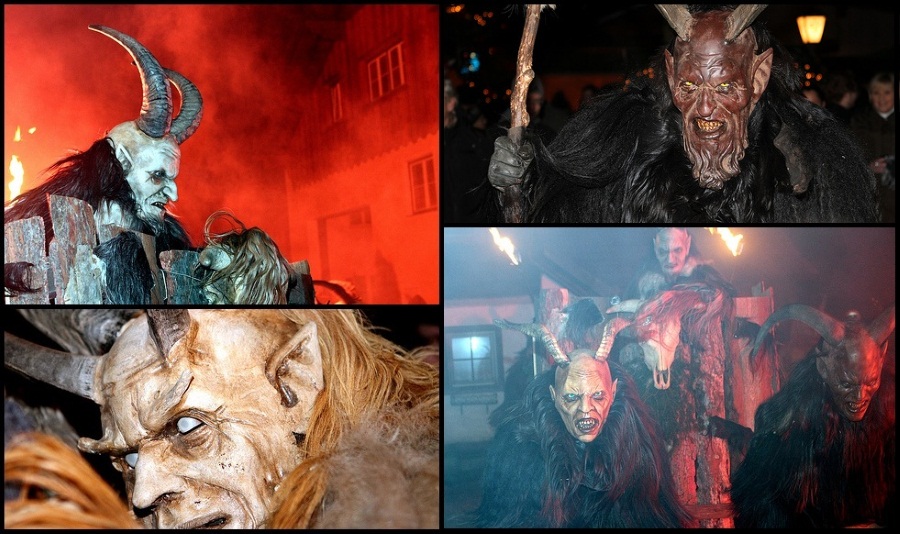 Source: All images Flickr user ColorfulFoxes (Creative Commons)
Clockwise: Image 1, Image 2, Image 3, Image 4
DIY Krampus Costume
To keep this noble tradition alive and to hopefully freak out some coworkers at this year's Christmas party, why not don the cloven hooves and demon horns this holiday season? Yule not regret it.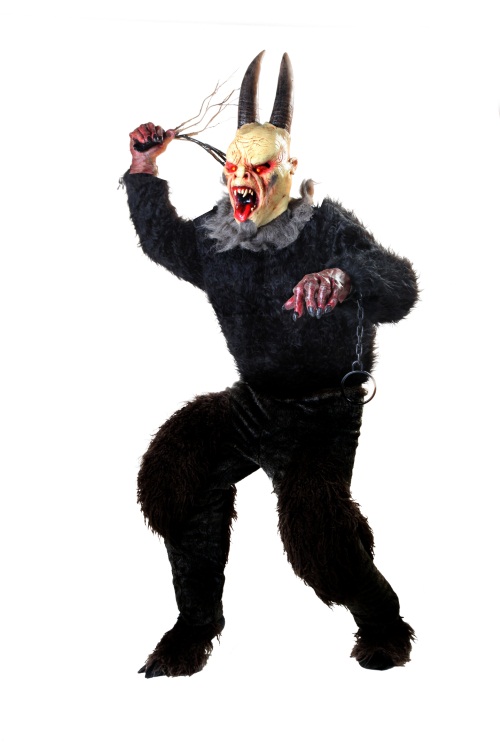 Products Used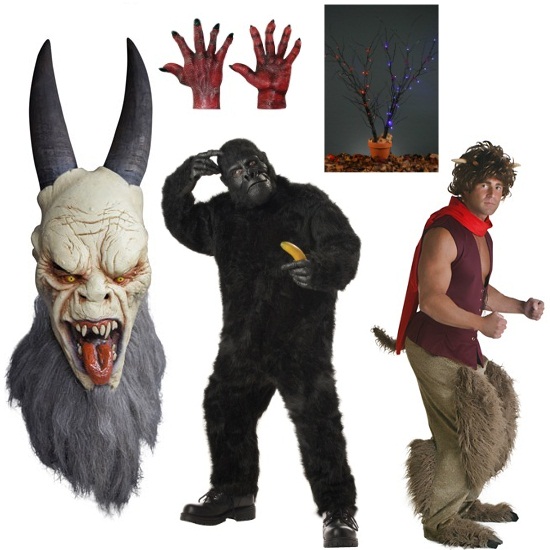 Adult Evil Red Hands Beast Horns Adult Gorilla Costume
*Note: You will also need some black dye to match the Satyr fur to the gorilla suit fur.
Step 1: Get Your Goat...On

No demon is complete without that quintessential half-goat look.
While Satyr's are much more timid and gentle creatures, the costume lays a great base for demonizing your legs after a little soaking in black dye. (Clearly you'll want to soak the pants until they match the gorilla suit that covers your upper half.)
After the dye is completely dry (don't want to end up on the naughty list for staining your mom's couch cushions black), you are ready to add the gorilla top.
Behold, just like that you are already half way there!
Step 2: Crack That Whip!
Other than his trademark tongue and matted black hair, nothing screams Krampus quite like a bramble of birch branches for a proper lashing.
For this look, you can either go into the woods and do things the old fashioned way or stay within the warmth of your home and bundle up some of our light up creepy branches.
Step 3: Almost Too Easy...
Once your demon hands are on (hopefully putting on gloves is self-explanatory), slipping into your new identity will be easy thanks to the Krampus mask.
With 12 inch horns and some of the evilest beady eyes you could ask for, you'll be disturbing everyone and tearing down the mistletoe in no time. Just don't let the power get to your head… After all, Krampus is watching!
Krampus Greeting Card
Updated: December 2, 2015
DIYs are awesome, but if you don't have the time or inclination, we've got some ready-to-wear Krampus items, new for 2015! Cozy up to our exclusive Krampus Ugly Christmas sweater, or scare the living daylights out of your friends and family with our complete adult Krampus costume. Merry Krampus!
Adult Krampus the Christmas Demon Costume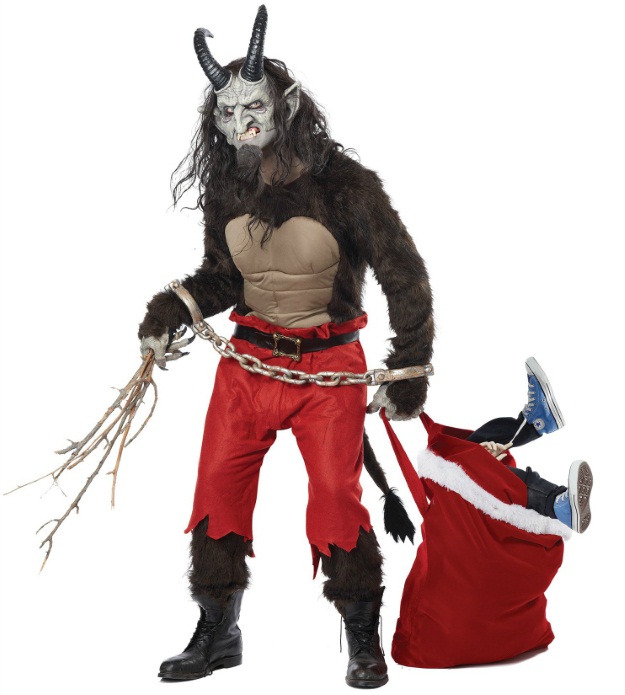 If the threat of this guy coming to your door, instead of Santa, doesn't inspire you to be a good little boy or girl, then we don't know WHAT will!
Exclusive Krampus Ugly Christmas Sweater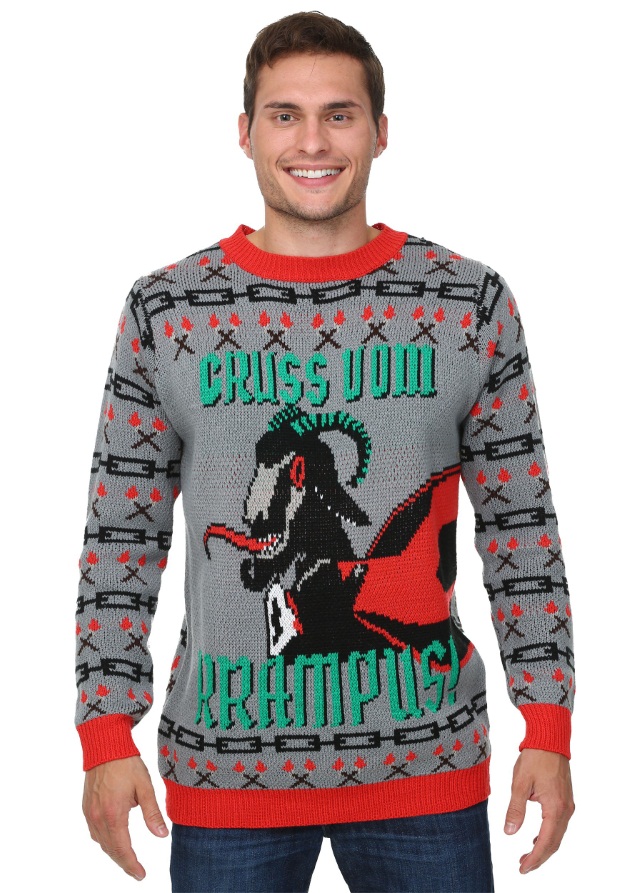 Didn't anyone ever tell Krampus it's not polite to stick your tongue out? Then again, when you're the Christmas demon, you can pretty much do as you please.