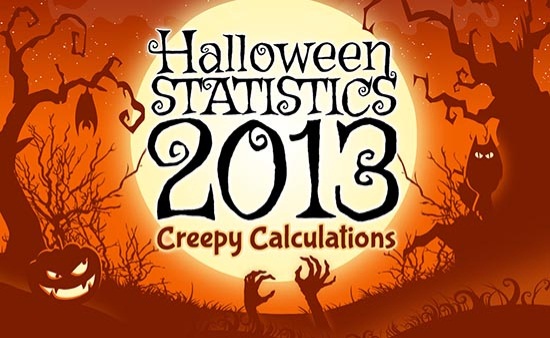 You probably don't hear the phrase, "Trick or Stats" on Halloween much, but we like to think that candy & costume statistics are as enjoyable as sorting out color-coded piles of M&Ms. Halloween continues to be one of the biggest holidays year after year, and these are just a few things we've tracked, tasted, gathered, and compiled to show you just how big Halloween REALLY is. No tricks here… just sweet,delicious, precise facts! Check out our infographic for the heaviest pumpkin in the world, best places to trick-or-treat, the trendiest costumes of the year and more.

Embed this Image on Your Site:
Halloween Statistics 2013 Creepy Calculations Transcript
How Adults Plan to Celebrate Halloween
Throw a Party: 30.9%
Hand Out Candy: 72%
Carve a Pumpkin: 44.2%
Take Children Trick-Or-Treating: 31.7%
Decorate Home or Yard: 47.5%
Dress in Costume: 43.6%
When Americans Begin Shopping for Halloween...
Begin Shopping Before September 30th: 32.8%
Begin Shopping the First Two Weeks of October: 43.6%
Wait Until the Final Two Weeks of the Month: 23.6%
Costume Inspiration...
Get Inspiration Searching for Costume Ideas Online: 32.9%
Take to the Stores for Their Inspiration: 32.8%
Will Use Facebook for Inspiration: 14.1%
Will Find Their Costume Inspiration on Pinterest: 9.3%
Will Search for the Perfect Costume on Blogs: 3.8%
How Much Americans Spend on Costumes For...
Adults: $1.22 billion
Kids: $$1.04 billion
Pets: $330 million
2013 Halloween Costume Trends
Kids
White Stealth Ninja
Cross-Eyed Carlie Monster
Minion
Camo Trooper
Headless Horseman
Adults
Duck Dynasty Uncle Si
Enchanting Belle
Purple Posh Monster
Walter White Toxic Suit
Sexy Deadly Ninja
Pets
Stegosaurus
Wooly Mammoth
Superman
AT-AT
Shark
Do It Yourself
It would take 1,333,620,967 pieces of candy corn to go around the world ONCE.
Top 15 Most Popular Halloween Candies
(According to a national survey based on 2012 sales and 2013 projections.)
#1: M&M's
#2: Reese's
#3: Hershey's
#4: Snickers
#5: Kit Kat
#6: Twix
#7: Twizzlers
#8: Skittles
#9: Dove
#10: 3 Musketeers
#11: Starburst
#12: Milky Way
#13: Butterfinger
#14: Hershey's Kisses
#15: Tic Tac
Best (and Worst) Cities for Trick-Or-Treating
Best
San Ramon, CA: America's Wealthiest City
New York, NY: America's Most Populous City
Phoenix, AZ: Warmest Average October Weather
El Paso, TX: America's Safest City
Worst
Detroit, MI: America's Most Dangerous City
Fairbanks, AL: Coldest Average October Weather
Guinness World Record: Heaviest Pumpkin
2009lbs. Record Set by Ron Wallace of Greene, RI in 2012
Looking for Halloween Entertainment Ideas?
Popular Songs
1. Thriller, Michael Jackson
2. Monster Mash, Bobby "Boris" Pickett & The Crypt Kickers
3. Ghostbusters, Ray Parker Jr.
4. Werewolves of London, Warren Zevon
5. A Nightmare on My Street, D.J. Jazzy Jeff & The Fresh Prince
Popular Films
1. Psycho (1960) Alfred Hitchcock
2. Alien (1979) Ridley Scott
3. The Shining (1980) Stanley Kubrick
4. The Thing (1982) John Carpenter
5. Jaws (1975) Steven Spielberg
Turn On Your Television
It's the Great Pumpkin, Charlie Brown has been shown every Halloween since its debut in 1966. This will be the 47th year it has aired.
Popular Books
Amazon's most popular horror books from October 2013
1. The Walking Dead: Compendium 1 by Robert Kirkman, Charlie Adlard, Cliff Rathburn and Tony Moore
2. Magic Rises (Kate Daniels) by Llona Andrews
3. Watchers by Dean Koontz
4. The Remaining: Fractured by D.J. Molles
5. Into the Hollow (Experiment in Terror) by Karina Halle
Popular Games
IMDb's top horror games
1. Dead Space 2, 2011
2. Dead Space, 2008
3. Bioshock, 2007
4. F.E.A.R.: First Encounter Assault Recon, 2005
5. Resident Evil 4, 2005
The Modern History of Trick-Or-Treating
1895, Scotland: Earliest record of children "guising" on Halloween—going door-to-door disguised in costume collecting treats
1911, Ontario: First record of guising in North America
1919, Massachusetts: Process similar to trick-or-treating described in Ruth Edna Kelly's book, Hallowe'en in America
1927, Alberta: Earliest recorded use of the term "trick-or-treat"
1939, United States: Earliest use of the term "trick-or-treat" in a national publication
Sources:
Internal Sales Data, NRF.com, InfoPlease.com, CurrentResults.com, HuffingtonPost.com, Billboard.com, IMDB.com, Amazon.com and BusinessWeek.com
Creepy Calculations: 2013 Halloween Statistics [VIDEO VERSION]
You can also view this video version of the Creepy Calculations infographic for added fun. The animated section about the world's largest pumpkin quickly became the favorite part of the video for everyone on the HalloweenCostumes.com team. Enjoy these statistics again in animated form!
Embed this Video on Your Site: