Whether you are a fan of the Toy Story movies or have fond childhood memories of playing with little green plastic soldiers, a Green Army Man costume is an awesomely unique costume idea for Halloween. HalloweenCostumes.com has an exclusive deluxe green army man that provides the perfect base to get you started (includes helmet, jacket, belt, gloves and pants), and with a few extra steps and key accessories you will have an outfit worthy of the top prize in any costume contest.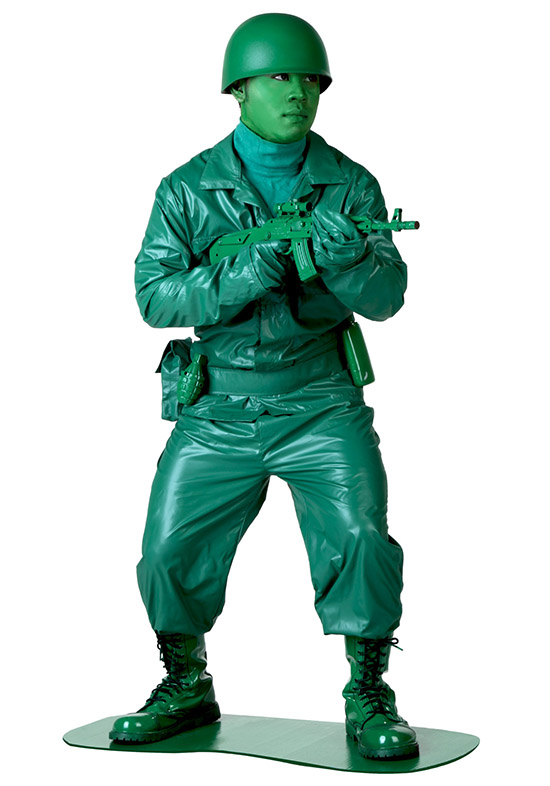 Green Army Man Costume- Shop
The most important (and messiest) step is to get some green makeup to lay as a base on any exposed skin. The costume comes with gloves but does not include a shirt. We would recommend getting a green turtleneck so that you have less surface area to cover in green makeup.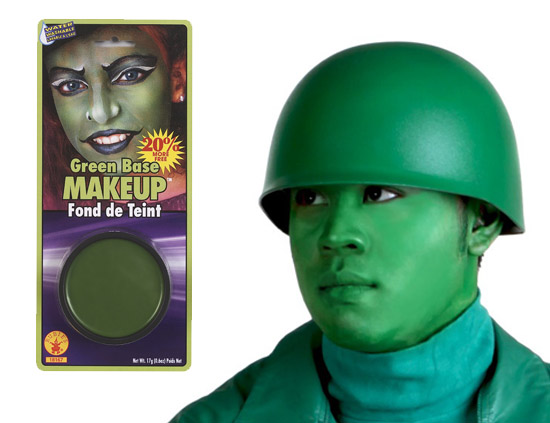 Green Face Makeup- Shop
The next step is to accessorize. There are many army accessories such as combat boots, toy rifles and grenades that are great for adding the extra details to your costume that will make it an award winner. Much like the hipster shopkeepers in the hit show Portlandia who merely say to "put a bird on it," the DIY trick to making perfect accessories for this green army man costume is to simply "throw some green paint on it!"
Adult Combat Boots- Shop - then throw some green paint on it!
Rifle Machine Gun- Shop - then throw some green paint on it!
Toy Binoculars- Shop - then throw some green paint on it!
Combat Hero Grenade- Shop - then throw some green paint on it!
The base that the army man is standing on is just regular old cardboard that we (you guessed it...) threw some green paint on! We have seen some DIYers attach the base right to their boots. For our photo shoot we kept the base unattached, but you can do whichever you prefer. It definitely ups the costumes "cool factor" but could prove a cumbersome addition if you plan to be bar crawling.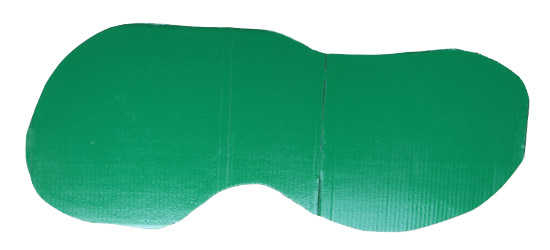 Cardboard with some green paint thrown on it.
And that's it. With a little work and a great outfit from HalloweenCostumes.com, you will hands down have one of the best costumes this Halloween. If you are looking to elevate your Halloween night to epic status, get a group together for a group army men costume! What could top a whole platoon of Green Army Men arriving at the party? Or, if you are really ambitious, you could throw a blue or red army man into the mix.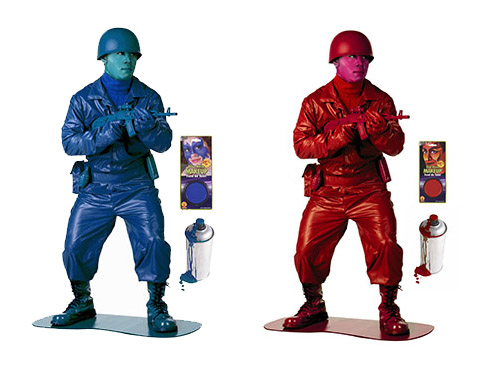 Epic.