If you're anything like me, you want a costume that resembles something that conveys your daily interests and something you can get multiple uses out of. And, if you're even more like me, you've read all three Hunger Games books multiple times, and saw "The Hunger Games" in the theaters not only during the midnight showing, but another five times after. So, what could be better than creating a Katniss costume for your 2012 Halloween look, and for midnight movie showings to come? I've created a step-by-step guided for creating a head-to-toe Katniss Everdeen costume, so you can become the girl on fire this Halloween.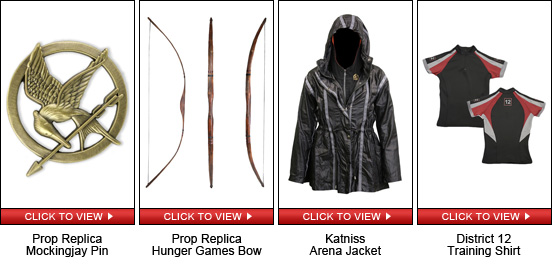 The Hair:
Katniss' mother does her hair for the reaping in a simple braid that's pinned up under her head, and the braid becomes Katniss' signature look throughout the 74th Annual Hunger Games. This look is mainly done in one single braid off to the right side of her head. There are tons of braid tutorials on YouTube, but this one does a good job of showing the steps to creating a very similar braid to Jennifer Lawrence's hair in the movie. Don't find yourself savvy enough or with enough hair to pull off this braid on your own? You can always opt for a braided wig like the one here to complete your look.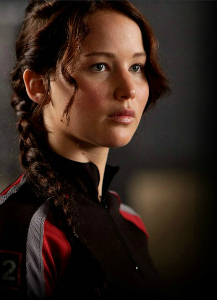 (Source)
The Clothing:
The makeup and design team for District 12's tributes put together lavish ensembles for the opening ceremonies and final evening before the games, but Katniss and the other 23 tributes wear pretty basic survival gear for the games themselves. For this Halloween look you'll need a training shirt from District 12, Katniss' arena jacket, a pair of black leggings and a pair of knee high flat bottom boots. And, don't forget the Mockingjay pin that Cinna let Katniss sneak into the arena on her shirt. Just like Katniss needed the pin for protection, you may need it as you run around in the dark on Halloween night!

The Accessories:
Even with all the preparation and training in the world… well, two weeks of it, Katniss still had to make some hard fast decisions while in the arena. One decision that may have saved her life was not listening to Haymitch and running straight for high ground and water. Katniss chose to run towards the Cornucopia and take a backpack filled with supplies. The backpack was filled with items like a rope, a water canteen, a knife and a necklace-like chain filled with matchsticks.

Later in the games, Katniss was able to procure a bow and arrows from one of the other tributes. As the bow is the weapon that earned Katniss a rating of an 11 prior to the games beginning, this is definitely an accessory that completes her look. All of these items helped her stay alive and get ahead in the games, so they're must haves for a Katniss Halloween costume.
You can find all of these licensed Hunger Games costume pieces on HalloweenCostumes.com. And, as you go into Halloween night, may the odds be ever in your favor!