Bring on the AC/DC, the Men In Black are back for "MIB III" and this time, they're traveling through time AND space. The new movie featuring Will Smith ("Hancock", "I, Robot") and Tommy Lee Jones ("Captain America: The First Avenger", "No Country For Old Men") and introduce Josh Brolin ("True Grit", "W.") into this star-studded ensemble opening this weekend. Get ready to rock your own Men in Black costume!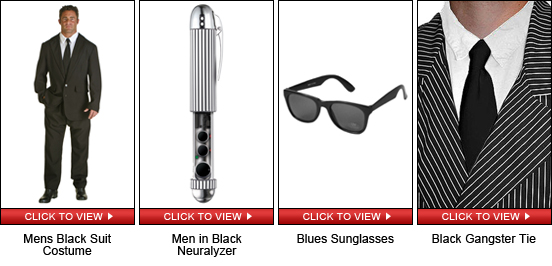 If you remember from the first movie, here are the instructions on how to steal this look:
"You'll dress only in attire specially sanctioned by MIB special services. You'll conform to the identity we give you, eat where we tell you, live where we tell you. From now on you'll have no identifying marks of any kind. You'll not stand out in any way. Your entire image is crafted to leave no lasting memory with anyone you encounter. You're a rumor, recognizable only as déjà vu and dismissed just as quickly. You don't exist; you were never even born. Anonymity is your name. Silence your native tongue. You're no longer part of the System. You're above the System. Over it. Beyond it. We're "them." We're "they." We are the Men in Black." — Zed
Now, are you ready to kick some intergalactic alien butt?
You will need:
"The last suit you'll ever wear." — Zed
Literally. You can reuse this suit over and over again. And then over and over again some more. Weddings, funerals, dinner parties, or for other costume ideas such as Archer, Bill Clinton, Blues Brothers, FBI Agent ... The list is endless. It's not just a Men in Black suit.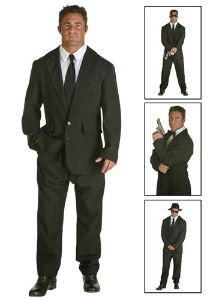 "You know what the difference is between you and me? I make this look GOOD." — Jay

No suit is complete with out a tie. This classic black tie pulls the look together and gives you the look of a professional agent from Division 6.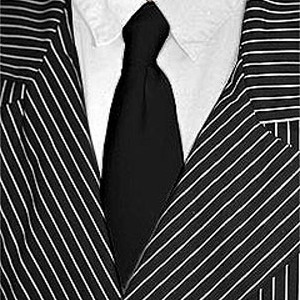 "This is called a neuralyzer. It's a gift from some friends from out of town. This red eye isolates the electronic impulses in your brains, specifically the ones for memory." — Agent Kay

Have you ever had one of those foot-in-mouth moments where you immediately regret everything you just said? Well, unfortunately you can't, but you can pretend with this Men in Black neuralyzer.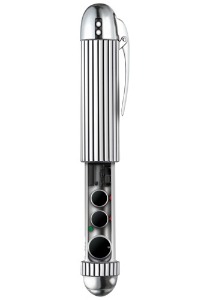 (Men in Black Neuralyzer)
"Gentlemen, congratulations. You're everything we've come to expect from years of government training. Now please step this way, as we provide you with our final test: an eye exam..." — Zed
No Men in Black costume is complete without this key accessory: dark shades. How else are you going to protect your eyes and preserve your memory? Trust us, you're gonna need these.