If you have fond memories of watching Saturday morning cartoon characters, you'll love to see them come to life with these cartoon character costume ideas! We may remember pouring some cereal and curling up on the couch to watch cartoons, but cartoons have changed since we were young. They're now available for streaming 24/7 and not just for kids! With that in mind, let's look at some of our favorite cartoon costumes from the classics to now!
Anime Costumes
Pokemon Costumes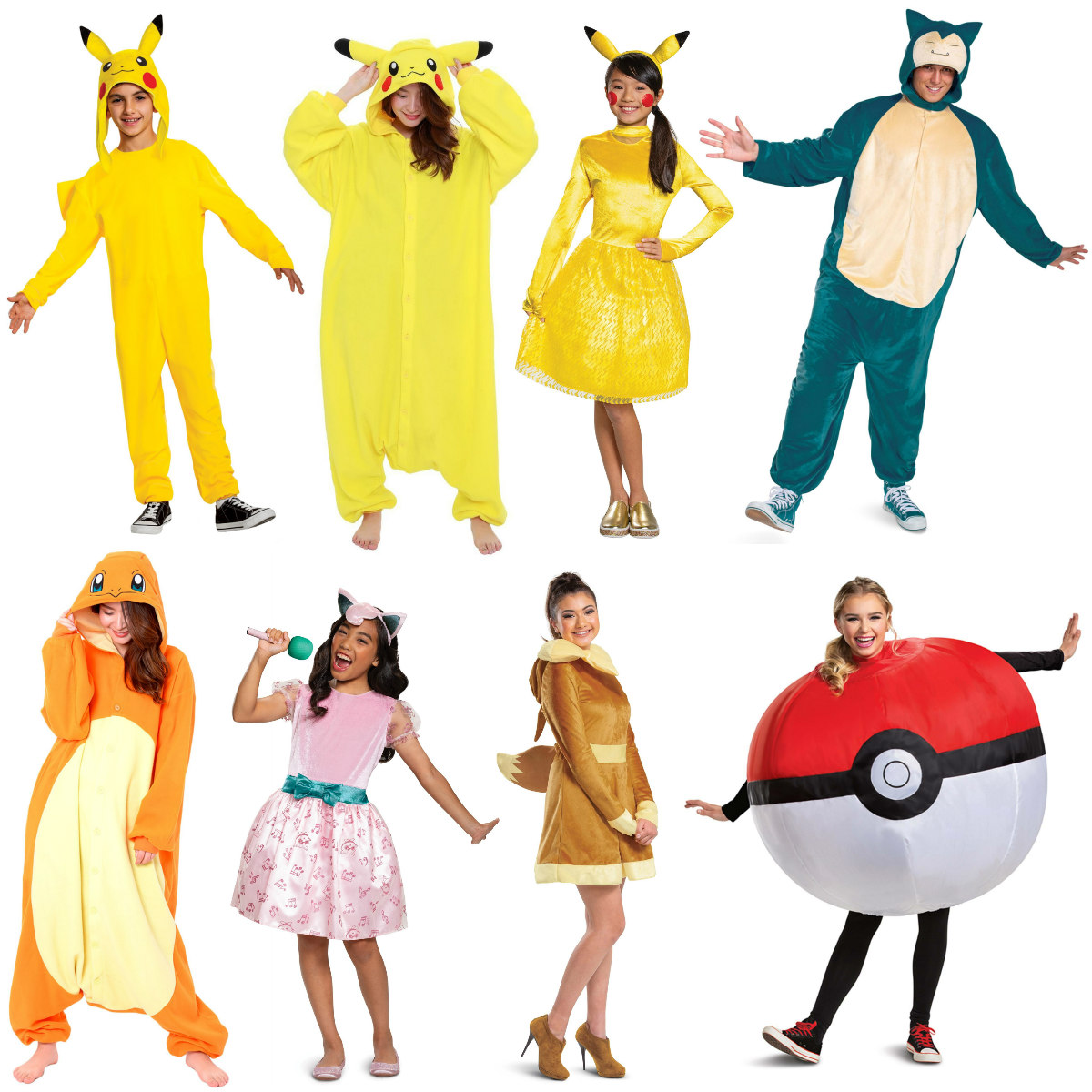 Is it an anime costume? What about a video game costume? Who needs categories because Pokemon costumes are just all-around fun—some of the very best, like no Halloween costume ever was! The electric yellow rodent Pikachu is easily recognizable, and a Pikachu costume will also make you stand out in a crowd! Don't be surprised if you get approached for pictures either. Everyone loves the Pokémon mascot!
Dragon Ball Z Costumes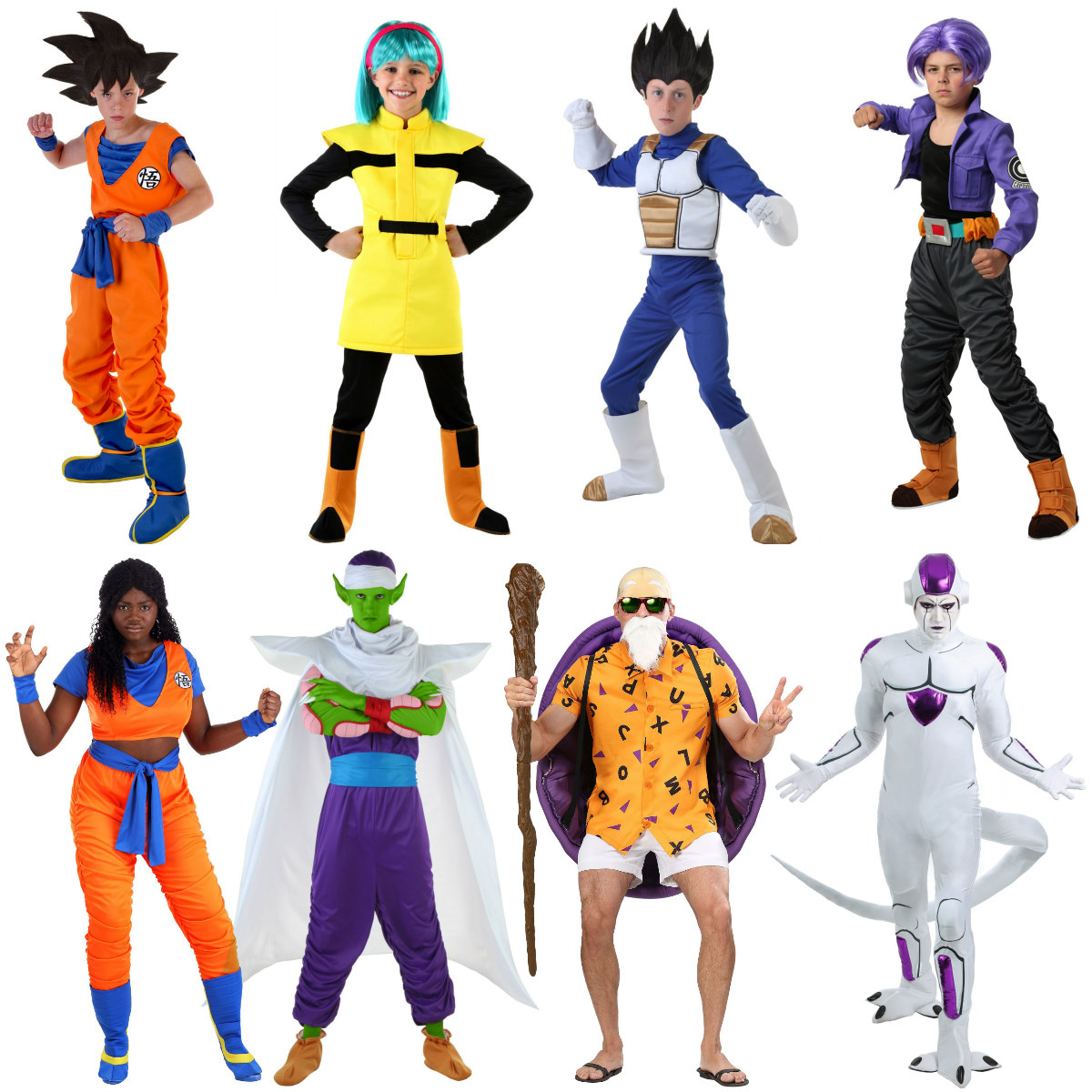 If you love orange and blue martial arts uniforms and screaming at the top of your lungs until it bleaches your hair, our Dragon Ball Z costumes have your name on them. There are tons of other characters in Dragon Ball Z, but Goku is the star of the show. His mastery of martial arts is unparalleled—although frankly, it goes beyond regular human ability into what we'd consider "superpowers"!
More Anime Character Costumes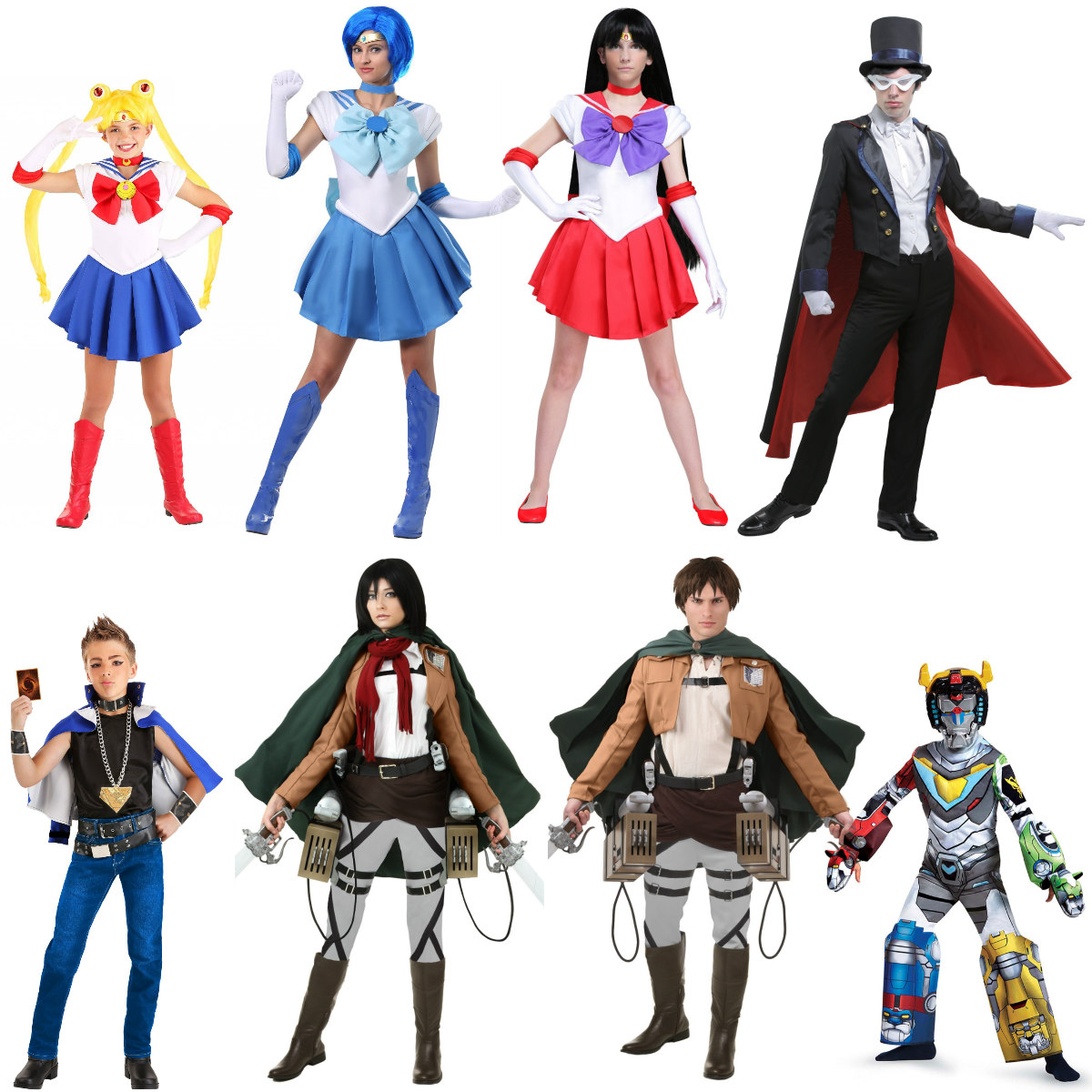 If you're looking for cartoon costumes with an entire cast of epic leading ladies, you don't need to look any further than Sailor Moon costumes. Named after the planets in our solar system, this team of crime-fighting girls keeps the Earth and the cosmos safe. Other fun anime costume ideas include Attack on Titan, Yu-Gi-Oh, and Voltron! These shows have a range of main characters but include plenty of others to round out the cast, which means they can accommodate anime group costumes of virtually any size. Just make sure to get their taglines and poses down, and your group will be a hit at any convention or Halloween costume party!
Disney Costumes
PJ Masks Costumes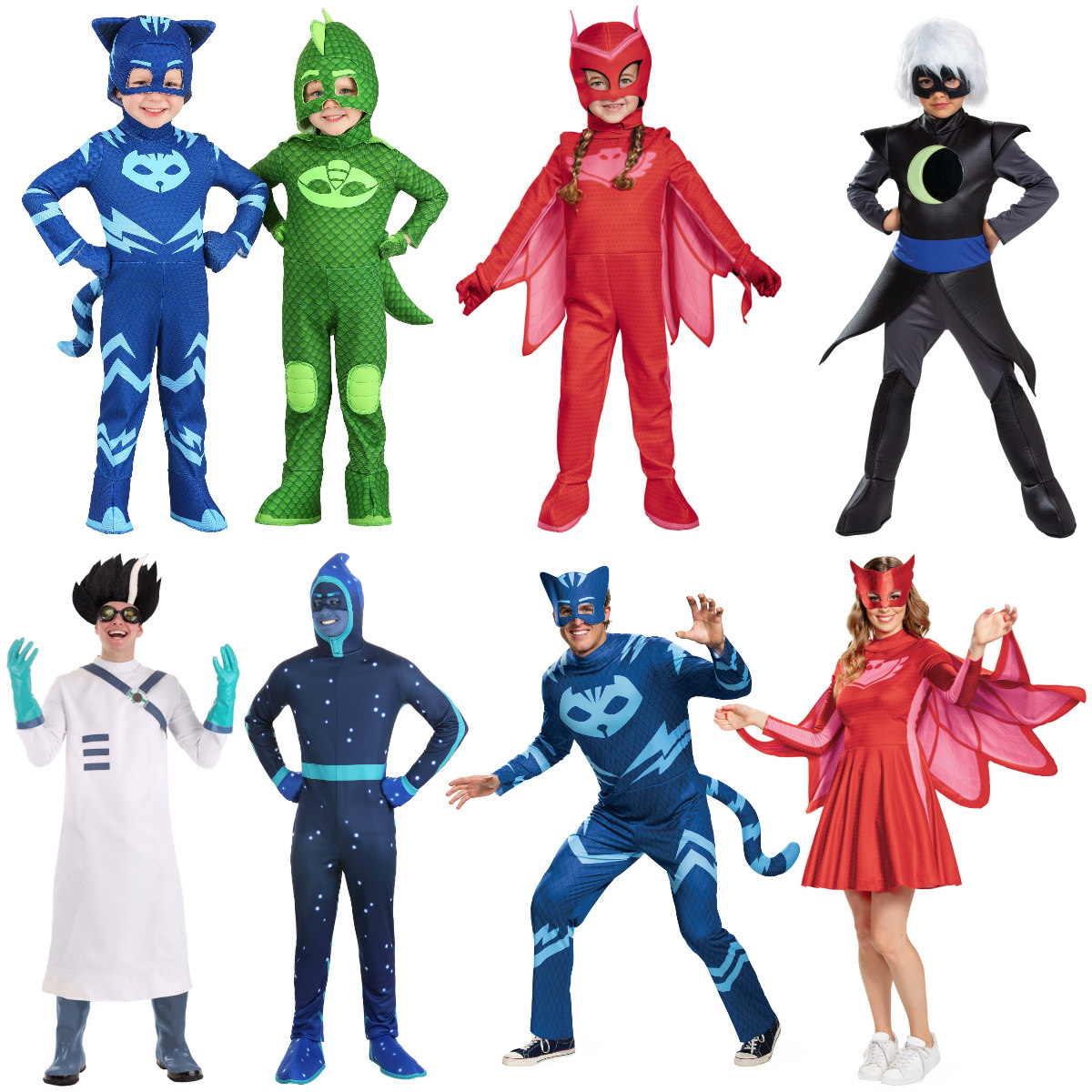 PJ Masks is a wildly popular Disney Junior show that's actually owned by Hasbro—which, coincidentally, also has a history of making excellent cartoons. If your kids would love to dress up as...kids who dress up and fight crime, we're sure these PJ Masks costumes would make a great choice. Our costumes are made for kids and adults, which makes them perfect for family cartoon costumes!
Winnie the Pooh Costumes
Take a trip to the Hundred Acre Wood by wearing any one of a number of Winnie the Pooh costumes for adults, kids and pets! These Disney character costumes are perfect for families as well as individuals, and you'll love chatting with some of your favorite Pooh quotes. These cartoon costumes are also very comfortable—we wouldn't be surprised if you decided to use them again as pajamas!
More Disney Character Costumes
What's the sitch? Or did you say "Lilo & Stitch"? Either way, we've got all kinds of Disney cartoon costumes. Kim Possible is the action hero that we all wish we could be, while Shego is that extremely snarky yet completely relatable supervillain that we'd love to have on a shopping trip. If you're a troublemaker at heart, how about aliens Stitch and Angel? But don't forget about Lilo! We also carry plenty of classic Mickey Mouse costumes and costumes from newer cartoons, too. This Doc McStuffins is a perfect character costume for kids who love fixing up their toys!
Marvel Costumes
Spider-Man Costumes
If there's anything we know about Spider-Man, it's that he's literally everywhere. Cartoon series, movies, video games, cereal boxes, band-aids...okay, you get the point. It's no wonder that he's all over the place, as Spider-Man is one of the most relatable superheroes. There's even an entire Spider-Verse of other Spider-Men and Spider-Women, so anyone can wear a Spider-Man costume! Just make sure to follow the guidelines when wearing your superhero suit—with great power comes great responsibility.
Avengers Costumes
The Marvel Cinematic Universe is at peak media saturation right now, so it's easy to forget that The Marvel Super Heroes cartoon debuted all the way back in 1966! There have been plenty of animated series since then, from The Incredible Hulk in the '80s to Iron Man in the '90s to Avengers Assemble in the 2010s. We even got to see some alternate-universe characters in What If...? So the sky's the limit here. You could assemble the animated Avengers with Marvel cartoon costumes or recreate some What If characters like evil Strange Supreme or Captain Carter. Or just go with classic animated Thor, with his goofy winged hat!
X-Men Costumes
As soon as we saw these X-Men cartoon costumes, we got that epic theme song in our heads. We hope it's in yours, too! If the X-Men are your jam, you'll love these classic X-Men costumes, like the yellow spandex Wolverine and Rogue or Jean Grey's Phoenix costume. Deadpool had several cameos in the animated series—well, kind of...it's complicated—so we had to include him as well!
More Marvel Character Costumes
Of course, plenty of other Marvel characters appeared in cartoons, from She-Hulk in The Incredible Hulk series to Ms. Marvel and Squirrel Girl in the Marvel Rising franchise. And who hasn't cameoed in a Spider-Man series? So if you're looking for Marvel cartoon character costumes, we're here to help!
DC Comics Costumes
Batman Costumes

While Batman has had his share of time on the silver screen, there are also a number of great animated Batman TV shows worthy of mention. Batman: The Animated Series surely comes to mind, as the show introduced us to Harley Quinn. (And Mark Hamill of Star Wars fame voiced the Joker!) Some newer series still manage to keep Batman and his cohorts relevant, even if they're not Batman-specific. (Teen Titans, Young Justice and DC Super Hero Girls, anyone?) You literally can't go wrong with any of these Batman costume ideas!
Justice League Costumes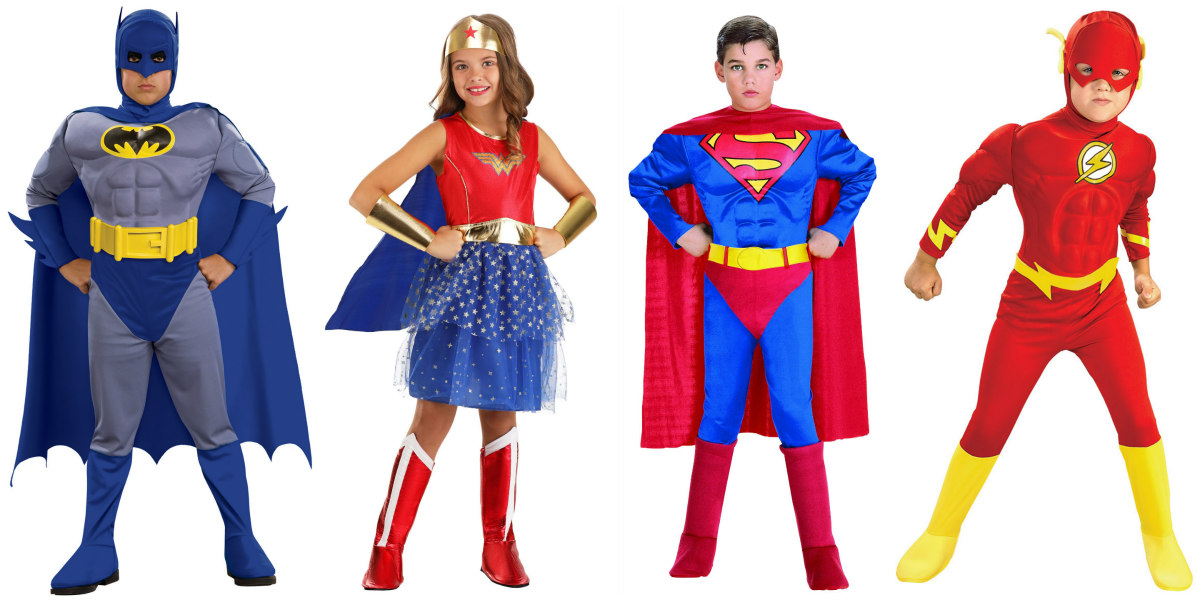 Batman: The Animated Series kickstarted the DC Animated Universe, which included two of our favorite animated DC series, Justice League and Justice League Unlimited. They included so many DC Comics characters in animated form, but our favorites are iconic characters like Batman, Wonder Woman, Superman, Flash, Martian Manhunter, and Hawkgirl. Of course, you'll find plenty of classic Justice League costumes right here!
Teen Titans Costumes
While the DC Animated Universe focused on adult characters, the heroes of Teen Titans and its follow-up, Teen Titans Go!, were reimagined as, well, teens! We love these series for their comic, exaggerated characters—which extended to their costumes as well. These animated Teen Titan costumes are colorful and bold, plus they're available for kids and adults, too.
DC Super Hero Girls Costumes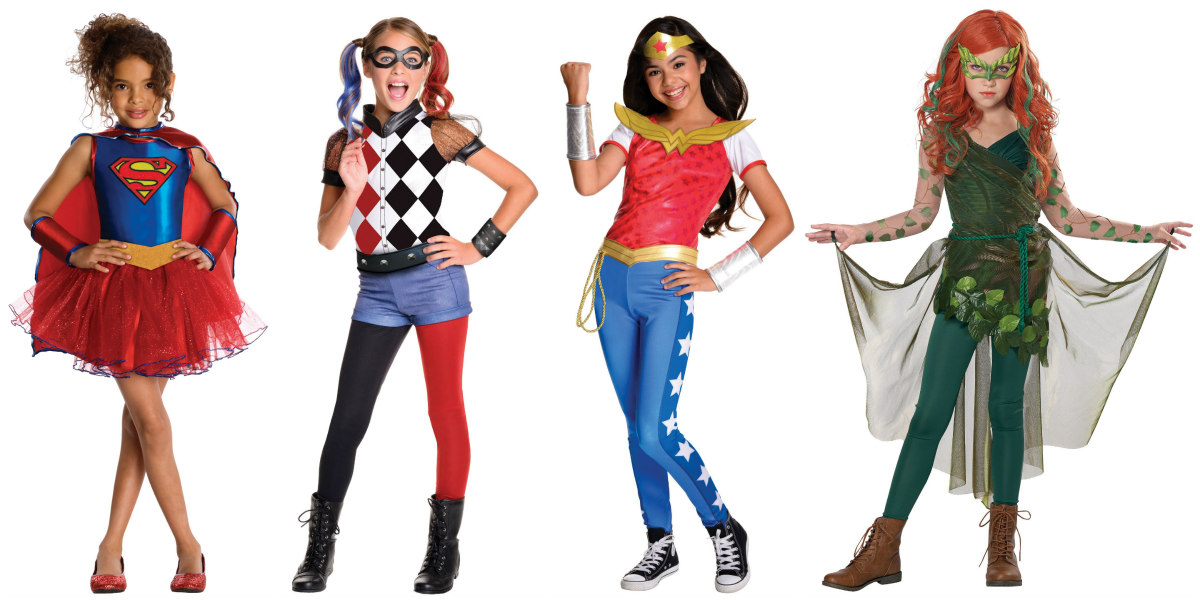 Another series with teen superheroes, DC Super Hero Girls has a more retro, Silver Age of Comics look. The DC Super Hero Girls costumes include all of your favorites, including Supergirl, Wonder Woman, Harley Quinn, and Poison Ivy. They're perfect for trick-or-treating at Halloween or getting into all sorts of teen hijinx—or, you know, saving the world.
Nickelodeon Cartoon Costumes
PAW Patrol Costumes
If your kiddos love PAW Patrol and they're ready for action—Halloween, touring the fire station, or just curling up on the couch—then our PAW Patrol costumes are for you! We carry all of the iconic heroes: Chase, Skye, Tracker, Rubble, and Marshall. You can't forget about Marshall! PAW Patrol adaptive costumes are available as well, like the PAW Patrol wheelchair cover or a Chase costume made to accommodate a walker or a wheelchair.
More Nickelodeon Character Costumes
Nickelodeon is synonymous with cartoons, so of course you should expect to find Nickelodeon costumes at HalloweenCostumes.com! And because Nick has been around for years, these costumes go way back. We've got costumes for all of your faves, like Chuckie and Reptar from Rugrats, and Aang and Kora from Avatar: The Last Airbender. Or Nick Jr. costumes, from Peppa Pig to Shimmer and Shine. From playtime to Halloween time, we're here to let your kiddos live out their cartoon dreams!
Classic Cartoon Costumes
Flintstones Costumes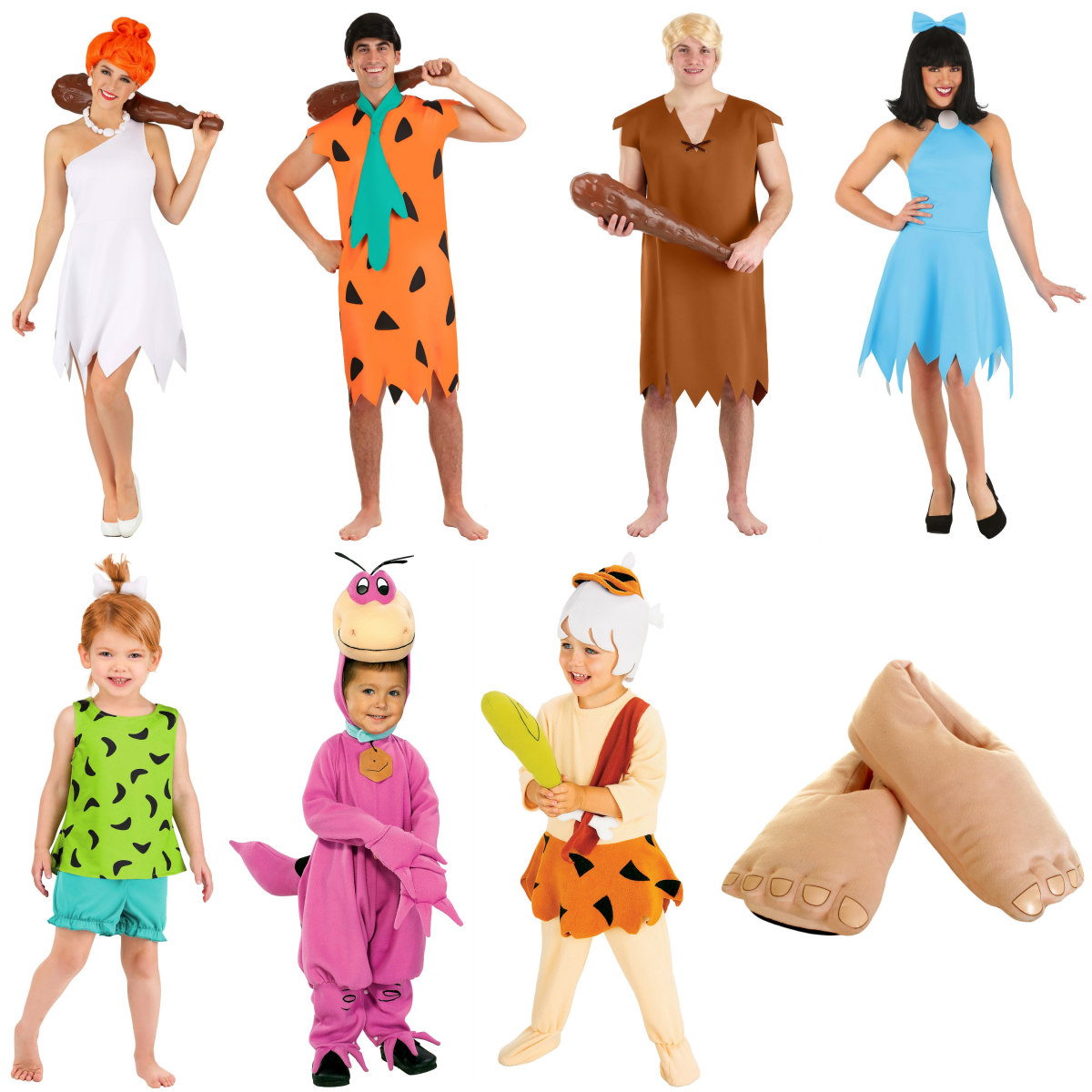 Meet the Flintstones—probably the best family of 3 costume of all time! (And times 2 at that!) Whether you're more of a fan of the Flintstones or the Rubbles, you can find all of these Flintstone outfits and more at HalloweenCostumes.com. These animation costume ideas are great if you know that your Halloween is going to be balmy. (Let's face it, not everyone has chilly trick-or-treat times like us up in Minnesota!)
Scooby-Doo Costumes
Scooby-Doo might be the star of the show, but fans just can't help but love the smart, bumbling Velma. (We're definitely including her on our team for the next trivia match!) Scooby and the gang have been taking over the cartoon scene for decades, but we honestly don't mind because he's so well-known and loved by generations of people. These Scooby-Doo costumes are one family costume idea you can pull off without forcing the kids to wear Halloween costumes they don't like!
More Classic Cartoon Character Costumes
An oldie but a goodie, Popeye costumes have that timeless appeal that makes them popular for costume parties. (It's also a great bald costume idea!) What Popeye lacks in hair, he makes up for in pure muscle. (Just make sure to have a can of spinach on hand in a pinch.) And speaking of hair, Pink Panther costumes are another hit at get-togethers, from murder mystery parties to housewarming parties, (Was...was that an insulation joke?)
Nostalgic 1980s Cartoon Costumes
Ghostbusters Costumes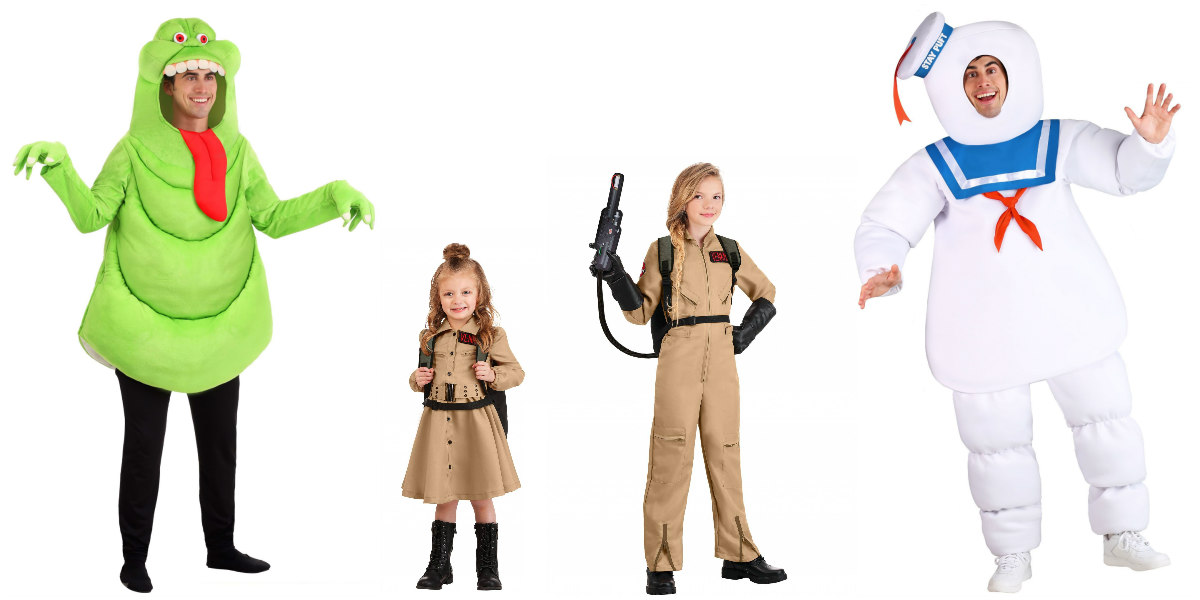 It's time to bring on that '80s nostalgia! While the '90s were filled to the brim with great cartoon shows, the '80s weren't exactly slouching in that department either. One of our favorites was The Real Ghostbusters, the animated spinoff of the film franchise. Our exclusive Ghostbusters costumes are based on the first two films but they're fine for the cartoon version, especially the Slimer and the Stay Puft Marshmallow Man costumes.
Care Bears Costumes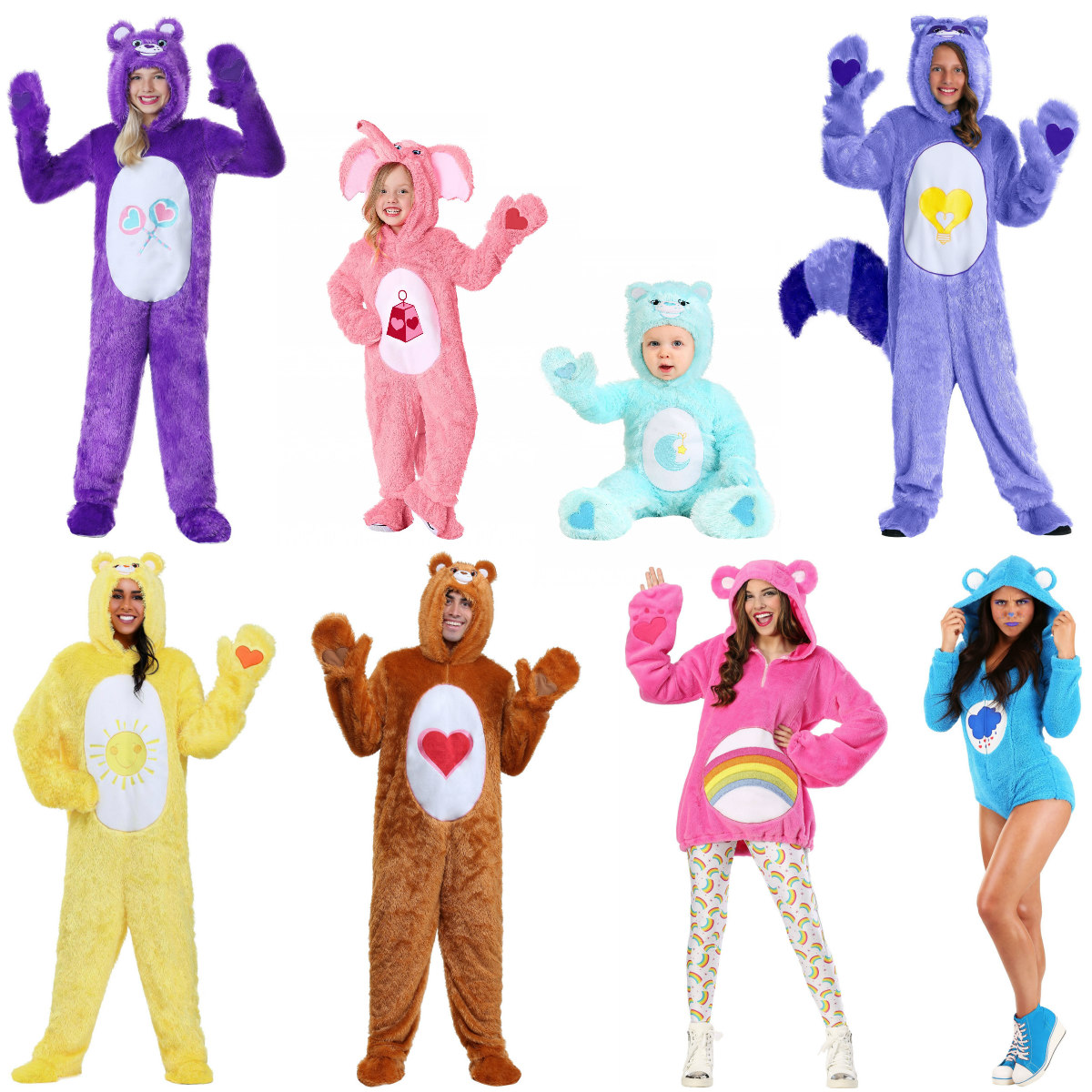 Why not revisit another classic '80s cartoon for your animated outfit inspiration? With such a colorful cast of characters, there are plenty of Care Bears costumes to fit groups of many different sizes! They're also warm and snuggly if you need a cold-weather costume for trick-or-treating, but we won't blame you if you love them for lounging or taking naps. (Bedtime Bear knows what's up!)
More 1980s Cartoon Costumes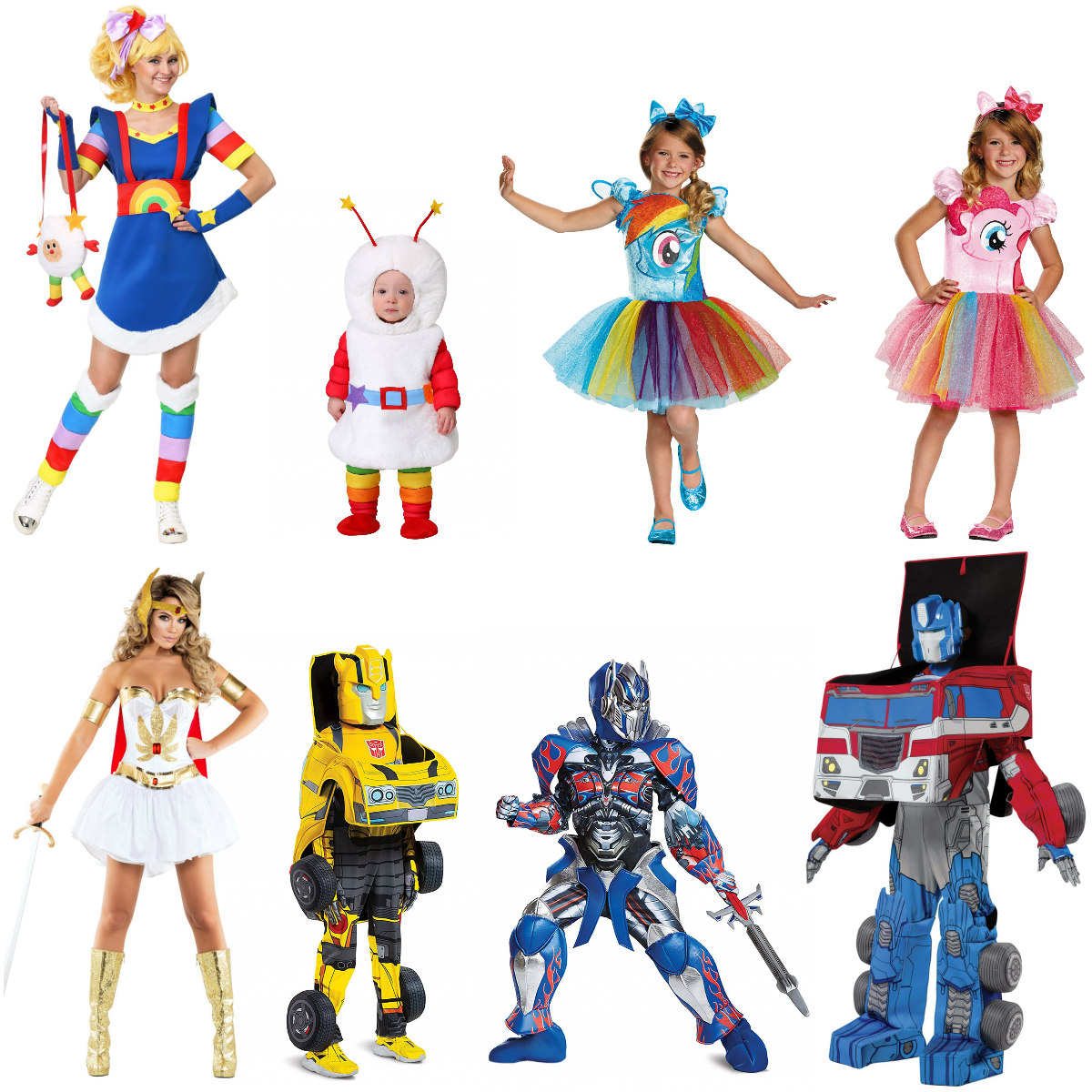 '80s cartoons had a look all their own, with bright color palettes and epic theme songs. We're here with all of your favorite '80s cartoon costumes, from Rainbow Brite and She-Ra to Optimus Prime and Bumblebee of the Transformers. Then there's My Little Pony, which adds new colorful characters every generation, like Rainbow Dash and Pinkie Pie. Unfortunately, the epic theme songs aren't included with these costumes, so you'll have to make the transforming sound yourself. (But we do that anyway, right?)
Even More 1980s Costumes!
Other iconic 1980s cartoons include The Smurfs, Inspector Gadget, Garfield and Friends, and The Simpsons. Anyone looking for a cartoon costume for large groups should seriously consider the Smurfs. (There was that world record-breaking Smurf rally in France with 3,500 people.) This Inspector Gadget costume is perfect for murder mystery parties, and these Simpsons costumes are appropriate at...well, party parties! And then you've got Garfield costumes for kids and adults, which are great for everything except Mondays.
1990s Cartoon Costumes
Teletubbies Costumes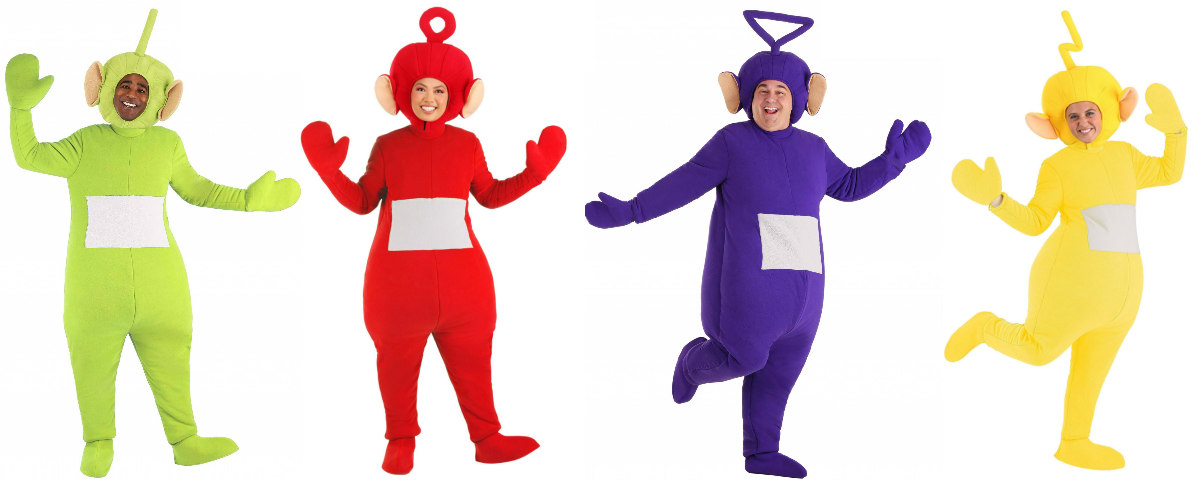 The original Teletubbies series ran from 1997 to 2001 but has become something of a cult classic. A reboot ran from 2015 to 2018, which introduced a whole new generation to Dipsy, Laa-Laa, Po, and Tinky Winky. Then an animated series started in 2018, which is how we're here, talking about Teletubbies cartoon costumes! A Teletubbies group costume is an excellent way to spend the day, waving and waiting for magical events. Just don't stare at the sun! Seriously, safety first.
Futurama Costumes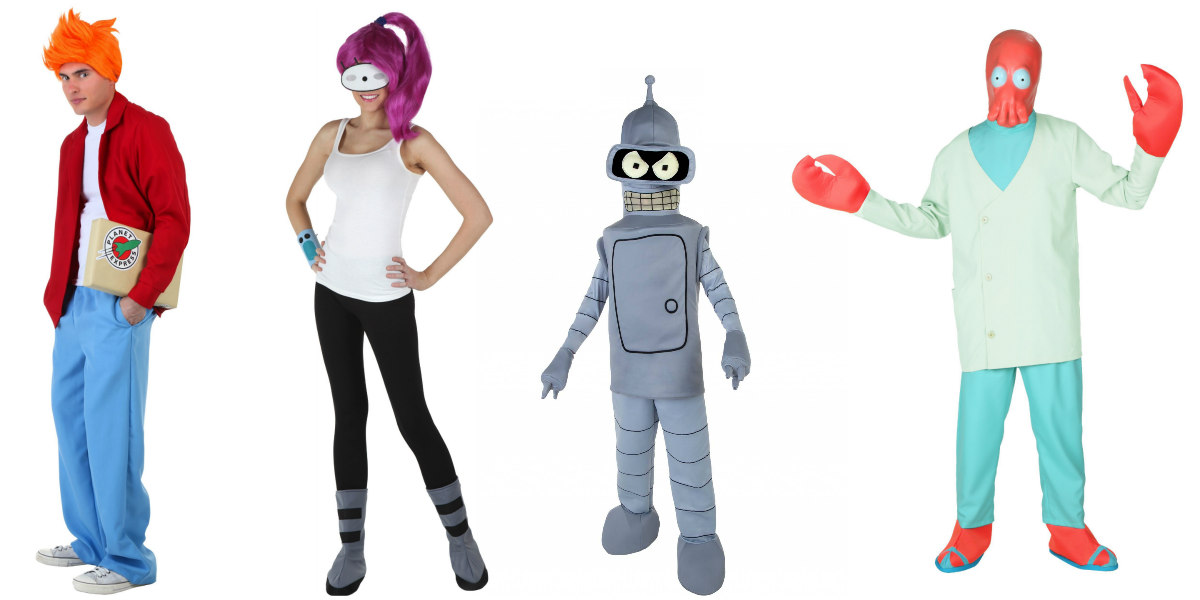 Good news, everyone! Futurama costumes are available for adults, and Bender costumes from child through plus-size. Get the whole crew together for a group Futurama costume or go solo as lonely Philip J. Fry. And Futurama is bound to be rebooted a dozen more times, which makes these costumes a legitimate investment opportunity.
More 1990s Cartoon Character Costumes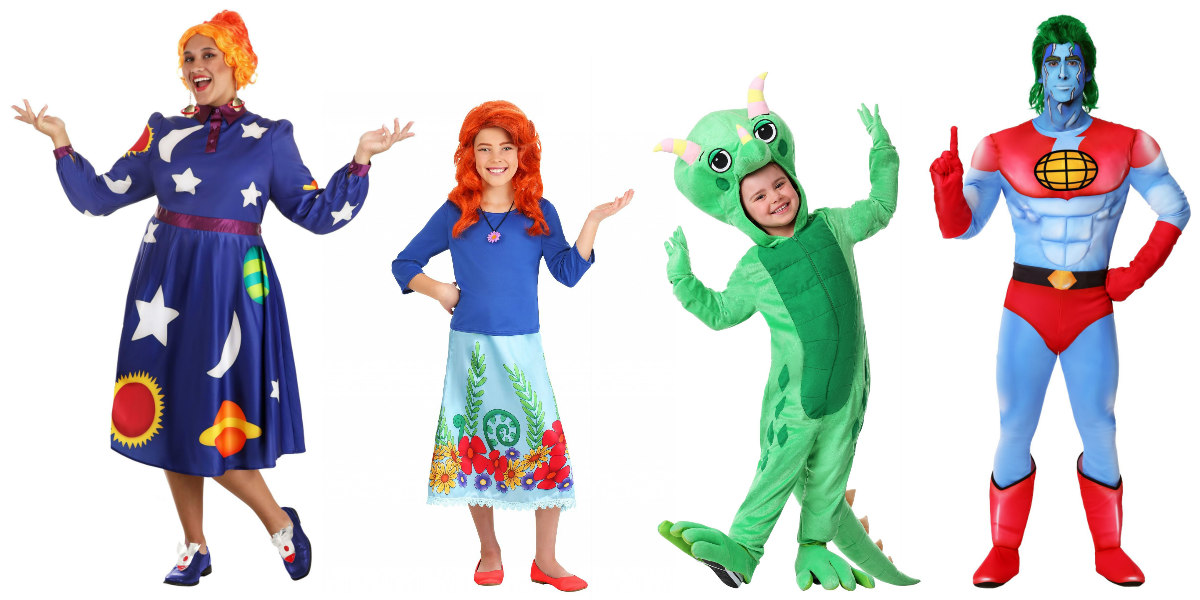 Seat belts, everyone! Miss Frizzle, her pet lizard Liz, and the Magic School Bus are well-known for making learning fun! Magic School Bus costumes are especially great costumes for teachers, but that's not to say that anyone in love with the show can't dress like their favorite character. The '90s also saw increased awareness of environmental issues, at least partly thanks to Captain Planet and the Planeteers. This Captain Planet costume is ideal for fighting eco-villains, trick-or-treating, or cleaning up trash at the park!
Modern Cartoon Costumes from 2000 and Later
Miraculous Ladybug Costumes
Miraculous Ladybug is a French superhero series, but don't worry, you don't need to speak French to wear these Miraculous Ladybug costumes! All you need is a desire to fight crime...or collect candy at Halloween. And you don't need a Miraculous to do that!
Trolls Costumes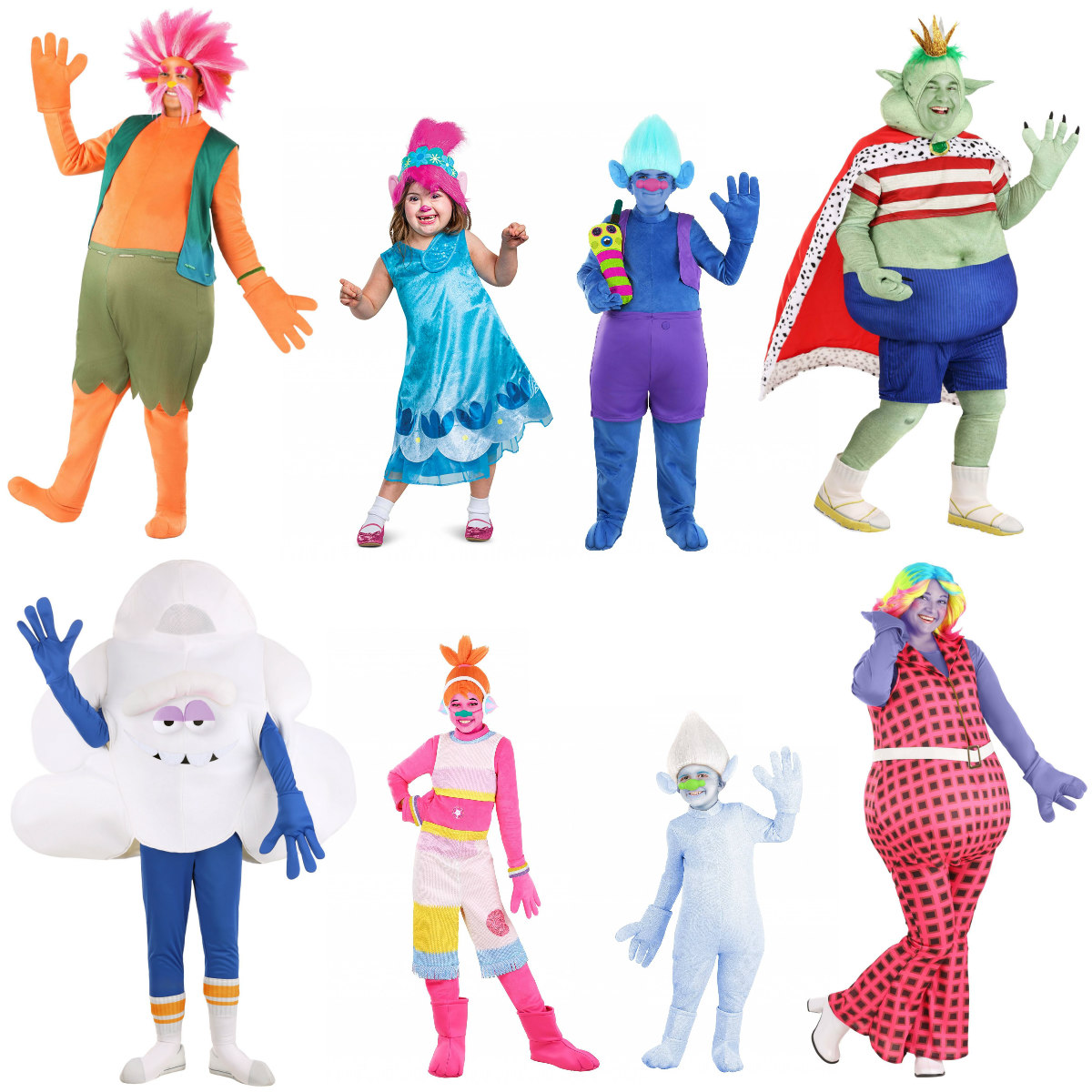 The Trolls film was a hit at the box office, leading to Trolls: The Beat Goes On! and now Trolls: TrollsTopia. We've made outrageously colorful costumes for all of your favorite characters: Queen Poppy and her dad, King Peppy, DJ Suki, Biggie, Guy Diamond, Cloud Guy, and more! These Trolls costumes are available for kids to adults, including adaptive costumes!
Modern Cartoon Costumes
There are plenty of cool cartoons on television and streaming services now, which means a ton of variety in costumes. We're fans of scary costumes, so we're proud to carry kid-friendly "horror" costumes like Mavis, Frank, and Dracula from Hotel Transylvania. Other cartoon costumes for kids include True, Bartleby, and Zee from True and the Rainbow Kingdom, Clifford the Big Red Dog, and Captain Underpants. Tra-la-laaa!
Cartoon Costumes for Older Kids to Adults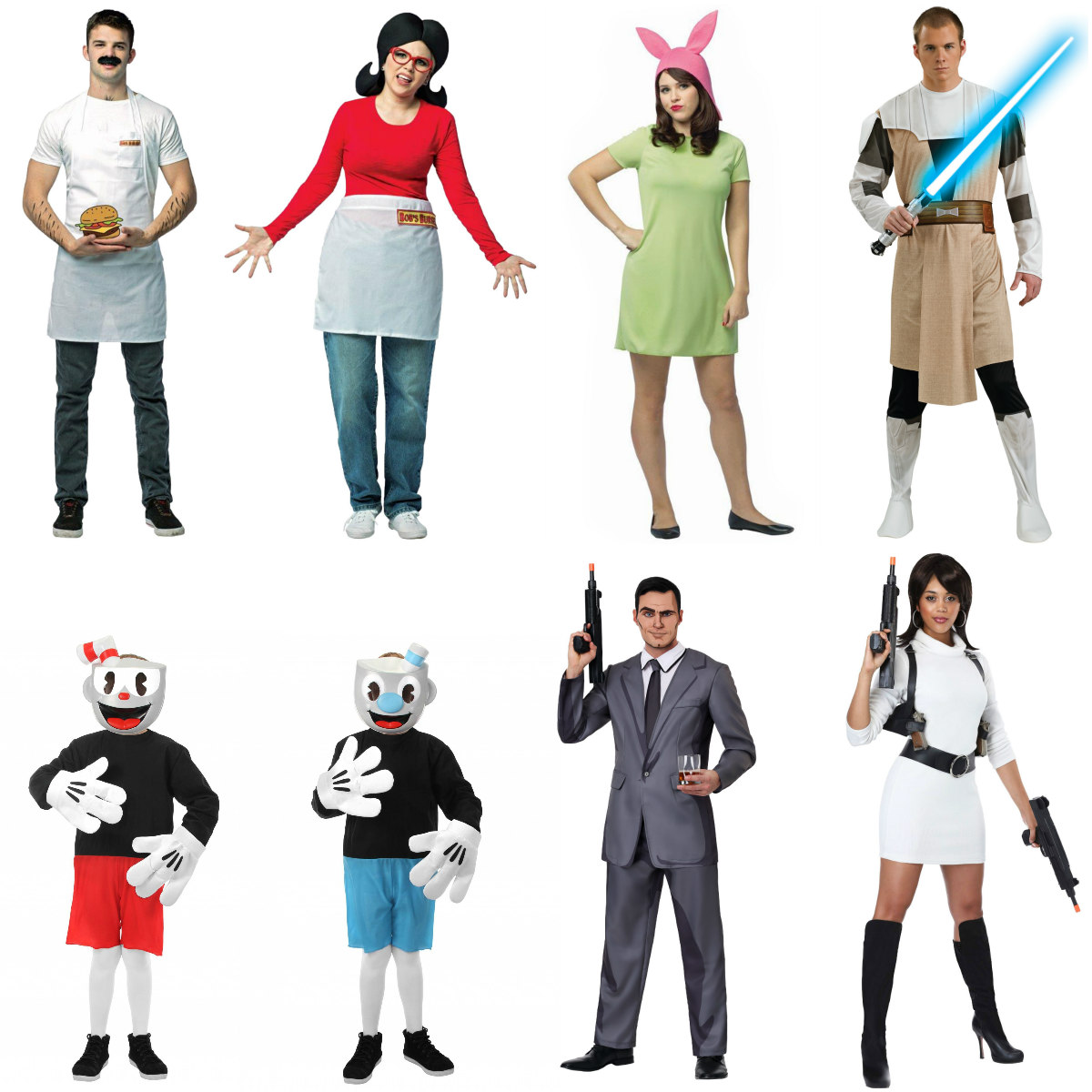 Cartoons aren't just for the kiddos, of course. Shows for teens and adults have blown up lately, thanks to late-night cartoon blocks and streaming services. Archer and Bob's Burgers costumes are perfect group or couple costume ideas. We also recommend Star Wars: The Clone Wars costumes for groups or solo missions. Don't forget a lightsaber!
Believe us when we say that there are SO MANY cartoon costumes, we could keep going like the Energizer Bunny. Ultimately, the decision is up to you and the character you know and love best. Would you be a fan of wearing Cartoon Network costumes? How about Nickelodeon or Kids WB? Feel free to lean into the nostalgia as much as you want, or pick something that's fresh and new! There really isn't a wrong way to wear cartoon costumes.
Th-th-th-that's all folks! We hope your head is jam-packed with more animated TV costume ideas than you can shake a stick at. Yet, out of the many Halloween costume ideas mentioned here, there are still many more! What are some of your favorite cartoon characters of all time? If you were to binge a cartoon series from your childhood, what would it be? Let us know all about your love of cartoons in the comments below! Now, if you'll excuse us, we have some cartoons to catch up on.