Woodstock, The Village People, the Summer of Love, Motown, and Disco... The decades of the 60s and 70s are still well-remembered for their music and culture. While Baby Boomers and Generation Xers may still remember these decades, many people only get to hear and learn about the good old days secondhand. We can still appreciate these decades without having lived through them, and decade-themed parties are one of the ways that we can have a little fun, dress in costumes, and get down with our favorite oldies hits. If you're on the hunt for 70s costumes or 60s costumes for a decade-themed party, you'll want to check out these retro Halloween costume ideas below.
70s Costumes for Adults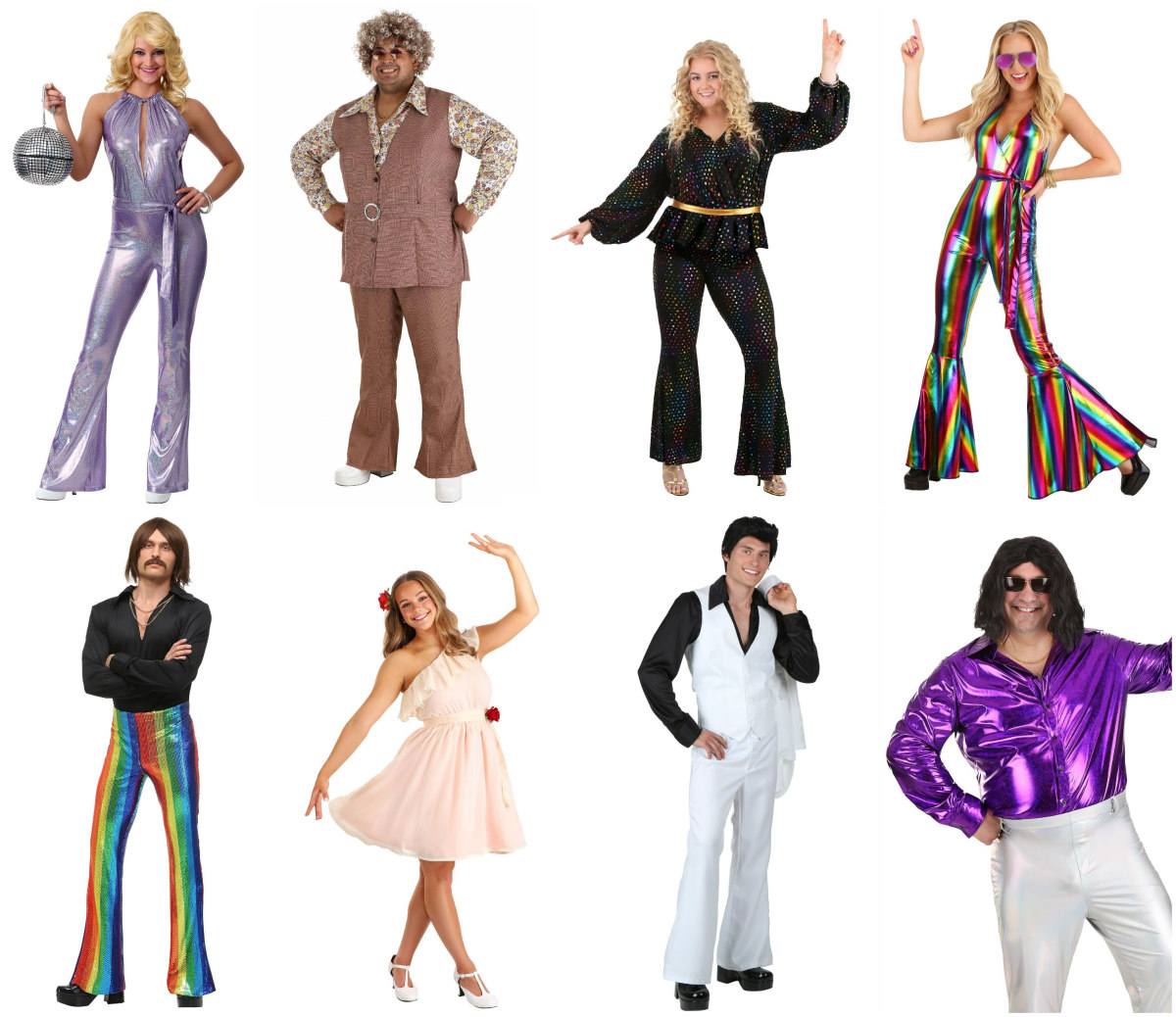 We might be looking at the world through rose-colored glasses, but the 70s were a great era, especially for music and dance! Groups like the Bee Gees, Queen, and the Eagles ruled the airwaves, and people shredded the dance floor with moves like the hustle, the bump, and the YMCA. Check out these dazzling disco outfits for adults, a necessity for any 70s party. You'll feel ready to get down and boogie oogie oogie in these excellent 70s Halloween costumes for adults.
70s Costumes for Kids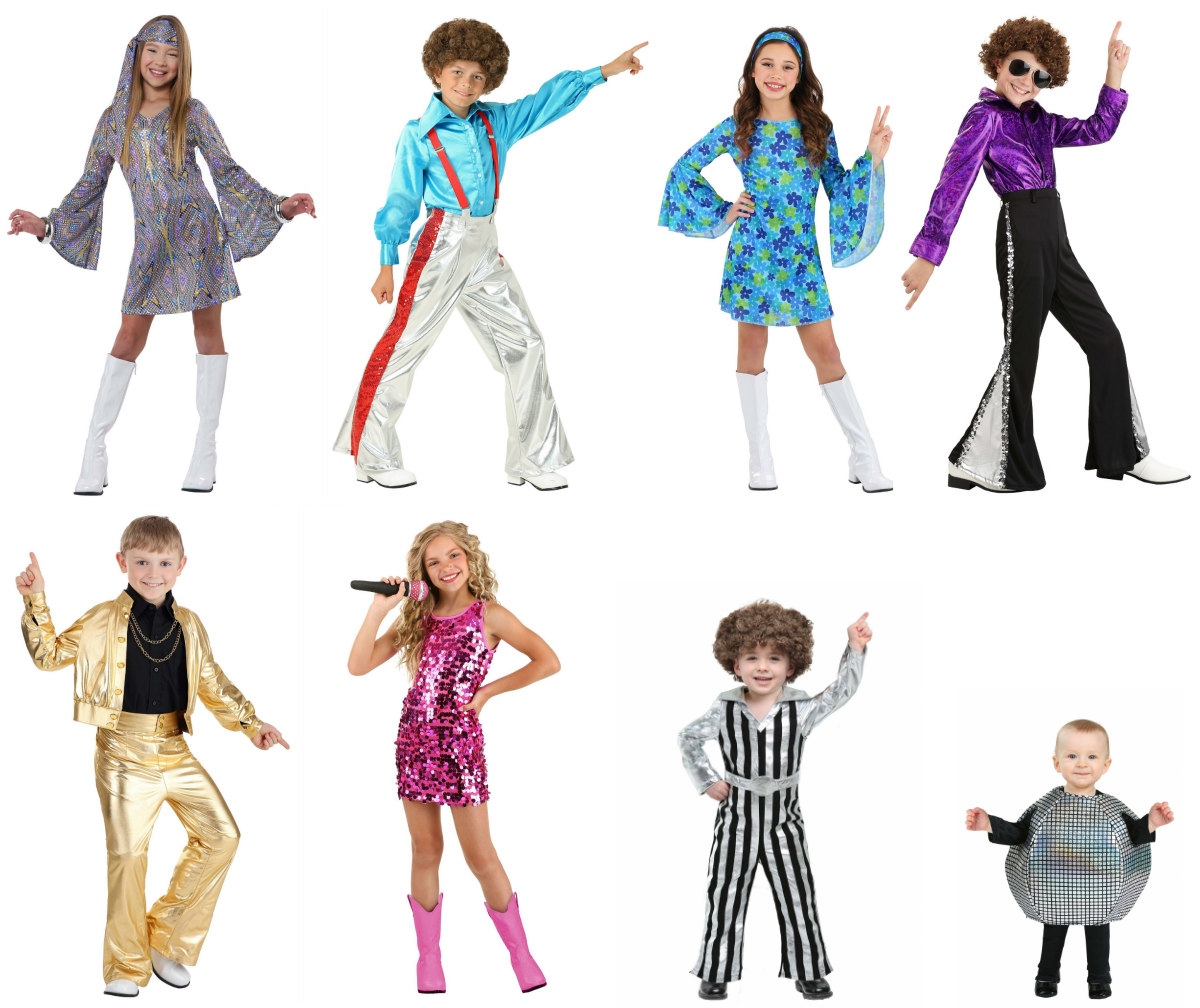 Teach the kids a thing or two about stayin' alive and Saturday Night Fever with these disco costumes for kids. (Maybe advise them to take off the platform shoes before hitting the dance floor!) If your child enjoys dancing, these kids' 70s costumes will be a hit. The dance floor lights will shimmer and shine off their sequins, making them feel like dancing queens.
70s Costume Accessories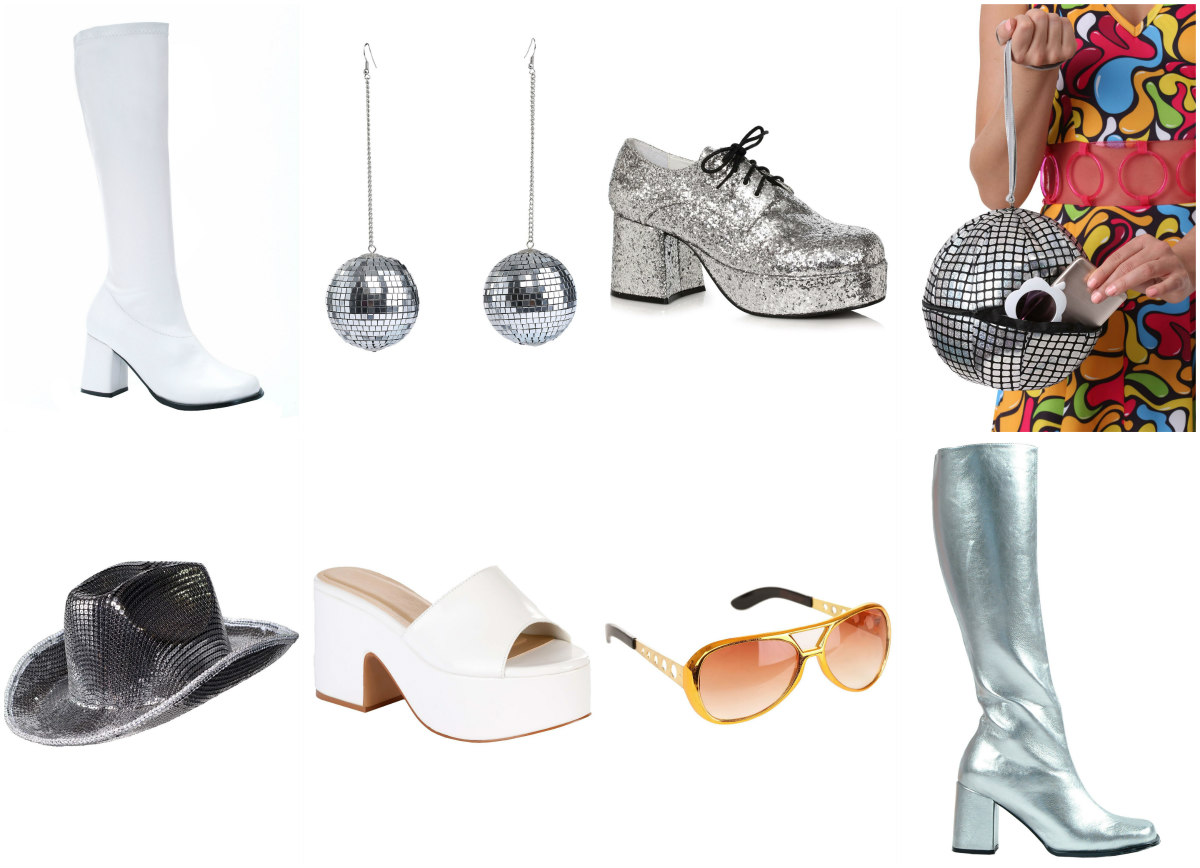 Your 1970s costume won't feel complete without disco accessories such as a pair of gogo boots for the ladies or platform shoes for men. Back in the day, the disco era was all about looking flashy, and it would be tough not to stand out when your shoes added a few inches to your height. Also, whether they were real or simply an urban legend, you can get a pair of fake fish tank shoes that are much more animal-friendly than rumored shoes from the past. (It was a weird time, but thankfully we're more conscious of being friendly to our furry, finned, and feathered friends now.) If you're still looking to push the boundaries of your already showy 70s party costume, adding this pair of disco ball earrings should do the trick!
60s Costumes for Adults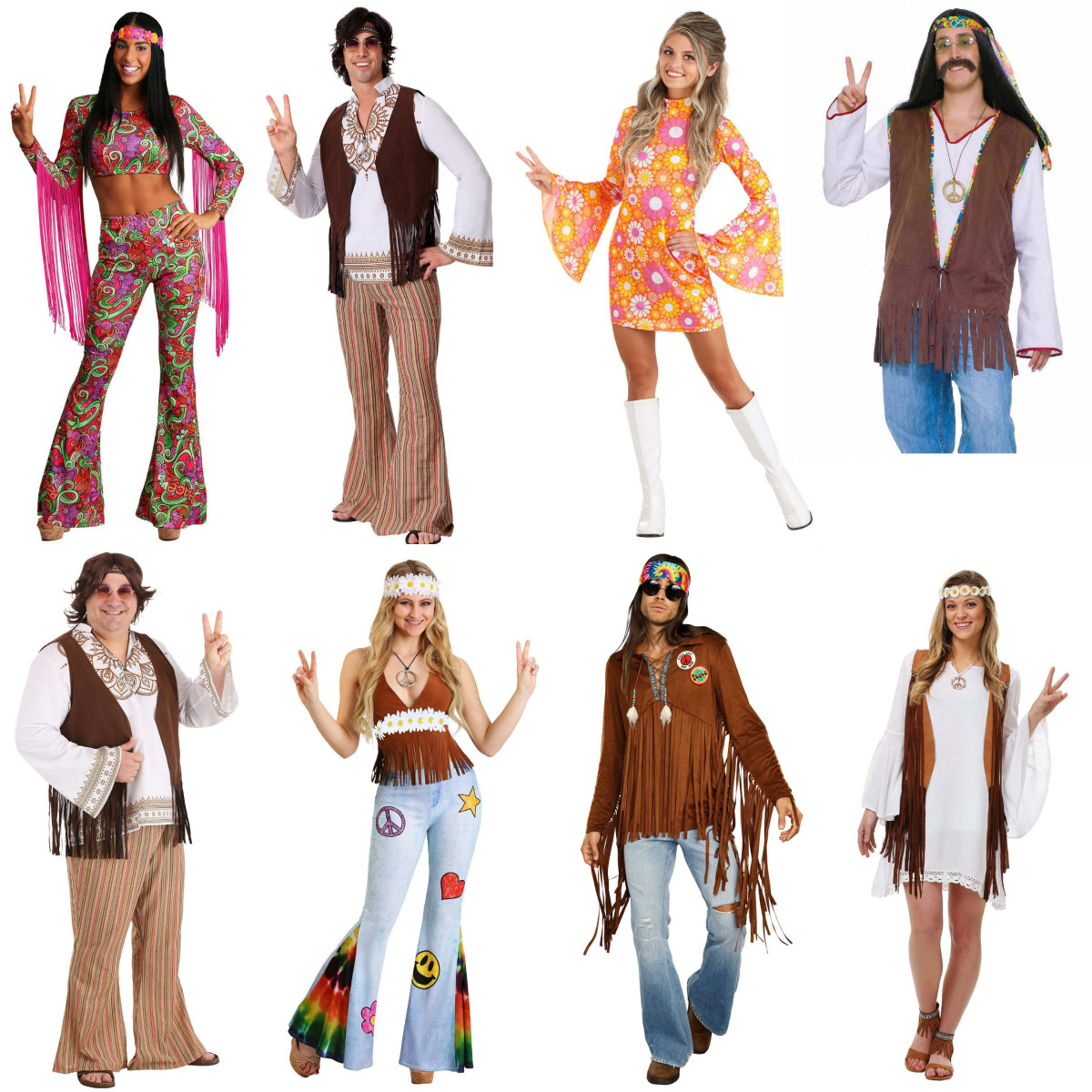 The 60s was an era about the British Invasion and seeking peace and love. Beatlemania swept the streets, Sonny and Cher were the ultimate power couple, and flower crowns became the go-to accessory. If you're looking to throw the ultimate 60s party, toss in some Beatles, Jimi Hendrix, and Rolling Stones CDs, buy some of these adult hippie Halloween costumes, and hit the dance floor! (If you really want to do your research on your tunes, look for charts of the top songs to hit the airwaves in the 1960s. Picking a few from Woodstock wouldn't hurt either.)
60s Costumes for Kids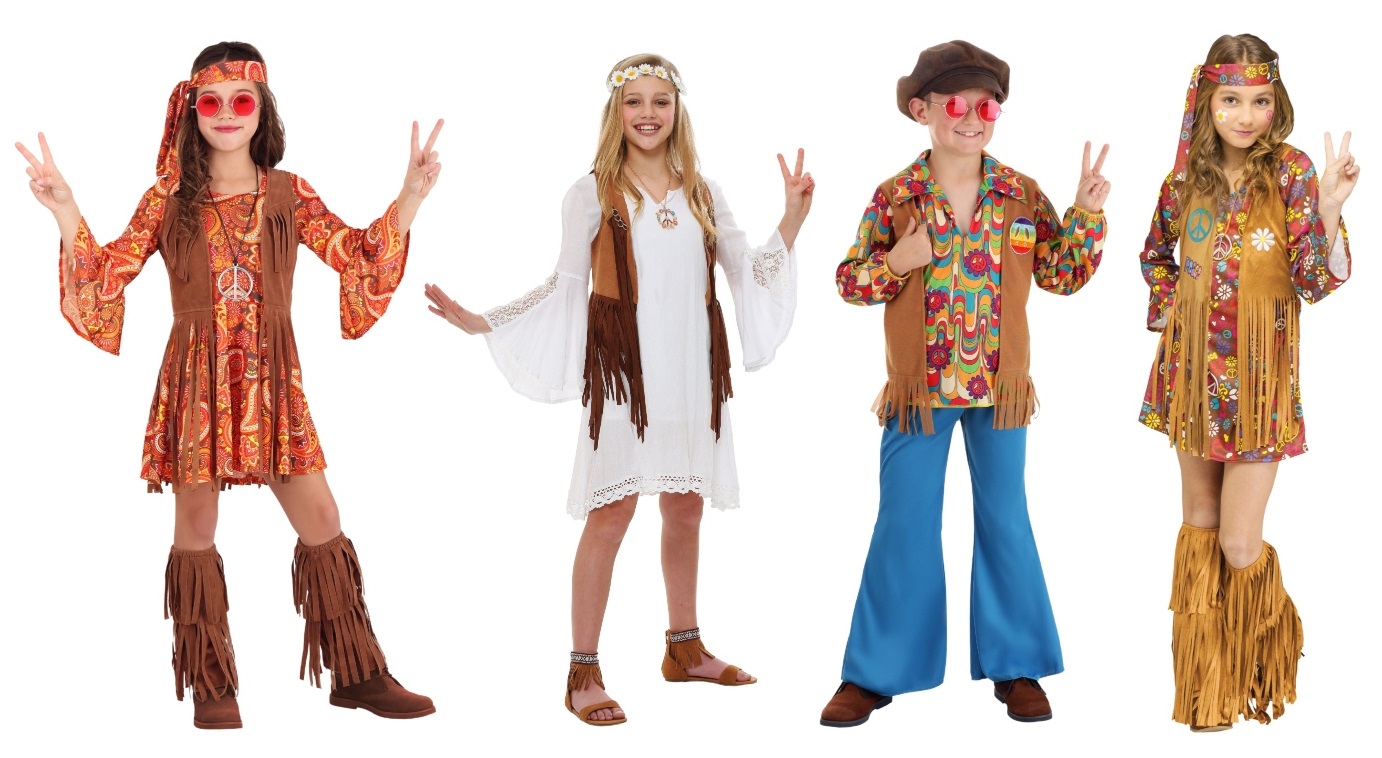 Decades-themed parties or spirit-week days are common for kids, so your child might be on the lookout for a 60s outfit. Take the chance to introduce the kids to your favorite oldies tunes. Songs like "Louie Louie", "Brown Eyed Girl" and "Twist and Shout" are bound to get them groovin'! You can also turn the costume fun into a teaching opportunity by talking with them about historical events and how they impacted culture. Peace, not war, was what many people looked forward to in the 1960s as the world seemed to be on the edge of World War 3. While the Civil Rights Movement made some giant leaps, there was still turmoil on American soil, including the deaths of Martin Luther King Jr. and John F. Kennedy.
60s Costume Accessories

Flower crowns, tinted glasses, and peace signs are typical 60s accessories connected with the hippie movement. So pairing items like these with your hippie costume is a wise choice. You may also want to wear your hair long if you can, and finish off your look with a pair of sandals. Don't forget to pose with a peace sign!
60s Mod Costumes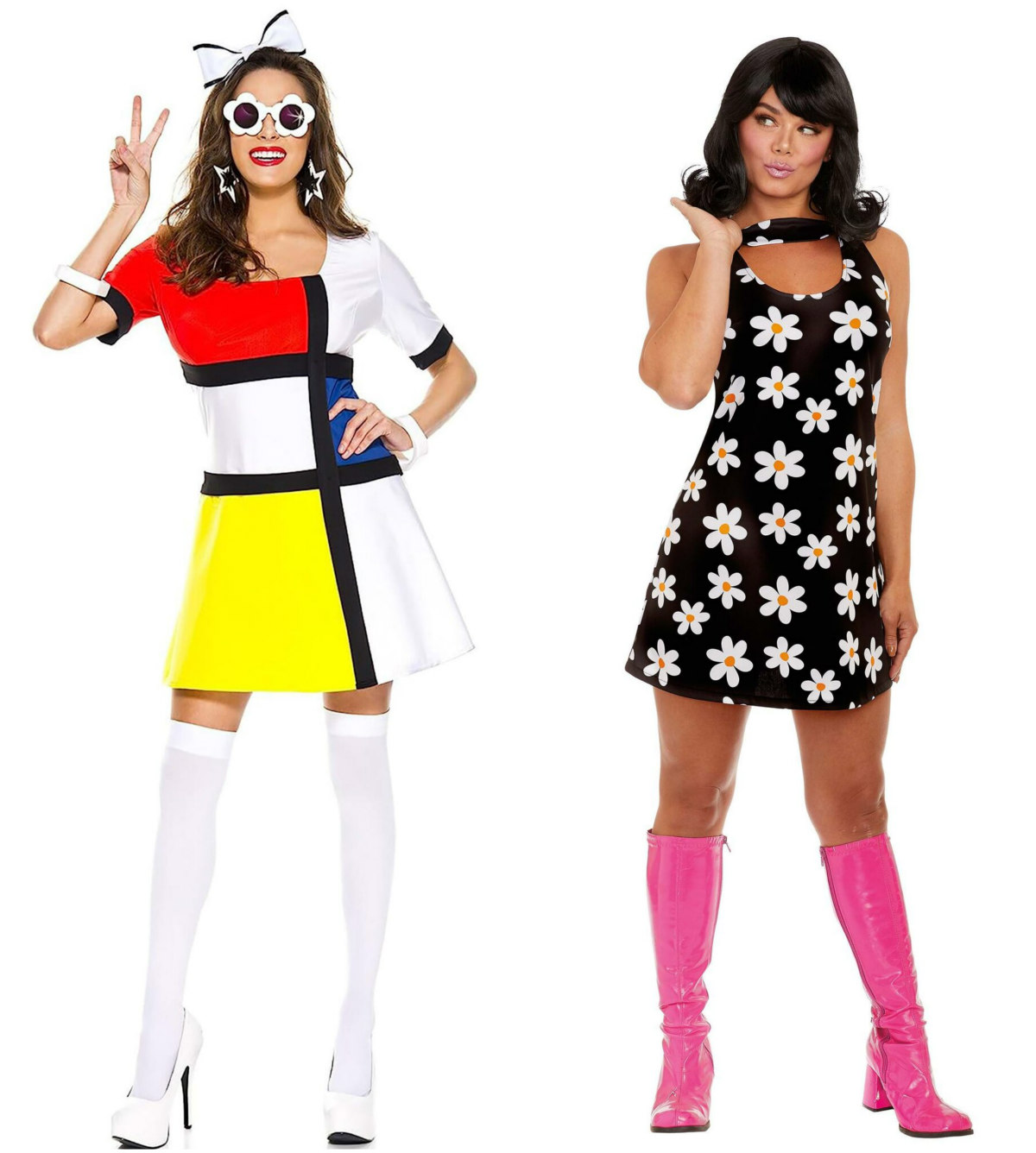 The 60s also brought us mod fashion, probably the most famous piece of which is the mod dress. These mini-dresses were short-shift dresses that often featured bold patterns or color block styles. They were much more comfortable than previous dress styles, and we can still see their impact on fashion today! Pair these mod Halloween costumes with a pair of gogo boots, and you're ready to style in no time.
We hope you picked up a few ideas when looking for costumes for your next decade-themed party idea or Halloween event. What is your favorite part about the 60s or the 70s? Do you have a favorite decade? What are some of your favorite songs from these years? Feel free to let us know in the comments below!