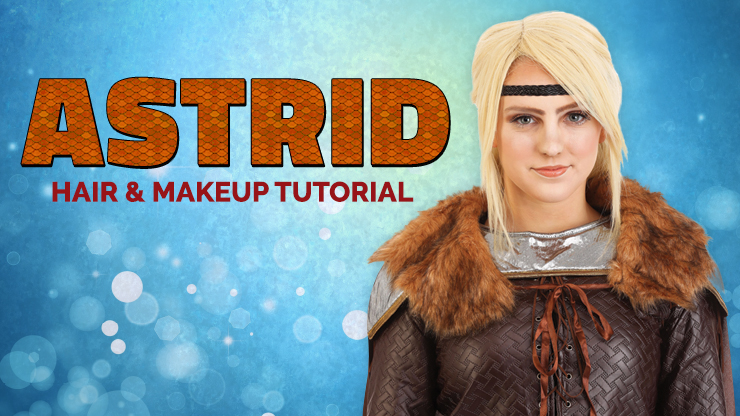 Astrid is one of the coolest female characters in the world of animation. She's a Viking with a two-handed ax that rides dragons, so what's not to love about her? If you're excited for the latest installment in the How to Train Your Dragon franchise, How to Train Your Dragon: The Hidden World, perhaps you're already considering an Astrid cosplay for an upcoming convention or wearing an Astrid costume for Halloween. In this Astrid hair and makeup tutorial, we're going to show you how to style a wig and do your makeup so that you can look just like Astrid, whether your hair is blonde or not!
Anyone can benefit from learning to style a wig. After all, it's much easier (and better) for your hair so you're not constantly dyeing and styling it, especially if you like to wear costumes a lot or if you attend and cosplay at conventions regularly. A good costume is simply one part of the equation, but having the correct hair and makeup really helps to bring your character to life! Check out the video below to see how you can DIY Astrid Hofferson's hair and makeup for yourself!
The Inspiration for Our Hair and Makeup Tutorial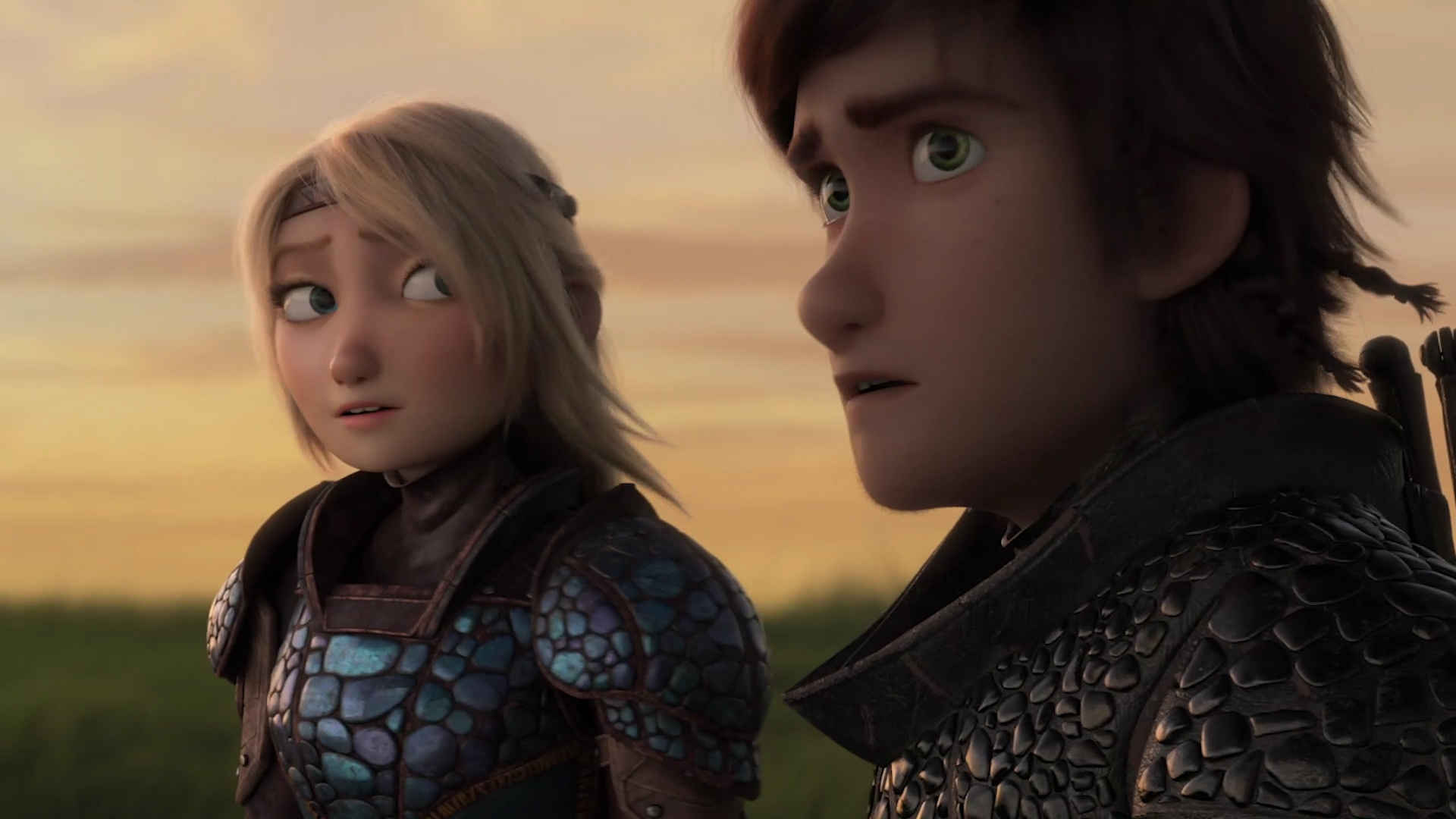 [Source: www.howtotrainyourdragon.fandom.com]
The dragon scale armor is a nice touch.
Astrid Makeup and Hair Tutorial Video
If you don't have a friend willing to be your wig head while you cut and style, you may need to use a wig form.
Astrid Makeup and Hair Tutorial Video Transcript
Welcome to our video! This is a makeup and wig tutorial on Astrid from How to Train Your Dragon.
To start out, I put on fake eyelashes, and I primed her face. To give Astrid a flawless, pale complexion, a full-cover foundation is necessary. So, we used the lightest foundation from the Mehron dancer kit. Astrid has a round face shape. To make our model's face look rounder, we will do some contouring. I used the darkest shade on the color palette and applies it along the hairline, the chin and the jawline. to exaggerate the roundness of her face.
Astrid has a small, round nose, so I added the contour color to the middle of her nose, then made an outline for her exaggerated, long eyebrows to color in later with eyeshadow. Now using a dry blending, lightly blend the contour color in.
Next, I brushed a white shimmery highlighter on to the uncontoured areas of the face. Then, I used a peach-colored blush to add some light color to her cheeks.
Astrid has big, oval eyes, so I exaggerated the shadowing, and extended it out with a light brown color. Next, I use a creamy, white, shimmery shadow along the brow bone. Next, I used a light brown shadow color underneath the eyelid. I went over that with a white shadow to make the eyes look larger.
Next, I filled in the eyebrows with a dark brown color. To enhance Astrid's look, add shadowing and highlighting to where you feel necessary. Then, I finished off the eyes with mascara.
Next, using lip liner, I outlined my model's lips to be smaller like Astrid's, and filled it in with a peach lipstick.
We used a Fever Nicole wig because the style and the part in the hair was similar to Astrid's, but we had to straighten it first. Make sure to follow the guidelines for heat temperature on the package. In small sections, use a comb and follow with a straightener.
Next, I had to cut in the face-framing to match Astrid's hair. Next, use a texturizing powder or baby powder to add a more gritty texture to make the backcombing easier. Next, using small sections, backcomb the roots of the hair to make the hair appear thicker.
Clip aside the sections that you'll be twisting back into a braid. Next, put on Astrid's headpiece. Smooth out Astrid's part and any details on the face-framing. There should be a significant difference between Astrid's face-framing and the back of her hair.
Lightly spray each section you'll be twisting back into the braid. Once both sections are twisted back, secure it with a clear ponytail holder. I added a little hair from underneath and added it to the ponytail where I will start to braid.
Once the braid is secure, pull pieces of the braid to make it look messy and fuller. To finish off the braid, secure a piece of brown fabric. Using hairspray, I detailed and finished off Astrid's hair. And now, Astrid is ready to train dragons!
Products We Used to Achieve Astrid's Look
You might notice that the costumes we used aren't what Astrid wears in the new movie, but seeing as it's still a little early for the new costumes to hit store shelves en masse, we picked items that paired well enough with the hair and makeup to make the character still recognizable. (This is certainly one way to go if you're not a DIY guru and you're just looking to have some fun!) You're also going to need a decently long-haired blonde wig that either has long bangs or no bangs at all. We actually used this styleable Fever Nicole blonde wig in the video. (The side part was too perfect!) Her makeup is fairly simple, but we added some false lashes and did some contouring makeup so that the model's face looks more cartoonish and round. We used the makeup from the Mehron dancer makeup set because it covers very well and would portray Astrid's flawless animated skin well.
Our Completed Astrid Look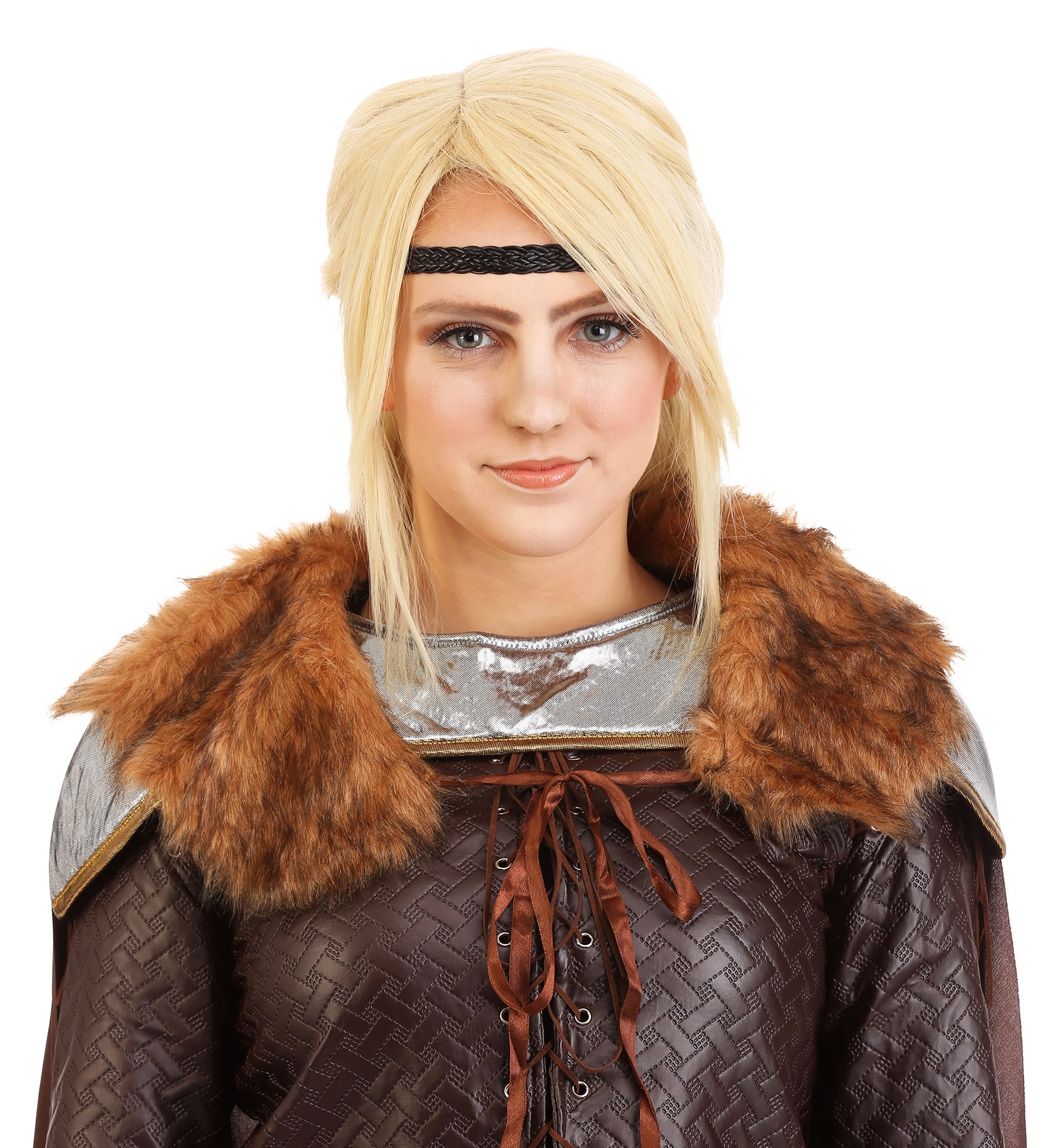 100% ready to go and train some dragons.
Here's a Back View So You Can See The Braid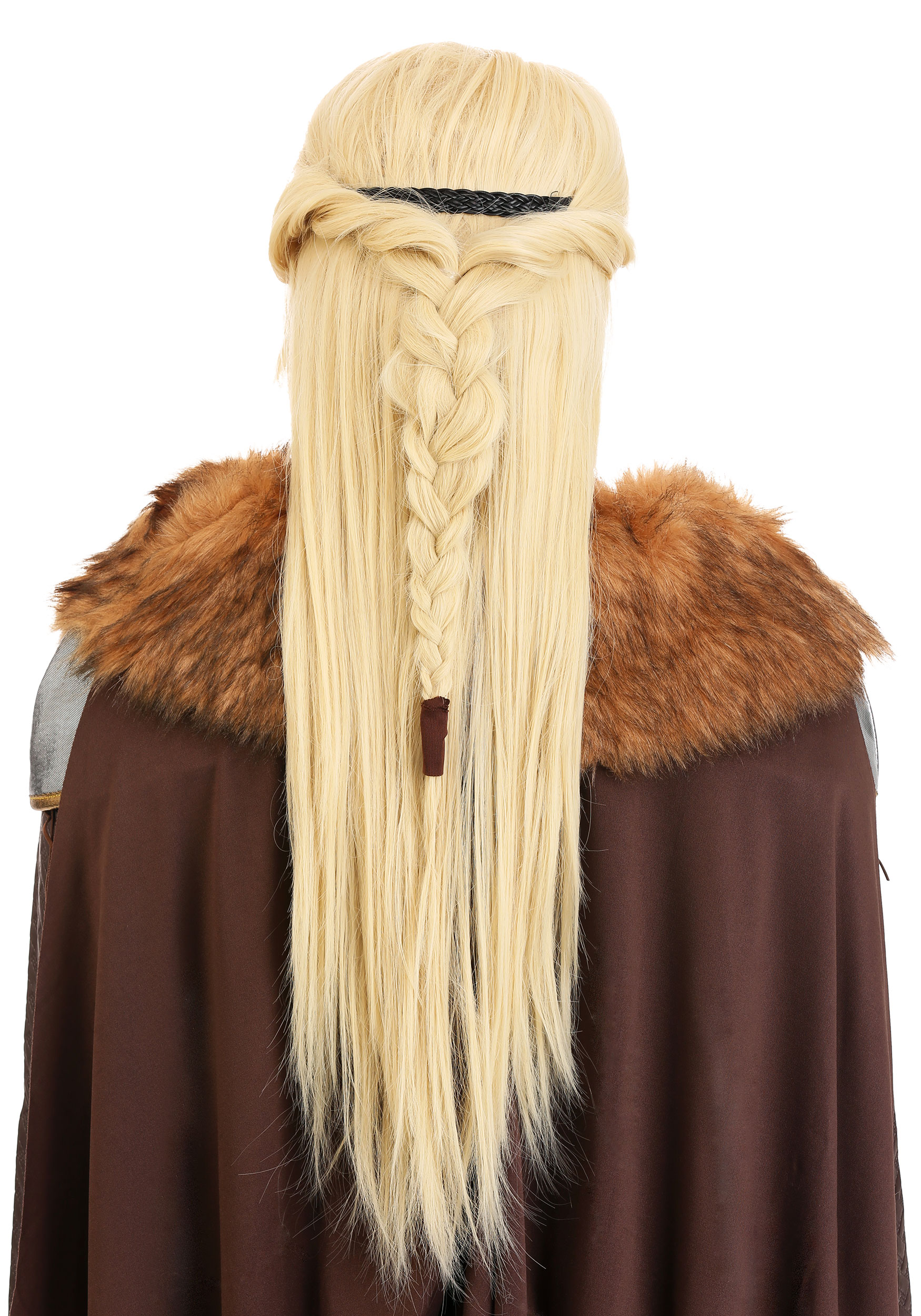 It's a wonder how her hair manages to look this good after flying on dragons all day.
Do you feel ready to get out there and tame a dragon? Check out some of our other Viking costumes if you want to have a horde of Vikings by your side ready to defend the Island of Berk. Are you excited for the latest How to Train Your Dragon movie? Are you planning on wearing any cosplay costumes this year outside of Halloween? Have you already done a cosplay this year? Let us know in the comments! We'd also love to hear your suggestions for more hair and makeup tutorials for other up-and-coming movies and tv series that you're excited about.