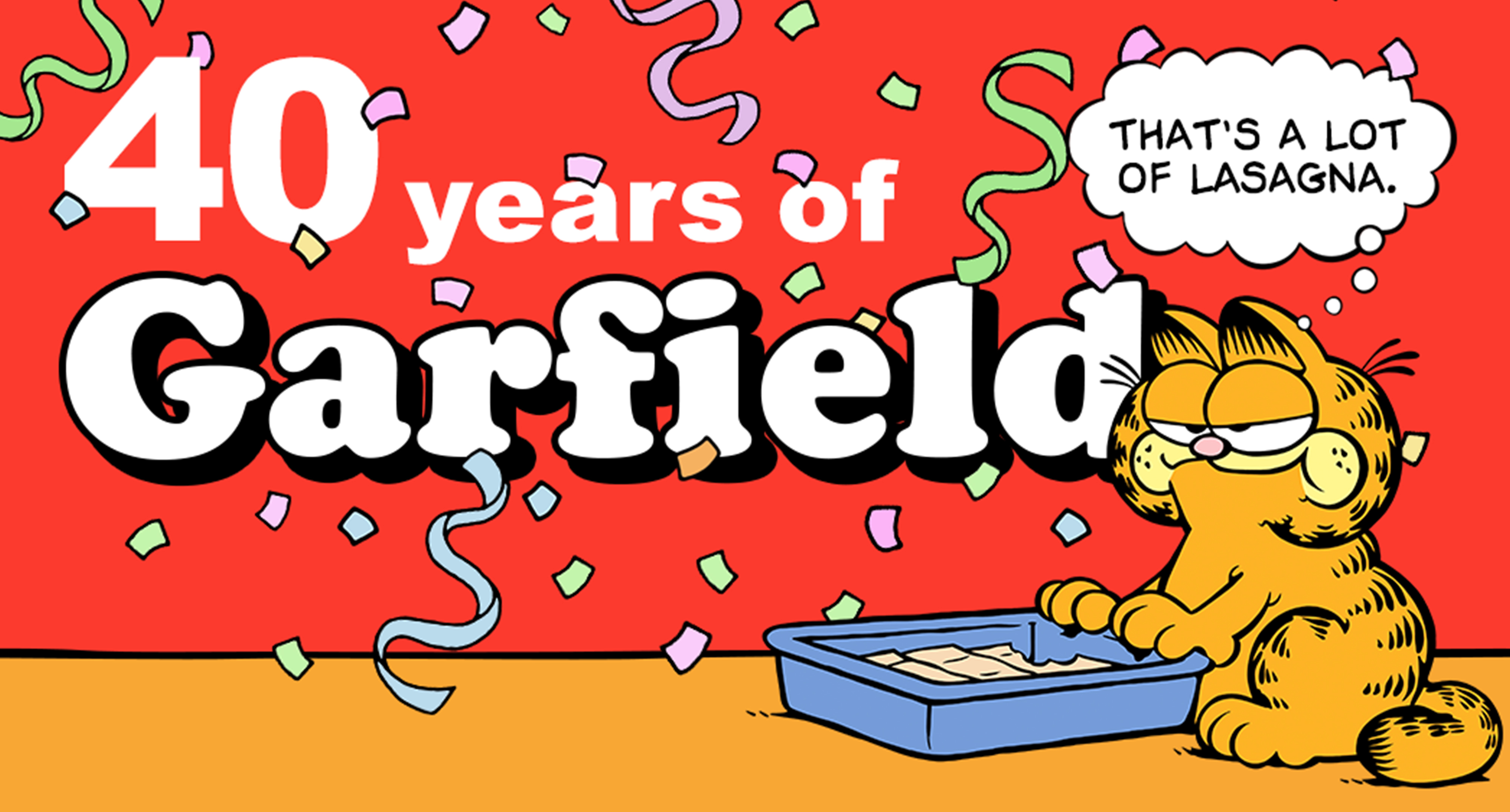 For 40 years, Garfield the cat has been a big fat hairy deal. The iconic comic strip created by Jim Davis originally debuted in 41 U.S. newspapers in June of 1978. Today, Garfield has 200 million regular readers in 80 countries, with the comic being printed and translated in 40 languages! More than 200 million Garfield books featuring comics, artwork, and even recipes have been sold as well!
Along with print, the flabby tabby has made an impression on the screen with 2 theatrically-released feature films, 13 television specials and 2 animated shows that have combined for 12 seasons and more than 200 full episodes. Garfield is also a bit of a merchandise mogul too! There are more than 5,000 officially-licensed Garfield products available from over 400 licensees in 111 countries around the world. Take a look at our infographic below celebrating Garfield's 40th anniversary revisiting some of the most significant moments in the franchises history.
Click image for larger view

Embed This Image On Your Site:
40 years of Garfield Transcript
"That's a lot of lasagna."
Garfield the Cat has been a cartoon icon for 40 years! While he's been a staple for newspaper comic strips around the US and across the globe, Garfield has taken many forms since his debut. From the page to the screen to the shelves of stores, let's take a look at the significant appearances and developments out favorite orange cat has made over the years.
June 19th 1978—First Appearance!
Jim Davis' Garfield comic strip debuted in 41 US newspapers. The comic featured cartoonist Jon Arbuckle introducing himself and his cat companion Garfield. While the comic occasionally featured characters addressing the reader directly, most Garfield comics included character interaction.
August 8th 1978—First Appearance!
After two months of comics, we were introduced to Garfield's main counterpart, Odie. Jim Davis reused the name from a character in a car commercial he'd previously written. Much like Garfield, Odie's appearance changed over time.
October 23rd 1978—First Appearance!
Pooky is a teddy bear that Garfield found in a dresser drawer. Pooky is the only character Garfield really shows sentiment to, mostly because Pooky is a stuffed bear who won't take Garfield's food.
June 26th 1979—First Appearance!
Dr. Liz Wilson is Garfield's vet and, if that didn't bother him enough, she also becomes Jon's main love interest,. The couple went on their first date on April 21, 1980. Even though Garfield will sometimes find a way to ruin their dates, they've continued to see one another in the comics.
September 9th 1979—First Appearance!
The self-referred "World's Cutest Kitten" is often seen as Garfield's nemesis. Normal often shows up to ridicule Garfield, though Garfield seems to find ways to get back at him, such as mailing him to Abu Dhabi.
February 21st 1980
Garfield at Large!
Garfield's first book featured all the comics printed from his debut through January 22, 1979. The book was formatted with short, wide pages to the comics could be printed as they would have appeared in their respective newspaper. The original prints were done in black and white while the 2001 re-issue was released in full color.
January 1st 1981—Creation of Paws, Inc.
Davis Founded Paws, Inc. to support the comic series and licensing. The company was originally operated out of a ranch-style home in Muncie, Indiana and is currently headquartered in Albany, Indiana.
October 1st 1982
Here Comes Garfield!
Garfield's first half-hour television special saw the feline go on a mission to rescue Odie after he's captured by the pound. Lorenzo Music would remain the voice of Garfield for almost 20 years up until he passed away in 2001.
November 1984—Macy's Day Parade!
Garfield became bigger than ever when he made his debut in the Macy's Thanksgiving Day Parade in 1984. The Garfield balloon appeared regularly from 1984-1989 and 1992-1999. An updated version of the balloon appeared from 2003-2006.
May 1st 1985—First Emmy Award!
The second animated television special, Garfield on the Town, garnered Jim Davis his first of four Emmy Awards!
December 1987
A Garfield Christmas!
The first Christmas special saw Jon, Odie, and Garfield spending Christmas with Jon's family on their farm. It debuted prior to Christmas in 1987 and was re-broadcast each year through 2000. Jim Davis wrote the teleplay for the special, describing it as semi-autobiographical.
May 1988—10th Anniversary
Happy Birthday Garfield!
In 1988, Jim Davis hosted an hour-long behind the scenes television special celebrating the 10th anniversary of Garfield.
September 1988
Garfield and Friends
Garfield and Friends debuted on September 17, 1988. Each episode featured two Garfield cartoons and one cartoon featuring U.S. Acres, another comic strip Jim Davis was drawing at the time.
May 1991
Garfield Gets a Life
The thirteenth and final Garfield TV special premiered on May 8, 1991. Despite the title, the special focuses on Jon's attempts at changing his life while Garfield intervenes.
July 1991
Am I Cool Or What?
Garfield's first music CD was released on July 3, 1991 and featured music from popular artists like The Temptations, Patti LaBelle, and B.B. King, among others. Some of the songs had previously appeared on past television specials as well.
January 1995
Cool Cat Music Video
Garfield's CD single Cool Cat released and reached #1 on the charts in Germany! The CD featured 4 versions of the single, which was then produced as a music video featuring Garfield performing with several backup singers.
December 1996—Big, Fat & Hairy Website!
Garfield's own website launched in December 1996. The site featured past comics, a news section, and even a bulletin board for fellow fans to chat!
January 2002—Guinness World Record!
In 2002, the comic was officially recognized by The Guinness Book of World Records as the most widely syndicated comic strip in the world, a title still held today.
March 2003
I'm in the Mood for Food
I'm in the Mood for Food is the first (but not last!) official Garfield cookbook. The book features 70 recipes by Barbara Albright along with art and food-related Garfield comics by Davis. The book was released on March 2, 2003.
June 1st 2004
Garfield at 25: In Dog Years I'd be Dead
In Dog Years I'd be Dead was released on June 1, 2004 to celebrate a quarter century of Garfield. The book takes a comprehensive look back at franchise as a whole.
June 2004
Garfield: The Movie
Garfield's first live action feature-length movie was released in 2004 and featured Bill Murray voicing the computer-animated Garfield. The movie earned more than $200 million at the worldwide box office and was followed by a sequel (Garfield: A Tale of Two Kitties) released 2 years later.
2008/2009—30th Anniversary
The Garfield Show
Garfield's 2nd TV show premiered in December 2008 in France (just in time for Garfield's 30th anniversary), before debuting in the US in November 2009. The show was completely computer animated and separate from Garfield and Friends. Frank Welker provided the voice of Garfield.
May 2012—Garfield Comic Books!
Kaboom! Studios released the first Garfield comic book series in May 2012. The new series was published monthly through May 2015 with most stories written by Mark Evanier, who had also worked on The Garfield Show. The comics were re-released in volume format and new comic books and graphic novels have been released including a brand new limited series out in 2018!
June 19th 2018—Garfield's 40th!
"Here's to another forty!"
For his 40th birthday, Garfield will be featured in a brand new book, Age Happens: Garfield Hits the Big 4-0, featuring classic strips, guest cartoonists, fan art, and even a forward by Lin-Manuel Miranda.
Sources: Garfield.com, Wikipedia
© Paws. All Rights Reserved.
Do you have a favorite Garfield comic strip? How about a favorite character? If you can't get enough of the famous feline by picking up his latest book or reading the comics on Garfield.com. If you're like us and enjoy a good binge watch, you could put a lasagna in the oven, throw on some Garfield costumes, and settle in for a marathon of Garfield and Friends. Now that's how you spend a Monday.
Infographic designed by Jason Knudson