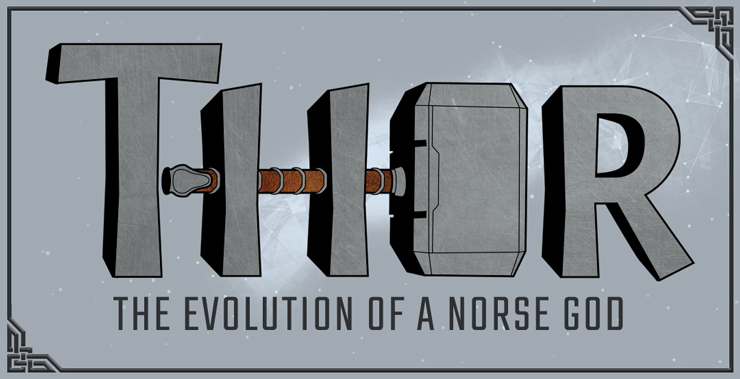 Marvel superhero Thor debuted in 1962, primarily the work of artist Jack Kirby, editor Stan Lee, and scripter (and Lee's brother) Larry Lieber. While the original costume that they designed (blue armor, red cape, and silver winged helmet) is considered a classic at this point, it's certainly not the only one Thor has worn over the past 55 years. In this infographic, we show how Thor's appearance has evolved through many comic trends, while often calling back to archetypal features like his cape or winged helmet. We'll also take a look at some other characters who were worthy of wielding Mjolnir, whether they were called by the name "Thor" (like Jane Foster) or simply gained his powers (Beta Ray Bill and Throg). So let's cross the Bifrost Bridge into Asgard and see how Thor has evolved!
Click Image for Larger View

Embed This Image on Your Site:
Thor: The Evolution of a Norse God Transcript
Thor is known for his classic costume design, including blue armor, red cape, and silver winged helmet. However, the Asgardian superhero has been portrayed in many different ways over the past 55 years. Join us as we look at the most important Thor costumes from the main continuity stories as well as influential universe versions. We'll also highlight some additional characters who gained the power of Thor or even became Thor altogether!
1962—Classic Thor
Thor Odinson debuted in Journey into Mystery #83 (August 1962), created by editor Stan Lee, scripter Larry Lieber, and artist Jack Kirby.* Lee wanted a strong superhero from the comic and a character based on the Norse god was perfect. Thor became a founding Avenger in The Avengers #1 (September 1963).
1987—Battle Armor
The "classic Thor" design changed little through a number of artists and writers. Near the end of artist and writer Walt Simonson's work on the series, Thor is cursed by Hela and dons battle armor in The Mighty Thor #378 (April 1987) to survive his condition. He also grows a beard to cover his scarred face.
1987—Destroyer Armor
Only a short time later, in The Mighty Thor #381 (July 1987), Thor is powerless again and feared dead. Destroyer, mystical armor created by the gods, attempts to absorb Thor's soul but Thor takes over Destroyer instead. Simonson's run ends in the following issue with Help reversing her curse.
1988—First Live-Action Thor
Eric Allan Kramer played the first live-action Thor in The Incredible Hulk Returns (1988), a made-for-television film the was also intended to kickstart a Thor television series (which never materialized). Thor had a drab armor-and-fur "Viking" costume, very different from the colorful classic Thor.
1996—Crop Top Thor
Mike Deodato Jr. experimented with Thor's classic armor in the Warren Ellis-penned Worldengine story arc, starting in Thor #491 (October 1995), but he redesigned everything in #502 (September 1996). The new Thor was all '90s, complete with muscles upon muscles, leather straps, and a crop top.
2002—Ultimate Thor
Thor first appeared in artist Bryan Hitch and writer Mark Millar's The Ultimates series starting with issue #2 (June 2002). While The Ultimates is not a main continuity series, Hitch's subdued take on the classic armor influenced the Marvel Cinematic Universe design, so we're including that specific look here.
2007—Donald Blake
Thor's backstory includes Odin wiping his memories and sending him to Earth as Donald Blake, where he becomes worthy of Mjolnir again. In the third volume of Thor (starting September 2007) from artist Olivier Coipel and writer J. Michael Straczynski, Thor's redesign includes a black tunic over chainmail.
2008—Ages of Thunder
Before Matt Fraction's lengthy Thor runs in 2010 to 2012, he wrote several one-off comics starting with Thor: Ages of Thunder #1 in June 2008. These comics featured a gritty, cinematic armor design from artist Patrick Zircher, along with pencillers Khari Evans and Clay Mann and cover artist Marko Djurdjevic.
2010—The Mighty Avenger
In 2010, Marvel launched four short-lived Thor titles in the buildup to the Thor film the following year. While all were inspired by earlier designs, artist Chris Samnee earned accolades for his younger, dashing take on the character in Thor: The Mighty Avenger #1 (September 2010) with writer Roger Langridge.
2011—Thor
Costume designer Alexandra Byrne went back to the Jack Kirby comics for inspiration when working on the first Marvel Cinematic Universe Thor movie in 2011. She opted for a more realistic dark silver armor reminiscent of The Ultimates Thor and designed a cape that flowed perfectly without resorting to CGI.
2011—Fear Itself
Thor was a major part of the 2011 Fear Itself crossover, a collaboration between writer Matt Fraction and artists Stuart Immonen, Wade von Grawbadger, and Laura Martin. Starting in issue #6 (November 2011), Thor wore his father Odin's armor and wielded Odinsword in addition to his hammer Mjolnir.
2012—The Avengers
For The Avengers in 2012, Alexandra Byrne designed sleeker armor. Thor had armored sleeves but he could also go sleeveless, and he had a chest piece without a cape for scenes with casual conversation. Byrne also went with the more traditional dark blue pants and tunic underneath his armor.
2013—God of Thunder
The Marvel NOW! relaunch in October 2012 included redesigns for many characters. In Thor: God of Thunder (starting January 2013), artist Esad Ribic and writer Jason Aaron gave Thor a cinematic, modern style, with black armor and the traditional red cape. The series was well received among fans.
2013—King Thor
Thor: God of Thunder #1 (January 2013) also introduced a much older version of Thor, now King of Asgard. King Thor has only one arm and one eye (covered with an eyepatch), yet he wields both Mjolnir and the Odinsword with the aid of a prosthetic arm fashioned from the Destroyer arm.
2013—Thor: The Dark World
for the second solo movie, Thor: The Dark World in 2013, costume designer Wendy Partridge opted for subtle designs based on historical armor. Thor's chest piece was more angular, his vambraces (forearm armor) were relatively unembellished, and his blue under-armor was changed to a muted monotone.
2015—Avengers: Age of Ultron
Alexandra Byrne returned as costume designer for Avengers: Age of Ultron in 2015. She changed the chest design only slightly, keeping it angular as it was in The Dark World. The armor once again had muted metallic blue accents. As in previous movies, the chain sleeves would be removed as needed.
2016—The Unworthy Thor
After Thor relinquishes Mjolnir to Jane Foster (see below), he spends most of The Unworthy Thor (starting November 2016) in search of a new hammer. Writer Jason Aaron, this time with artist Olivier Coipel, continues the drab armor style but Thor's cape has been switched to a cloak instead.
2017—Thor: Ragnarok
Thor gets a complete armor redesign in Thor: Ragnarok (2017), courtesy of costume designer Mayes C. Rubeo. He wears gladiator-style armor with light blue accents on one spaulder and greave (shoulder and shin armor) and the futuristic winged helmet. He also wields swords after Mjolnir was destroyed.
Alternate Thors
1983—Beta Ray Bill
While technically not called "Thor", Beta Ray Bill is a genetically-enhanced Korbinite who could wield Mjolnir and was even mistaken for Thor by Odin himself. Artist-writer Walt Simonson introduced the character in Thor #337 (November 1983) at the beginning of his acclaimed run of the series.
1986—Throg
Thor spends some time as a frog starting in The Might Thor #364 (January 1986) and helps the real frog Puddlegulp. An alternate universe version of Puddlegulp name Simon Walterson (an homage to Walt Simonson) picks up a sliver of Mjolnir (now named Frogjolnir) and becomes Throg, Frog of Thunder.
1987—Dargo Ktor
In The Mighty Thor #384 (October 1987), artist Ron Frenz and writer Tom DeFalco look 500 years into the future of Earth-8710. In an homage to Arthurian legends, Dargo Ktor is found worthy of Mjolnir by freeing it from stone and he transforms into a dystopian-futuristic version of the classic Thor.
1993—Thunderstrike
Eric Masterson debuted in The Mighty Thor #391 (May 1988) as an ordinary human. By issue #408 (October 1989) he had merged with Thor himself. Now known as Thunderstrike, Masterson got a new ponytail-and-vest appearance in his own series (June 1993), also from Frenz and DeFalco.
2014—Jane Foster
By the fourth volume of Thor (starting December 2014), Odinson is unable to life his hammer any longer. A mysterious woman wields Mjolnir and acts as Thor instead, and is revealed to be Jane Foster in #8 (July 2015). Writer Jason Aaron and artist Russell Dauterman were clear that Foster was the new Thor.
2017—Volstagg/War Thor
Volstagg was an old fighting pal of Thor's (though he could also be a coward and glutton), first appearing in Journey into Mystery #119 (August 1965). In the current volume of The Mighty Thor, he lifted an alternate universe Mjolnir and gained the power of Thor, becoming War Thor in #20 (August 2017).
*NOTE: Before 1962, other versions of Thor appeared in both Adventure Comics (drawn by Jack Kirby) and Venus (edited by Stan Lee). While they all share the same origins in Norse mythology, the superhero Thor Odinson is a different character.
Sources: Marvel, Marvel Database, Wikipedia, IMDb, Comic Book Movie, CBR, Flickering Myth, The Matt Signal, MovieWeb, National Post, SlashFilm
What did you think? Did we cover your favorite Thor design? Do you believe yourself worthy of wielding Mjolnir? If this guide to Thor costumes has you thinking of dressing as the Asgardian for Halloween (or any other time of the year), then journey across the Bifrost Bridge to see the Thor costumes we have available! However, if you're looking to wear some of Thor's more dated looks, feel free to refer to this infographic for your Thor costume DIY!
Design Credit: Cody Petersen