Bigfoot Halloween Costumes
Attention, Bigfoot believers! If you've ever thought about suiting up in a Bigfoot costume, well, we're happy to let you know that you've found the right shopping spot. Because our exclusive Bigfoot costumes are the best ones you will find online!
For Halloween, backyard hijinks, or for attending your next sasquatch convention, any of our bigfoot costumes for adults are going to be a great choice. With bigfoot suits that feature padded muscles and realistic bigfoot masks, you'll look just like the big backwoods ape himself. We have exclusive bigfoot costumes that were hand-designed and crafted by our artists and developers, and we offer several other bigfoot Halloween costumes that we've curated from other costume makers as well.
No matter which realistic bigfoot costume you choose, with one of our choices, we're sure you'll be getting squatchy in no time. Just remember to be careful when you wear it out of the house. You don't know what might happen if someone misidentifies you as a real deal bigfoot!
Made By Us Bigfoot Costume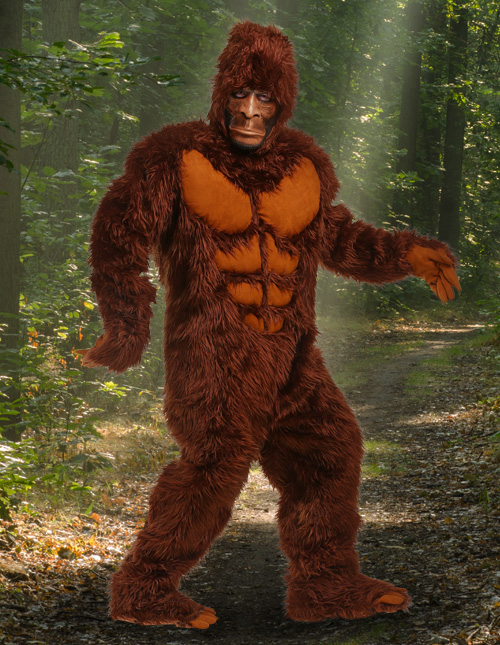 If you're deciding on which bigfoot costume is the one for you, you'll want to start by taking a look at our Adult Bigfoot Costume. When we decided to craft this Made By Us costume style, our designers took a look at classic imagery of bigfoots from pop culture and eyewitness accounts. We may have even watched the Patterson-Gimlin film a time or two as well! Our final design produced this over-sized, padded bigfoot suit.
We used select, long-pile faux fur in a brilliant auburn brown, and then added light brown suede to create the chest muscles and for the pads of the hands and feet. The molded soft foam mask has lots of facial details like a huge nose and beard and is worn under the tall fur headpiece. It's designed for costume parties, so while it might not be perfectly realistic, most of our customers find that it suits their costume needs just fine.
Available in men's sizes medium, large, and x-large, we also have it available in adult plus sizes and a kids bigfoot costume, all with the exact same design. So, with a sasquatch suit for every member of your household, you could even put together your own bigfoot family! Whether for the grownups or for the kids or for the whole fam, we're sure you'll find these furry costumes will set you up for bigfoot fun.
Sasquatch Costume
Folks who are serious about "getting squatchy" might be inclined to find a sasquatch suit that's a little more intense than our classic Bigfoot Halloween costume. Well, for that, we'd look at a bigfoot straight from the television screen. Our Jack Links Sasquatch Costume is one of the most popular sasquatch suits around, and when you take a close look, you'll see why.
Not only does it reproduce the memorable ad character's look, but its realistic styling makes it suited for sasquatch enthusiasts who do their own bigfoot sighting recreations. Just don't go too wild with your spoof spots and try to pass your video off as a real encounter. There are already enough fake bigfoot videos out there, and we're more interested in seeing shots of the real guy!
Offically Licensed Jack Links Sasquatch Costume
When it comes to Bigfoot in pop culture of recent times, there's one squatch that stands out thanks to a long-running ad campaign. And that would be none other than the Jack Links Sasquatch from the memorable Messin' With Sasquatch ad campaign! We were super pleased to team up with Jack Links to produce this officially licensed Jack Links Sasquatch Costume.
It wasn't easy—believe us—but after a lot of work by our dedicated team, we were able to recreate the character's appearance for a detailed Halloween costume. It's designed with reddish faux fur along with oversized vinyl hands and feet. Jack Links Sasquatch's face is distinct with his long hair and beard, so we knew having the perfect mask would be make or break for producing the costume.
Our mask turned out great—it's perfect for letting you act out your favorite funny moments from the Messin' With Sasquatch ads. There's plenty of hilarity to be acted out with your friends when you snag this costume, but you will be on your own for one accessory. You'll have to provide your own bag of Jack Links jerky, but we're sure you'll be able to snag one at your local supermarket without much difficulty!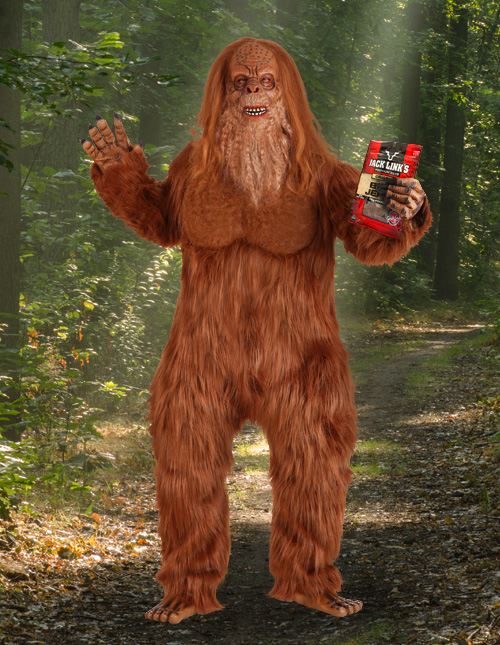 Yeti Costume
For those outside North America or well-versed in the history of cryptids, another apelike creature might pique more interest than Bigfoot. That'd be the mythical Yeti, and we're happy to report that we've got a great Yeti costume that will transform you into the abominable snowman of the Himalayas. Take a look at our exclusive Mountain Yeti Costume for adults and you'll find it's one of the most well-made and fiercest monster costumes available on the web!
Made By Us Abominable Snowman Costume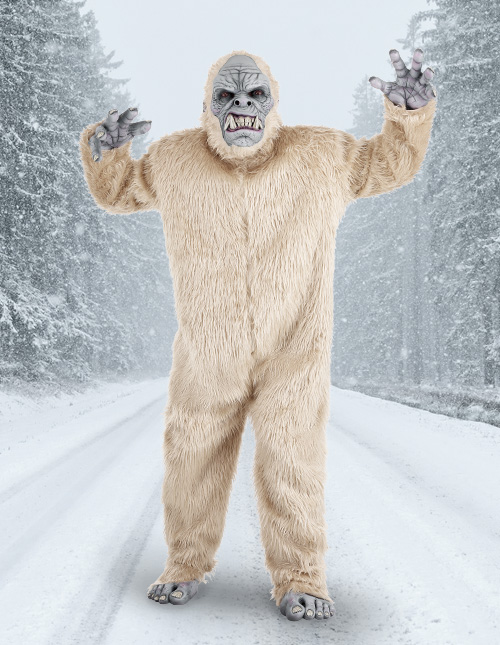 Mount Everest mountaineers of the early 20th century first put the Abominable Snowman on the radar of the Western world. Accounts of over-sized footprints and mysterious mountaintop happenings made their way to print, captivating audiences in America and Europe, inspiring curious children and adventurous adults alike. A few genuinely adventurous trekkers even managed to raise money for their own expeditions, crossing the world to Nepal to mount searches for the purported creature.
Despite long-standing accounts of the Yeti in Himalayan folklore and lots and lots of snow-capped expeditions, nobody's been able to turn up evidence of the white furry critter quite yet. But you can have him show up at your next costume party by slipping into our Mountain Yeti Costume! Another Made By Us exclusive, it features a design that blends pop culture imagination with the features of real primates and animals.
We're sure you'll find that the blue-toned latex mask makes for quite the frightening Halloween costume choice—particularly since the latex face, hands, and feet are paired with copious amounts of thick, off-white faux fur! It comes in an over-sized fit that works as a unisex design. Still, its sizes correspond to men's sizing, so if you're fixing to be a female yeti, be sure to pay close attention to our size chart to find the best fit.