Wednesday Addams Halloween Costumes
The quirky, dark charm of Wednesday Addams from The Addams Family has made her a favorite among Halloween enthusiasts. Her iconic look, characterized by her dark dress, white collar, and braided black hair, is a timeless choice for both children and adults alike.
So, if you love the look of vampires, go batty for bats, and find that spiders are more adorable than scary, you're probably already a perfect candidate for Wednesday wonder! Whether you're planning a family-themed costume or simply wish to channel Wednesday's cool, morbid demeanor, our collection of Wednesday Addams costumes will suit your needs. Revel in the dark humor of the beloved TV show and bring a bit of horror to your Halloween festivities this year.
Kid's Wednesday Addams Costumes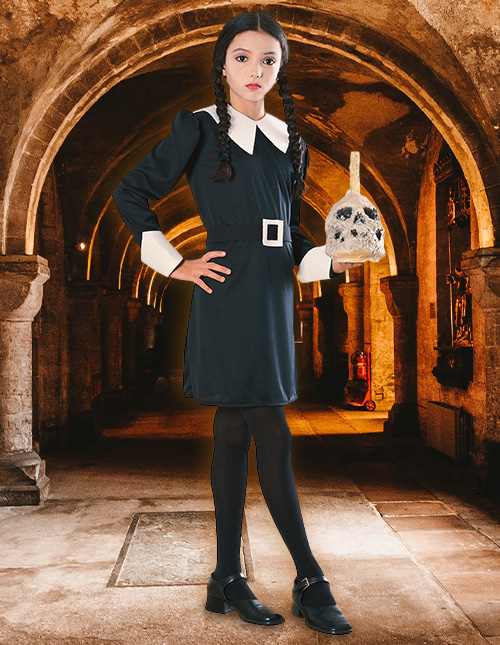 Our Wednesday Addams costumes for girls are perfect for your little mischief-maker. Your child will relish the chance to embody Wednesday's mysterious ways, utter her quirky quotes, and delight in the dreadful fun of this unique character. We have a collection of different styles of dresses and wigs to make it a snap-snap to gather their treats in true Addams Family spirit.
Wednesday Addams Women's Costumes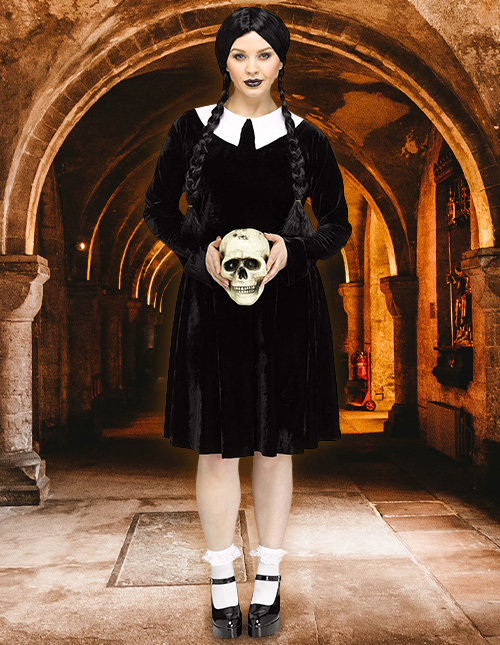 Whether you fell in love with her as a child dancing her heart out with Lurch or if you came to learn of her in her more modern moves at Nevermore Academy, there's no question that Wednesday has style for days. If you want to radiate her unique blend of macabre wit epically, look no further than our collection of Adult Wednesday Addams costumes!
Wednesday Addams Accessories
Complete your Wednesday Addams costume with our range of accessories. The details can make all the difference in transforming you into this iconic character. From the quintessential black shoes to the signature braided wig, our selection has everything you need to complete your Halloween ensemble. Remember, the devil is in the details, so ensure your Wednesday Addams look is unforgettable with these authentic accessories.
Wednesday Addams Shoes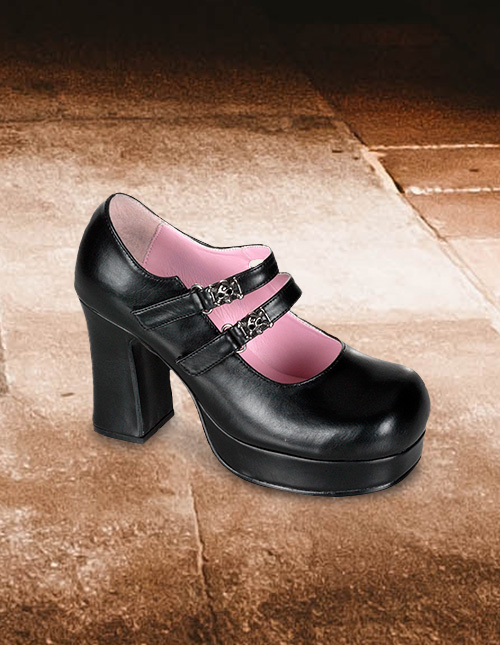 Wednesday certainly has her own style from head to toe. Put your best foot forward with our Wednesday Addams shoes. Offering comfort without compromising on style, these black shoes accurately reflect the character's simple yet distinctive look. Choose a pair that look like they came right from a witch's wardrobe or the classic Goth Mary Janes to put a solid stomp on style.
Wednesday Addams Wigs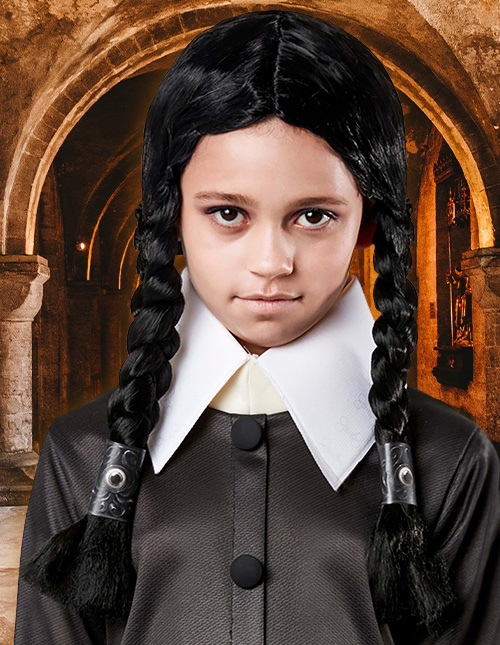 Our Wednesday Addams wigs are the final piece you need to perfect your costume. Designed with attention to detail, these wigs capture Wednesday's iconic braided hairdo, all placed on a comfortable elastic mesh cap for easy wear. Choose a middle part for the strict and simple Wednesday style or choose a wig that gives your Wednesday some extra flair!