Five Nights at Freddy's Costume Ideas
Everyone loves a trip to the local pizza joint. Nothing can beat ordering a large pie, topped with mountains of cheese and all of your favorite toppings. When you head to Freddy Fazbear's Pizza, you get to also enjoy the entertainment of a team of animatronic animals… because that's not scary at all. No sir, not in the least! Okay, so we're totally being sarcastic. Animatronics are already pretty creepy, but the robots at Freddy Fazbear's Pizza have a bit of a secret. Freddy and his crew of robotic friends may or may not be possessed by ghosts. If that's not enough to give you the willies, then we're not quite sure what will! The good news is that if you or your kid is looking for a frightening costume based on the video game series, then you've come to the right place. We have plenty of Five Nights at Freddy's Halloween costumes that come in a variety of sizes! This guide will help you choose the one to get your FNAF Halloween costume game rolling.
Five Nights at Freddy's Costumes for Adults
People have this strange assumption that video games are just for kids. Oh, how wrong they are! Sure, there are plenty of kids that like the series, but the overarching story of the Five Nights at Freddy's series weaves a sinister tale of horror and calamity that only an adult can appreciate. Of course, you're an adult and that's why you're getting ready to dress up as Mr. Fazbear, right? Or is it because your kid likes the game so much that you've decided to do a group costume together? Well, no matter! We'll help you select the right costume to get you geared up the right way. Just check out some of our best FNAF Halloween costumes for adults below and you'll be ready to be on your way.
Five Nights at Freddy's Pajamas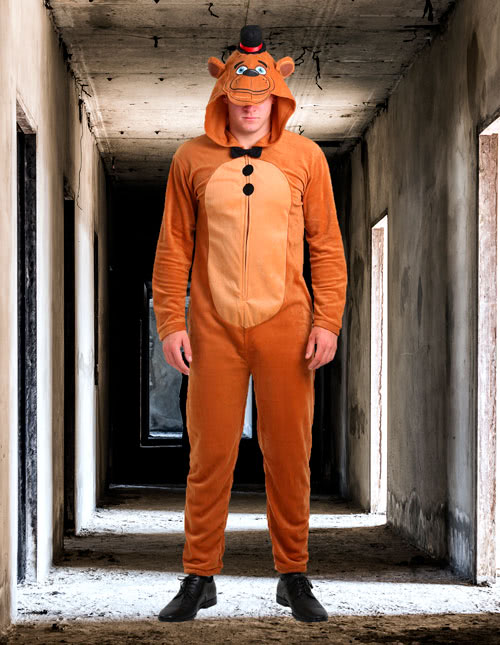 Sleep is a highly underrated activity. It helps you recharge your body after a busy day, giving you that rested feeling going into the next day. Unfortunately, after a whole evening of playing any of the FNAF games, you're probably not going to catch a whole lot ZZZs. With jump scares galore and creepy music that plays any time one of those dastardly animatronic creatures comes near you, it's impossible to shake those images from your head as you bundle up for bed. The good news is that this Five Night's at Freddy's pajama suit gives you a comfy union suit that makes it easier to get some sleep after playing too much of the survival horror game. It has a zip-up front and is designed in the likeness of the title character from the game. That means if any of those animatronics WERE roaming your home, they'd at least mistake you for one of their own and leave you alone. Hopefully.
Freddy Fazbear Costume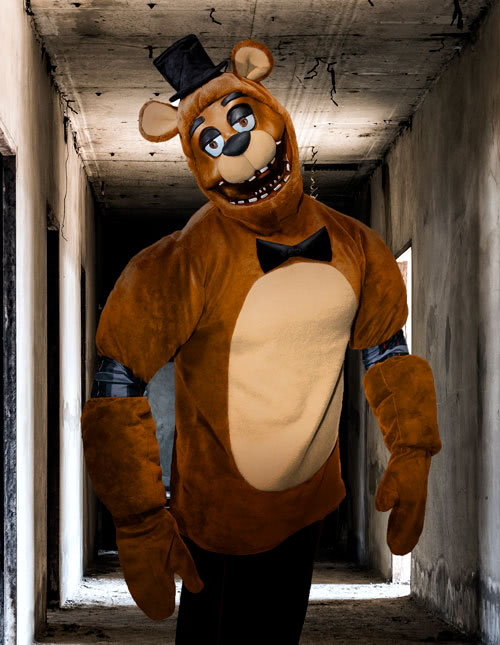 Sometimes you just really want to put a scare into your friends. Sometimes you just want to jump out from around the corner, dressed up as a creepy animatronic, anthropomorphic animal. Whoa… say that five times fast! When you need that kind of outfit, then you probably want something that's classic and frightening enough to get a blood-curdling shriek out of your friends. This Freddy Fazbear Halloween costume is the original design from the series, complete with a hood and Freddy mask combination that turns your head into that grotesquely happy smile of Freddy. (Seriously, why is that bear happy all the time?) The top is made of a polyester material that's warm and cozy, so you can remain comfortable while you continue to scare the living.
Chica Costume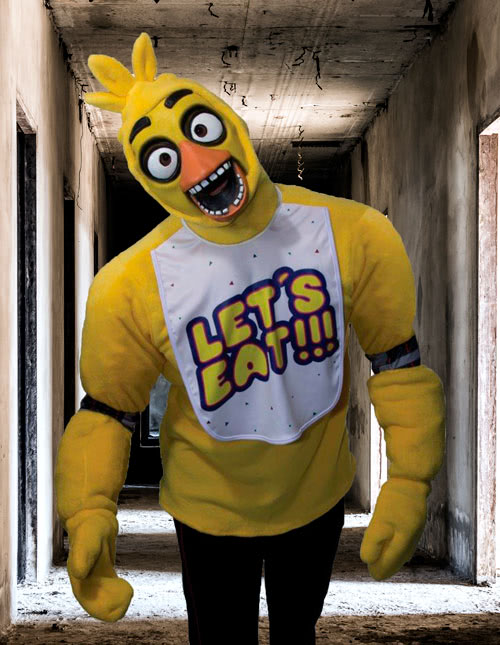 Typically, giant cartoonish birds aren't really that scary. There's Big Bird from Sesame Street. He's really more jovial than anything and he's always trying to teach kids how to read. There's Woody Woodpecker, who's a real hoot, but hardly terrifying. There are the birds from Looney Tunes. Tweety Bird is a bit too small to pose much of a fright and Foghorn Leghorn is kind of a bumbling doofus, so no one is ever afraid of him either! Chica from FNAF really is the exception when it comes to cartoon birds being scary. It's a bit difficult to pinpoint exactly what it is that makes her so darn eerie. Maybe it's the blank stare that's always on her face? Maybe it's that row of human-esque teeth lining her beak? Who knows? Maybe it's the fact that she tries to kill anyone who enters her pizza parlor! If you're trying to dress up like one freaky bird, then you're going to want this Chica costume for adults. It's inspired by the character from the video game and it's chock full of creepiness.
Foxy Costume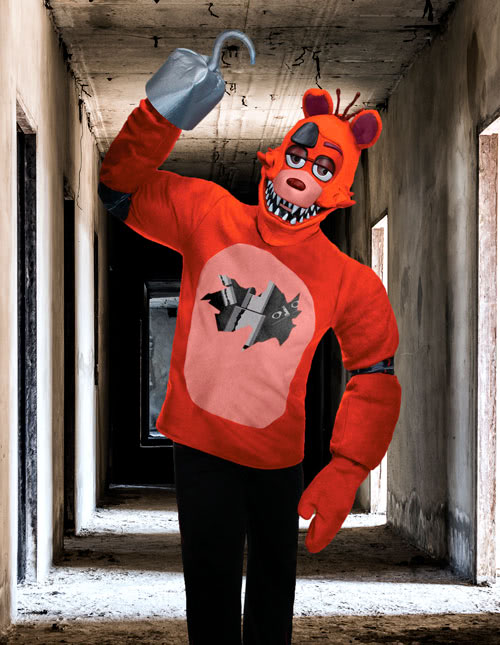 Foxy's a good guy, right? Well, a portion of the community has begun championing the theory that Foxy the Pirate is actually a friendly animatronic critter who only wants to warn you about the characters at Freddy Fazbear's Pizza. Some have even gone so far as to suggest that Foxy is merely trying to give you a hug! Our thoughts on the subject? No way! That creepy little fox is up to no good and he wants you dead, just like all the other robotic critters walking around the restaurant. But don't let that stop you from playing out your Foxy fantasy! We have this Foxy Five Nights at Freddy's costume that helps you transform into the psychotic (or misunderstood) character from the franchise. You can decide whether you want to be the friendly fox from the various fan theories or the murderous fox robot that we all know him to be! Or you could even just run down hallways while wearing your Foxy FNAF costume as your best friend video tapes you doing it. (Just food for thought.)
Five Nights at Freddy's Accessories
Going with a full-on costume isn't the only option when crafting your own Five Nights at Freddy's costume. Sometimes, all you need are a few good costume accessories and a great imagination to perfect your look. We've brought together some of our favorite accessories and scary masks based on the popular video game series that we're sure will jump start your style. Just check out the items below.
Five Nights at Freddy's Mask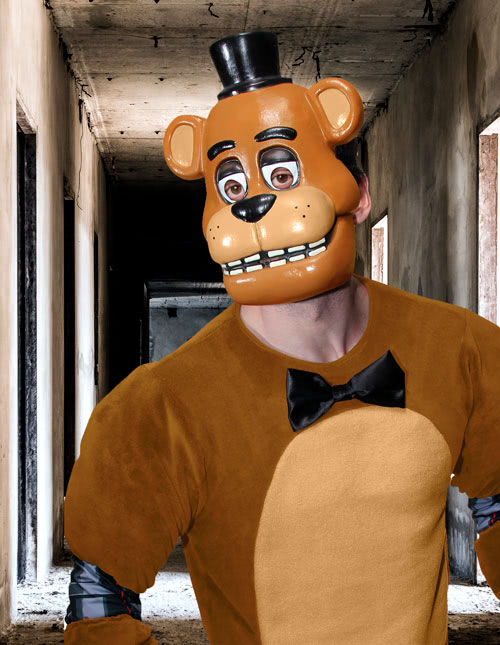 Freddy Fazbear has the face that only a mother could love. He looks a tiny bit like a teddy bear on the surface, but something about him is off… in a big way. Those eyes look slightly sleep laden, but also dead and soulless inside. It's the creepiest thing we've seen in a long time. We can't recommend going out in public while wearing this FNAF mask unless you really want to scare the pants off of anyone who catches sight of you. Just one look brings back the scary images from the game. Of course, if that's what you're trying to accomplish, then go right ahead and wear this over to your friend's place. It's certain to give them a horrible fright or at the very least, a cheap jump-scare.
Freddy Mask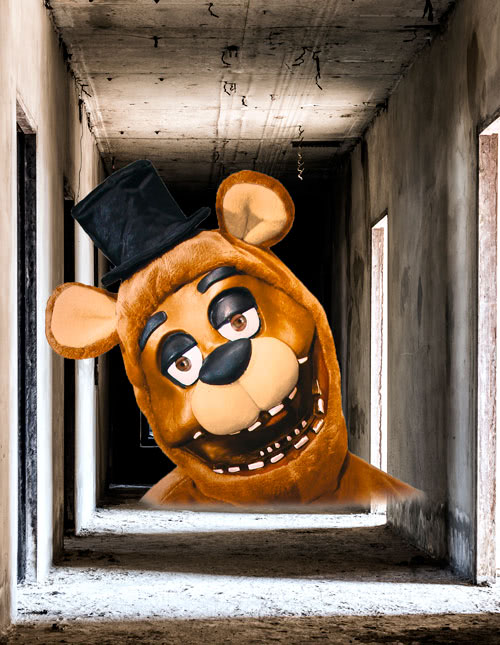 Do you want the Freddy experience, but don't want to dress up in a full-on body suit? Then this Freddy mask is exactly what you're searching for. The mask and hood combination fully enshrouds your head in a faux fur material that resembles the eerie face of Freddy Fazbear. It has the tiny top hat attached to the hood and a molded vinyl face attached to the front for maximum creepiness. Of course, the best way to wear this mask is to hum Georges Bizet's "Votre toast, je peux vous le rendre" for good measure! You can pair it with any of our costumes, or just wear it while you head to the grocery store. (That's not creepy at all, we swear!)