Coco Halloween Costumes
1 - 2 of 2
---
Bring some life to your next Halloween with a Coco Costume from our selection! Your kiddo will love retracing the story in a Miguel Coco Costume. And a Mama Imelda Coco Costume paired with a Hector Coco Costume is sure to make for an entertaining couple's look. Don't let another fall pass you by, cross over into an extra colorful world with a Coco Halloween Costume!
read more
read less
Main Content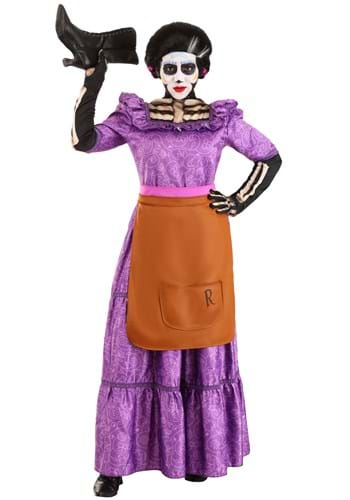 Video
---
Disney Pixar's Coco is enchanting on many levels. The characters entertain in a variety of ways, and the vibrant colors bring the animated story to life in stunning fashion, time and again. Plus, whether you're familiar with the Day of Dead holiday traditions or still learning, Coco is here to introduce a new and inspiring story. And, now that you're here and shopping with us, you'll be more ready than ever to dive into the adventure!
Looking for ideas on how to celebrate the magic of Coco? Read on to learn about some of our Coco costume ideas!
At its heart, Coco is all about family. That alone makes it the perfect inspiration for your next Halloween group costume! A Coco family costume is easy to put together, thanks to the variety of characters in the movie. From Miguel to a Mama Coco costume, there's a unique role for everyone in the family to take on. And our selection is here to get you started! Bring Mama Imelda and Hector together and introduce Miguel to the mix to create a family reunion for the ages!
Looking for more variety? Start with one of our available costumes and let your imagination run wild!
Give Hector another shot at the stage! With a Hector costume, you have everything you need to blend in while exploring the Land of the Dead. But remove the mask and gloves, and the character looks ready to return to the Land of the Living!
Practice your hand at traditional Day of the Dead makeup while wearing an Imelda costume. The inclusive ensemble offers key pieces to bring the family matriarch to life while leaving her makeup up to your design. Will you keep it simple with white and black grease paint, or will your Imelda be extra festive with colors and jewels?

The story wouldn't happen at all if it weren't for Miguel! Give your kiddo the skeleton key to their musical spirit with our available Miguel costume. With a costume designed as separates, they'll be ready to move in and out of the Land of the Dead and Land of the Living whenever they'd like. All they'll need is a guitar, and they're ready to go!

Make Halloween feel extra special with Coco costumes for the whole family! Then, whether you gather again to set up a family altar with offerings and photos of passed loved ones or to simply re-watch the charming movie, you'll have everything you need and more. Just don't forget to check back with us often to discover more of our family-friendly costume options!